Our Kathmandu Food Tour starts as well ends in Thamel, including Sight seeing of Kathmandu Durbar and Patan Durbar Square. This One Day Kathmandu Food Tour is a unique mix of Street Walking, Day Tour Sightseeing, Traditional and Unique Cuisine of different ethnic group in Nepal. This Food tour includes street walking in the narrow trails of Kathmandu to Patan with golden spoon testing food, drinks as well snacks. The adventure of street walking in Kathmandu, Taste of Street Foods and Many Heritage Sites will make This Food Tour A Best One for Food Junkies and Street Lovers.
Why To Mix Food and One Day Tour In Kathmandu 2023
The open border between India and Tibet, Mixed Religions and Culture, Different in Climatic condition and adaptation of different foods makes Kathmandu The best Place for Food and Day Tour. Likewise, Nepal does have distinct food and cooking style even for same food items. However, food habits differ depending on the regions and areas. Most of the Nepalese dishes, weather popular or not have influence of Tibetan as well Indian foods. It might be in cooking process, spices or ingredients. While authentic Nepali taste is found in Newari and Thakali cuisines.
There is not used of Cutlery in Nepalese food and eatery. Most of Nepalese food used to eat with hand. The most common Nepalese Meal is Dal Bhat Set. Which is a platter of Bhat ( Boil or Steam Rice, Dal ( Any kinds of Lentil or Beans soup), and Tarkari ( Dry or Fresh vegetables curry). Furthermore, Dal Bhat Tarkari Set ( Also called Nepali Set or Thakali Set or Khana Set ) comes with other hot spicy Aachar ( Pickle), Yogurt, Papad ( Crispy thin bread). Meat Curry is very popular, but is saved for special occasions traditionally, as it is relatively more expensive. However, almost all of Nepalese meat items comes with Bone, skin and mixed of all until you visit the big store or order separately.
Most Popular Food Items of the Kathmandu Tour 2023
By mixing Popular Food Items and Kathmandu Tour of One Day with Trekking Trail Nepal, you will experience a day as local food junkies. Most importantly our Food One Day Tour will focus on Top 10 Food You Should Try in Nepal. Here we are listing some food items:
Mo:Mo (steamed or fried dumplings) deserve a mention as one of the most popular snack among Nepalese. Almost it called Fast Food of Nepal. It comes on verities as Veg or Non Veg in 4 style, Hot C, Half Fry, Stem and Deep fry.
Nepal / Thakali Set or Dhedo Set: This set comes with Rice, Lentils, Curry and other item. While Dhido is boiled flour as hard Porridge also make meals in some homes. This used to be a traditional food in remote areas. Your Choice should be Either Dhido or Rice. However, Dhido is not available every where.
Thukpa: Soupy Noodles comes with Vegetables, Eggs, or even Meat
Sel Roti : Ring shaped rice breakd, cooked with oil deep fly.
Chowmein: A different types of Fried Noodles with mix of Meat, Egg or Vegetables.
Bara: A Newari Dish, Made as Panckae made of black lentils.
Sukuti: Traditional dry meat, mostly Buff items.
Additionally, we will enjoy 5 Best Newari Food in Kathmandu, which Everyone want to taste. These 5 items are:
MO:MO Cha: Newari Mo: Mo ( Nepalese Dumpling with Ghee on Top).
Chatamari: Nepali Pizza.
Juju Dhau: King of Yogurt
Newari Platter: For Best Taste and Newari Food Set
Choyla: To most popular hot and spicy Newari Meat Item
Why to Choose One Food Tour in Kathmandu?
The unique mix of Walking Adventure and all popular food items, which you must try in Kathmandu, Nepal. We hike not only in streets of Kathmandu and Lalitpur. But we walk through the popular as well narrow streets between Thamel, to Kathmandu Durbar Square, via Ason and Indra Chowk, Jhoche to Khichapokhari, to sundhara, to Thapathali via Kalmochan Mahadev Temple. As we continue our Food and Walking Tour we reach to Pulchowk via Patan Durbar Square. Before we soak with heritage of Patan, we will eat traditional as well typical foods in narrow streets, busy stall, and crowed food hub. If possible we will walk little bit in the Kingsway for Ice Cream and Waffles which makes our belly full of tasty foods.
We focus our One Day Food Tour in Kathmandu on Newari Food and snacks. However, all other popular streets food items we will explore today in our Food Tour in Kathmandu Nepal. As last, we will enjoy Nepali National Set Dinner ( Thakali Set )with culture show before we end our Food Day Tour.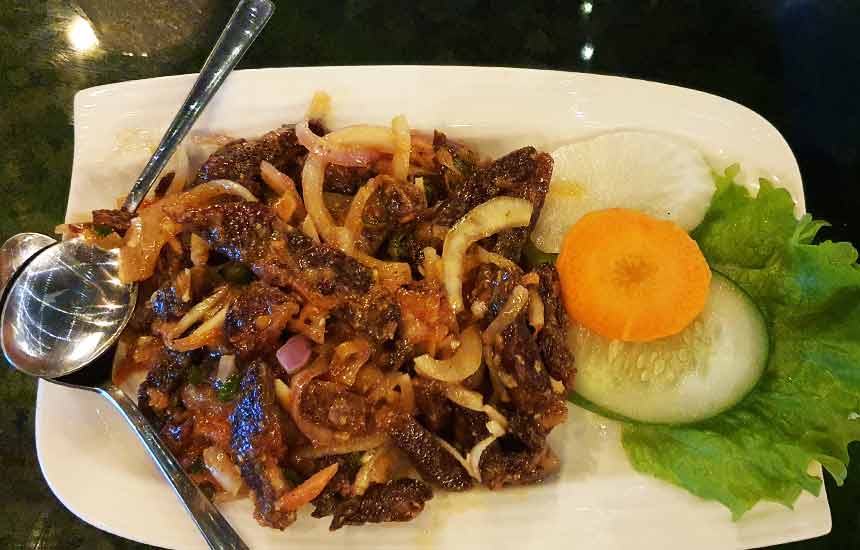 Must Know for One Day Food Tour In Kathmandu
Food Tour In Kathmandu Cost is 154 USD. Why So Expensive?!
Trekking Trail Nepal One Day Food Tour Cost per person is USD 154. It is seems expensive but if you compare our food items, local drinks, and other cost inclusion this is fair price. Furthermore, quality of food in Breakfast, Lunch and Dinner worth USD 154 for this food tour In Kathmandu. Additionally including of all entry fees of temples, museum and heritage also makes Food Tour seems expensive, but this is best price,
Itinerary of Food Tour in Kathmandu will not be in standard format. Depends on Season, Days and Local Shops, Our Timing will be different. There is not actual Breakfast, Lunch and Dinner. We offer you a lot of food in every corner and streets which you can enjoy as every taste and bite.
Do not waste Food: We do not promote or support Food Waste. Trekking Trail Nepal provides all foods and snacks even local drinks from Breakfast to Dinner, But here we request you to not to make any wastage. We request you to Look, Ask, Check, Taste and make big order.
Some Streets in which we need to walk on this One Day Food Tour are more chowder. We request you to follow our guide and his instructions to get more experience of One Day Food Tour in Kathmandu.