Manaslu Base Camp Trek shows the tremendous mountain view, altitudes ranging from 710 to 5160 m with. Similarly, a mix of Base camp, high pass, virgin nature, remote people with ancient cultural makes this one of Nepal's best trek. This trek is known as Manaslu Circuit Trek representing the highest mountain. Similarly this trek also called as Larkya Pass Trek with the name of Highest pass on our trail.
This Manaslu trekking is the best for those who are looking for moderate adventurer with less crowded but best trekking in Nepal. Manaslu Base camp circuit trek is also part of the Great Himalayan Trail. Manaslu Base Camp Trek is one of the constrained trekking vicinity can be complete in 12 days from in trail, but 18 days in total as a complete trip. This Manaslu Basecamp Circuit trek is the best alternative to Annapurna circuit trek, which you can experience from Dharapani to Besi Sahar.
Lower altitude of Manaslu trek offers the temperate vegetation with Hindu religion typical Nepalese people, average biodiversity, green hill, cultivated fields with fruits, vegetables, and crops. As you gain the altitude, Not only you reach an isolated area close to Manaslu Mountains everything gets the difference. People look like Tibetan following ancient Buddhist religion and culture. Buddhist monastery, chortain, mani walls, prayer flags replace the Hindu temple. Very rear cultivated land is available, which makes you feel like in far away from modern civilization to the lap of untouched nature. All these make the Manaslu Base Camp trek must-do trek in Nepal.
Manaslu Base Camp Trekking in Short
Manaslu base camp trek is the most recognized adventure in the Manaslu trekking area. This moderate circuit trek is an untouched and natural paradise in a highly remote part of Nepal with a border to Tibet. Nepal Manaslu Trekking trail was starting to welcome hikers since 1992. Despite over 27 years of history, very little trekking use to hike in this area because they love to follow the Big Name like Everest and Annapurna.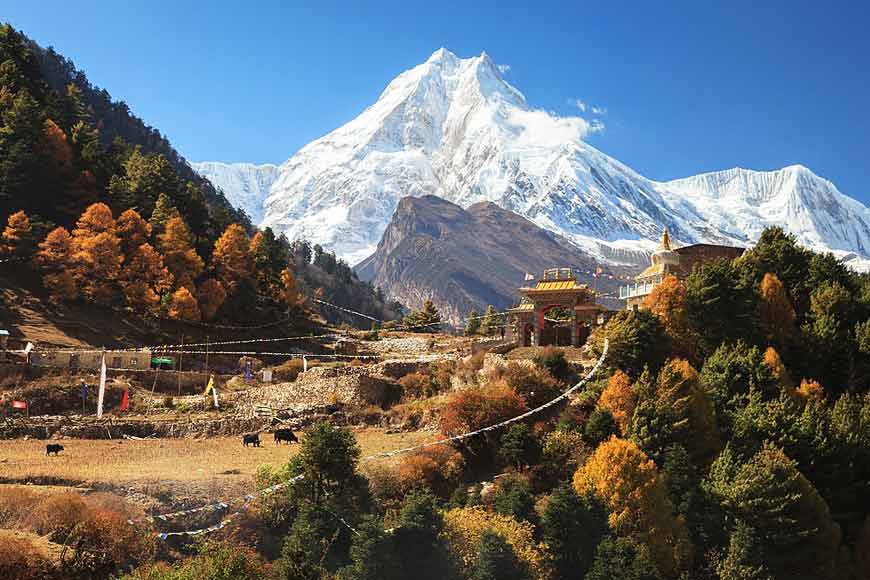 Circuit Manaslu Trek with Larkya Pass and Base Camp
Manaslu Base Camp treks are the most diverse trekking in Nepal. When it was lunch in 1991, the original length is 175 km from AruGhat to BeshiSahar, where the Annapurna circuit trek starts.
Nepal Manaslu Trekking trail is full of rich culture, tradition, adventurous excursion, natural scenic beauty, and rural civilization representing the ancient Tibetan lifestyle. Due to the newly opened trail with restricting trekking policy, Manaslu ridge and surrounding offers a chance to expansively explore the full range of Nepal's enrich natural and cultural heritage.
Since you likely know already about the world's highest peaks trek aka Everest Base Camp (EBC) and over 70 years old Annapurna Base Camp (ABC Trekking) But Trekking Trail Nepal is here with the most amazing Manaslu Base Camp Trek with Circuit Route. Annapurna and Everest are the two most visited trekking area because of its years-long popularity. Manaslu is open in the early 1990s for trekking. As a result, it lost acronym MBC to the most iconic mountain of Nepal. Furthermore, the surprising fact is there is not expedition after 1963, and its a point on the trail of Annapurna Base Camp Trekking.
As our vision to offer you the new trek route as well alternative trekking trail in Nepal, here we come with Manaslu Base Camp Trek.
Manaslu - 8th Highest Mountain of the World
Manaslu is the Eight Highest Mountain of the world and 7th of Nepal with a staggering 8163 m high. This 8000ers the major attraction of Manaslu Base Camp trek among other mountains that you experience along the trekking trail.
Since the first climber is Japanese this mountain is also locally called Japanese Peak. This is the highest point of Mansiri Himalayas range with is commonly known as Manaslu Himalayas Range. Manaslu is derived from a Sanskrit name meaning Mountain of the Spirit.
With the successful summit in 1956 by Toshio Imasishi and Gyalzen Norbu: Japanese-Nepalese climbing team, Manaslu becomes the pride symbol for Japanese, as similar to the British with Mt. Everest.
Where is Manaslu Mountain?
This iconic Peak is based in the northern Mid Himalayan range of western central of Gorkha District, Nepal. Mount Manaslu stands out as the Eighth Highest Mountain in the world and the 7th of Nepal. Manaslu does not only represent the one tallest but it also the name of the whole range between Ganesh Himal to the east to Annapurna in the west.
Mt. Manaslu and Trekking is not popular as Everest, which is well known for Climbing and trekking. However, Manaslu Circuit Trek aka Base Camp is already started to present as Best Off the beaten trails for reading adventurer.
How to reach the Base Camp of Manaslu?
Manaslu Base Camp Trek is one of the remote as well as new trekking in Nepal. To reach the starting point of this beautiful trek you have to experience the off-road 4wheel drive or local transportation. It is not like Everest Base Camp Trek, where you reach the starting point by flight. Being a circuit trek, your Start and endpoint on Manaslu Base Camp Trek is a difference, while Everest Trek mostly start-end at Lukla Airport.
For the Manaslu Base Camp Circuit Trek, you are making a loop. A complete circuit when you back to Kathmandu. Starting from Soti Khola, following Tsum Valley entry point, stop by Manaslu Base Camp, cross Larkey Pass and then end up your trek in Dharapani on the trail of Annapurna Circuit Trek. You will experience the complete different trek in Circuit trek over many base camp treks. This is extra benefits to circuit trek over base camp treks, that you don't need to return the same trail after you reach the major destination.
Almost all circuit treks in Nepal, starting point and endpoint are always different. Everest Base Camp, Kanchenjunga Base Camp and Annapurna Base Camp and best 3 Base camp treks in Nepal. Similarly, Annapurna Circuit Trek is on a competitor of Manaslu Circuit Trek in Nepal.
Manaslu Circuit Trekking or Manaslu Base Camp Trek?
Manaslu is one of the best circuit trekking trails that comes with adventure hiking of Base Camp. In short, Manaslu Circuit Trek is another name for Manaslu Base Camp Trek. Just a difference is a one day hike in Sama Gaun, whether you explore the Manaslu Base Camp or not. We do not have to reach the base camp Since we are not climbing Manaslu. As an adventure trekker, we need beautiful views of mountains, pristine nature, Culture, and more, Which is not possible to get at the base of the mountains.
Manaslu Base Camp trek is more popular by the name Manaslu Circuit Trek. In which Manaslu Base Camp is not the difference destination but is instead a one-day side trek, which you can do from Sama Village.
Why Nepal Manaslu Trek with Trekking Trail Nepal
- Best local trekking company in Nepal, pioneering in the short trekking itinerary
- Record of ZERO RESCUE and 100% Success Rate
- Best price guarantee with far beyond excellence services
- Personalized package and itinerary, following fair pay for guide and porters
- Zero Credit Card Fees on Booking with easy and secure online payment
How is Normal Manaslu Base Camp Trek itinerary?
Depending on the rest day, side trip, and season, Manaslu Base Camp trek itinerary comes of 12 to 20 days. If the trek happens sometimes in monsoon in June, July, August to early September, we request you to follow at least 14 days Manaslu Trek itinerary. Make sure you add an extra day for your interest inside the trip and rest day.
If you want to explore the region as much as possible you need 2 days of rest in Sama Gaun, However, 1 day comes with the normal itinerary. More popular side trips of this Trek are Manaslu Base Camp, Birendra Lake, Puygen monastery, and the Tibetan border as well as the traditional village.
To add an extra couple of days, Tsum Valley is the best side trip during Manaslu Trekking in Nepal, Which is highly recommended. By exploring Tsum, you don't need to back in the Manaslu Trekking area twice. It comes double benefits in 1 Trek of Manaslu Base Camp. If you want to follow Short Manaslu Circuit Trek, we recommend the months of October, November, March, and April. With good road conditions, longer days, easier trail, even you can complete itinerary of 10 Days Manaslu Circuit Trek.
Short Manaslu Base Camp Trek Itinerary
Day 01: Arrive Kathmandu
Day 02: Kathmandu Valley Tour ready for Nepal Manaslu Base Camp trek
Day 03: 8 hours 4 wheel jeep drive to Kathmandu Soti Khola
Day 04: Trek Machha Khola (890m/2,920ft)
Day 05: Trek to Jagat and enter the restricted trekking area
Day 06: Trek to Dyang or Deng
Day 07: Trek to Namrung
Day 08: Trek to Sama Gaon aka Sama Village
Day 09: Sama Gaon rest and exploration of Manaslu Base Camp
Day 10: Trek to Samdo
Day 11: Hike to Larkya Phedi ( Dharmasala)
Day 12: Dharamsala to Larkya La Pass (5,160m/16,930ft) and Bimthang
Day 13: Bimthang to Dharapani
Day 14: 4-wheel jeep drive to Kathmandu via Beshi-Sahar
Day 15: End of Manaslu Base Camp Trek with Larkya La Pass around Manaslu circuit trail.
Manaslu Base Camp Trek Highlights
- Exploring Manaslu Base Camp, 8th highest mountain of the world
- The deep insight of ancient Tibetan culture with the Buddhist religion
- Explore the godforsaken unspoiled, untouched natural heritage of the Manaslu region, Nepal.
- Enjoy the ultimate peace, tranquility along the less crowed Manaslu Base Camp trekking trail
- One of the best trekking routes of Nepal comes with genuine off beaten trek.
- Spectacular views of Mt. Manaslu (8153m/26,748ft) and Himlung Himal (7216m\23,345ft) along with dozens of others.
- 10 peaks above 6500 m and few more over 7000 m.
- Explore rural villages of the local Gurung as well imported Tibetan people
- Accommodate yourself on the basis yet beautiful Teahouse long Manaslu Trail.
- Complete peace of mind and you can lose up to 10 lbs with our special guide plan.
- Understand and experience the true lifestyle of Nubri and Tsum, who are the two main ethnic groups residing in the Manaslu region. Among both groups, Tsum still gives a glimpse of their traditional culture, art, and tradition which is a matter of study for many researchers.
- Cultural exploration along with colorful monasteries, mani walls, prayer flags, and wheels along trails and villages.
- Pristine natural beauty, high altitude glacier lakes, endanger and fascinating flora, and fauna along with Himalayan Mountains make Manaslu Trek a most do trekking in Nepal.
- Trek to untouched Manaslu Conservation Area
- Spiritual exploration and meditation inside Buddhist monasteries give you the peace of mind with picturesque mountain views.
Why Manaslu Base Camp is Restrict Trekking in Nepal?
YES!!! Manaslu Base Camp belongs to restrict trekking in Nepal. There is no precise answer why Nepal Manaslu trek comes under restricted area. There are many reasons like ancient culture and religious heritage, Geo-politics, Natural Heritage like the Himalayas as well as precious biological features. High altitude Pass like Larkya La Pass, Rui La Pass close to Tibetan refugee village of Tsum Valley are close to Open Tibet border is one reason for geopolitics.
However, you need to trek here to believe why it needs to control the overflow of tourists by restricting trekking policy. In short, Nepal Government policy to preserve this hidden treasure around Manaslu apply as restrict trekking which allows control number of tourist by higher permits fees.
Accommodation During Manaslu Base Camp Trek
With Trekking Trail Nepals' Manaslu Base Camp Trek you will spend 3 nights in 3-star hotels in Kathmandu. Similarly 14 nights in the basic teahouse and local lodge along the trekking trails. Kathmandu accommodation comes with complimentary breakfast. Above all our accommodation comes as a twin sharing basis.
The standard of Nepalese hotel even of stars hotel may not match to the European standard. But you will get good sleep and a beautiful dream after enjoying the outside and nature. Accommodation during the Manaslu Base Camp Trekking route is basis and cozy. Twin or triple sharing is mostly available with a shared toilet outside of the room at the end of the same building. Please do not expect luxury, It Adventures in the Himalayas, not in the Alps. Local lodge, hotels, and tea houses offer comfortable and clean beds, light blankets, and pillow.
With a single supplementary cost of USD 350 per person, you can get private accommodation for the entire trip. However, 5 days at the high altitude of Manaslu Trek three is not the possibility for that.
NOTE: Because of big numbers of trekkers flooded into the Manaslu area. You may have to share a room with other trekkers especially in Dharmalala (Larkya La Phedi) before High pass of Manaslu Circuit Trek.
Meals During Manaslu Circuit and Base Camp Trek
During our Manaslu Base Camp Trek Trekking Trail Nepal offers Fresh, healthy, and organic local as well as international meals. You will get the chance to taste typical Nepalese food to Chinese, Indian, Italian, and Tibetan. Even some lodge offers Mexican, continental, as well as Korean. Popular items are Dal Bhat, spring roll, Thukpa, Swiss roll, Mo: Mo, Pizza, Macaroni, Paratha, Pasta as on. Breakfast and dinner will be served in camp, while lunch will be enjoyed at the local lodge on the trekking trail. No limits to this, verities of hot, cold and alcoholic drinks and garden-fresh homemade soup make good food adventure with Manaslu Base Camp Trek.
Regarding the quality and freshness, you don't have to worry. All meals, snacks, drinks are prepared and serve hygienically and healthily. Most of the vegetables served in tea houses for meals are produced from their organic farm. Boil and purifier water are used in the cleaning and cooking process. We guarantee food and drinks will be your one adventurous part of Manaslu Base Camp Trek.
Minimum 2 Hiker for Manaslu Circuit and Base Camp Trek is must
Because of restricting and controlling the trekking area, Manaslu Base Camp Trek needs a minimum of 2 hikers to get a permit. This same rule is to apply for Manaslu Circuit Trek or Manaslu Tsum Valley. If are 2 people you can book our Manaslu Circuit and Base Camp Trek with your best date. However, if you are single please join a fixed date group departure for Manaslu Base Camp Trek.
Important Trekking Gears for Manaslu Base Camp Trekking
Manaslu Base Camp trekking passes through many temperature zone and altitudes. The trek starts from 730 meters above sea level and reaches high up to 5,210 meters. Changing in altitude, and climatic zone, temperature varies and you need to match accordingly. To cope with is the temperate difference and make adventure enjoyable you need to choose the right trekking gears for Manaslu Base Camp Trekking
Here is a short and Important Trekking Gears list for Manaslu Base Camp Trek.
General Trekking Gears: Four Season Sleeping Bag (If you don't' have Trekking Trail Nepal provides for the trip duration), Water Duffel Bag (Complementary from Trekking Trail Nepal), Sleeping bag liners, Light Daypack, Down Jacket, Trekking boots, etc
Basic Clothing List: Couple of pairs full and half sleeve T-shirts, Lightweight expedition thermal, fleece jacket with heat, wind and waterproof shell jacket, Synthetic sports bras (for women), breathable undergarments, Trekking pants and shorts, Trekking pants, Windproof trousers.
Trekking Gears for Head, Hand, and Foot: Sun Hat, Ear covering warm hat made of wool or synthetic, UV protective Sunglasses and sunscreen, Headlight, Waterproof gloves with grips. Similarly, Waterproof Hiking Boots, light sandals, Light and warm hiking socks, basis gaiters.
Day to Day Trekking Gears:Water Bottle, Purification means, Toiletries (quick-dry towel, toilet paper, toothbrush and paste, soap, shampoo, deodorant, etc.), Trekking Poles, Feminine Hygiene Products (for women). Do not forget Lip balm and Sunscreen SPF 40 above. Poncho and rain cover.
Other Trekking Accessories: Trekking Poles as your habit, Personal First Aid Kit, Personal Medication if any by your doctors, Wet wipes, Earplugs to get away snoring Neighbor, Hand sanitizer, Insect repellent, Camera, memory card, charging cord, Ziplock bags of valuable documents and cash. Small power-bank or solar charger etc.
Best Season and Months for Nepal Manaslu Trek
Trekking in Nepal is possible during any month around the year, depending on the trail you choose. Apart from all-season trekking, spring and autumn are the most favorable season for Manaslu Base Camp Trek.In the short spring months of March, April, May till the first week of June is best for Manaslu Base Camp. Similarly from the second half of September, October, November, and to mid of December is best during the fall season.
On the other hand, Monsoon months of June, July, and August is considered a low season. Winder months of December, January, and February is almost considered as an off season. Because of low temperature and heavy snowfall trail between Samagau, Bhimthang via Larkya La Pass is not for faint-hearten. Even Hotel and Lodge will be close so winter is not best for Manaslu Base Camp Trek.
Know More About Best Season / Month for Manaslu Base Camp Trekking in Nepal
Autumn Season Manaslu Trekking
Months of September, October, and November is the best time for Manaslu Circuit with Base Camp trek. The blue sky, negligible probability of rainfall, warm and sunny day and chilly morning and night of autumn season-best for Manaslu Trekking. Nepalese biggest festivals like Dashain, Tihar, Chhat, and more makes September, October, and November best for Manaslu Base Camp Trek. This feature goes up to the second weeds of December.
Manaslu Circuit Trek in Winter Season:
From mid of December, January, and February winter season hits Nepal as well Manaslu Himalayas. The sky remains foggy, the land is usually dry because of low rainfall. However, snowfall is highly active above 2500 meters altitude. Lower altitude and easy trekking in Nepal are doable but Manaslu Base camp trek is not best during the winter season.
Spring Season is Best for Manaslu Base Camp Trek
Month of March, April, and May are the months of spring and the best time for Trekking in Nepal as well as Manaslu Base Camp. The sky remains dark blue clear, light clouds remain but confuse, very light snowfall adds adventure above 3500 meters altitude. Similarly, light pre-monsoon can occur but weather and temperature remain fit for trekking. Days are a little hot but the greenery of the trekking trail gives the contrast with high mountains. If you are nature flower and orchids loving adventurer spring is best for Manaslu Trekking. Verities of rhododendron, a valley full of colorful orchids make you like in a big natural garden during March and April.
Monsoon aka Summer Season:
June, July, and August are the month of summer and monsoon in Nepal. This period is not the best time for Manaslu trekking in Nepal. The sky seems always ready to rain, Full of cloudy and low visibility.
Low altitude trekking trails remain open but come as the extra adventure of slippery, leech, slugs, and mosquito. The temperature remains really warm and infrequent thunderstorms with less probability of Himalayas views. Trekking routes like Annapurna Base Camp Trekking, Mohare Danda Trek, and Everest View trek are open, However, Upper Mustang is the best trek for the rainy season. Monsoon trekking in Nepal is not best but still popular because of agricultural activities, flooding waterfall, less crowded trails, cheap trekking package. Trekking Trail Nepal does not recommend to choose Manaslu Base Camp Trek for monsoon months.
NOTE: Above all, Monsoon months best time for botanists study, investigation, and research in Nepal.
Manaslu Base Camp Trek Permit and Cost
You need minimum 3 different permits for Manaslu Base Camp Trek. Permit costs are different depending on your choice of season and months. In short high season cost higher fees while lower off-season is cheaper permits fees.
Manaslu Trekking Permits Fees
Permits Needed
September to November
December To August
Currency
Manaslu Restrict Permits
100 for first 7 days and 15 extra days
75 for first 7 days and 10 extra days
USD
Manaslu Conservation Area Permit
( MCAP PERMIT )
Foreginers 3000
SAARC National : 1000
Foreginers 3000
SAARC National : 1000
NRS
Annapurna Conservation Area Permit
( ACAP PERMIT )
Foreigners: 3000
SAARC National : 1000
Foreginers : 3000
SAARC National : 1000
NRS

Tsum Valley ( Optional )

40 for 7 Days and 5 extra days
30 for 7 Days and 5 extra days
USD
In short, Manaslu Base Camp Trek permit costs USD120 to 140 depends on the month you choose.
Regarding the Manaslu Base Camp Trek Cost, there is no fixed mathematical answer. All Manaslu trekking package comes with Condition Apply with many variables. However, the price for Nepal Manaslu Trek comes between USD to 2800 per person. If you are dreaming about Manaslu Base Camp Trek, one very important thing you must know, you cannot do as your own. An only local company like Trekking Trail Nepal can issue your trekking permits for you with the Nepalese guide.
As your Manaslu Base Camp Trek will be accompanied by Guide it comes at a high price but along with safety, depth knowledge, and true experience. However, Manaslu Base Camp Trek, Manaslu Circuit, Tsum Valley Trek comes costly in-compare to Annapurna Base Camp Trekking or Everest Base Camp.
Physical Fitness and Preparation for the Manaslu Trek Nepal
Manaslu Base Camp is 12-day trekking in Himalayas of Nepal in 15 Days trip. On average you have to hike about 6-8 hours in rough and undulating terrains to reach our camp. Trekking trail full of ups and down adds for difficulty as well adventure to the trek. To cope with the challenges fo Manaslu Basecamp trek you must prepare from your side, before hitting the trail.
If you are a regular hiker with average fitness you can do this classical trekking in Nepal with basis preparation. However, if you are pro athletic and climbers and trail runner, most probably you don't need any preparation.
Follow our 1 Month Fitness Guide. and prepare yourself for Manaslu Base Camp Trek. Applying our 4 weeks special training makes your perfect fit for your Nepal Manaslu Adventure.
Furthermore, fitness regular physical activities like deep or river swimming, off-road mt. biking, running is helpful to get fitness. A moderate level of fitness is enough for conquering Nepal Manaslu Trek ahead. We prepare and dream Manaslu with complete mind and body, Trekking Trail Nepal apply 101% from our side too.
NOTE FOR FITNESS AND PREPARATION
Fitness is required not only because Manaslu is a difficult trek. The challenges added because of its remote position. Very limited access is available to the area of Manaslu trekking. Even with a minor health issue, only a chopper evacuation is to reach civilization and cities. This not only ends Manaslu trekking for you but my come with an extra financial burden to a holiday budget. Be assured with some Best travel Medical insurance with evacuation coverage.
Terrain and Difficulty in Nepal Manaslu Trekking Route
Manaslu Base Camp trek with a circuit route covers the wide variety of terrains. The landscapes are difficult and oddly shaped, even in isolated parts in the lap of Himalayas. You will be hiking about 10 to 13 miles each day. Hiking on harrowing stairs trains on the off-the-beaten trail needs your stamina and physical endurance. The first few days are the easiest part of Manaslu Trek, Nepal along the banks of Budi Gandaki Valley. Furthermore, the difficulty level increases each day after. Continuous downhills and downhill in thin air add more difficulty.
The highest point of Larkya La pass 5,160 m is one most challenging. It will test your strength and capabilities. Not only physical fitness makes you perfect for you, but your mental peroration plays a big role in cove rough terrain and difficulty. Our fitness guide prepares your stamina to challenge the Terrain and Difficulty of Nepal Manaslu Trekking.
NOTE: Larkya La Pass is the highest point of Manaslu Base Camp Trek. This is also the longest day in our Nepal Manaslu Trek in which we need to cross the altitude of 5,160 meters, and trails come only steep ups and downs. To avoid the tempest of Larkya La Pass we start our day way early before sunrise.
How Long is Manaslu Circuit Trek?
The original distance of the Manaslu Circuit trek is 175 Km ( 109 miles) when it was lunch back in 1991. This distance is between from Arughat Bazar of Gurkha to Beshi Sahar of Lamjung district. With the increasing rural motor able road network, The new popular Short Manaslu Trek starts at Soti Khola and ends in Dharapani which is 117 km long.
Altitude Variation in Manaslu Trekking
As other circuit trekking, altitude on the Manaslu Base Camp trekking trail is also highly varied. The trek begins at an altitude of 730m, Soti Khola but reaches up to 5,106 m 16,752 ft (Larkya La ). Whether you are pro or average hikers, your body surely experiences a vast change that comes with less oxygen and High altitude. All hikers were likely to risk of altitude sickness as we gain elevation completing our days.
Trekking Trail Nepal's request to prepare yourself physically and mentally against the risks of altitude sickness comes with Manaslu Trekking. You don't need to be pro fit and mountain active to overcome the risk of Manaslu Base Camp trek. 1 month of basic fitness guide will make perfect to achieve the experience of a lifetime.
NOTE: If you have heart, lunch, and knees problem, please consult you, doctor, before you hit Manaslu Trekking. Your previous High Altitude and Himalayas Trekking in Nepal is the best medicine to get success at Manaslu Base Camp trek.
Altitude Sickness During Nepal Manaslu Trek
It is not reliable to predict who gets affected by altitude sickness or not. Altitude sickness aka Acute Mountain Sickness is caused by thin air at the high altitudes above 3,400 meters above sea level. Since the highest point of Manaslu Base Camp Trek is 5160 m, it carries the risk of altitude sickness. It is better to get acclimatize properly, follow a healthy diet and drinks, stoping of cigarette and alcohol help you avoid the risk.
Our specially designed itinerary with the excursion and slow hike helps to fell the symptoms early to take a move ahead then altitude sickness becomes a risk. Our experienced leader guides you with a slow and steady pace to reach high, not as fast as a marathon.
Feel your body is the most significant part to know the early symptoms of altitude sickness. Common symptoms like headaches, shortage of breath, nausea, losing appetite, fatigue, etc first preventive measure should be applied. These steps are descent to lower elevation, drink and stay warm, if not improve the need for medical help
Conclusion of Manaslu Base Camp with Larkya La Pass Trek
Manaslu Base Camp Trek with Larkya La Pass is a classic and new circuit trek. You will immerse yourself in the geographical charisma. Manaslu Base Camp Trek in Nepal takes you to the rich and diverse culture, natural beauty, rudimental settlements, and ancient Tibetan culture and traditions. No doubt! You will have the great Adventure Holidays of Lifetime with Trekking Trail Nepal's Manaslu Base Camp Trek.