This Short Manaslu Circuit Trek is gaining popularity as an alternative trek to the Annapurna Circuit Trek. With an increasing number of trekkers, a number of good teahouses and lodges are established on the trekking trail of the Manaslu Circuit. As a result, Short Manaslu Trek is getting popular to explore the hidden nature, culture, and the Himalayas. The Trekking Trail Nepal team will give you the best itinerary to explore this beautiful Manaslu region. This 12-day Short Manaslu Circuit Trek will take you to different routes engulfed with other cultures, natural beauties, arts, and architecture. From lowlands (600 m) to highlands (5200 approximately), this trek offers a beautiful view of mountains, rivers, waterfalls, and glaciers. Compared to some of the other popular treks like Short ABC Trek Langtang Valley Trekking, and Everest Base Camp Trek 2023, this trek is a little strenuous. Also, as it is a restricted area, trekking solo is prohibited. One must get a special permit and an experienced guide to do this trek. A few years back, this Short Manaslu Circuit Trek used to be a camp or tented hike, but recently, with trekkers' flow, this is now a teahouse trek.
Get the Best Price Short Manaslu Circuit Trek 12 Days Just at US$ 999 November 24 to December 5.
Book Now.
Why Manaslu Short Trek Itinerary
12 Days Short Manaslu Trek package and itinerary
Same Trekking Itinerary and Trail
The best alternative to Annapurna Circuit Trek
Short Manaslu Trek is a less explored Trail
Untouched Nature, Non-Commercialized facilities, the Buddhist Tradition, and Culture
Short Manaslu Trek combines Pokhara and Kathmandu
Best Shortest Itinerary for Manaslu Larkya La Pass Trek
12-Day Short Trek to Manaslu Circuit starts by driving up to Arughat from Kathmandu. From there, we will trek along the bank of the Budi Gandaki River. Throughout the trek, beautiful views of the mountains like Himlung, Larkey Peak, Mt. Manaslu, Annapurna II, and many other small and big mountains, as well as beautiful landscapes, will accompany you. Also, you will experience the Tibetan influences in the culture and rituals of the local people living here. Even Traditional houses, festivals, language, foods, and lifestyles all connect with Tibetan culture. Views of Prayer wheels, monasteries, mani walls, and paintings are standard throughout the trail. Pine, Spruce, oak, juniper, rhododendron, and other herbal plant species are common during trekking through the dense forest. If lucky enough, we will encounter different species of wild animals like musk deer, snow leopards, squirrels, feral cats, Himalayan marmots, and Himalayan Thar.
Short Manaslu Trek Highlights
Shortest Trek to clear Manaslu Larkya La Pass.
Completely different trekking trail from Day 1 to 12.
Trekking trail mix of people, cultures, religions, and Himalayas nature.
Less trodden, newly popular, virgin trekking trail.
Additional 4WD Jeep Drive Adventure with Manaslu Pass Trek.
Physical Fitness Required for Short Manaslu Circuit Trek
Trekking in Nepal is one of the most popular adventure activities. Thousands of adventure and trekking seekers flow in the peak season to the mighty Himalayas, along with Everest, Annapurna, Langtang, and Newly Manaslu. Some Trekking in Nepal is easy, while some are really tough and need some physical capacities to complete the trekking adventure, especially those trekking trail that passes through the High Alpine Himalayas like Everest Three High Pass Trek, Tilicho Pass Trek, and Manaslu Circuit Trek.
12 Days Short Manaslu Trekking Itinerary - Day-to-Day
Kathmandu to Arughat and Soti Khola: Day 1
After breakfast, we will prepare for a ride up to Arughat. It will take about 6-7 hours to reach Arughat. The road will pass through green hills, rivers, towns, and markets. You will be experiencing some bumpy rides in between reaching up Arughat. Upon reaching Arughat, we will take a break for some tea or we will have our meal here and rest for a while. Then, we continue our drive to Soti Khola. In about 1 hour of uphill driving through the different villages, we will now reach Soti Khola. We will stay in the teahouse today here at Soti Khola. Overnight stay at the teahouse.
Soti Khola to Maccha Khola: Day 2
After breakfast, we will start our trek to reach Maccha Khola. This Soti Khola is the last point accessible to the motorable road. The trail passes through the fields and the bank of the Budi Gandaki River. You will see locals doing their daily activities in their houses and areas around while trekking. Trekking Trail is not so challenging, so you can say it is an easy walk for the day's trek. Enjoying the surrounding view while walking, we will reach Maccha Khola in no time. There are hotels, lodges, and teahouses to stay in. Overnight stay at a hotel.
Maccha Khola to Jagat: Day 3
After breakfast, we will start our trek. You can expect some traffic jams on the trail due to mules carrying loads on their backs. Watch out for the mules and some steep parts while walking on the bank of the beautiful Budi Gandaki River. Also, watch for the landslide sections in the different regions. Be careful while walking on these sections. Few hours of walking, we will now reach Jagat, where there is a check post to enter your name and check your permit. There is a settlement of a group of local people with some hotels and lodges in this beautiful village. Overnight stay at the tea house in this beautiful village.
Jagat to Deng: Day 4
After breakfast, today we will prepare to trek to reach our destination Dying. First, we will be crossing the Budi Gandaki River several times over the wood and a suspension bridge. After that, we will pass through the village like Philim and Ekle Bhatti. You will see well-managed lodges and guest houses here. The Trekking Trail of today as the itinerary is easy uphill and downhill, so it will not be that difficult to reach today's destination. Also, be careful while walking along the riverbank and also watch out for the landslide area. After a few hours of walking through the village and dense pine forest, we will now reach Deng. Overnight stay at the guest house.
Deng to Namrung: Day 5
It will take about 6 to 7 hours to reach Namrung from Deng. So, after breakfast, we will prepare to walk crossing different villages and forests, not to mention the beautiful view of mountains and the roaring sound of the Budi Gandaki river. This entire is inside the Manaslu Conservation Area so you will see some of the rare species of flora and fauna. It is an easy walk today, not so much of an uphill climb. After about 7 hours of walking, we will now reach Namrung village, located next to the Budi Gandaki River. Overnight stay at the guesthouse.
Namrung to Samagaon: Day 6
After breakfast, we will start our trek. The trail combines both uphill and downhill walks through dense forests and villages influenced by Tibetan culture and rituals. Houses built here are Tibetan influential as well as festivals. The trail passes through Lho village. You will get a good view of the surrounding mountains throughout the trek. After about 6 hours of walking, we will now reach Samagaon, where we will acclimatize for the day, explore the surroundings, and get to know more about the local people and culture. Overnight stay at the guest house.
Hiking to Manaslu Basecamp/Birendra Tal: Day 7
Today is the rest day here at Samagaon. We will spend our time exploring the local places. We will hike a little up to Pungyen Gompa which will take about 3 hours to reach or maybe up to the Manaslu Base Camp itself, where we will be getting close to the mighty Manaslu. The trail is narrow and steep uphill. It will be hard to walk along this trail. So, one must start this hike earlier to reach base camp and back to Samagaon. Hiking up to the base camp will also be helpful to acclimatize more for the next day's trek. En route, we will also visit the beautiful turquoise Birendra Tal. After that, we will return to our guest house and rest for the day. Overnight stay at the guest house.
Samagaon to Samdo: Day 08
It will be a short and easy walk from Samagaon to Samdo. The trail is primarily plain and easy. It will take about 3 hours to reach Samdo, so we will pass through Mani walls, prayer wheels, and Chortens along the trail without rushing. We have a full day's rest here at Samdo. Explore the place, take some pictures, and talk with the local people about their lifestyle here. It is a deserted yet beautiful landscape here in Samdo. Overnight stay at the guest house.
Samdo to Dharmashala: Day 9
You have two options today; either stay 2 nights here at Samdo and cross Larkey Pass and reach Bimtang on the same day or you can hike further up to Dharmashala which is also known as Larkey Phedi or Larkey Base Camp locally. If physically fit, you can rest here at Samdo. If not, we will trek to reach Dharmashala. It is also a short and easy walk for about 4 hours. There is only one teahouse with some tents here in Dharmashala. So, you can expect quite a lot of visitors here during the peak season. The night will be cold and chilly. Prepare yourself to get warm during the chilly night. Sleep early to wake up early and start our trek to cross the pass. Make your backpacks, torch, and some food ready to begin early in the morning, at nearly 4 to 5. Overnight stay at the teahouse.
Dharmashala to Bimthang: Day 10
We will be starting our trek as early as 4 or 5 in the morning. The earlier you start the tour, it will be easy to cross the Larkey Pass. The wind gets more potent during the daytime, so keep a steady pace and follow the marked poles to cross the pass. Annapurna range, Larkey Peak, and some other mountain ranges are visible during this walk. After about 4-5 hours of walking, we will now Reach Larkey Pass (5200 m approx.). We will spend a few minutes here and descend as quickly as we can. A trekking pole will come in handy while descending the steep trail. However, it is an easy walk after dropping. In about 5 hours, we will reach Bimthang, a beautiful settlement located in the lap of mountains. Good teahouses and lodges are here to serve their guests. Overnight stay at the club.
Bimthang to Dharapani: Day 11
Today is the easiest day in the whole trek, this Short Manaslu Trek. We will reach Dharapani with an easy downhill full of Natural sights. Overnight in the lodge. 7-8 hours
Dharapani to Kathmandu: Day 12
If everything goes well as planned, we will reach Kathmandu today. Start early in the morning and get a bus or jeep. The road is busy mainly with jeeps and trekkers. The road is primarily rocky and off-road through Tal, so prepare yourself to get a bumpy ride, but from Besi Sahar, it is a blacktopped road. In about 8-9 hours of a long drive, we will now reach Kathmandu. We will rest upon reaching Kathmandu. Overnight stay at the hotel.
Normal Physical Fitness is enough for the Short Manaslu Circuit Trek
The Trail of Short Manaslu Circuit Trekking passes through the High Alpine trail which is less crowded in comparison to other trekking trails and has less human civilization. You are in a very secluded area, for most basic needs (more than Lodging and food), you must walk for at least 6 hours. This is the shortest version of Long Manaslu Laykya La Pass Trekking. To complete in 12 days, Trekking Trail Nepal tried to use the experience and knowledge and extended a few hiking hours every day. This short itinerary is the major reason you must be more physically fit than average trekkers or adventurous.
Come and join the Beautiful, Best Short Manaslu Circuit Trekking to experience hidden nature. You will be in the Manaslu Himalayas Ranges in your limited period of trekking days. If you need any customization in this Short Manaslu Circuit Trek, Please let us know. Trekking Trail Nepal will be happy to make Short Manaslu Trek Itinerary complete your adventure dream for this Short Manaslu Larkya La Pass Trek as Circuit Trek in your style, time, resources, and needs.
The Best Months Short Manaslu Trek 2023
October and November are the best months to explore and experience this 12-day Short Manaslu Trek. The chilled weather, blue sky with white mountains and golden clouds during sunrise and sunset mostly. In addition, the festival season of October and November in Hinduism and Buddhism gives you many moments to experience for your lifetime.
Book Short Manaslu Trek for November and December 2023 now just at $999 and prepare for it with our 4-week easy guide.
Short Manaslu Trekking Map with Tsum Valley: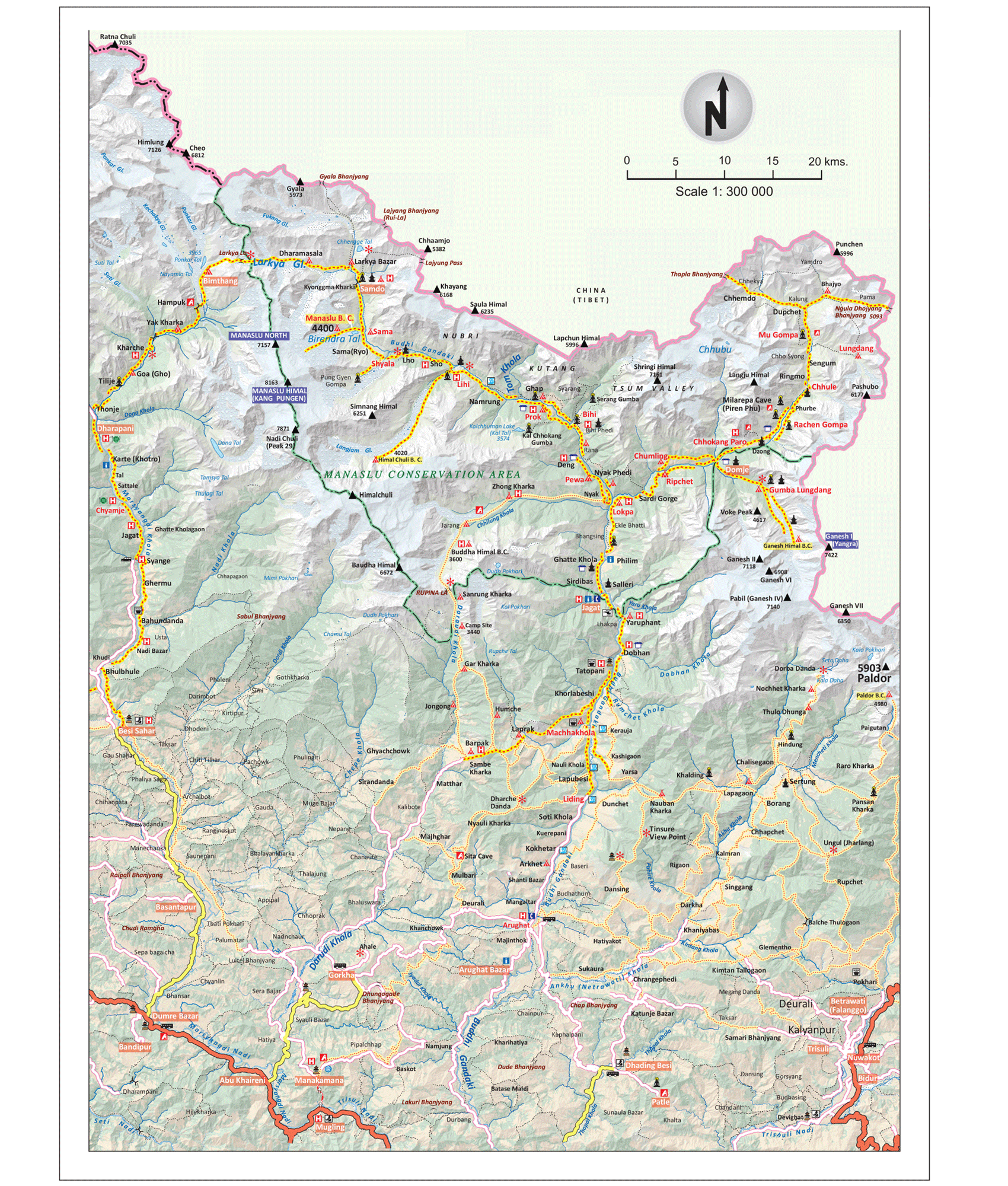 12 Days Manaslu Circuit Trek in Conclusion:
Short Manaslu Circuit Trek 12 Days will fulfill your adventurous and exciting holiday needs in the newly famous and virgin Trekking Trail within your short time frame. Furthermore, this Short Manaslu Trekking in Nepal features Exploring the Trail, Villages, People, and Culture of the Manaslu Himalayas Ranges.