Trekking Gears Checklist for Trekking in Nepal 2023
Already booked a trekking package to the Himalayas of Nepal or looking for an equipment checklist for trekking and wondering about the essential equipment for your outdoor recreation and Trekking in Nepal 2023? Adventure Trekking in the Himalayas involves some of the wilderness and high alpine Trekking Trails, which need various equipment and gears; however, these lists can vary depending on your fitness, choice, availability, experience, health conditions, etc.
Trekking Trail Nepal is pleased to suggest our Trekking Gears Checklist for Trekking in Nepal for your reference. You can make imperative changes to our checklist as per your need and availability. If you could not get any of the following listed items in your hometown or be in a rush before your flight to the Himalayas, do not fright! These necessary trekking equipment are available in the shops in Kathmandu.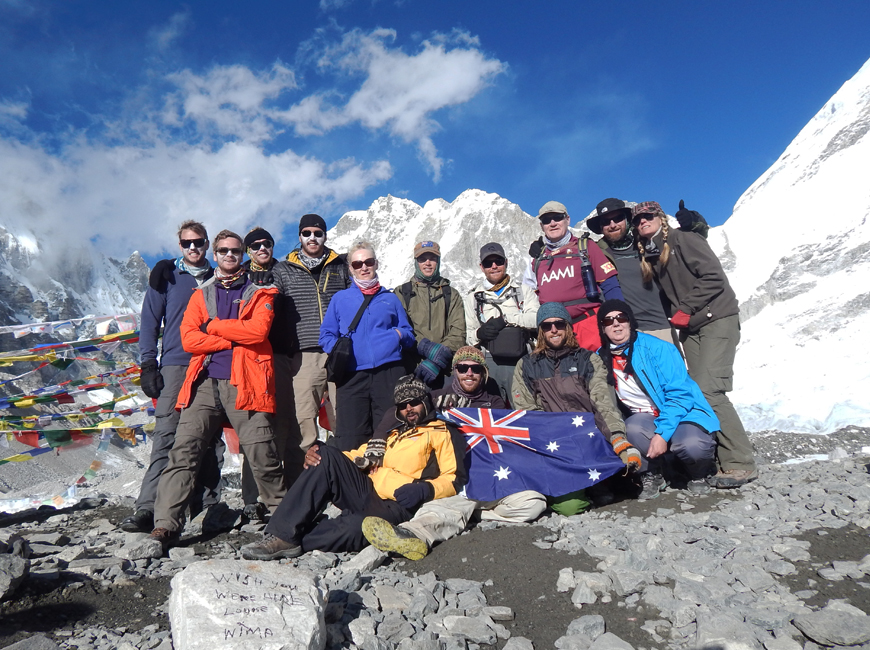 Gears Available In Kathmandu for Trekking in Nepal 2023
Most popular gears can get in Kathmandu, but the quality or price can be different. Some branded shops like The North Face, Mountain Hardware, Everest Hardware, Timberland Outdoor Equipment, Outdoor Research, Marmot, Sherpa Adventure Gear, Black Yak, and Red Fox Outdoor Equipment have their showroom in Kathmandu and some in Pokhara and Namche Bazar on the way to Everest Base Camp Trek 2023. At the same time, most gears are available in Kathmandu and made by Nepalese manufacturers. A majority of them are assembled in Nepal, China, and Bangladesh. If you chose a local brand, the quality might not be as you expect, but they are of remarkable quality compared to the price, although there is no guarantee.
Trekking Trail Nepal tried our best to list down outdoor gear needed for trekking in Nepal, and please make the appropriate selection from the list below. In addition, the below list is for your valued information only you can use your knowledge and experience too.
The best advice that we can give you is to make your pack as light as possible. Ultralight backpacking has now gone mainstream, and a little research will go a long way to shedding the kilos off your back. Would you mind consulting with us if you have any confusion? If you have some particular queries, CONTACT US.
Essential Accessories for Trekking in Nepal
Sleeping Bag: Especially during peak season, there is a shortage of blankets, so a suitable sleeping bag is a wise decision. 4 seasons Sleeping bag rated to zero degrees Fahrenheit. (Your sleeping bag strongly is recommended,
Headlamp: (Good quality, for example, Petzl Zoom, The North Face ) with spare batteries is a must.
Day Pack: Approximately 25-35 liters. Remember that your porter will most likely not travel at the same pace as you. So while trekking, a small day bag pack is essential enough to carry your valuables like a passport, money, medicine, sunscreen, etc.
Down Jacket: Down jackets are invaluable while traveling in high alpine areas. Make sure that the jacket will keep you warm down to minus 10 degrees Celsius. Your Down Jacket is the best alternative, but Trekking Trail Nepal also provides sleeping bags for rent. You need to return after the completion of your trek with Trekking Trail Nepal.
Duffel or rucksack bag: Must be waterproof and easy to carry. Remember, you may also need to leave some excess clothing or belongings back in Kathmandu (most hotels provide short-term storage for free), and a suitable, lockable suitcase is best.
Large plastic bags: for keeping Items dry inside the trekking bag
Water bottles: Hot water is essential; please make sure water bottles can resist boiling water.
Ear Plug: (who know some people in the group snore as they dream of snow leopard in the Himalayas. )
A small padlock or combination lock
Basic First Aid Kit
Trekking Poles
Head Items for Trekking in Nepal 2023
Round sun hat or scarf
Light balaclava or warm fleece hat
Sunglasses with UV protection
UV 45+Suntan lotion or sunblock cream
Upper Body Items for Trekking Trails in Nepal
Quick Dry or Flash Dry T-shirts
Light and expedition-weight thermal tops
Fleece jacket or pullover
Fleece Wind-Stopper jacket (Optional)
Waterproof (breathable fabric suggested) shell jacket
own vest and jacket (optional)
Lower Body Items for Trekking in Nepal
Under Garments made with cotton or soft fabric
Hiking shorts for the day
Lightweight cotton long pants ( Quick Dry or FlashDry Recommended )
Light and expedition-weight thermal bottoms
Fleece or woolen thermal pants (Optional)
Waterproof (preferably breathable fabric) shell pants
Things you must have for a winter trek, for the icy and snowy trail
To hike on snowy and icy trails, you will need the following gear:
Insulated, waterproof boots with good traction (such as crampons or microspikes)
Snow gaiters, and Micro Spikes, to keep snow from entering your boots
Insulated, waterproof pants and jacket
Hot water bottle; to refill boiling hot water
Warm hat, gloves, and a scarf or balaclava
Trekking poles with snow baskets
A backpack to carry extra layers, food, water, and emergency supplies
Sunglasses or goggles to protect your eyes from glare
Sunscreen to protect your skin from UV rays
A headlamp with extra batteries
It is important to check the weather and trail conditions before you set out and to let someone know your plans. And be sure to have experience in the snow/icy conditions before attempting any hike. It's always better to be overprepared than underprepared when it comes to safety.
Feet Items for Trekking in Nepal
Make sure you do not purchase brand-new boots and try and break them in on the trek. You might wind up breaking your feet instead. Make sure your boots are well-worn before your trekking in Nepal. Boots are one item you should not skip. Buy the best you can; your feet will love you for it. Unless you are mountaineering, heavy, double, plastic boots are not necessary. Comfort and lightweight, with good ankle support, are best. Make sure you bring a pair of camp shoes and wear them around camp and in tea houses. For safety, Trekking Trail Nepal requests you remember to bring extra laces as well.
Thin, lightweight inner socks
Thick, warm wool or cotton hiking socks
Good quality trekking boots with spare laces
Camp shoes (sneakers or sandals)
Gaiters for hiking in winter/monsoon season
Hand Items for Trekking in Nepal
Lightweight, warm, and airproof gloves
Heavyweight gloves or mittens
With a waterproof shell outer for monsoon and winter season
Toiletries Items for Trekking in Nepal
Medium-sized quick-drying towel
Toothbrush/paste and multi-purpose soap (biodegradable recommended)
Wet wipes (baby wipes)
Tissue /toilet roll
Antibacterial hand sanitizer
Face and body moisturizer
Feminine hygiene products
A small mirror and Nail clippers
Some Items for Snowing time and Raining Trek during the Monsoon Season
Crampons
Gaiters
Raincoat or ponchos
Dettol antiseptics help you keep away from leeches.
Luxurious Items for Trekking in Nepal
During the spare time around the camp at night, in tea houses, and on acclimatization days, some extra luxury items are worthwhile.
Binoculars and GPS tracker
Reading Novel other books (Kindle), Only one or two since you can switch with other members
Trail Guide Map / Guidebook
Small diary pen and pencils
Laptop/Tablets/I-pad
Selfie sticks and tripod, Drone camera
Indoor games like a deck of cards, chess, or others
Swimming customs are a must for Nepal Tours, City Tours, Kathmandu Pokhara Chitwan Lumbini Tour, Hot Spring Trek, Nepal Luxury Tour, and more).
If you feel items and list of Trekking Gears Checklist for Nepal Trekking is not completed with our missing items and gears, Please feel easy to write your suggestions. We will appreciate your idea and update our Trekking Gears Checklist for Trekking in Nepal 2023.