Differences Annapurna Circuit Trek vs Manaslu Circuit Trek
When it comes to long-distance multiday trekking in the Himalayas, the most famous treks of Nepal either be the Everest Base Camp Trek up to the foot of the highest mountain of the earth and hike back the same trekking route. Or Annapurna Circuit Trek navigation the world mountain range of Annapurna. Passing through almost every kind of landscape and terrain imaginable.
Get the Best Price Short Manaslu Circuit Trek 12 Days Just at US$ 999 November 24 to December 5.
Book Now
For about 50 years These 2 Treks are known as the best trekking on the planet. However, in the last few years, its popularity among adventure travelers took a blow when most of this iconic trail was replaced by now very busy and dusty roads. So new trekking trails were open to offer the same and avoid the dusty road section. As those were replaced by a number of minor local roads as well and many passionate trekkers wonder if the greater Annapurna circuit trek is worth hiking. The answer is NO, Just 1 mountain further east, a new tea house trek comes to life; we called it Manaslu Circuit Trek.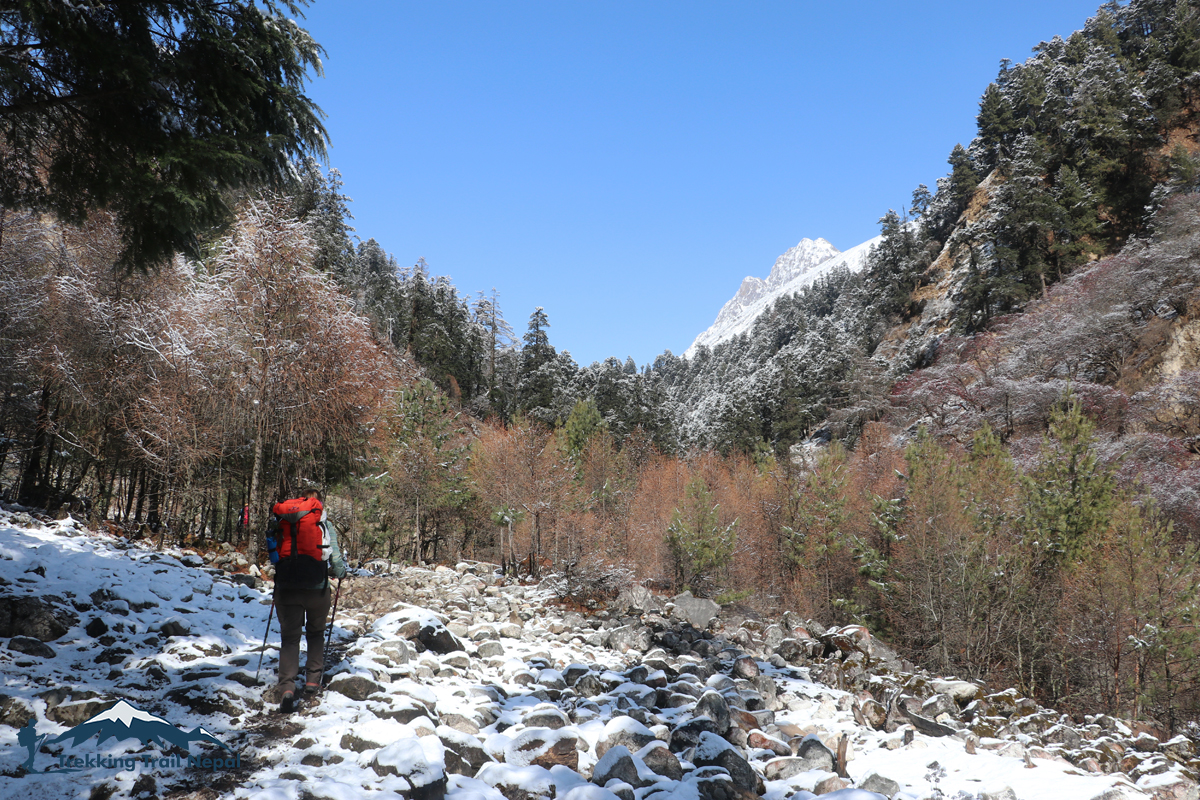 What is Manaslu Circuit Trek?
The trekking route around the Manaslu Mountain range is called Manaslu Circuit Trek. This offers a great range of landscape and terrain breathtaking mountain views, and a high pass over 5106 meters altitude. In short, the whole Manaslu area is a lot more remote than the Annapurna Circuit Trek as well as almost unspoiled. The trekking trail is comparably difficult and the Short Manaslu Circuit Trek at the moment has all the charms and wonders that the Route of Annapurna Circuit have before 20 years back.
The accessibility and quality of lodges are constantly increasing and improving. Right now in the years of 2023-2024 which of these 2 treks are better Circuit Trek in Nepal? And much more importantly which of these 2 is a better choice for you to do? Whether Annapurna Circuit Trek or Manaslu Circuit Trek?
What is Annapurna Circuit Trek?
In short trek, the trekking route around the Annapurna Himalayas range is called Annapurna Circuit Trek aka Round Annapurna Trek. Throng La Pass is the highest point of this route reaching 5416 meters between Throng Peak 6144m on the south and Yakwakang 6482m on the north. This Trek is mentioned as the best trekking route in the world in the 1990s amongst the many popular adventure and guide books like Lonely Planet, Rough Guide, National Geography, BBC Travel, and more.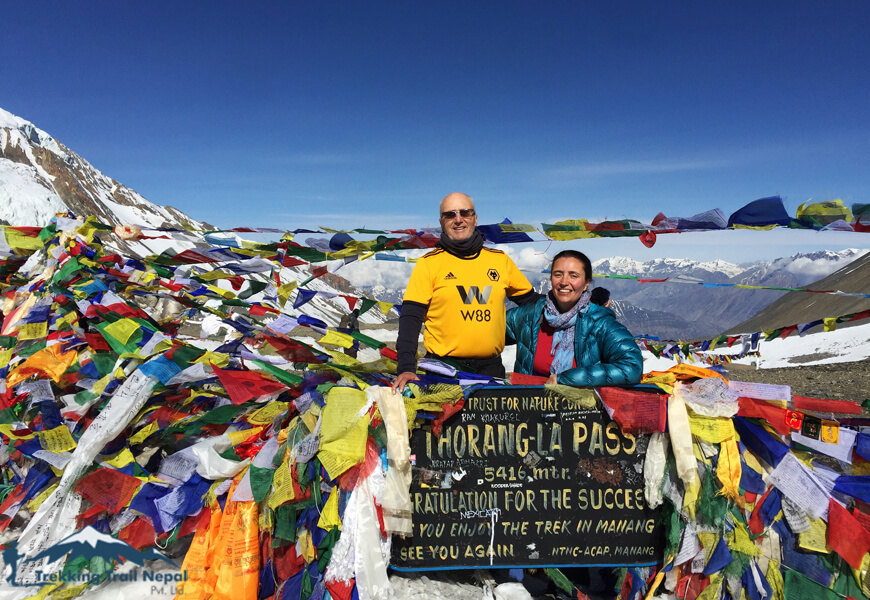 As the classical route Annapurna Circuit Trek starts from Beshisahar, as the road link to Bhulbhule and Syange trek starts from here in recent years. The beautiful waterfall of Syange relaxes your mind and body before you hit the trekking trail. This means you will drive straight to Syange or by changing vehicles in Beshisahar, all this depends on your budget, timing, and the itinerary you plan. The next 2 days are relatively longer to Tal village via, Jagat and Timal Village. Even these long days come most of the ups and downs, however with the beautiful wild terrain and amazing views and river gorges. Later Chame, Bhartang, Dhikur Pokhari, Pisang, Humde, Brakha, and Manange are mostly inclined except for the uphill to Dhikur Pokhari.
The Beautiful Annapurna II, Mt Manaslu, and the apple farm make every day enjoyable with the monastery, and small towns with ever-smiling people.
Acclimatization Day in Manang
Manang is the biggest town of Annapurna Circuit where you have good quality hotels, restaurants, and some things special within a few hours of hiking distance which is best for acclimatization. For a shorter hike, Chonker View Point and Gangapurna Lake, and Lama House on the Hill are the best, while Ice Lake and Milarapa Cave are best for long-distance hikers.
Later, We continue our trek to the ultimate point of Throng La Pass crossing Gunsang, Yak Kharka, Ladder, Throng Phedi, and High Camp. We spend 1 night either in Phedi 4400m or Highcamp 4800m before we hit 5416m Throng La Pass of Annapurna Circuit Trek. On the same day, we continue our hike down to Muktinath. The Biggest Lord Bishnu temple bless you for your days ahead. Next day you can reach Jomsom via Kagbeni Village and riverbed walking on Kaligandaki. Here you have an Airport that can take you straight to Pokhara but all the flights operated only in the morning due to local weather effects.
Reminder:
If you have a short day you can drive the same day to Jomsom from Muktinath and the next day to Pokhara via Bus.
Even if you have long days, Please skip the road section between Jomsom to Tatopani, especially from Tukuch to Tatopani. However, you will miss the view of Mt. Annapurna 8091m but can skip the bad road section.
MUST DO:
Please take a night break in Tatopani. The Natural Hot Spring Pool on the bank of the River at a lower altitude, 1100m makes your body happy and ready again to do a Hike up to Poon Hill or Mohare Danda Trek in 1 Day.
Extension of Annapurna Circuit Trek
If you are looking for a longer Annapurna Circuit Trek that is possible with Tilicho Lake and Nar Phu Valley. Tilicho Lake is the world's highest elevated glacier lake just between Throng-La Pass and Annapurna I at 4949m. A trail split just after Manang village on the left takes you to the Tilicho Base Camp after Khangsar and Shree Kharka. The normal itinerary is 4 days from Manang to Manang but you can complete it in 2 and half days.
The trail till Shree Kharka is peaceful and good, after here we have a dry land-slide section which you need to cross either in the morning or with special care. The wild dears, blue sheep, yaks even a small blow of wind can start the landslide. Similarly, Nar Phu Valley is another Trekking Extension Alternative for Annapurna Circuit Trek. However, this option takes a minimum of 5 days and comes with a high pass to Manang as a loop that connects to the original Annapurna Circuit Trekking program. Above all, you must have a certified trekking guide, a minimum of 2 guests,s and special restricted trekking permits as Manaslu which will light up your pocket.
Trekking Trail Nepal offers 10 Days Short Annapurna Circuit Trek with your international arrival and departure. Even we tailor-made the package to fit your need, where you can enjoy Annapurna Circuit Trek aka Round Annapurna Trekking as your Time, Budget, Luxury, and Dream.
NOTE:
Taking the Poon Hill or Mohare Danda Trekking route you need minimum 2 Days extra to reach Pokhara, where all Annapurna Circuit Trek weather is as classical as in the 1990s. Or you can start a drive to Beni and Baglung, Kusma, and end your trek in Pokhara. If you choose this, do not forget to make a stop at the Longest Bridge of Baglung and the second-highest bungee station in Kusma.
Let&rsquo's start with general information in short about both Manaslu Circuit Trek and Annapurna Circuit Trek.
All Basics Dissimilarities Annapurna Circuit Trek vs Manaslu Circuit Trek
Differences between Annapurna Circuit Trek vs Manaslu Circuit Trek

Topic

Annapurna Circuit Trek

Manaslu Circuit Trek

Remarks

Shortest Itinerary
( Days )

10 Days Trek

12 Days Trek

Including Acclimatization. Even a shorter trek is possible without a rest day.

Trek Starting Point

Beshisahar or Syange

Soti Khola or Machha Khola

It depends on how long you want to drive before your trek start.

Trek End Point

Jomsom, Tatopani, Beni or Nayapul

Tilje, Dharapani or Beshisahar

It depends on how long you want to drive after your trek.

Max Elevation

5416m Throng La Pass

5106m Larke La Pass

Guide

Not Compulsory ( You are allowed to trek with a porter too.)

Compulsory

By Government Rules

Tribe

Gurung, Thakali , Magar and Manangi

Lama, Bhote, Gurung and Magar

Accommodation

Standard Accommodation.

Basis Accommodation.

Food and Drinks

Wide range of Food and Drink available.

Mid Range of Food and Drinks available.

Cellular Network Available

NTC and Ncell

V-sat Phone and CDMA

Wi-Fi

Every Hotel has Wi-Fi Services

Limited Hotel has Wi-Fi Services.

Extension of Trek

Tilicho Lake
Nar Pho Valley

Tsum Valley

Ruby Vally
Annapurna Circuit Trek

Side Trips for Acclimatization

Ice Lake,
Chonker View Point
Milarapa Cave
Chulu Peak Base Camp

Rui La Border 4998m

Serang Monastery

Pungyen Gompa

Birendra Lake

Mt. Manaslu Base Camp 4800m.

Necessary Permit and Cost

Annapurna Conservation Area Permit ( ACAP ) USD 30
Trekkers Information Management System ( TIMS) USD 20

Manaslu Conservation Area Permit USD 300

Manaslu Restricted Area Permit USD 50-70 per week. Annapurna Conservation Area Permit ( ACAP ) USD 30
Trekkers Information Management System ( TIMS) USD 20

Flight Access

Jomsom-Pokhara and For Charter flight Humde Airport is available for you.

Only Chopper on request

High Altitude Medical Post

Himalayan Rescue Health Post in Manang

No

Deals with High Altitude Sickness and related.

Minimum Group Size

1 Traveler

2 Travelers

Tibetan Border Access

No

Yes.

Driving Alternative

Beshisahar to Manang

And Muktinath to Pokhara

Soti Khola to Machhakhola

And Tilje to Beshisahar

More Drive means less trekking.

Major Religion

Hindu and Buddhism

Hindu and Buddhism

Mountain Range

Annapurna Himalayas Range

Manaslu Himalayas Range

Trail Type

Circuit Trekking Route

Circuit Trekking Route
Annapurna Vs Manaslu Circuit Trekking Trail in Short.
From Sotikhola to Dharapani 10 to 14 Days. Please note this is the standard Manaslu trek itinerary used and mention in various guidebooks and packages are also correct. The trail section between Machhakhola to Jagat, Jagat to Deng, and following Deng to Namrung as described by many companies are a kind of long consecutive days. However, all this depends on your experience and walking speed and not acclimatized day you plan. Since altitude differences of almost 700 meters between the overnight camps of Samdo and Dharmasala. We recommend at least 1 full day of rest with Acclimatization Hiking in Dana Gain or Samdo. Continuing to Larkye La pass 5106 meters from the highest point of Manaslu Circuit Trek and lower your altitude to Bhimthang, Gowa, Tilje, and Dharapani.
Trekking Trail Nepal requests you to end your Short Manaslu Trek 12 Days in Dharapani, no matter whether you are doing 12 days or 16 days. It is better to skip the dusty and driving road and save time for other adventures from your bucket list. In Short, Both Annapurna Circuit Trek and Manaslu Trekking Trail are great treks, and both have something to offer to you, However, you must have to choose for you to fit in your window, and the resources you have with deep interest.