Mohare Trek - Route, Cost, Accommodation, Best Season, Weathers
Want to experience the Annapurna Mountains with magnificent nature, culture, people, and lifestyle in short easy trekking? The Mohare Danda Trek is the Best. So get ready to experience the beautiful community Trekking in the most beautiful Annapurna Region of Nepal.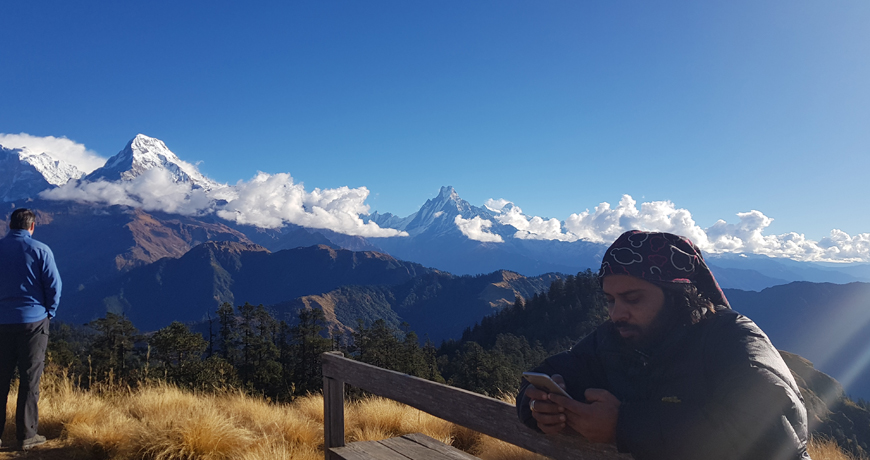 Mohare Danda Trek is one of the best new and short treks in the Annapurna trekking region. No limits to this; Mohare Hill is the first community trekking route in Nepal. This Mohare Danda Community Trekking not only provides an up-close and spectacular panoramic view of the entire Dhaulagiri and Annapurna Range. For its natural beauty and community experience, the Mohare Danda Trek is also known as the New Poon Hill Trekking or community circuit trekking. Apart from the stunning high mountain views, the Mohare Danda Community Trek is also becoming special. One gets to witness the various cultivated fields and farms for the livelihood of diverse local inhabitation of the Mohare area. The local people mainly include Pun Magars, Chatteris, and Gurungs with their unique rural lifestyles with Hindu-Buddhist mixed cultures, making the Mohare Trek a culturally enriching one.
This New trekking trail passes through lush green hilly regions, full of Rhododendron, Pine, Oke, and Sakura forests. The intoxicating views of Mountains like Dhaulagiri, Annapurna South, Nilgiri, Fishtail, and many others throughout the trail make you feel like you have reached a new paradise with every step made in the trekking trail of Mohare Danda.
The Mohare Danda Trek is precisely famous for Sunset, sunrise, Community Interaction, and mountain view from Mohare Hill. Mohare Hill is 3,313 meters southwest of Popular Poon Hill. Even in clear weather, you will able to see Pokhara Valley from this point. With the fantastic alpenglow sunset and golden sunrises with the higher mountains of Annapurna, Dhaulagiri, and Manaslu, this 5-6 day trek is comparatively easier trekking with average elevation, which makes not the possibility of altitude sickness. However, a basic level of fitness would make this Mohare Trekking experience easier. It is not just a hike in trekking trails in Nepal. However, you will encounter various natural treasures from grassland, viewpoint, Rhododendron forest, birds, traditional villages, and rocky trails throughout the trip.
Mohare Danda Trek will be a comfortable trek with community lodge accommodations and a proper homestay. Being close to nature, you will experience the best mix of Nature, the Himalayas, People, and lifestyle that takes the Mohare Danda Trek to the moon.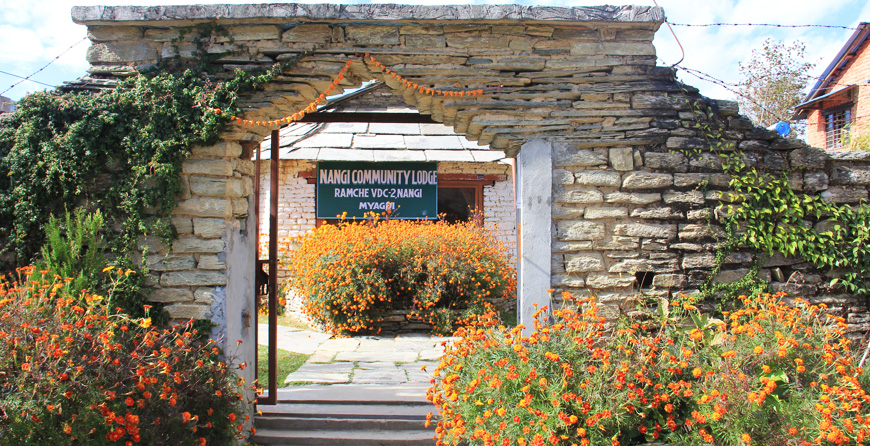 Accommodation on Mohare Danda Trek
The Mohare Danda Trek can be 4-5-6 days depending on the itinerary and trail you choose. You will get community lodge accommodation or homestay. A village-like Nangi and Mohare Danda, you have the best and complete services, Community Lodge. While partial Home stay facility is available in Banskharka, Danda Katari, and Tikrit in the Mohare Danda Trek. Although there are not many tea houses and homestays, they will always find the best place for your food, accommodation, and other amenities.
If you need a more natural trek in this area, Camping and Tenting are also possible. However, all the accommodations and facilities have followed the standard of hygienic food and bed, quality of services, prime location, fair cost, and possible facilities. The cuisine provided by the community lodge and homestay includes Traditional Nepalese, Continental, Indian, Tibetan as well as Italian to cater to the taste buds of trekkers around the world.
Best Season for Mohare Danda Community Trek
Trekking trails, Nature, and Views are beautiful, and trekking will be more accessible when there is no rain or snow. So, the best months/season for Mohare Danda Trek would be September- December and March-May. These months, the weather is more transparent with the blue sky, and the temperature is moderate. However, the morning and evenings are a bit chilly, leaving the days perfect for splendid trekking in nature with the views of mountains.
However, the winter snowy and monsoon rainy may halt the trek midway. Furthermore, the skies will become only partially transparent, which makes you miss the spectacular, memorable Himalayas view. But a little bit of snowy and rainy months takes the adventure to the next level The greenery of the rainy season and snow of winter has no match to other experiences in this Mohare Danda Community Trekking in Nepal. However, you can enjoy Mohare Danda Trek all year round, 12 months of the year. If you are lucky then you also get to experience the always persuasive and mesmerizing views of the mountain, nature, and adventure.
Pricing Idea for Mohare Danda Trek
The Price of the trek might vary according to the agency you choose; services and facilities included trekking duration and accommodation, and food and drinks on Trekking. Usually, 5 Days Short Mohare Danda Trek from Pokhara to Pokhara costs you about $554-678, while 10 Days of Mohare Trekking costs $847. This cost of Mohare Danda Trekking cost includes accommodation in hotels, guest houses, TIMS, Trekking permits, professional guides, porters, ground transportation, and all meals. Drinking water, beverage, hot shower, traditional snacks, and others depend on the package of your choice. Permits Cost USD 25 and TIMS 10 for free individual trekkers.

Alone or Guided Mohare Danda Trek
The Mohare Danda Trek is the perfect trekking in Nepal with friends and family, which takes you to Nepalese people, nature, and rural lifestyle. However, you can enjoy the different adventures on Mohare Danda Trek even by carrying your tents. Similarly, using the local homestay and community lodge accommodation, you can do Mohare Danda Trek without a guide too.
However, This Mohare Danda needs trekking permits. If you are new to Nepal without trekking experience, you suggest going with the Guided Mohare Danda Community Trek. Since this is the first community trekking in Nepal, you have differences new ventures will undoubtedly encounter. Furthermore, local people want to interact with you and share their experiences of life. They may need curious more about you and your lifestyle too.
Similarly, the local people want to do a job as a guide and porters for community trekking. So here, Trekking Trail Nepal suggests you do Mohare Danda Community Trekking with a guide. We provide the best services and in-depth information on all your questions and queries of people, culture, traditions, lifestyle, and the Himalayas from the trail of Mohare Danda Community Trek.
In case of any health issues or emergencies, the local guides will have better information about local topography. With years of experience, you will get benefited from the trek with a guide. Mohare Danda Trek with a local guide is highly suggestible, preventing unseen tragedies and lower adverse effects.
What to Bring for Mohare Danda Trek
Although Mohare Danda is a short easy trek, you need to bring basic trekking equipment and essential gear. But with limits of weight below 16 Kg, whether you have a porter or not. Trekking Trail Nepal is mentioning a list of what you need for Mohare Community Trekking. Comfortable Hiking Boots ( Used and Fitted which will not cause blisters) Best Fit Jacket ( Down / Windproof / Water Repellant ) Pullover (For Cosy and Warm in the house). Similarly grabs Trekking Pants and Shorts for easy walking Quick Dry T-shirts Runners shoes or Camp Shoes for in-house Water Bottle, purifier, and tastemaker First Aid Kid with personal medicines. Toiletries with enough wet and dry paper Comfortable and light daypack Sleeping Bag and Warm Inner Wear ( Must for November to February) Warm gloves and good hiking socks are needed. Check for best-hiking socks to prevent blisters), UV protective Sunglasses, Sun hat and Sun Cream, and Headlamps Mohare Danda Trekking Map for individual trekkers.
Mohare Danda Trekking Trail and Route
The total distance of the Mohare Danda Trek is 50.8 km (31,56 miles) which takes a minimum of 4 days to cover. With the highest elevation of 3313 meters above sea level, the Mohare Trek is considered an easy one, which is perfect for the family, even with kids. However, this beautiful community trekking needs a minimum of trekking gear and an essential waking habit with 4-5 hours of a hike every day.
Pokhara is the starting point of the Mohare Community Trek. after a delicious breakfast in Pokhara, we drive to Beni the next day. This drive takes easy 4 hours ( 87 km). From Beni Bazar, you start hiking toward Bans Kahara via the beautiful cliff next to the Kaligandaki River. After this first steep hike, you walk through agricultural fields, small villages, and farms with views of hills, valleys, and green forests. Continue this hike for about 2 hours; you will reach Bans Kharka to end the trek for the day.
On the second day of the trek, after a total of 6 hours' hike along with the rhododendron, oak, and pine forest and villages of Banbade, Danda Katari, and Kafal Danda, take you to Nangi Village. This part of the trek is full of Nature and People but comes as refreshing. After spending a night here, you start the most remote final hike to Mohare Danda with no place for lunch in between. This day is another 5 hours hike, but your late lunch will come with the beautiful golden-red sunset. You spend a night here at Mohare Top, 3313 m, which is the highest point of Mohare Danda Community Trekking.
The next day you will wake up for sunrise, but you don't need to hike like in Short Poon Hill Trekking. From here, you will see fantastic dawn glimmering over Annapurna, Dhaulagiri, and Manaslu Mountains even before sunrise with the dark land's gloomy sky. So today, you can hike to Poon Hill even if you want to. It is not far. With just 1 hour extra hike on the way to our next destination, you can visit Poon Hill too. And our day comes to end in Danda Kharka, Phulbari, or Tikot.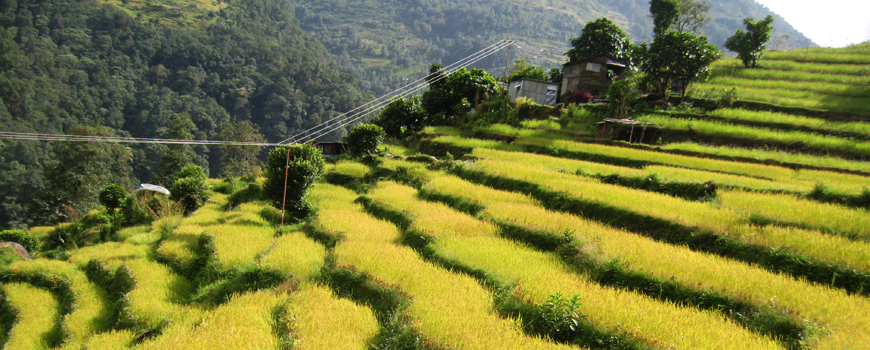 The beautiful landscapes with the views of sky-high mountains of Mohare Trekking in Nepal give a truly heavenly adventure. Although you will see the high Himalayas throughout the trekking trail, the views from the top of Mohare Hill are special. No doubt, it will stick to your mind and eyes. Similarly, on the last day, we start our hike from Tikot Village. The trail today is the easiest one since you don't have any uphill, all the stairs we foot on a takedown to the bank of Kaligandaki. By the time of lunch, we complete our Mohare Danda Trek and continue our drive back to Pokhara.
Mohare Danda Can Mix with Poon Hill and Hot spring
If you want to mix Mohare Danda Trek with Poon Hill, Ghandruk, and Hot Springs, it is all possible. You have options since you have two different Natural Hot Spring pools east and west of Mohare Danda. Either you can combine with Poon Hill, Tadapani, and Ghandruk and hot spring, which is the same as Mohare Danda ABC Trekking ( (( LINK ))) of 13 Days. Alternatively, you can combine the hot spring of Tatopani via Poon Hill, Tikot, or Typlyang. Enjoying the natural hot spring pool is a good idea if you are trekking in the winter season in the months of January and February.
The weather in Mohare Danda
If you trek during the best seasons, i.e., spring and autumn (September to mid-December and March to mid-June), the weather will be warm and sunny in the daytime. However, nights could be chilly, and the temperature could go below freezing, along with early morning and evening. Thus, as you reach close to Mohare Hill ( Danda ), you will be leaving behind the warm area of low land. But by comparing the destination, it has more probabilities of cold.
Being Mohare Danda is a close and direct touch of the Himalayas, the local weather can change quickly and unexpectedly. There is no perfect weather forecast we suggest you hope for the best and prepare for moderate worse and deal with all contingencies with a feel of adventure trekking.
Sunrise and Sunrise at Mohare Danda aka Mohare Hill
The main attraction of Mohare Danda Trek is the sunset and sunrise view over the snow-covered high mountain. If you don't have afternoon sleeping habits, you will undoubtedly get a chance on the day you arrive at the Mohare Danda. The next day, you must wake up 20 minutes before sunrise to experience the alpenglow and gloomy morning. After short waiting, the sun slowly disappears behind the mountains. However, it leaves fantastic views over the white mountains in the evening. Similarly, black and dark mountains change their color to snow white with the thought of sunrise.

This view of Mohare Danda Trek is unique and spellbinding. We have no words to describe this mix of the beauty of nature, the Himalayas, the Sun, the Hill, and more. It would help if you felt on your own.