With this Short Khopra Trek from Pokhara, you will not visit the popular destination as, Poon Hill Ghorepani with Ghandruk, but we take you to new destinations like Mohare Danda, Muldai View Point, and Khopra Ridge too. In addition, we organized the itinerary in such a way as to make a full circuit trekking route. Combining a popular destination, natural trekking trail, High Mountains as well as the deepest gorge in a single short trek from Pokhara International Airport.
As the time for the inauguration of Pokhara International Airport is near, we are getting more queries and requests for Short Khopra Trek. Although the destination Khopra Hill and Ridge Trail is not very new, but not even old as Annapurna Base Camp and Circuit Trek.
In order to present Khopra Short Trek from Pokhara possible to wrap up in 7 days, Trekking Trail Nepal changed some camps and routes too which includes best views, the extraordinary experience of accommodation and foods too. To cut a long story short Khopra Trekking is a mix of 3 Trek named Poon Hill Trek, Muldai View Trek, and Ghandruk Trek.
Highlights of Short Khopra Trek 2023
Khopra Ridge Trail Trail
Several other viewpoints like Muldai View Point, Poon Hill, and Mohare Danda.
Circuit trekking route combining all.
A unique mix of Nature, Culture, People, and more.
Can combine with Hot Spring Trek and ABC Trek.
An additional feature of the 4-WD drive.
Short Khopra Trek - 6 Days Itinerary From Pokhara
Day 1: Drive to Hile and Trek to Banthanti.
Since Short Khopra Trek starts for Pokhara, we drive straight to Hile crossing the tourist entry point of Nayapul and Birethanti on our private jeep. This adventurous 4-wheel drive from Pokhara takes about 3 leisurely hours. During this time you can experience remote village life, agricultural fields, highway culture, etc. In addition, the first glimpse of the Annapurna Himalayas range can be captured from the viewpoint near Lumle Hill.
We quickly prepare our luggage bag and backpack and start our hike to Tikhedhunga. This is a small trekking village at the altitude of 1540 m. We enjoy our first lunch of Short Khopra Trek here before we hit our uphill trekking trail. Although the trekking trail seems steep, you will certainly enjoy the views even without the Himalayas. Within 4 hours of the hike, we end our day at Banthanti village for the day.
Day 2: Trek to Ghorepani, Poon Hill, and Mohare Danda.
Short Khopra Trek day 2 is more adventurous and enjoyable. Although we need to gain about 1200 meters, your mind will want to go ahead of our plan. We are not throwing the words only. This is the usual reply from our guests and it happens because of the changes in nature with the close Himalayas which you will feel today. Crossing the Nangithanti village, we enjoy our lunch at Ghorepani Village with the views of Dhaulagiri and Annapurna Mountains even from the dining room.
Similarly, we continue our hike towards Mohare Danda through the famous Poon Hill 3210 m. We stop at this viewpoint for a short period to explore the valley and capture some pictures. In addition, the next 1 hours hike along the ridge of Mohare Danda Trekking Route makes you feel like in Jungle Haven.
Mohare Danda which is also called Mohare Hill is elevated at 3313 meters above sea level with community accommodation. Height is not only the mentionable thing here. The Mountain views of Annapurna, Dhaulagiri, and Manaslu Himalayas Range make this hard day worth it with a golden sunset.
Day 3: Trek to Swanta.
The most beautiful day of Short Khopra Trek starts a few minutes before sunrise. We beat, you can't believe your eyes what you are going to see from the top of Mohare Hill. We don't have words to describe the beauty of Himalayas Nature with the golden sun. Please trust your eyes and admire the real viewpoint.
Later enjoy breakfast with the same views and warming sun and continue our trek to Phulbari, Naka, Phalate 2320 m and continued down to the River base of 2130 m and hike up to Swanta Village 2240 m for 25 minutes. This is our lunch camp in our Short Khopra Trek from Pokhara. Max 4-5 hours.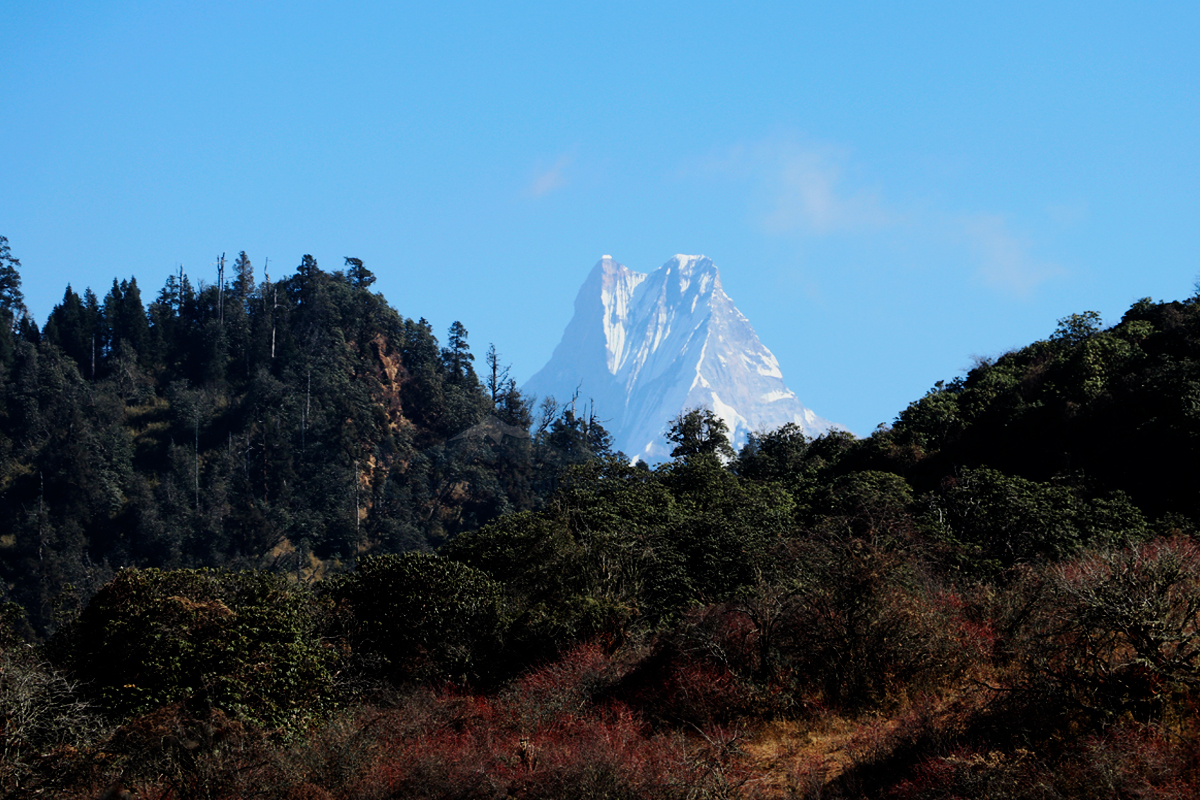 Day 4: Swanta to Khopra Danda 3660m 6-7 Hours.
Our trekking trail continues towards Waterfall, Hidden Cottage, Chistibung to Khopra Danda. This hike takes about 6 hours and is one of the most difficult days in our Short Khopra Trek Itinerary. Chistibung is our lunch camp since this is the last place before we reach Khopra Community Lodge. You will reach the ridge of Khopra Danda with an elevation of 3,660 m on time to enjoy the golden sun with Shangri-la with Himalayas Peaks like Annapurna south, Himchuli, and Dhaulagiri.
Day 5: Khopra Ridge Excursion and Trek to Dobato.
Enjoy the views of Sunrise over the Annapurna Himalayas Range in the east and Dhaulagiri Himalayas Range in the West. You will feel how beautiful the ridge you reach with this Short Khopra Trek from Pokhara. There is nothing between you and the seventh highest mountain in the world Mt. Dhaulagiri.
After breakfast, we will start our hike down towards, Chistibung and continue our hike for Bayali Kharka, and ends our day at Dobato 3450 m. The trail is the more natural and different kind which makes the Khopra Short Trek an Off The Beaten Trek in Nepal.
Day 6: End of Short Khopra Trek in Pokhara via Muldai Peak.
Our last day of the Short Khopra Trek also has a special way to end the trek. The viewpoint of Muldai Peak, the Beautiful village of Ghandruk, and the comfy downhill drive towards Pokhara make a perfect ending to the best Khopra Short Trek from Pokhara. We hike 20 minutes to the Muldai View Point to enjoy the sunrise and Different Himalayas Views. Later enjoy breakfast at our Hotel Mt. Lucky and start our hike towards Ghandruk. During this hike, we cross, Ishru, Mesher, Tadapani, and Bhaisi Kharka. Before we start our 3 hours drive to Pokhara, we explore the Ghandurk Village and enjoy the last lunch of Short Khopra Trek.
Trekking Trail Nepal's 6 Days Khopra Trek staff will transfer you to the hotel in Pokhara. Our guide and porter see you off from your hotel after your check-in, which is the actual end of service in this Short Khopra Danda Trekking from Pokhara.
NOTE. Alternative Trail: Trek down to Tatopani ( Hot Spring ) at Kaligandaki River.
Day 5: Khopra Ridge Excursion and Trek Toatpani via Paudur Village.
After enjoying breakfast at Khopra Community Lodge, we start our hike towards the deep valley of the Kaligandaki River. It takes us 4 hours to reach Paudur Village where we stop for lunch. The trail is mostly stone stairs all the way down to Paudur. After lunch, we hike for about 2 hours to reach Tatopani village, where Natural Hot Spring Pool is available. Since Tatopani is part of the Annapurna Circuit Trekking Route where trekkers use to celebrate with a hot pool, blues, and beers. Similarly, we need this hot pool of natural spring water to heal our pain which we get through the stone trails.
We end our last day of Short Khopra Trek at Old Kamal Hotel by running Kaligandaki.
NOTE: Here we request you to care of your knees. Hiking continuously down about 1700 meters mostly on stone stairs is not an easy adventure. Today you will prove our saying Going Uphill is hard but going downhill hurts more. Anyway, Trekking Trail Nepal knows The True Adventure is complete after we arrive down to the valley, even in our Short Khopra Trek.
Day 6: End of Short Khopra Trek from Pokhara
Enjoy the breakfast and start our local bus drive towards Pokhara. Trekking Trail Nepal will transfer you to your hotel in Pokhara. Our guide and porter see you off from your hotel after your check-in.