Motor Bike Tour in Nepal | Highways Route | Best Place | Rent Cost - 2023
Nepal is a developing Natural and Culturally rich country. With expanding road networks, our Motor Bike Tour in Nepal takes you close to the Himalayas and the best place to visit, which is only possible with Motor Bike or intense trekking.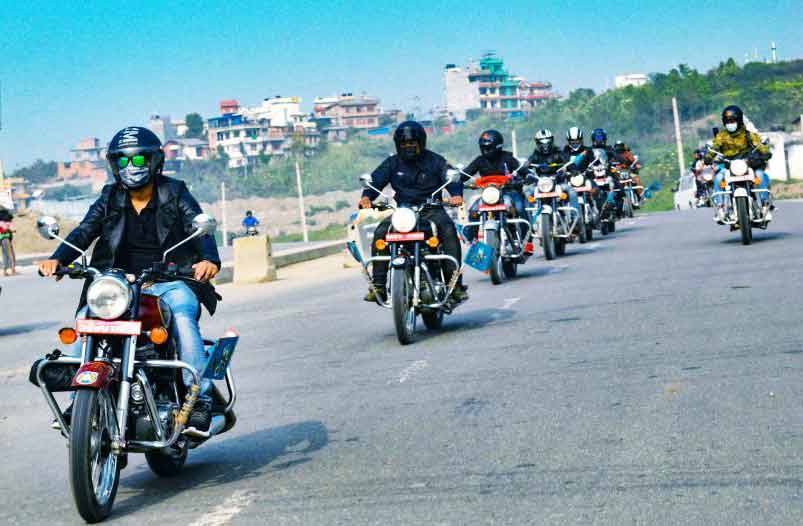 While taking all the best places to visit in Nepal on Motor Bike, you have to rive a few days off-road after passing the major cities of Nepal. These towns will be different depending on your choice of Motor Bike Tour in Nepal with Trekking Trail Nepal. However, We try our best to combine Beautiful places to make our Motor Biking tour more adventurous. Whichever Motor Biking Tour you choose, you will get a chance to visit the best sites within your ride.
Trekking Trail Nepal offers Many Motor Biking tours within Nepal and India ( Kolkata, Kerala, Delhi, Mumbai, and Ladakh ) and Bhutan. Our Motor Bike Tours' Duration ranges from One Day Motor Bike Tour in Kathmandu to 15 Days Long Upper Mustang Motor Biking Tour. Our Kathmandu Motor Bike Day Tour is the most famous motorbike ride near Kathmandu. This Nepal Bike Tour combines the most visited sites and hill stations like Nagarkot, Dhulikhel, Sanga, Bhaktapur, and Ranikot Village.
Best Motor Bike Routes in Nepal - Highways
The adventure of MotorBike is different from classical types of drive or jeep tour anywhere in this plant. Trekking Trail Nepal always follows the Best Motorcycle Routes in Nepal, which gives you authentic, adventurous riding with your loved motorbike. Make Note Here: We are not constructing a highway to plan a biking route. However, we are organizing the itinerary to offer you the Best Motor Biking tour in Nepal. Most of our Itinerary passes through the following routes in Nepal:
1. Kathmandu - Mugling
2. Mugling - Pokhara
3. Lumbini - Pokhara
4. Mugling - Manang - Tilicho Lake
5. Pokhara - Muktinath - Lomangthang - Korala ( Tibet Border )
6. Chitwan National Park - Bardia National Park
7. Kohalpur - Rara Lake
8. Kathmandu - Barahabise - Tatopani ( Tibet Border )
9. East-West Highway - H 9
10. Mid Hill East-West Highway - H 18
11. BP Highway - H 6
Offering Best Motor Biking Tour in Nepal is not possible only by combining these routes. To make the Best Bike Tour in Nepal, we sprinkle secret spices and kiss the hidden attraction and treasure beyond the traditional way. In Conclusion, You will get the best Motorbiking Tour for your Nepal Tour.
Best Motor Biking Tour in Nepal
Trekking Trail Nepal offers many biking itineraries and attractions, including the above Motor Cycling routes in Nepal. As a result, we have the Best Motor Biking Tour in Nepal. These biking packages include Nepal and Its Himalayas and Hidden Nature And include Bhutan, the Country of Thunder Dragon, and India, Country of Heritage, and Colors. In short, we are listing our best-selling Motor Bike tours in Nepal, which help you to choose one as your interest and resource.
10 Best Motor Biking Tour in Nepal 2023
2. Rara Lake Motor Bike Tour
3 Kathmandu Valley Motor Biking Day Tour
4. Nepal Glimpse of Motor Bike Tour
5. Nepal Bhutan Motor Bike Tour
6. Mumbai to Muktinath Motor Bike Tour
7. Tilicho Lake Manang Motor Biking Tour
8. Everest View Motor Biking Tour aka Kathmandu to Sallari Motor Bike Tour
9. Nepal Golden Triangle Biking Tour ( Kathmandu Chitwan Pokhara, via Lumbini and Palpa )
10. Nepal East-West with Pokhara Bike Tour
Note: The above list of Best 10 Motor Biking Tour in Nepal is based on Inquires and search with the official website of Trekking Trail Nepal.
Nepal Best Place to Visit on MotorCycle with Bike Ride
Every motorbike rider wants to visit the best and famous places with the heart of two wheels. We organized our Motor Biking tour Package and Itinerary so that you will not miss any place to Visit Nepal on Motorbike. It is possible since we know the Best Place for Motor Bike Ride in Nepal. If you are dreaming about Motor Biking Tour in Nepal solo or group, we are mentioning the best 15 places with the major attractions that you should not miss with your Motor Bike or pushbike ride.
Best Place To Visit With Motor Bike in Nepal
1. Kathmandu Valley Tour and its 3 Durbar Square and All UNESCO Sites.
2. Nagarkot, Dhulikhel, Chandragiri - Best View Points around the Kathmandu Valley.
3. Chitwan National Park - The Third Most Popular Area To Visit for Jungle Activities, Royal Bangel Tiger, One-Horned Rhinoceros, Asian Elephants, and more.
4. Bardia National Park - New and a new destination for Jungle Activities.
5. Koshi Tappu Wildlife Reserve - The Wildlife Reserve with Widest River Bank as Sea.
6. East-West Highway, also called Mahendra Highway - From East of Nepal to West over the most popular longest Highway of Nepal.
7. BP Highway - For Scenic as well as a most adventurous curved highway of Nepal
8. Lumbini - Must Visit sites in Nepal since Lord Gautam Buddha was born here. Very Important attraction and place of the Buddhist Pilgrim Tour.
10 Beautiful Places To Ride Your Motor Bike in Nepal
1. Pokhara - The Tourist capital of Nepal, where Himalayas, Lakes, and Hills meet with your Motor Bike Ride.
2. Pokhara Baglung with Dhorpatan - For Different Riding, which takes you to The Only one Hunting Reserve of Nepal.
3. Kusma - Baglung - The Hub of High Suspension bridges, world second highest Bungee, First Cable bridge, Sky Walk, and Cliff Swing over Kaligandaki.
4. Muktinath - Temple situated above 3,800 meters with roads links is also an important Hindu pilgrimage site.
5. Mustang and Lomanthang with Korala Border - The Best Motor Biking place in Nepal. The unique high land deserts in the Rain Shadow of Himalayas. Also full of ancient Tibetan Buddhist religious sites, old artistic palaces, caves, and traditional lifestyles.
6. Manang with Tilicho Lake Hike - Off-Road Motor Bike Riding and deep river gorge with the World's Highest Lake.
7. Salleri and Patel - From where you see Mt. Everest within a short Hike, The Highest Mountain of the World.
8. Ilam and Eastern Nepal - The natural tea garden paradise, Antu Danda, and many other attractions.
9. Rara Lake and Phy Phoksundo Lake - The Most beautiful and deepest lake respectively in the far virgin west of Nepal
10. Chandani Dohara Bridge - The Longest Bridges over Mahakali River in West Nepal
Delhi Kolkata Kerala Mumbai to Nepal Motor Bike
If you are from India and looking for Nepal Motor Bike Tour from your won city, we also offer a customized Guided Nepal Motor Bike Tour. As a result, we will show different itineraries for your particular motor Biking Tour; write to Trekking Trail Nepal. Then, our guide will meet you and your biker group in your city, All Over India. Currently, we are offering this service in 12 cities all over India.
These cities are Delhi, Kolkata, Pune, Kerala, Mumbai, Jaipur, Bangalore, Chennai, Ladakh, Jaipur, Punjab, and Sikkim. Above all, popular are Kerala To Nepal by Bike, Mumbai to Nepal Motor Bike Tour, Mumbai To Muktinath Motor Biking Tour, and Delhi To Nepal Motor Bike Tour. Furthermore, if you are out of these cities above, We are happy to help you with your area.
These types of Nepal Motor Bike Tour from different cities of India are getting more popular day by day. Although these biking itineraries will be a few days longer, the trip will be cheaper and more adventurous. Similarly, lots of Bikers, Motor Biking Clubs, Biking groups, Family and Friend Riders, and even creators of Nepal Bike Tour Blog love to start a trip from their home in India. So join Trekking Trail Nepal Motor Biking Tour from Your Home and add some Highway Adventure with Natural Adventure Off-Road Ride in Nepal.
Bike Rental Services in Kathmandu, Nepal
Trekking Trail Nepal not only offers the Motor Bike Guided Tour in Nepal, India, and Bhutan. Additionally, we also provide motorbike rental services in Kathmandu, Pokhara, Bhaktapur, Patan, Chitwan, Baglung, Kohalpur ( For Rara Lake and Phy Phokusundo ). We take it further ahead and offer One Day Bike Rental Services for you on Trekking in Nepal for your day excursion. However, this service is only in Manang for Annapurna Circuit Trek, Lo Manthang for Upper Mustang Trek, and Jomsom, which is for both Trek. Motor Bike Rental in Kathmandu and Pokhara | Best Rate and Motor Bike Name.
Pulsar Motorcycle Rent Fees in Kathamndu and Pokhara
If you need Bullet Bike, Pulsar Bike, or other Bikes for rent in Nepal Please Call us at +977-9818008337
Pulsar Motorcycle Rent in Kathmandu cost Nrs 3500 per day.
Pulsar Motor Bike Rental in Pokhara costs Nrs 3500 per day.
Bullet Bike Rent Fees in Kathamndu and Pokhara
Bullet Bike Rent in Kathmandu Per day cost Nrs 6500.
Bullet Bike Rent in Pokhara Per Day cost Nrs 6500.
Pulser Bike Rent Fees in For Off-Road - Upper Mustang and Manang; Tilicho Lake
Pulsar Bike or similar for Mustang or Manang Cost Nrs 5500 per day.
Bullet Bike Rent Fees in For Off-Road - Upper Mustang and Manang; Tilicho Lake
Bullet Bike or Himalayan for Mustang or Manang Cost Nrs 8000 per day.
Crossfire, CX, Hartford, Honda CFR, Hero X-pulse for Upper Mustang Motor Bike Tour or Manang Tilicho Lake biking tour cost Nrs 15000 per day. (Crossfire has fuel tank capacity of 6-8 Ltrs, so you have to carry sufficient fuel for entire trip).
Furthermore, We on your other support for your Nepal Motor Bike Tour:
Firstly, about Motor Bike Insurance in Nepal, with a good Bike Riding License. ( You Must Have 3rd Party Insurance for you ).
Secondly, Nepal Motor Biking Route Maps with Local Information. ( Updated Every Month by our Local Riders )
Likewise, Hotels, Lodges, Tea houses, Community Homestay, and their services and facilities will be enjoyed in our Nepal motorbiking tour.
Further, Local Motor Biking Guide Services can give you the Adventure Bike Ride In Nepal. With our local guides, you will explore and enjoy the wild tracks, pristine natural and cultural heritage hidden for hundreds of years. During Testing Period, Trekking Trail Nepal offers these services in Baglung, Chitwan, Palpa, and Chitwan.
Above All, Now You can Check and Choose our Best Selling Motor Bike Tour in Nepal:
Packages: