Nepal is one of the world's most desired trekking regions. Having eight of the fourteen eight-thousander mountains in it, Nepal is indeed a heaven for all travelers from around the globe. The architecture, culture, trekking trails, traditions, and history all combine to give Nepal the identity of being the most desired place in the world. Being the home to Everest and the birthplace of Buddha, Nepal ticks your trekking wants and religious tour choices.
The Annapurna Region is one of the most beautiful regions of Nepal. It is rich in natural beauty, breathtaking trekking trails, and lush forests, and all gratified by the magnificent views of the mountains under the clear sky. One of the most diversified and unique routes all over Nepal, Annapurna Route is the symbol of perfection and adventure brought to you in a pack full of awesomeness.
Giving a whole new representation of traveling, The Annapurna Biking Trip with Tilicho Lake has gained immense popularity over the years. Perfect for people who want to cycle on roads at heights and find it fun to navigate through bumpy roads, Annapurna Biking will be an experience of a lifetime—exploring the trails comprising the incredible vistas of high-mountain landscapes, scenic grasslands, and gorgeous villages while cycling is what the biking trip to Annapurna makes possible for you.
Cycling deep through the trails and checking out the most authentic sight of the incredible snow-capped mountain peaks is like a dream come true. You will adore that moment for ages. Manaslu, Gangapurna, Nilgiri, Dhaulagiri, and Annapurna are some of the mountains that provide you with gorgeous views. Your love for nature will increase to its optimum level. The best point of the trip is when you cross Thorang La Pass (5,416m). Although the journey is tough, the moment you complete the trip will be alive in your mind and heart forever.
Why is Mountain Biking the most popular trekking route on Round Annapurna Circuit?
Annapurna Circuit Trek is the trek around the impressive mountain ranges of central Nepal. Crossing the river valley through the lush forests and amazing human settlements, you are all in for a great natural and cultural treat when you embark on the journey to the Annapurna Massif. Having been immensely popular as one of the most budget-friendly and achievable treks, Annapurna Trek is a great choice indeed. However, with time, people are interested in various routes and ways of traveling to the Annapurna Massif. One of the many ways of traveling to the Circuit is via Cycling or, say, Mountain Biking. So, why is mountain biking one of the most famous trekking routes on the Annapurna Circuit?
The mountain biking trail has been gaining popularity with the addition of the new motorable road linking from Beshisahar to Ghunsang and Thoring Phedi to Beni.
Also, Pokhara is the best place for the off-road drive, but trekking in Pokhara is not a good choice. It is more like exploring the lovely lakes and the nightlife. So, Trekking in Pokhara is a no no. The Mountain Biking Adventure is rising like wildlife around the Annapurna Circuit. Previously, there were no good motorable roads for a good mountain bike ride. Nowadays, it's different. So, if you want to get on your mountain bike and come to the beautiful Annapurna Region, you are welcome. And, trust me, the fun you will have will be alive in your memories forever and ever.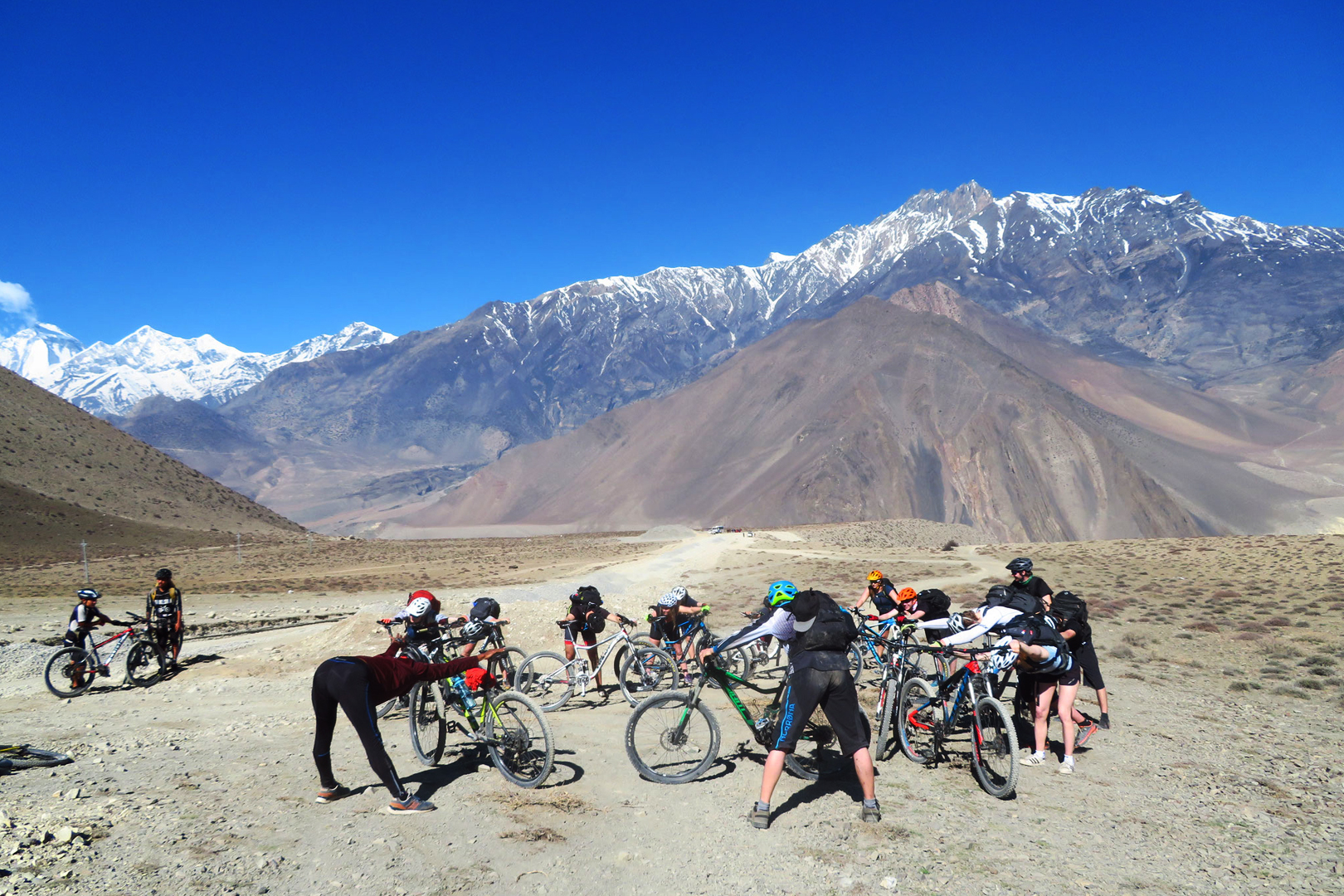 Although the trip is popularly known as Annapurna Biking with Tilicho Lake, it is impossible to reach Tilicho Lake via bike. We have to ride to Shree Kharka and trek to the highest altitude lake in the world, i.e., Tilicho. After trekking to the Tilicho Base Camp and returning from there, we can ride bikes again from Shree Kharka. The Annapurna Biking with Tilicho Lake is all about cycling, trekking, and enjoying to the fullest, which you don't get on most trips. If you are a cycling fanatic and a trekking maniac, then the Annapurna Biking Tour with Tilicho Lake is the perfect holiday destination.
Why is Mt. Biking getting popular on the Trekking Route of Round Annapurna Circuit? Is the Major Highlights of Around Annapurna Cycling Tour:
The answer is: The new motorable road links from Beshisahar to Ghunsang and Throng Phedi of Muktinath and continuing to Beni and Pokhara is good enough for off-road drive but not Trekking. So the Mountain Biking Adventure is rising here.
Annapurna Biking Tour with Tilicho Lake Itinerary
Trekking Trail Nepal offers the complete day-to-day Itinerary of the Annapurna Circuit Mountain tour with all activities we will do and enjoy as all our Trekking in Nepal 2022.
Arrival and Transfer to Hotel: Day 1
As soon as you arrive in Kathmandu, your tour to Annapurna starts to become finally true. Our vehicle will pick you up from the airport to the hotel. You can chill and have a wonderful first day in Nepal.
Permits and Documentation: Day 2
As you go on the Annapurna Trip, many things must be managed. But, don't worry, Trekking Trail Nepal is all for your service. While working on permits and documentation, you can visit Monkey Temple and Durbar Squares. It will be a perfect appetizer for a long journey ahead.
Private Transportation Drive to Besisahar and Cycle Preparation: Day 3
A private vehicle will take you from Kathmandu to Besisahar, where you rest and prepare your cycles for the bike tour to the Annapurna. Our team will brief you about the cycling trails and all the necessary safety tips.
Besisahar to Taal: Day 4
Well, on the fourth day, you get on your cycle and ride hard to Taal. You will feel your dream coming out true. With every pedal you push, you find yourself deep into the gorgeousness of the Annapurna Massif.
Taal to Chame: Day 5
Having breakfast at Taal, you get to cycle even more. And the journey through the lush forests gratified by the chirping of birds adds the essence of nature's exploration, and you reach Chame and have an overnight stay there.
Chame to Manang: Day 6
You will have a beautiful ride through the dense forests and lovely waterfalls and finally, reach Manang. It is a popular acclimatization spot for Annapurna Circuit Travel before reaching Thorang La Pass.
Acclimatization Day in Manang: Day 7
Manang is the perfect spot for acclimatization. While you are in Manang, you will find many places to explore over there. Khangsar village is a famous village in Manang for its old lifestyle and connection to the Himalayas. You can go there and talk to local people about the amazing living and love they have for travelers.
Manang to Tilicho Base Camp: Day 8
The Annapurna Biking Trip continues from Manang to Tilicho Base Camp. But you can't ride a bike to Tilicho Lake. You must leave your bikes at Shree Kharka and trek to Base Camp. You will have a different experience walking up the trails. Looking at the incredible mountain vistas and having fun with your travel buddies is a perfect escape to the glorious reality of life.
Base Camp to Tilicho Lake and Back to Shree Kharka: Day 9
Finally, on the ninth day, you trek to Tilicho Lake- the highest altitude lake in the world. Have a fun time there. Clicking pictures, making memories, and seeing your reflection on the lake's crystal clear water is all about this day. After having a great time around the lake, you return to Shree Kharka for the return cycling trip.
Shree Kharka to Manang: Day 10
After a 3-4 hours ride from Shree Kharka, you reach Manang. You have a delicious lunch in Manang. After lunch, you will have free time. This is when you explore the places you could not explore on the seventh day.
Manang to Letdar: Day 11
After breakfast in Manang, you leave the Marshyangdi Valley and go on to the Jarsang Khola. You will see an incredible number of yaks grazing on the yak pastures while going to Letdar. You finally reach Letdar and have an overnight stay here.
Letdar to Thorung Phedi: Day 12
After waking from good sleep and having breakfast, you get on to the next challenge for the day: to reach Thorung High Camp after Throng Phedi. You will be accompanied by the majestic view of the Thorung Peak while you are on your way to reaching the Thorung Phedi. This last part of 400m elevation gain takes up to 2 to three hours.
Thorung High Camp to Muktinath: Day 13
The best challenge for the trip is when you are on the ride to Muktinath from Thorong La Phedi. Starting the ride on a zig-zag trail, you learn about the brilliant experience the trip will give you. It generally takes 3-4 hours, and as soon as you reach the destination, you will feel the gain in altitude. The downhill ride follows to the Muktinath and the village where you spend the night.
Muktinath to Dana: Day 14
You continue the journey by heading down to the Dana village. You get to walk on an amazing road after days of riding on a rugged cycling trail. You can stop by Marpha village and meet new people there and talk to them about the incredible experience of living around the mountains.
Dana to Beni and Transfer to Kathmandu: Day 15
The last day on the bike is from Dana to Beni. We will descend from Dana to Beni on our bikes. There will be private transport waiting to take you from there to Kathmandu. This time on the vehicle, you have bags full of memories and the incredible views your eyes get to adore while you were on the trip.
Day off in Kathmandu: Day 16
On the second last day of the Biking Trip, you will be in Kathmandu. You get enough time to explore the missed places in Kathmandu. You can visit Boudhanath, Pashupatinath or just roam around the streets of Kathmandu. It will be a different experience after spending weeks in the Annapurna Circuit on bikes.
Fly back home: Day 17
After days of fun and travel, you pack all your bags, and it's finally the departure time. With a heavy heart but an experience to adore for a lifetime, we finally bid farewell to you with blessings and wishes to see you again.
( Please NOTE: The Tilicho Lake is not Bike Driveable. We will ride to Shree Kharka and Trek to Tilicho Base Camp and we ride bikes when we get back.
Highlights of Annapurna Biking Tour with Tilicho Lake
● Meeting local people
● Getting to know about the local cultures and traditions.
● Incredible time exploring the temples in Kathmandu
● Scenic drive from Kathmandu to Besisahar
● Excursion trip to Praken Gompa while in Manang
● Visit one of the most famous temples in Nepal- Muktinath
● Cycle through the bumpy and adventurous trails in the Annapurna Circuit Region
● Cross the highest Thorong La Pass 5416m
● Passing through the lush rhododendron forests gratified by the magnificent mountain vistas
Packing List for Annapurna Biking with Tilicho Lake Trip
As you go on a bike ride, the things you need to take are extra compared to a normal trek. You must have the following things on your backpack before embarking on the bike tour to Annapurna.
● Bicycle Panniers
● Sunscreen Cream and Sunhat
● Sunglasses
● Windcheater Jacket
● Bicycle Helmets
● Passport and six copies of your photos
● Sleeping Bag
● Appropriate clothing, including T-shirts, shirts, trousers, and jackets
● Camping equipment includes cutlery, Swiss knife, mug, plate
You can consult the tour planner if you want to take other things with you on the trip. As you will be trekking and cycling, you must take as few items as possible, but the mandatory things can't be left out.
Food and Accommodation in the Annapurna Bike Trip
Regarding the bike trip accommodation, you will be staying nights at hotels, teahouses, and lodges as per the convenience and the favorable location we are in. The hotels and lodges are great and provide you with satisfactory service. It is not a good thing to compare the hotels on the trip to the hotels you get to visit while on other trips. About the food on the biking tour, you will have a normal breakfast with bread, eggs, and tea or juice. Dal-Bhat is a favorite meal you will have at all the hotels you get to visit, especially during the overnight stay. The biking tour will be more about adventure and fun. However, the food and accommodation you will get there will be better.
Some FAQs regarding Annapurna Biking Trip with Tilicho Lake
How and Where can I get a Nepalese VISA?
Getting a Nepalese VISA is not a big deal. You just arrive at the airport and fill in the application form at the counter. You just need to pay around US$ 40 for the VISA fees. You are all set and done for the incredible travel in Nepal.
What type of vaccinations are required for you to travel to Nepal?
You need to have the vaccination for tetanus, typhoid, and Hepatitis B. These vaccinations are recommended but not compulsory. However, as with the need of the time, you need to be fully vaccinated for COVID-19. You need to have the vaccination certificates for COVID-19. Also, you need to have the negative PCR Test Report. The COVID-19 vaccines recognized in Nepal are Pfizer, AstraZeneca, Moderna, Jansen, and Nuvaxovid.
What bikes to take to the Annapurna Biking Tour, and how to prepare?
As the road conditions in Nepal are pretty bad, we will be taking only mountain bikes and moving on the main roads. Panniers can be fit on the bikes where we can carry the equipment. The tread width of at least 2.0 ties is suggested. Not only this, but you also need to know how to pack the bikes on the planes. You can also rent bikes for the biking tour, but taking your bikes on the trip is advised.
How much pocket money is needed for the Bike Trip to Annapurna?
The amount of pocket money you need for the trip depends from person to person. Some travelers will spend more while some will spend less. Generally, you can take US$500 US$700 as pocket money. So, whenever you need to buy something on the trip or give a tip, the pocket money will be very handy. It is advised to convert your pocket money to Nepalese Rupees so that you can have a good idea of how much you spent.
Are there any money exchanges during the biking tour?
You will not find any money exchanges once you start your journey from Besisahar. It is advised to exchange money while you are in Kathmandu. You can go to any money exchanges you want and exchange your money. You can even consult your tour planner for any recommendations or help.
What are the rules for the Biking Trip in Annapurna?
As you will be going with other travel buddies on the bike, there are various safety tips and rules so that the trip doesn't cause any complications for the travelers. Following are the rules you must follow if you go to the Annapurna Biking Trip with Trekking Trail Nepal.
● Don't overtake the guides, as the guides know about the trails, and you may be approaching danger if you don't follow the guide.
● Follow the traffic rules and laws.
● Ride at a speed you are confident in. Even if you see others speeding, know about your limits.
● Riding cycles after having alcohol is strictly prohibited.
● The group is divided into two subgroups if we hit the busy roads.
● Watch out for other riders, and don't ride alone.
● Racing against fellow riders is not entertained.
If you follow all the rules and safety tips, your trip will likely be completed without complications. You will remember the trip for the rest of your lives. That's what Trekking Trail Nepal helps you with.
Where to book your next Annapurna Biking Tilicho Lake Trip?
The choices of travel agencies to book your next bike trip to Annapurna may be immense. But, only some tour planners come out on your satisfaction list. Out of many tour planners, Trekking Trail Nepal can be your #1 choice for the Annapurna Bike Trip. And why is that? Let's dive deep into it.
Why Trekking Trail Nepal for Annapurna Cycling Trip 2022-2023?
Trekking Trail Nepal has been in the travel industry for a long time. It has been serving national and international travelers from the day it runs. There are various reasons why Trekking Trail Nepal has been the No 1 choice for most treks and tours in Nepal. Annapurna Cycling Trip is a tour organized by Trekking Trail Nepal. And here is why you should book your next bike trip to Annapurna with Trekking Trail Nepal.
● Personal Approach for Travelers
● Experienced Guides and Friendly Trekking Experts
● Authentic Travel with attention to even the smallest details
● Native Language Speaking Guides
● Financially Secure Booking
● Repeat and Referral Business Operators with Loyalty Points for old customers
● Best Price Guaranteed with Customizable Itinerary
● Best Biking Trip Experience in Nepal
● Best Nepal Biking Trip Package for 2022/23
All in all, Annapurna Biking with Tilicho Lake Tour is one of the most trending tours in 2022. Suppose you have a craze for both cycling and trekking. It doesn't matter where you are. Once you get on the trip with us, we all are on the same boat. Traveling is fun, and we want everybody to experience the joy of living and breathing in nature.