Mundum Trekking Trail ( Mundhum Trekking ) is a new cultural walking trail that goes through peaceful mountains in the eastern part of Nepal. The adventure on this new trekking trail explores the cultural riches of the ethnic Kirati people, and the inhabitants of the eastern hills and mountains. This trail opened up only in January 2018 for trekkers.
What's in the name Mundum Trekking Trail?
The name of this trek has a strong bond with the cultural practice of the Kirat people living in the region. Mundum is the religious scripture of the Kirati people who live in the region and this holy book guides their social and cultural life. As the trail meanders through the settlements where the ethnic Kirati people have been dwelling for ages, you will get to know their unique culture and lifestyle closely. This trip has acquired the name to highlight the cultural experience of the region in addition to the wonders of nature and the mountains.
Exploring the Kirat Rai Cultural Trail
The Mundum Trek route passes through several indigenous ethnic villages. This adventure takes you through the settlements of the Kirati people. This Kirat Rai Cultural Trail goes up to the elevation of 4,200 meters from sea level to the viewpoint of Silchung Peak. The new and unaffected-by-modernism route starts from Diktel Bazar and goes through the small and beautiful settlements of ChaKhewa, Dhotre - Maiyung - RawaDhap - Salpa Bhanjyang - Silchung - Hakule - Hanspokhari and ends at Bhojpur.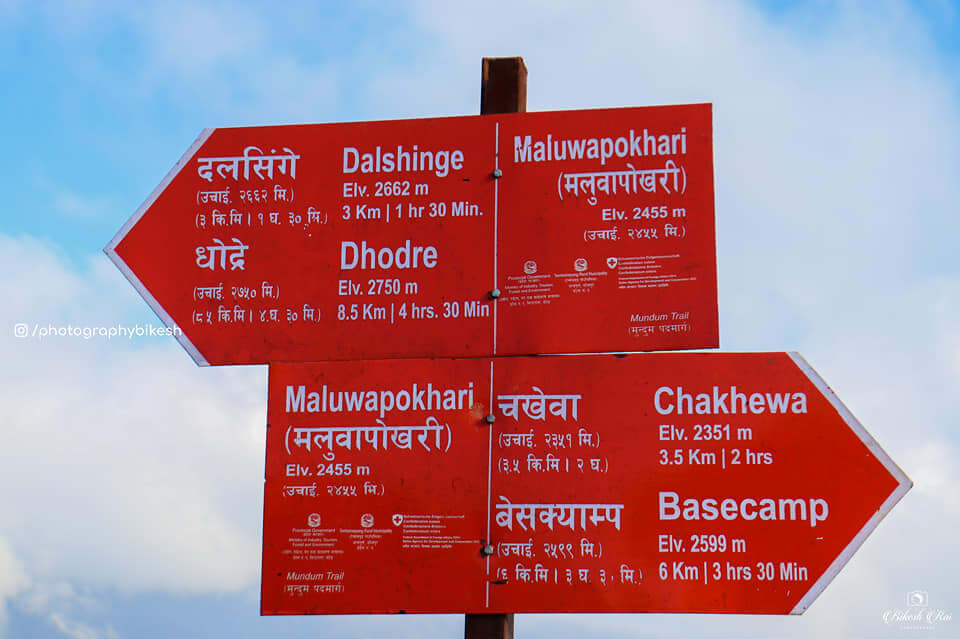 Things you can see in Mundum Trekking Trail
As a matter of fact, Nepal is famous for its beautiful mountains. In addition to the mountains come the people, their culture and lifestyle guided by religious and spiritual belief systems. Mundum Trek also offers magnificent Himalayan views, green valleys, and lush forests along the trail. You will also trek through beautiful villages that come along the trail. The cultural wonder of Kirat Rai and the Limbu people is one of the highlights of the adventure. You can also enjoy the view of 5 of the 8,000-meter peaks of Mt. Everest, Lhotse, Shishapangma, Makalu, and Cho Oyu. Other mountain peaks in the Himalayan range also add to the charm of the Mundum Trek.
Meals and Accommodation on Mundum Trekking Trail.
Basically, Mundum Trekking Trail is the Camping Trek. But Trekking Trail Nepal uses a mix of Accommodation as Hotel, Basic Tea House, and Camping. All Breakfast, Lunch is included in Mundum Trekking except in Kathmandu. Hotels in Kathmandu offer good serving and complimentary Breakfast. You will get Tea House accommodation in Diktel and Normal Hotel in Bhojpur and Salpa Pokhari. While all your accommodation will be at Tented Camp. Everyday Kitchen staff from Trekking Trail Nepal prepare good quality, standard fresh food for Breakfast, Lunch, and Dinner.
Maximum Altitude of Mundum Trekking Trail.
Mundum Trekking Trail is an Easy to Moderate Level of New Trekking in Nepal. The maximum elevation that you will reach is 4,200 meters / 13,780 feet above sea level. There is no risk of any altitude sickness that you have to worry about. But for safety precautions, Trekking Trail Nepal suggests you follow a healthy routine on Mundum Trekking.
Drinking Water on Mundhum Trekking Trail
You know Nepal is the second country in the source of Water resources after Brazil. The Mighty Himalayas and Green dense forest create a vast amount of water. Water is available in most of the trails. This available drinking water is not easy to digest for you as Nepalese people since it contains more harsh minerals.
For Drinking purposes, we suggest you, use Stair Pen, AquaTab or any water purification elements. We use Ionized filter water for cleaning food items and cooking. If you need hot water to drink your can request our kitchen and fill in your bottle only at Kitchen Time.
Mundum Trek Best Season - Best Month for Mundhum Trekking Trail
Do You think Mundum Trek is the best for your trekking needs in the Himalayas of Nepal? Then you must know the best time to start your Trekking for Mundum Trail. As much other trekking in Nepal based on the Nepalese season, Spring and Autumn is the best season for Mundum Trekking Trail
Spring seasons of March, April, and May are highly recommended if you love to walk in hot weather without sleeping bags with new green leaves of forest and flowers. While the autumn season, the month of September, October, November, and December is another best time for Mundum Trekking Trail. In these months you have a high chance of little snow. September to December is best for you if you love to hike on the ridge trail of Mundum with snow and chilly cold.
Physical Fitness Level for Mundum Trekking Trail
In short normal Physical fitness is enough for Mundum Trekking. The Trekking Trail of Mundum reaches only 4,200 meters above sea level as the maximum elevation and can complete a normal incline, you do not need any pro-level of fitness.
As Easy to the Moderate level of Trek Basic physical fitness, stamina to walk about 6-8 hours every day is enough to complete the Mundum trek. In addition, there is no risk of High Altitude Sickness.
Communication Electricity and Internet on Mundum Trekking Trail
Since Mundum Trekking Trail is recently launched a trekking route. There are no such types of facilities as you can find in Short ABC Trek.
Cellular reception of Nepal Telecommunication ( Namaste ) is available in some parts of the trekking trails of Mundum But the data is even weak. Electricity is not available in most of our camping places, after Day 3 to Day 11 as per our itinerary of the Mundum Trekking Trail. So we request you pack a small solar charger with your Trekking Gear Packing for your personal gadget. In short, there are no internet services on Mundum Trekking Trail.
Mundum Trekking Itinerary:
Day 01: Mudum Trekking Itinerary Start with your Arrival in Kathmandu and Transfer to Hotel
On your arrival at Kathmandu Airport, The Trekking Trail Nepal team member will welcome you and escort you to our Hotel in the Tourist Hub of Thamel. You can use your time around the Thamel or any personal interest in Nepal, We will help with our information.
Day 02: Trek preparation of Mundum Trek free day in Kathmandu
Today is the day of preparation for our Mumdum Trek. After breakfast in our hotel, you will meet all our team members for the Trip of Cultural Trek. Total discussion and detailed briefing as well as all requirements of Trekking. Today you will meet, Trekking Guide for Mundum Trek who will cook. Today is the best last day to re-check your gear list and make sure of your all question regarding Mundum Trekking
Day 03: Drive from Kathmandu to Diktel Bazar 1,650 m
The Mundum Trek Itinerary of day 3 might be a long drive. But surely this day gives the more vast experience of the Nepalese lifestyle from the window of a Coach as well as a highway of Nepal. Days start with early breakfast and a short car/van drive to Bus Terminal and we will drive about 9 Hours and a few extra stops for rest as well lunch and brunch. We will meet our other support crew in Diktel Bazar and we enjoy the local market and sleep in a local hotel with a traditional dinner.
Day 04: Trek to Chakhewa Village 2,300 m
Our team will offer the special bed drink early morning. The kitchen Team will prepare the breakfast for you while Mundum Trekking Guide will show you around the Diktel Market. Diktel Bazar is one of the trade centers of Eastern Nepal. The Local market and its tradition is affected by the Tribe of Rai and Kirat. You can see the different mixed traditional and modern effects in the home as well as lifestyle. After breakfast, We will start our Mundum Trek of day 1 to wards Chakewa. This is about 24 Km easy grade hiking. Today we will cross the beautiful villages of Dorap Chiuri Danda and Dobela. This part of Mundum Trek will give you the true rural experience above then expectations. Overnight at Chakewa Tented Camp of Local Home Stay

Note:
On your interest, we can drive to Chakewa Village and visit the Tamke Danda of 3,010 m. This Hike to Tamke Hill will take 3-4 Hours, which is only possible with a drive to Chekewa from Diktel Bazar. Trekking Trail Nepal will manage this extra Hike in This Mundum Trekking Trail Itinerary with Extra Cost.
Day 05: Trek to Dhotre 2,752 m
Wake up, and Enjoy the morning views of Chakewa Village. You can have a very short excursion to the Village to get in touch with the culture of Rai and Kirat people. Our Mundum Trek Guide will help to make your dream true. Enjoy the breakfast and start the upstair hiking. Day 5 Mundum Trek Itinerary will end at Dhotre Village by crossing Maluwa, Dalsinga Pass with Ridge of Merung Danda.
Day 06: Trek to Maiyung 3,122 m
Day 6 Itinerary of Mundum Trekking Trail is short and easy as well full of views. Today is another day we will start to hike after our breakfast. You will pass more attractions than settlements. You will cross Chhimalung Pass, the beautiful Mani wall of Phokte, the hill point of Chautara, Mattim Danda, and the religious temple of Baspani Devisthan and reach our camp of Mailung or Hans Pokhari.
Day 07: Trek to Rawadhap 3,426 m
Today we will get in touch with the local Tribe of Mundum Trek. You will get connected with Rai and Kirat people more closely. The hanging cultivated fields, working people and their traditions will add more excitement to Mundum Trek Itinerary.

We will leave behind the Kirat Rai Villages like Satdobato, Hyakule, and Lauri Bina and reach our camp of Rawa Dhap. Rawa Dhap is the beautiful base of Laure Hill where we spend our 7th night as Mundum Trekking Trail Itinerary.
Day 08: Trek to Salpa Bhanjyang 3,348 m
Today's hike distance is short but time-consuming. Don't worry it is not because of steep uphill but because of Interest as well side excursion. As per our experience lots of trekkers of Mundum Trek will slow because of local attractions and interesting traditions, culture, and lifestyle of Kirat People as well Rai People. You will cross the places like Mani Wall of Nikasa, the Mani of Handi Lake, and the Mani Wall of Salpa Pass. Salpa pass is also known as Kulu Pankha Bhanjyang. Over Night at Salpa Pass or Salpa Pokhari.
Day 09: Explore Silchung Hill 4,200 m
Today is the most important day in the Mundum Trekking Trail Itinerary. We request you to hike early morning towards the viewpoint of Silichung Peak also known as Salpa Peak. This view Point lies at a height of 4,153 meters above sea level. The view from this point is spectacular. Not only the Himalayas, the deep valleys, green nature, and white Himalayas make this the best and most peaceful viewpoint. From this Silichung Hill, you will see the 5 tallest peaks of the world and many many more snow-capped ones. Mt. Everest, Kanchenjunga, Cho Oyu, Lhotse, and Makalu all are 8000 meters above the peaks. Thamserku, Kangtega, Amadablam, Dorje Lakpa, Kusum Khungurung, and Numbur are few other peaks to mention here. We will back to our camp at Salpa Bhanjyang to enjoy our lunch and explore more on Rai village of Sanam and Kirat Village of Guranse and end the day.
Day 10: Trek to Hyakule 2,972 m
Itinerary of day 10, we will hike down to Hyakule by following the same trail we used a few days earlier. Enjoy the missing attraction and interesting places and things. Overnight at Kyakule.
Day 11: Trek to Hanspokhari 2,962 m
Today also hike back to the same trail till the end of the day. Day 11 is the shortest and sweetest day hike in the whole Itinerary of the Mundum Trekking Trail. As your interest, you can extend this to the next village of Base of Maiyung Peak or Ekrate.
Day 12: Trek to Bhojpur 1,600 m
The last day itinerary of the Mundum Trekking Trail, Trek to Bhojpur Bazar is the longest one. You will hike about 21 Km but in low altitude and relatively downhill will make this an easy job. We will clear the villages like Ekrate, Kakhuwa Pass, Hill of Barse Danda, the village of Orange Suntale, Dhap Kharka, and Sampang Junction. After we reach Bhojpur, officially end the Mundum Trekking Trail. Tonight we will enjoy our stay in a local lodge with a grand party with Mundum Trek Crew in a grand way. The local supporter team will see you off till Day 12 as the Itinerary of Mundum Trek.
Day 13: Drive back to Kathmandu
With early breakfast, we will start our long drive day back to Kathmandu. The guide will assist you with all your needs and queries on the way back to Kathmandu on the same highway. Transfer to our hotel in Thamel, Enjoy the complementary cultural dinner program with the Mundum Trekking Trail guide.

This is the best time to share your suggestions with the team of Trekking Trail Nepal about our Trek Crew and Mundum Trekking Trail since you can recommend and share your experience online too.
Day 14: End of Mundum Trekking Trail, Departure
Every good trips and holidays need to end. Day 14 of the Mundum Trekking Trail is the last day with Trekking Trail Nepal. Our team will transfer you to the airport 3-4 hours earlier than your flight time. Or Extend your day in Nepal.
If you have more questions or need any information about Mundum Trekking Trail, you can CONTACT US to the Mundum trekking leader. This trip is surely a worthwhile adventure to go for peaceful cultural trekking.
Mundum Trekking Trail is the new trekking trail in eastern Nepal with the culture, religion, and lifestyle of Kirati and Rai people and splendid Views of the Himalayas peaks with Mt. Everest, Lhotse, Cho Oyu, Makalu, and Kangchenjunga.