Everest Trekking Protocols 2021
Everest Trekking Protocols Update on 26 August 2021 by a joint committee of Pasang Lamhu Rural Municipality, Namche Lodge Association, and Namche Youth Group.
Nepal is the country with the best trekking spots. Termed as the trekking kingdom, Nepal has everything in its bag to surprise you. Out of many trekking areas, Everest Region has been one of the most in-demand regions. COVID-19 affected trekking in Nepal massively in 2020. However, Everest Region welcomes you to the best trekking area in the world in 2021/2022. One of the most beautiful regions is already open for visitors now but with Everest Trekking Protocols, Hurry up, and don't miss out on this golden chance to have fun up in the mountains.
Trek in Nepal 2021-2022 is all about spitting out all the tired and boredness and dive deep into the joy of exploring mountains. Also, The best time to explore Everest is during October, November, and December. So, why not try it during the months where the highest peak stays with its full elegance and beauty?
Having not been explored for a long time, the unrugged indigenous beauty of the Everest Region waits for your arrival so that you can adore it thoroughly. Things have not been normal in the trekking scene of Nepal. With COVID-19 disrupting the smooth flow of trekking and traveling in 2020, it has been hard for everyone. But, now things are gradually becoming normal. Nepal Government has started vaccination campaigns all over Nepal. As a result, many people are enjoying the joy of getting vaccinated.
According to the reports, the Khumbu Pasang Lamhu Rural Municipality started an aggressive vaccination campaign during the 2021 summer. It helped all the residents above 18 years of age in the municipality become fully vaccinated. As Khumbu is the entry point of Everest Base Camp Trek, the campaign has eased to open the doors for a new trekking journey post-COVID-19.
Everest Region – Now Open For Trekkers But With Everest Trekking Protocols
The breaking news is that Everest Region is now open for trekkers. But, there are some protocols and rules for entry you need to follow. The Khumbu Region Entry Protocols are for both internal and international tourists. It is for the safety of every traveler and the local people. Prevention is better than cure.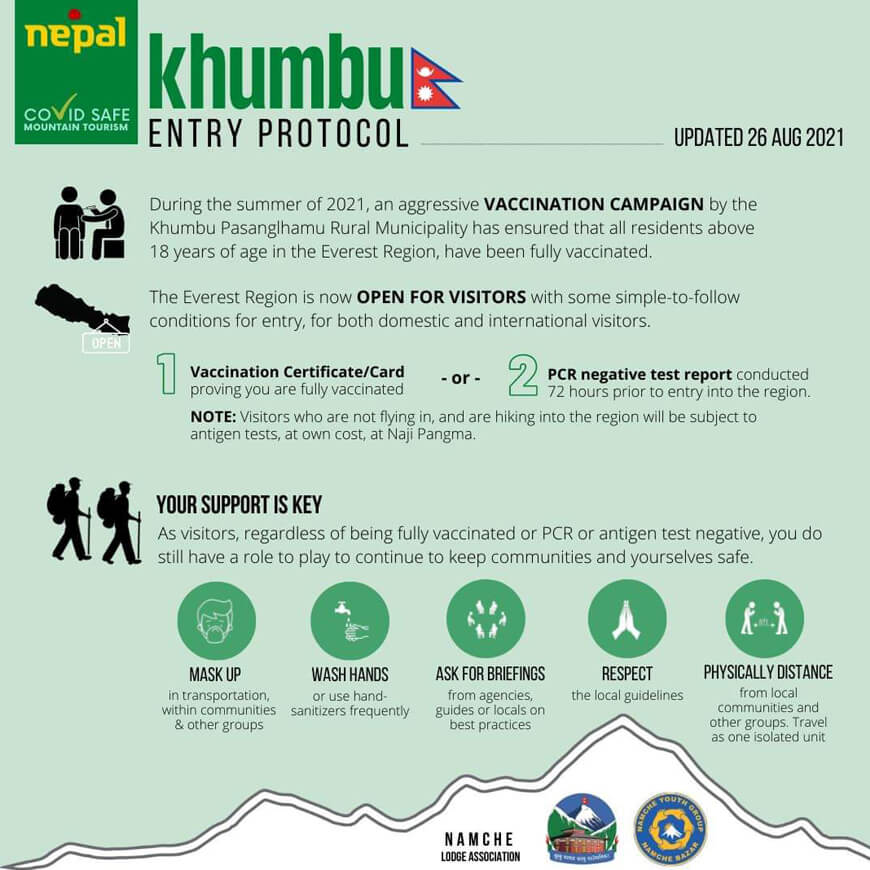 You need to have either of the two following things for your participation in the Everest Trekking including the best Everest Base Camp Trek in 2021. Either a vaccination card or a PCR Negative Test Report will work.
Vaccination Certificate/ Card
If you are coming on a trip to the Everest Region, you need a vaccination certificate or card. It is given to you by the health care officials at the vaccination point. You need to have the certification in hard copy. No soft documents or images clicked on mobile phones will work. Want to come and explore the mountains in the Everest Region? Get your dose of vaccine quickly and get your certification.
PCR Negative Test Report
Due to various reasons, some people can't go for vaccination. Also, with a long queue, people may not have gotten vaccines. However, The visitors can do a PCR test. Also, only those with a PCR negative test report conducted 72 hours before entering the Everest region can enter.
You need to have a vaccination certificate or a PCR negative test report before entry as a visitor. It is all for ensuring safety and lessen the chances of infection. With proper safety measures, visitors can enjoy the trip to the fullest. If you are not flying in and are hiking into the region, there is a mandatory antigen test at private pharma or lab. It would be best if you took it at your own cost.
Precautions to follow during all Everest Trekking
Even if you have got both vaccine doses or have a PCR negative test report, there are other precautions you need to follow. These are all for the community, environment, and safety of the people. The basic precautions you need to follow are the ones that you followed during the pandemic wholeheartedly.
- Wash your hands with soap and sanitizer
- Mask up in transportation, communities, and other groups
- Physically distant yourself from different groups and communities
- Ask for briefings from local guides, agencies, or locals
- Respect the local guides and porters
In Short; No Wait for Everest Base Camp Trek 2022
With the vaccination campaign going on full flow, many are safe but not completely. After a hard-hitting pandemic in 2020, everyone expects a year full of trekking in 2021/2022. Follow the Everest Trekking Protocols, including Everest Base Camp Trek, and Don't miss out on being the pioneers of trekking post-COVID-19. Everest Region welcomes you to the kingdom of the Himalayas, where mountains teach you the words of wisdom for September, October, November, and December 2021.