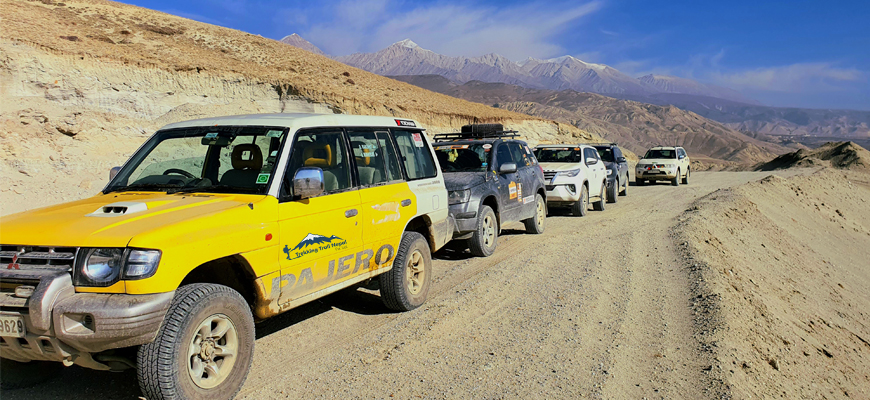 Self Drive Road Trip Upper Mustang Nepal is the mix of your Beast Machine on wheels and the Himalayan desert of Nepal to experience the thrilling adventure as result. SUV Jeep Self Drive Upper Mustang Tour 9 Days tour starts from Sonauli Boarder, which is the ending point of NH24. Later following the Siddhartha Highway to Pokhara, continue to Baglung and reach Lomangthang and Upper Mustang till Korola Border with Kaligandaki Corridor. Although It is seems like 9 Days Self Drive Road Trip to Upper Mustang Nepal from India, it will be longer depending on your garage where you keep your SUV and need to drive to Sonauli.
Nature, Adventure, Mountains Terrains, and Car
Self Drive Road Trip Upper Mustang Nepal is the complete mix of Himalayas nature. The Itinerary of Upper Mustang SUV Jeep Tour Route includes the most beautiful city of Nepal; Pokhara. No limits to experience on better way there is a separate day to explore the beauty of Pokhara. We explore the Phewa Lake with boating and visit Barahi Temple. Davis Fall; the water falls inside the city. The Gupteshower Maha Cave and Bindabashani Temple makes our list to see in Pokhara Complete.
Driving the hillside highway from Butwal to Pokhara, Especially between Pokhara to Baglung offers the mountains, green valleys, rain forest, rivers gorges and more. The high bridge of Baglung is one attraction we can explore before we headed our adventure road section of Upper Mustang.
Muktinath Temple with Self-Drive Road Trip Upper Mustang 2023
One of the biggest Hindu shrine Muktinath Temple is just a 15 Km detour from our original route of SUV Jeep Upper Mustang Tour. To get blessings for our Self Drive Trip we visit the Muktinath Temple. Here we will able to experience the majestic mt. Dhaulagiri and the region from the height.
The road section after Kagbeni comes as adventure. Land above 3000 meters, dry and dirt road, small curves and uphills, full of river beds, strong blowing winds adds challenges and adventure to our Self Drive Upper Mustang Nepal Road Trip from India. This sort of road section continue till Korola Border.
Self Drive Upper Mustang Nepal Road Trip from India in short; If you are passionate enough with your car and adventurous curves for wheels, this 9 Days Self Drive Upper Mustang Nepal Road Trip from India is for you.
Self Drive Road Trip Upper Mustang Nepal 2023
Day 1: Move from India and entry to Sonauli Nepal-India border. Welcome and start, Official Documentation and Drive to Pokhara.
Trekking Trail Nepal will welcomes at Sonauli of INDO-NEPAL Boarder and end point of Indian NH24.
Our ground team will receive you all before you enter into Nepal as we need to documents the vehicles, temporary Nepalese Registration Number and related job. As our ground team starts to facilitated the cross border process. In the mean time our Upper Mustang Tour Leader and Ground Support Team will be with you for your question, queries and the our plan. However we discuss about whole Trip after we reach in Pokhara.
After we complete the border, customs and vehicles registration process we start to enjoy one of the best highway section of our entire trip to Butwal. As we move ahead, we passes the Biggest temple of Siddha Baba on the cliff of Tinahu River on the road side. The section to Palpa is relatively wide and easy but later about 100 Km to Pokhara is narrow and full of turn and twist. BUT Beautiful. We end our day in Pokhara, which is the best tourist place in Nepal, where Nature, Mountains, Lakes, forest with stone decorated city make a beautiful Picture.
( NOTE: Please cross the border before 7am to complete the Road Permits on time. After 7am there are 100 of peoples on line.)
Day 2 : Pokhara to Jomsom via High Bridge and further we follows the Kali Gandaki River till Jomsom.
After Breakfast we start our drive adventure to Galeshower under the longest bridge of Baglung. This 93 Km long road is good and wide, but up hill and down hill with turning takes 3 hrs. Later with lunch at Maha Bhir ( Tatopani ) we continue our day towards Jomsom, crossing Badhari, Tatopani, Duke Bagar, Dana, Thareswara, Rupse Water Fall, Kabre cliffs, Ghana, Leta, Kalopani, Kobang, Tukuche, Marpha and Jomsom.
The section between Maha Bhir, Rupse, and Kabre Cliffs about 12 Km s narrow, rough, rocky and difficult. This is the most difficult section of the day out of 88km Beni-Jomsom Highway. We continues to enjoy the drive till Jomsom, for 3 to 4 hrs, along the bank of religious Kali Gandaki river. Experiencing the small but natural village of Ghasa, Kalopani, Tukuche, Cultivated fields of Marpha and Kobang, which lies on the bank of Kaligandaki River. Depending on time we arrive in Jomsom to explore Dhumba Lake, Town of Jomsom and around.
Day 3 : To Ghami village via Syngboche Pass 4200m.(6 hrs )-Lunch on the way-Dinner and overnight stay at Ghami village at Hotel Royal Mustang.
Early as possible, we drive to Muktinath. Explore the complex, Puja and Snan, Hike back to Muktinath, enjoy the breakfast before we drive to Ghimi Village.
After 15 minutes we reach the Kagbeni which is famed for its apple, vegetables, orchards and local wine we take to explore. This is the most green village of Mustang. And also known as the entry gate of Upper Mustang too. Here we entry our permits of Upper Mustang Restrict permit as well as Annapurna Circuit Trek and continue our drive Following the banks of the Kali Gandaki River till Cheile. We stop for Lunch at Syangboche, Later crossing the small oasis of Ghiling and cross the Nya La mountain pass at 4,010 we drive to continue to Ghami.
Dinner and overnight stay at the local hotel at Ghami village
Which is the best month for Upper Mustang Self-Drive Tour?
The Best Months are April and May. Weather is good in October and November too, But we don't suggest any tours on wheels, especially Self-Drive, Even Motorbikes Tours. Major reasons are:
- Cold morning and evening, Road conditions is not good as March-April.
- Shorter Days, Sunrise late and sunset early.
- Crowd highways and local roads because of the festival holiday.
- Even climatic trend, Monsoon is getting late.
Day 4 : Breakfast and drive to Lo-Mangthang 3840m.(3hrs)
Breakfast and departure head out to Charang With views of Mani walls and chortens along the way we can see in the distance Lo Manthang. Arrival at Lo Manthang Explore the walled city and traditional town of Lo-Managthang on your own. Dinner and overnight stay at the local hotel of Lo-Manthnag.
Day 5: Breakfast-Sightseeing in Lo-Mangthang, Exploration of 4 Palace, Tibetan Border and Nim-Phu and Chhosar Cave on Wheel.
Enjoy the Breakfast and Leaving most of our gear at the guest house we ride out about 20km from Lo-Manthang is the Tibetan border don't forget to enjoy the views while you drive into the thin air. Driving to Korola Nepal China Border with our vehicles itself is the most important part of our Upper Mustang Self Drive Tour. After capturing photos and videos we drive to Tingkhar Village widely known as Chhoser Valley. Here we visit the iconic Tingkhar village, Sky Cave, Nimphu Cave and Tingkhar Valley Enjoy the lunch. While driving back to our hotel, we can hike to Hill View Point from where we can take the picture of red walled palace of Lo-Manangthang. But it depends on wind situatin. Later late noon, we explore the stoned walled old town, traditional home, Hill View point and rest at the evening. After exploring around we hike up to Namgyal gumpa ( old Palace ). Dinner and overnight stay at Lo Manthang.
Day 6: Breakfast and drive back to Kalopani (7hrs), Lunch on the way-Dinner and overnight at Kalopani Guest House.
Breakfast and departure After reached out our main highlight Lomangthang and Korola Border ( Nepal-China Border), we drive back direction to Kalopani to spend our night in the most luxurious hotel of Mustang. Above all the view of Mt. Annapurna; the worlds' 10th highest mountains is the reason we are plan to stay a night at Kalopani. Driving through the same adventurous road together with black water of Kaligandaki river, today we say goodbye to many small villages of Lomangthang, Charang ( Tsarang), Ghami, Ghiling, Shyangmoche, Chuksang, Kagbeni, Jomsom, Marpha, Tukuche, and Kobang and Larjung.
Dinner and overnight stay at the best hotel of Kalopani.
Day 7: Breakfast and drive to Pokhara (5-6hrs)-Lunch on the way-Dinner and overnight at Pokhara.
Breakfast and departure Continue back to Leta, Ghasa and Tatopani via Rupse Water fall. After arrival Tatopani, you have opportunity of relaxing at the natural hot springs pool with lunch but it might early, but decision is yours.
Follow the rough road back until Galeshower. from here on its pitched road back to Pokhara with some of our last Himalayan views After arriving back in Pokhara we check to ours 3-star hotel closer to Phewa Lake.
Day 8: Full day sightseeing in Pokhara, sightseeing and Cultural Thali Dinner and overnight in at our hotel.
Our one day Guided City Tour of Beautiful Pokhara valley start with good mood after buffet breakfast. As Itinerary of Upper Mustang Self-Drive Tour in Pokhara you will visit the Bindhabasini Temple at first. Binda-Basini Tepmple is the one of the powerful mother goddesses, who fulfills the wishes of her devotees.
Gupteshower Maha Cave is one of the most visited destination. It provides the perfect enjoyable view of the river's dreadful rush and the deep rock gorge made by its powerful flow Devi's Water flow about 100 meter deep from the level of entry. Devi's Fall also mentioned as Davi's fall aka PATALE CHHANGO in the Nepalese language. This Cave is a sacred, made by natural water flows of Davi's Fall with the temple of God Shiva. So, some people called Mahadev cave too. Later we explore the powerful Hindu goddess temple of Tap Barahi which is siutated in the island made by Fewa Lake dam almost at the center of Lake. Don't worry we will not swin to reach there, we experience the boating too.
Tal Barahi Temple is a two story pagoda is dedicated to the boar manifestation of God Ajima. You will visit this Barahi Temple by boat ride in Fewa Lake. Fewa Lake is the second largest lake in the Country and one of the is the center of all attraction in Pokhara. Return to Hotel. Evening leisure on your own. This is the extra sightseeing excursion of Trekking Trail Nepal's Upper Mustang Self Jeep Drive Tour. Later you can check your vehicles, washing and prepare for final departure. Overnight at a hotel in Pokhara.
Day 9: Breakfast and drive to Sunauli Boarder (5-6 hrs).
After breakfast in our hotel, we start our drive towards Sunauli Border. This is the same highway and route, we drive on our first day. We enjoy the lunch at Bhairahawa and our team escort you till you drive you vehicles in your country. Upper Mustang Self Drive Tour comes ends here with best wishes and safe travel back home.
Self-Drive Road Trip Upper Mustang Nepal 9-Day Itinerary Route, Distance, Road Type, and Time:
DISTANCES for the DAY 1: Sonauli to Pokhara 195 KM.
Sonauli to Butwal 31 Km
Butwal to Palpa 38 Km, Palpa to Putalibazar 86, Putalibazar to Pokhara 37 Km
Road Type: Asphalt, Region: Hills
Caution: Narrow, Turn, and Twisty
Appx Time: 5-6 Hours
DISTANCES for theDAY 2: Pokhara to Jomsom 168 KM.
Pokhara to Galeshower 93 Km
Galeshower to Leta 39 Km
Leta to Jomsom 35 Km
Road Type: Asphalt + Rough

Region: Hills and Rocky Hills
Caution: Really Off-Road Drive between Tatopani to Ghasa Section of 12 Km
Appx Time: 7-9 Hours
DISTANCES for the DAY 3: Jomsom to Muktinath and Drive to Lo Ghami 63 KM.
Jomsom to Kagbeni 12 Km
Kagbeni to Muktinath 12 Km
Muktinath to Kagbeni 12 Km 
Kagbeni to Ghami 27 Km
Road Type: Off-Road Highland desert and River bank mostly. 24Km road is asphalt between Kagbeni to Muktinath.
Region: High mountains ( Rain Shadow Area. )

Caution: steep ups and downs around Samar and Syangboche.
Appx Time: 6-7 Hours
DISTANCES for DAY 4: Lo Ghami to Lo Mangthang 27 KM.
Lo Ghami to Tsarang 11 Km
Tsarang to Lo Mangthang 16 Km
Road Type: Off-Road windy desert mixed with the river bank.

Region: High mountains desert ( Rain Shadow Area. )

Caution: High winds, and sandy Terrains.
Appx Time: 2-3 Hours
DISTANCES for DAY 5: Lo Mangthang Exploration and Korola Border and back 75 KM.
Lo Mangthang to Korola Boarder 25 Km
Korola Boarder to Lo Mangthang 25 Km
Road Type: Off-Road, Cold windy desert mixed with river bank.

Region: High mountains desert ( Rain Shadow Area. )

Caution: Possibility of high winds, Cold and frosty road.

Caution: Narrow and lesser used road, Sandy Terrains with thin air. You and your car need to take it slow due to low oxygen level.
Appx Time: 4-5 Hours( Depending on your interest of local exploration with with lunch ).
DISTANCES for the DAY 6: Lo Mangthang to Kalopani 97 KM.
Lo Mangthang to Ghami 27 Km
Ghami to Kagbeni 42 Km
Kagbeni to Jomsom 12 Km
Jomsom to Marpha 8 Km
Martha to Kalopani 19 km

Road Type: Off-Road, Cold windy area.

Region: High mountains desert ( Rain Shadow Area. )

Caution: Cold Morning, High winds late afternoon, Sandy downhill with turning.
Appx Time: 5-6 Hours Mostly Asphalt
DISTANCES for the DAY 7: Kalopani to Pokhara 140 KM.
Kalopani to Leta 8 Km - Mostly downhill off road.
Leta to Galeshower 39 Km
Galeshower to Pokhara 93 Km Asphalt road ( Some section is under upgrading.
Road Type: Asphalt + Rough
Region: Hills and Rocky Hills 

Caution: Really Off-Road Drive between Tatopani to Ghasa Section of 12 Km
Appx Time: 7-8 Hours
DISTANCES for the DAY 8: Pokhara Sightseeing Day 20-30 KM.
Road Type: Asphalt, But narrow. Mostly uphills for view points.

Region: Hilly valley and city.
Caution: Crowed, Uphills and narrow.
Appx Time: 1-4 Times( Depending on your interest of local exploration )
DISTANCES for the DAY 9: Pokhara to Lumbini and to Sonauli Border 229 KM.
Pokhara to Putalibazar 37 Km
Putalibazar to Palpa 86 Km
Palpa to Butwal 38 Km
Butwal to Lumbini 42 Km via East West Highway ( Gautam Buddha Road )
Lumbini to Siddhartha Nagar 20 Km

Road Type: Asphalt Highway.

Region: Hilly area.

Caution: Narrow, Turn and Twisty highway until Butwal
Appx Time: 7-8 Hours
20 Questions for Self-Drive Upper Mustang Drive Tour from India
1. How do you want us to pay you? Bank Transfer/Cash/Google Pay/Credit Card?
You can pay via Bank Transfer to our Company Name Trekking Tail Nepal. Even we accepts Credit cards as well cash. However Google Pay and Apple Pay is not available in Nepal. If you want to carry INR you can which is widely accepteable in the market. Just carry 100 INR Notes only.
2. What are the charges for children ?
As per government rules, above 8 years is considered as guest the price is not different on permits. Similarly on other costs there is no differences.
Children below 8, 50% off on adult price but need to adjust with single room.
Children with age of 8 or above is considered as adult, and 100% price applied.
3. Can you accommodate any last minute increase in the number of vehicles/guests?
Sure, We can accommodate last minutes increase in the numbers of guest as well vehicles. We need 1 full official day to work for permits. We must be informed before 2 days of actual Upper Mustang Self Drive Tour start.
4. Will there be the cancellation charges if some guests cancel approximately 7 days before the trip?
We charge about 50% of total price after the payment and booking once made. However, after the issue of Permits, there is not cancellation option available.
5. Is drinking water included in the costs.
Drinking water is included in the cost includes section, Because it is one of the most expensive, vital and mostly misused items on the way. All this is due to its transportation and forms. We will offer 24 liters of bottled drinking water per person which you can carry within your vehicles after we reach in Pokhara. Hurry ! We happily includes the drinking water even though the though business nature.
6. What is the typical menu for breakfast, lunch and dinner? Please specify some dishes both veg and non veg.
In the city like Pokhara we have lots of options for food and drinks. We have buffet breakfast including veg and non-veg. Even on request they will prepare meals as our interest, from Mexico to India. Please Note: Most of our Lunch in between the highway are Vegetarian, But you will get the open menu to enjoy the food of your interest for dinner and breakfast.
However we recommend stay vegetarian if you are not prepare for natural preserved meat. You will get update is the meat is Fresh or Not. The final choice is yours. Here are the menu items from the upper mustang region.
Breakfast items available on Upper Mustang Region
Oat Meals, Corn flakes with milk, Muesli with milk
Muesli with apple, Porridge with apple or honey, Porridge with cinnamon.
Toasted bread, Toast with honey or jam, Cheese toast, Toast with egg and cheese.
Eggs items: Fried eggs, Plain omelets, Scrambled eggs, Boiled eggs, Veg omelets, Cheese omelets,Bread and pan cakes, Tibetan bread
Pan cake with jam or honey, Apple pan cake, Chocolate pan cake
Lunch and dinner items available on Upper Mustang Self Drive Tour in Nepal are: Pizza: Tomato Cheese pizza, Chicken pizza Mushroom pizza, Mixed pizza, Tuna pizza. Noodles Veg fried noodles, Egg fried noodles, Fried noodles with cheese, Mixed fried Noodles Pasta, Veg fried pasta, Cheese fried pasta, Pasta with cheese and tomato sauce, Sandwich serves with chips. Sandwich: Grilled cheese tomato Sandwich, and tomato Sandwich. Grilled club Sandwich, MoMo (dumplings): Veg momo, fried or steamed. Potato momo, Cheese momo, Chicken momo, Buff MO:MO. Spaghetti: Tomato Sauce Cheese Spaghetti, tomato sauce Spaghetti, Vegetable tomato sauce Spaghetti, Spaghetti with tuna cheese and tomato sauce. Vegetable and salad: Fresh Stair Fried vegetable or Boiled Vegetable, Vegetabel salad. Rice Meals like Vegetable / Chicken / Egg or Mixed Freid rice.
Dal Bhat (Nepali meal set veg aka Thali Set ): Favorite Dinner the best in class Thakali Khana Set. Thali Set Veg or Non veg Potatoes items Boiled potatoes Fried potatoes with fresh veg Fried potatoes with cheese Fried potato with cheese and egg Roast potatoes Mash potato Hash brown potato Finger chips with egg Chips Soups items available on Upper Mustang trek Nepal Fresh Veg soup Tomato soup Chicken soup Garlic soup Potato soup Mushroom soup Noodle soup
It is advisable to carry extra food and snacks like nuts, chocolates, cookies and nutritional food stuffs during Upper Mustang Self Drive Trip.

7. Is SIM cards available for all participants before we arrive.
Sim card is very important for our Upper Mustang Self Drive Tour. As Nepal Telecommunication authority is more restricted, we need your PP-size photo and Passport copy.
Depending on time available in Sonauli we manage there. It will take another 5 minute to get the sim card with your presence. Just get some photographs and a passport copy with you.

8. How do we communicate with our team members and guide on self driving Upper Mustang Tour?
The SIM card we get in Sonauli or Pokhara is the means of communication during our drive. We connected with one group and stay connected all the time and listen to each members, their experiences, problems and decision. As NTC have quite reception along our route till Upper Mustang we don't need any alternative radio for communication.
9. Which Sim Card Ncell or NTC is best for Upper Mustang Drive Tour?
NTC ( Nepal Telecommunication ) is the best SIM card aka government telecommunication services provider is the best for Upper Mustang, whether you do Upper Mustang Trek or Upper Mustang Self Diving Tour. Trekking Trail Nepal do provides Nepalese Sim card, however the data and voice pack you have to pay personally, for the our field staff will help you.
10. How many people can Join this trip.
There is no limit of people joining this self driving tour. As our experience Trekking Trail Nepal can suggest you 2 person in one vehicles is the best. The person next to driver seat can help you in different ways. Like Entry, Communication, Signs, Explaining the beautiful nature, Photography and a friend to talk and make good memories.
NOTE: Minimum 2 person is must for Upper Mustang Self Drive Tour for India.
11. How many km will we drive without fuel stations? This will help participants plan for the needed amount of extra fuel at Govt. rates.
As our calculation there is no regular fuel station after Beni ( . However, in Ghasa we have new fuel station, but it only sells Diesel, even open during the September, October, March, April, May and June. That means it will be 260 Km to 320 Km without proper fuel station. However there is open selling point in Jomsom, which we don't trust much.
12. Is Indian vehicle Insurance valid to drive in Nepal? If not, what is the procedure and cost?
Indian Vehicle Insurance is NOT valid in Nepal. As our previous experience you can contact with your insurance company and with extra fees they will add the insure which covers Nepal too. It called Geographical Extension.
13. Is there any Pollution Certificate needed for Indian vehicles in Nepal? If so, what is the procedure and cost?
NO You don't need Pollution Certificate. There is not pollution certificate provision policy in Nepal for international vehicles. But must be 3 or 4-stroke, and above Euro 3 Standard, and Not more than 15 years old vehicles.
14. Do hotels allow pets to live in the same rooms as their owners? If not, I hope there are accommodation arrangements for them.
Hotels in the Mustang region have no problems however they will not allow pets in the bed room. They provides the separate blankets and mat, which you can share in the same room. But need to pay extra as the room price as the half of Room Price as mention in the menu. Hotels in the city like Pokhara and and other city usually say no, and have more restrict policy. Especially during peak season like March, April, October and November when they are more busy. However will will try to convince them for safe and comfy area, better service and less pay.
15. How many copies of passports and photos do you need per person?
Please make 4 copies of your passport, 4 passport size photos, 4 copy of Driving license, 4 copies of RC Book, and 2 copy of your insurance and bring them with you.But for the official process please forward your digital copy of photo and passport once you paid the advance. Which we need for Upper Mustang Permits and Annapurna Permits.
16. What vehicle documents apart from Registration, Insurance and Indian Driver's license are needed?
Vehicles Registration, Insurance and Driving License is enough. Please bring few copies of these which make easy for custom.
17. What will be the temperature at its lowest and highest during our trip?
Lowest Temperature
March: -6 to -2 degree Celsius
April: -5 to -1 degree Celsius
Highest Temperature
March 6 to 14 degree Celsius
April - 12 to 18 degrees Celsius
Lowest Temperature
October: -9 to -1 degree Celsius
November: -14 to -4degree Celsius
Highest Temperature
October 6 to 14 degree Celsius
November - 5 to 12 degree Celsius
18. How much do we need to pay at customs to take my own Pajero for Upper Mustang Self-Drive Tour.
If you are taking your own vehicles like Pajero, Endeavour, Mahindra Thar, Toyota Hilux, or Toyota Fortuner you need to pay NRs 600 per day, and another Driving route permit cost NRs 150 per day and 110 per car.
19. Which is the best Vehicle, for self-driving Upper Mustang Tour?
Any vehicle over 220mm ground clearance with 4wd drive mode, strong and easy to drive with good driving skills is fit for Self Driving Upper Mustang Tour. But as our experience, we can say that Manual Vehicles are the best in any terms, over automatic. The best name we can share with you are Mitshubusi Pajero and Pajero Sports. Other are:
Toyota Prado
Toyota Land Crussisser
Toyota Fortuner Toyota Hilux
Ford Endeavors
Mahindra Scorpio
Mahindra Thar
Suzuki Grand Vitara
20. Can we hire the Photographer/videographer for our Self Driving Upper Mustang Tour? How much does it cost? Landscape photographer, with all gimbal accessories, Gopro is available for the trip. It cost INR 80,000 to 150,000 depending on the experience.
A valid Indian passport.
A valid Rasan Card.
A valid Voter Card.
21. Which Documents do we need to apply for Upper Mustang Drive Tour Permits for Indian Nationalities?
If you are an Indian national planning to visit Upper Mustang on a self-drive tour or Trek in Nepal, you just need 1 valid document among as below: Indian nationals do not need a visa to enter Nepal, but they will need to obtain a special permit to visit Upper Mustang.