Upper Mustang Trek FAQ's
Trekking in Nepal is one of the major activities for every adventure seekers. Here Trekking Trail Nepal comes with 10 Frequently Asked Questions About Upper Mustang Trek. This blog will fulfill your questionnaire if you are thinking about Upper Mustang Trek for you next hiking holidays.
1. What's the
difference between

Everest or Annapurna and Upper Mustang Trek

The first question is Frequently Asked Questions About Upper Mustang Trek is what is the differences. For several reason there are lot of differences between Other popular trekking region like Everest, Annapuran or Langtang and Upper Mustang.

Nepal country of Mighty Himalayas, Culture, Religion, and Green Froest. But Upper Mustang Trek comes with surprise. Basically you will get High Alpine Himalayan Desert instead of green forest and vegetation. Although Upper Mustang Trek is the part of Annapurna Conservation Area But comes under the restriction because of Khama Revolution and Ancient Tibetan Buddhism Religion Culture Arts and Traditions. The major differences you will find in Upper Mustang Trek are:
High Land Himalayan deserts, very less vegetation Not spectacular view of mountain but dry hill and small oasis village as living museum of ancient Buddhist religion and arts, full of ancient forts, monasteries, caves and mane. If you carries the interest of Culture and Ancient Buddhism, This Upper Mustang Trek fulfill your needs with Adventure of Trekking In Nepal.
2. Why should I go
Upper

Mustang trekking in Nepal?

In the whole world, there are fourteen mountains above 8000 meters; Nepal is home to eight of them, so you'll be treated to great views. Also, the country is set up well for trekking, with abundant affordable lodges. Trekking in Nepal is also best and cheap with friendly people, heart welcoming hospitality, wilderness geographic But when it comes to Upper Mustang Trek, these things change little differently. You will encounter with Traditional Culture, Ancient Buddhism, Human habitat caves, Historical monasteries and wall city. In additional Upper Mustang is the sample of Grand Canyon, with the views of Himalayas.
3. Is Upper
Mustang Trek

difficult?

This is the most difficult question to answer. Definitively, Trekking needs fews day of continuous walking. When trekking comes to Himalayas Trail you not only have to walk but also fight with the High Altitude i.e less oxygen in the atmosphere. But Upper Mustang Trek comes under the Moderate Grade on difficulty, since you don't need to cross the altitude of 4,000 m. in any day as itinerary of Trekking Trail Nepal as in Everest Base Camp or Manaslu Circuit Trek.

If you are reasonably fit, then trekking is challenging but not exhausting Since Trekking is multi-day walk. All the Trekking Itinerary with us are designed so that you can walk a comfortable distance each day and still have enough power left for the next.
In conclusion Upper Mustang is easy trekking trail that you don't require any special skill, other than the ability to walk.
4. How many hours per
day do you

walk for Upper Mustang Trek?

This depends on the Itinerary you follows for Upper Mustang Trek. Normally trekkers will hike 8-9 days Hike in total from Jomsom to Jomsom while 1 full day excursion in walled city of Lo Manthang. If you follows Upper Mustang Trek Itinerary of Trekking Trail Nepal you will hike 6-9 hours each day with rest and lunch break.
5. Do I need a guide or can I go on
my own

? or Any Paper works for Upper Mustang Trip?

In most of popular trekking trails of Nepal Both ways are possible, You can do as you like but you need to issue some permits. But when it comes to Restrict Trekking Areas like Upper Mustang, Nar Phu Valley Trek, Tsum Valley, Manaslu Circuit Trek as on, You need to hire a Trekking Guide at least and go through Legal Trekking Company to get Permits for Upper Mustang Trek.

In short you need Upper Mustang Restrict Permit and ACAP permits, while TIMS is not necessary.

Trekking Guide and assistance cost you little extra, but Hiring a guide and porter for your Trekking Trips in Nepal help Nepalese people to get benefited. In addition you don't need to worry about the risk of getting lost, mis leading information, local ground information of every tourist attractions and many more hidden benefits.

Note: Upper Mustang Trek Permit will not be issued for single Pax. You must have one trekking partner with similar itinerary at least for Restrict Zone.
6. Is monsoon is the best season for Upper Mustang Trek?
As we already mention that Upper Mustang is known as Himalayan High Alpine desert. In addition Upper Mustang Trekking Region lies in the rain shadow of the Annapurna and Dhaulagiri Himalayan range it gets very less rainfall even in the Monsoon. Big YES! It is true, Monsoon season June - August is the best season for Upper Mustang Trekking which followed by autumn season of September, October and November.
7. What are the major attraction that explore in Upper Mustang Trek?
In Short Major Attraction of Upper Mustang Trek is ancient Tibetan Buddhism and its related traditional, culture and life style. The monastery in every town of Upper Mustang Trekking Trail comes with this ancient buddhism. Further more the geography of High alpine Himalayan deserts and Himalayas views comes secondary. The Nilgiri and Himalayan range, Small air strips of Jomsom, historical caves and forts, monasteries, 700 years old ancients buddhism arts and painting, Tibetan lifestyle and more are the major attraction that you can explore in Upper Mustang Trek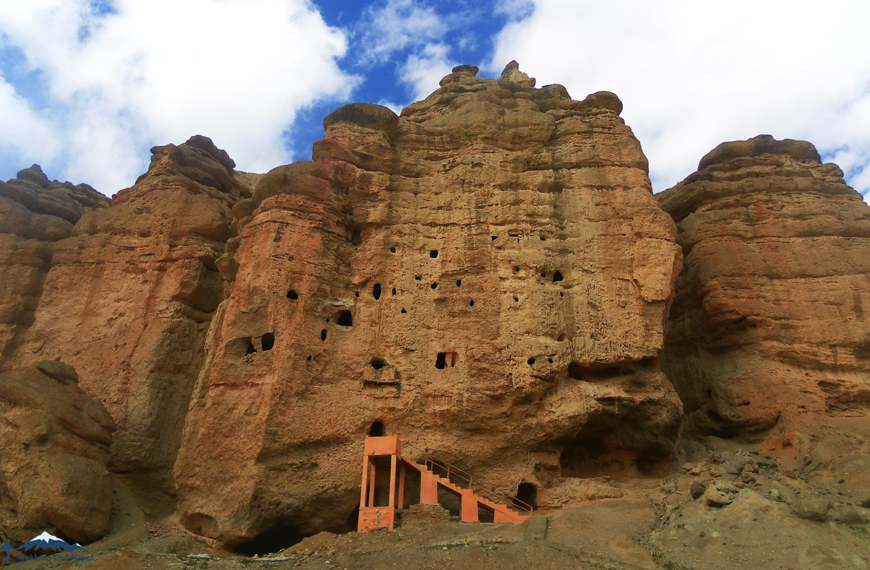 8. Any alternative to skip Jomsom Airport for Upper Mustang Trek?
If you are scared of flying to Himalayan Air Streeps of Jomsom you have many other alternative options. Some of these options make you're trekking days long, while some can reduce the budget for Upper Mustang Trek.
Even you can skip Jomsom Airport only, you can take the Jeep or Bus Drive to Jomsom from Pokhara. The public bus cost you US$ 10-15 while sharing public Jeep Jeep will cost you 25-40 US$. But if you want to hire the tourist 4 WD Jeep each way cost up to US$ 300. Note: The road which links Pokhara and Jomsom is quite dangerous, mostly the section between Tatopani to Kalopani. We definitely not suggest you to choose this options in Monsoon season. Above all this road is not for weak Heart People. Not only the deep cliffs next to the road is about few hundreds meters but also the sky scrapers of scatters hard rocks above your head and narrow scratch is just the road which connects Upper Mustang. But if you have enough time you can combines Annapurna Circuit Trek, Mohare Danda Trek, Poon Hill Trek and Hot Spring Trek to your Upper Mustang Trek by skipping Jomsom Airport. Check Our Another Blog for all Upper Mustang Trek Itinerary.
9. How can I minimized the Cost of Upper Mustang Trek?
Since Upper Mustang Trekking trail comes under the Restrict Trekking Area, this trek will not comes cheap. The restrict area permit fees cost US $500 per person for 10 days and flight cost US$ 125 per person each way. In addition the expensive flight to Jomsom and Travel and Hotel in Pokhara adds more cost. But here Trekking Trail Nepal gives you the best 3 tricks to make your Upper Mustang Trek a budget one. Will I have to carry my own stuff and save the job of porter. You can replace Pokhara-Jomsom-Pokhara flight by Local bus drive. You can start Upper Mustang Trek from Jomsom or Pokhara.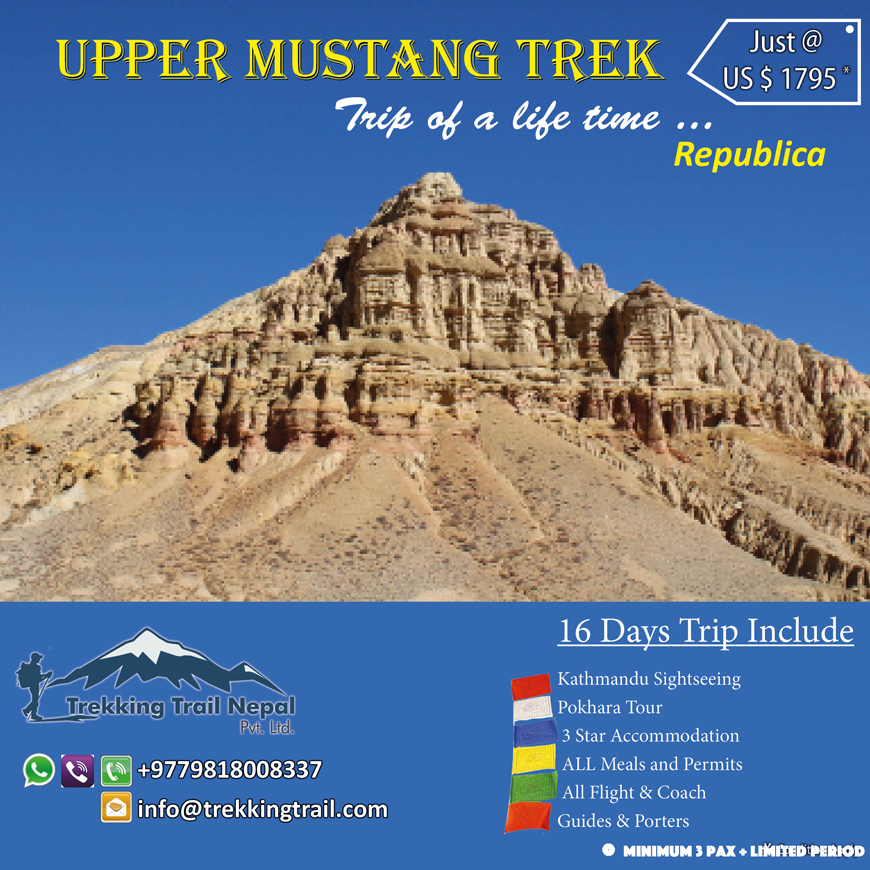 10. Where will I stay and what will I eat on Upper Mustang Trek?
On the classical route of Upper Mustang Trek you can find basic teahouse in every town which provides basic food items and accommodation. For Tea House trekking to Upper Mustang you can stay in local teahouse also called Local Lodges.
In most towns on the trail of Upper Mustang you will big Menu with verity of items. Although the taste of food might differs to original but its truly organic and fresh. The common food on Upper Mustang Trek are Dal-Bhat, Noodles, Pasta, Pizza, Macaroni, Chapati, Mo:Mo while Pancakes, Toast, Tibetan bread, potatoes, porridge etc on breakfast.
Regarding Camping Upper Mustang Trek
You don't need to carry any logistics for Lodging and Fooding for teahouse Upper Mustang Trek. Don't worry just let us know about your decision of Upper Mustang Camping Trek, We will care of every details.
But If you want to make Camping Upper Mustang Trek, you must carry all the logistics including the tents and food item and cook. For classical Upper Mustang Trek we don't suggest you to go for Camping since you can get best Tea House every where. But If you are making off the beaten Upper Mustang Trek, Camping will be the good idea.
The Upper Mustang Trek is different then other popular trekking trail in Nepal. This blog 10 Frequently Asked Questions About Upper Mustang Trek can fulfill your first list of queries. Don't worries Our Expert of Upper Mustang Trek are here for you for every needs.
Enquire Us