10 Things to Know About Upper Mustang Trek
Are you planning for Upper Mustang Trek? Already booked the Trekking Package of Upper Mustang and looking for more updates?  This Blog 10 Things to Know about Upper Mustang Trek is for you.
As the hidden Himalayas and The lost forbidden Kingdom of Tibet, Upper Mustang is the best Cultural Trekking destination of the world. Being restricted and untouched to the outer world, Upper Mustang is the living museum of ancient Tibetian Buddhism, Tradition, and Culture. This blog contains top 10 titles to know before you start the Upper Mustang Trek.
In short Upper Mustang Trek comes with some surprise, adventure, and some lifetime memories as cultural trekking in the Himalayas. The amount you paid for your Mustang Permits worths every penny with untouched ancient Buddhist culture and traditions.
1 Forget the luxury on Upper Mustang Trek
You will not get any luxury Hotel or Tea House for your accommodation for your Upper Mustang Trek. Not even close as you hear and experience in Annapurna Trek and Everest Trekking. Even the standard of accommodation has highly fluctuated. The best Accommodation you will experience is in Lo Manthang, while worse will in Samar.
The normal rule Higher you go the Best Accommodation and Services you need to forget is not applied Here for this Upper Mustang Trek.
Be prepare to for Pan (Mostly Pan ) No commode is available everywhere.
You will get the common room; toilet and showers are usually outside of the room but inside of the same building.
The wide range of menu items with similar Dishes and different taste of the same food in a different place, Although taste and serving are differences.
2 Prepare for dust on the Trail of Upper Mustang Trekking
Monsoon Season, June - August is the best season for Upper Mustang Trek. Most of the original trekking trail to the Upper Mustang is turned into dirt motorable road. Local people, domestic and international tourist use this as available means of transportation, which makes smoke, smog, and dust in our trekking trail. Since in monsoon all rivers are in full flow and little wetland you will not able to drive as you need but you can enjoy Upper Mustang Trek at most.
3 Think about the Upper Mustang Drive Tour instead of Upper Mustang Trek
If you do not choose Monsoon months; June July and August for Upper Mustang, Here Trekking Trail Nepal will not suggest you to choose Upper Mustang Drive Tour instead of trekking.
With the 4 wheel Jeep Drive Upper Mustang Tour you can follow almost the same trekking trail as of upper mustang trekking route.
Upper mustang drive tour will fulfill your dream to experience the rain shadow of the Himalayas, little Tibet, tradition Buddhism, Caves, Monasteries, Buddhist School and highland lifestyle. For older people, elder trekkers, lazy person and families with children This Upper Mustang Drive Tour is the best possible Package with the flexible itinerary.
4 Revised Trekking Gear Checklist and First Aid Kit
The Trekking Gear Checklist for Upper Mustang Trek is little different from other popular trekking in Nepal like Everest Base Camp Trek and Annapurna Base Camp Trek. The Upper Mustang Trekking Region lies in the rain shadow of Himalayas and situated above 3,000 m. This alpine high and dry land creates more adventure when it starts to wind. The Himalayas, Sun and sandy river banks create the movements of air passes toward north or west. Other sudden environment effects of upper mustang like snowfall and drowning rain can create more challenges.
You Trekking Gear Checklist for Upper Mustang Trek must include following items
Windproof and dustproof light outer shelled even light glitter is recommended.
Water or snow poncho ( light one).
Airtight, good UV + Sunglasses.
Ear and eye drop are the most important.
Proper dust mask.
Non-sticky wind and water prof 40+ sunscreens.

5 Choice of Upper Mustang Trek or Drive Tour
Rough development of new road creates little good thing about upper mustang nowadays after you can enjoy the Upper Mustang with 4 wheel Jeep drive Tour.
Trekking Trail Nepal here is not saying that you have to drive in your Upper Mustang Trek. But you can skip the less interesting and tough trekking trail like CHALE to GHELLING or SYANBOCHE. and take extra days as excursion or rest in one place and compensate for the days or to make over our rest day. This Driving Trail of Upper Mustang linked from Pokhara. In such circumstances that your flight was canceled because of an unflyable condition, you can use this new road and come to Pokhara in one day.
6 Stay positive for your Flight to Pokhara
If you are doing Upper Mustang Trek from Jomsom to Jomsom and join the flight to and Pokhara you must need to calm and stay positive for your flight. In comparing to Lukla Airport Jomsom have more change to get the flight, but not popular as Everest may have less pressure for Airlines. Furthermore, you have the best option to exit from Jomsom by following Muktinath Drive Tour itinerary, Although the drive is not easy between the section of Jomsom and Beni. Just 216 Km distance takes around 10-12 hours and full of heart-pumping thrilling deep gorges and the hanging road will add more adventure to this Drive Tour to Upper Mustang. Our guide and Trekking Trail Nepal team will update you about the flight and weather updates, so we request you to enjoy and kill your time before or after Upper Mustang Trek
7 JOMSOM to Pokhara can be done in one day with Deluxe Coach
For those who want to do this Upper Mustang Trek on budget with limited cost. The road to Jomsom is the biggest gift. Jomsom to Pokhara can be done in one day with a deluxe luxury coach in just 17 USD per person. While the price of Pokhara Jomsom is 127 USD per person. If you have time and limited budget you can start this Upper Mustang Trek form Jomsom to Jomsom. Trekking Trail Nepal will give you a totally customized itinerary for your Upper Mustang Drive Tour or Trekking.

8 Be prepared to pay extra fees for Caves and Monastery of Upper Mustang
As Upper Mustang Trekking Itinerary of Trekking Trail Nepal, at the time of exploring The Wall City, Ancient Caves and Monastery you must need to pay extra.
You need to pay $10 per person to The Student Welfare Committee of Tsecchen Shebdruling Monastic School to Explore THE MONASTIC MUSEUM, THUPCHEN GOMPA, THE JAMPA MONASTERY, and THE CHODE GOMPA also know as DRAGKAR THEGCHEN LING.
On the rest on Upper Mustang Trek Another local committee called HERITAGE OBSERVATION ENTRY MANAGEMENT COMMITTEE, Chhoser - Upper Mustang charge you the additional US $10 Per person. With this another ticket you can explore, Lo-Gurfu Gompa, Lo-NiFu Gumba, Biggest cave of Chhoser; Sija Cave and Chemba Concholing Cave. On this free day, you can experience the Horse Ride to explore the Caves, villages, and Gompas. This one-day horse ride will cost you 25-45 USD per horse extra for you. All these extra cost are not included in Upper Mustang Trek Packages with Trekking Trail Nepal.
NOTE:
The fund collected from every ticket is sold goes directly to the searching, protecting, preservation, maintaining the ancient and precious artifacts, monasteries, museum, caves and Buddhist school that we explore on our Upper Mustang Trek Trekking Trail.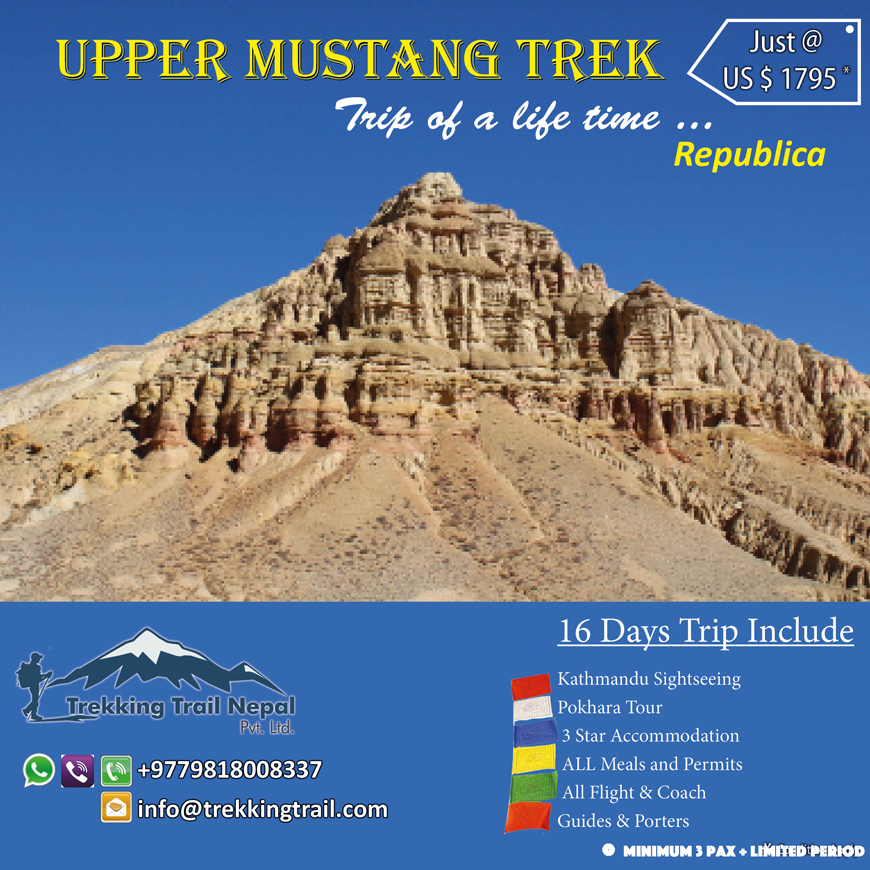 9 Ready to face blackout, Carry your Own Power back up
Most of the Town on the trail of Upper Mustang Trek have the National greed of electricity. You can use this power to charge personal electronic gadget, lighting, music and more without extra cost if available. But poor maintenance of electrical department and long spans of transmission lines, Upper Mustang gets Black Out frequently. If possible we request you to carry a small solar charger or power bank about 10000 Mah, which will fulfill you power need to your personal electronic devices. Furthermore please bring a small flashlight for personal use in your Upper Mustang Trek either with solar charger or AA battery size.
10 Every town have Old Monasteries to Explore
You must know this where are the monasteries on the trail of Upper Mustang Trek. Almost all town on our trekking of Upper Mustang you can explore new to 700s years old different Buddhist Monasteries. Small towns like Samar, Ghiling, Ghemi, Tsaharang, and Dhakmar have big ancient fort Buddhist monasteries. While you will find big monasteries in Jomsom, Kagbeni and Lo Manthang. After you reach to these towns for your camp, check in your room and explore and walk around.
On the trekking days, you will feel there are not only These 10 things to know about Upper Mustang Trek covers. Other 100 of hidden things, views, activities to do and more you will experience with the smile.
---
Apar Datta
Trip Planner / Explorer and Owner
Trekking Trail Nepal.
Even after the master's degrees in Global Marketing, he continues to follow his passion of adventure, with doing extreme trekking guiding to explore the Hidden Himalayas and Of the Beaten Trekking Trails and established Trekking Trail Nepal Pvt Ltd.
He follows his core goal of Fair Price to the guest with true ground information, By which you will get no differences on dealing with trekking and experience with the guide.  He can be connected by Email and Instagram.
Enquire Us