Why Short Manaslu Circuit Trekking in Nepal 2023?
Manaslu Trek is considered the best Circuit Trekking, which is getting more popular in recent years. With this blog Trekking Trial Nepal is proving Why Short Manaslu Circuit Trekking in Nepal is the Best.
Short Manaslu Circuit Trekking is a new package offered to serve trekkers worldwide as a beautiful adventure blend of Nature, the Himalayas, the People, and the Culture of Nepal.
Short Manaslu Trekking is spreading as wildfires worldwide among the adventure enthusiasts who dream of the Himalayas, Mountains, and Trekking in Nepal. Similarly, Manaslu Trekking Region also grabs Mountain nature's attention and interests, Tibetan Buddhist religion and culture, the virgin circuit trekking route, and more. Moreover, since it is a new trek in the newly explored area, this beaten trekking trail is rich in natural beauty, flora, and fauna.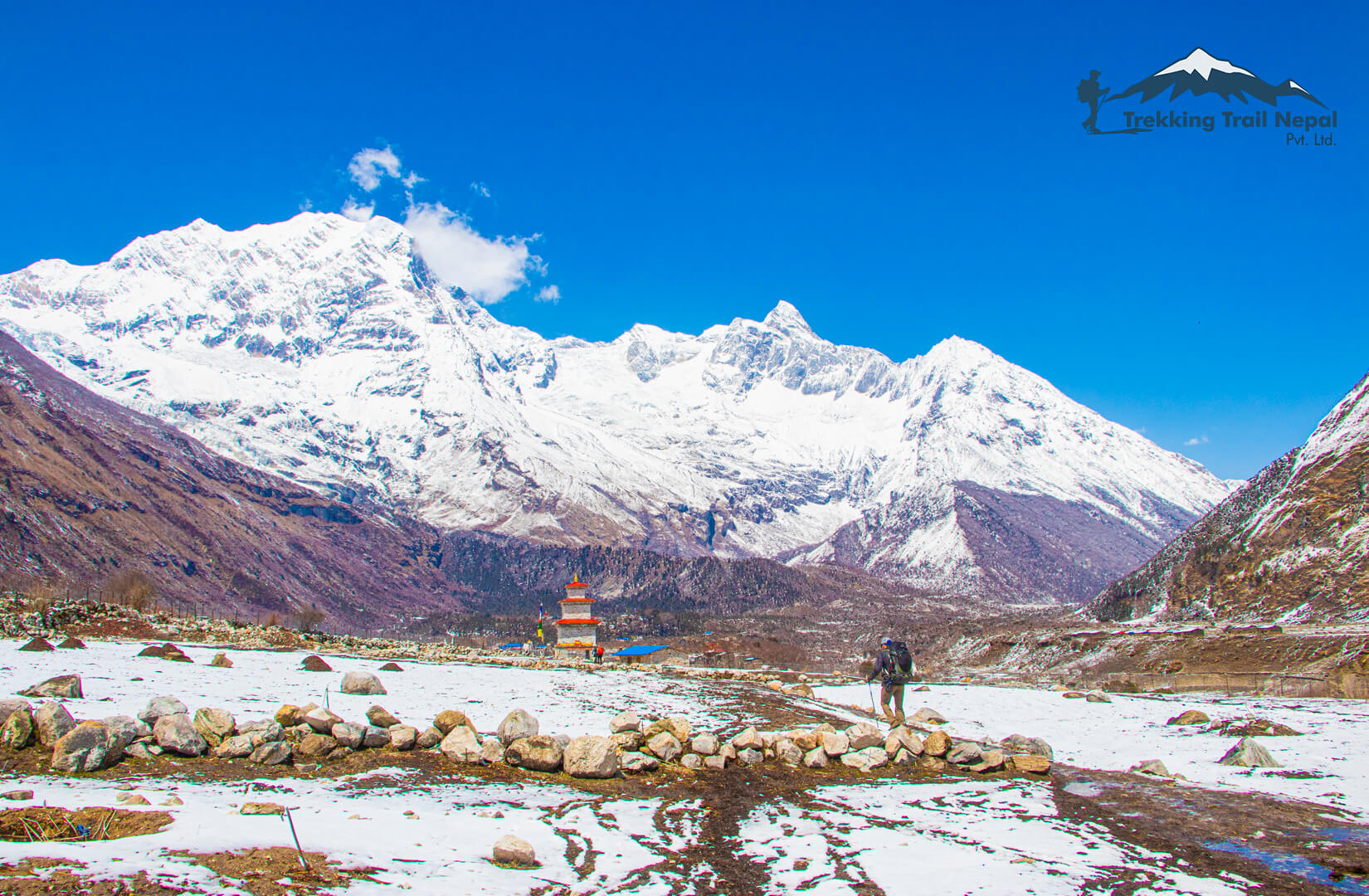 Manaslu - The Best Circuit Trek Trail of Nepal
Because of high permit fees, only fewer trekking hikers are added each year for Short Manaslu Trek. Similarly, the only guided trek is another point that controls Manaslu is to overexploited. Therefore, the limited number of travelers, visitors, and trekkers is the Short Manaslu Circuit Trek feature. You will find alpine climatic vegetation, Buddhist Culture, and remarkable wildlife diversity as you follow the trekking route. Additionally, being inside Manaslu Conservation Area, this trek is full of essential orchids, endangered wildlife, and distant geology along the way.
Short Manaslu Circuit Trekking in Nepal is an expectational way to experience the splendor of Mount Manaslu. Manaslu is the world's eighth highest mountain of the world with a staggering height of 8,163 meters. With luxuriant territory full of snow-capped high Himalayas Mountains, Every Manaslu Treks, whether short or long, can fulfill trekking dreams with nature and peace of mind. In Short, Trekking Trail Nepal gives you 7 reasons Why Short Manaslu Circuit Trekking in Nepal is the BEST Circuit Trek.
1) Best Isolated Circuit Trekking Trail of Nepal
Although Annapurna Trekking and Everest Base Camp Trek are the most popular treks of Nepal, Manaslu Trekking stands out. Similarly, the Short Manaslu circuit trek for a short hiking holiday in the mountains of Nepal.
Nepal is the home of 8 eight-thousanders' highest mountains. The list includes the world's highest mountain, Mt. Everest, 8848 meters or 29029 feet. Similarly, others are:
8, 586 m 3rd highest Kanchenjunga,
8,516 m 4th highest Mt. Lhotse
8,485 m 5th highest Makalu
8,188 m 6th highest Cho Oyu
8,167 m 7th highest Dhaulagiri 1
8,163 m 8th highest Manaslu, and
8,091 m 10th highest Annapurna 1
Short Manaslu Trekking 2023 is inside the Manaslu conservation area, a home for many-many mammals, Butterflies, Birds, Flora, and fauna. This Best Isolated Circuit Trekking Trail of Nepal is home to 33 mammal species, 217 butterfly species, 110 bird species, over 2000 flora and fauna, and 11 types of forest including, Deciduous, Alpine, and Evergreen. Trekking trails inside of the Manaslu Conservation area in a controlled manner helps to protect these natural treasures. This natural symphony, botanical and animals, and plants make Manaslu Trek a lifetime with an impeccable experience.
In this Short Manaslu Circuit Trek, you can encounter any of these parts of nature. The one reason for your question Why Short Manaslu Circuit Trekking in Nepal?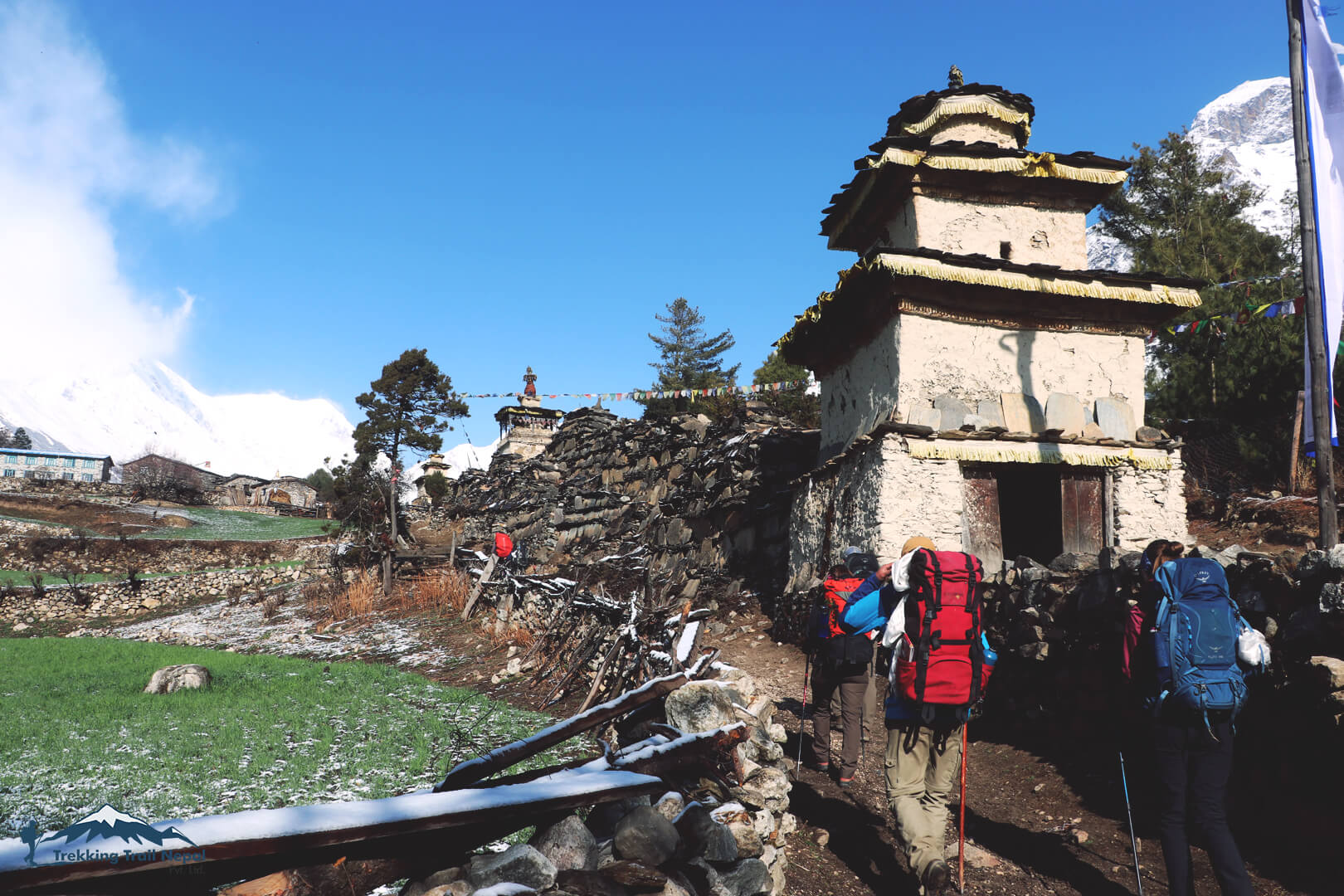 2) Thriving Religious and Cultural Experience
The Short Manaslu Trek passes by many religious and cultural treasures. Buddhist Mani Walls and Prayer Wheels artistic monasteries, stupas, and Chortens will be full of colorful flags thrive the level of adventure.
Similarly, Tsum Valley, also known as Hidden Valley, is also not far from the original trekking trail of the Manaslu Circuit Trek. You can have the Manaslu Circuit aka Larkya La with Tsum Valley Trekking. to experience the ancient Buddhism religion, culture, and practices. Being bordered by Tibet, this area of the Manaslu trekking trail is the best to enrich your cultural knowledge, experience, and people with amazing views of Highland and mountains.
Not every trekking in Nepal comes with these mixes of features. This Manaslu Circuit Trek Adventure will fulfill all parts of culture and religious experience. Indeed, you will soak up with lifestyle, traditions, values, respect, and learning with this isolated trekking in Nepal. Furthermore, the Hindu temple and sights at the starting and end of the trek prove Nepal's cultural and religious harmony.
3) Best Moderate to Strenuous Trekking Grade
Although Manaslu Trek belongs to the off-the-beaten trail in Nepal, this short trekking only requires a moderate fitness level. In other words, you did not need pro-level fitness to complete this adventure Manaslu Circuit trekking.
However, Trekking Trail Nepal strongly recommended a healthy mind and body fit for hiking ups and down walking fitness. Meanwhile, health issues like the ankle, Knee, backbones, and asthma may result in a distasteful trek. Manaslu Trekking needs about 6-7 walking hours per day on average. With prior trekking experience and fitness, the guide will easily complete the Manaslu High-Pass of 5,106.
If you have a bigger dream for Manaslu Trekking than your fitness level, We suggest following a 4-week Fitness Guide. This fitness guide not only boosts the endurance level but also maintains proper shape and condition. Which ultimately helps complete Manaslu as Best Moderate to Strenuous Trekking Grade.
4) Safe Secure and 100% Success Rate
Although Manaslu Trekking is not far from the epicenter of the 2015 devastating earthquake, now it is safe and secure. Even the whole region of Manaslu is restored, repaired, and re-equipped for the fall trekking season of 2015.
Although high mountain trekking always has the risk of Altitude Sickness, a perfect itinerary, experience guide, and acclimatization hike help avoid this. Furthermore, Trekking Trail Nepal has the ultimate records and mission of Zero Rescue, and 100% Success makes Manaslu Trek Safer enjoyable. Our Trekking guides, porters, and assistants are always on your side to maintain personal hygiene. Especially with the quality of food and water to avoid any health mishaps during the trek.
In short, with the perfect package, experienced staff, balanced diet, and slow and steady hike, Short Manaslu Circuit Trekking in Nepal will be safe, secure, and prosperous.
5) Best Acclimatization Hike and Exploration
Best Acclimatization Hike is another reason Why Short Manaslu Circuit Trekking in Nepal?
The whole Manaslu trekking trail also offers many side exploration destinations. The region is accessible within a couple of hours. Similarly, some viewpoints represent as best acclimatization hike. For example, beautiful high alpine Birendra Lake and Buddhist Pungeen Gomba are well known for the best acclimatization hike and exploration destinations. You should note this, these side hikes and exploration are devoid of any lodging and food facilities. Therefore, we recommended you get enough food and drinks or get enough time to get back to the original location. Mid-September to December, fall season, and March to May; spring is the best month and season for Short Manaslu Circuit Trek as other trekking in Nepal.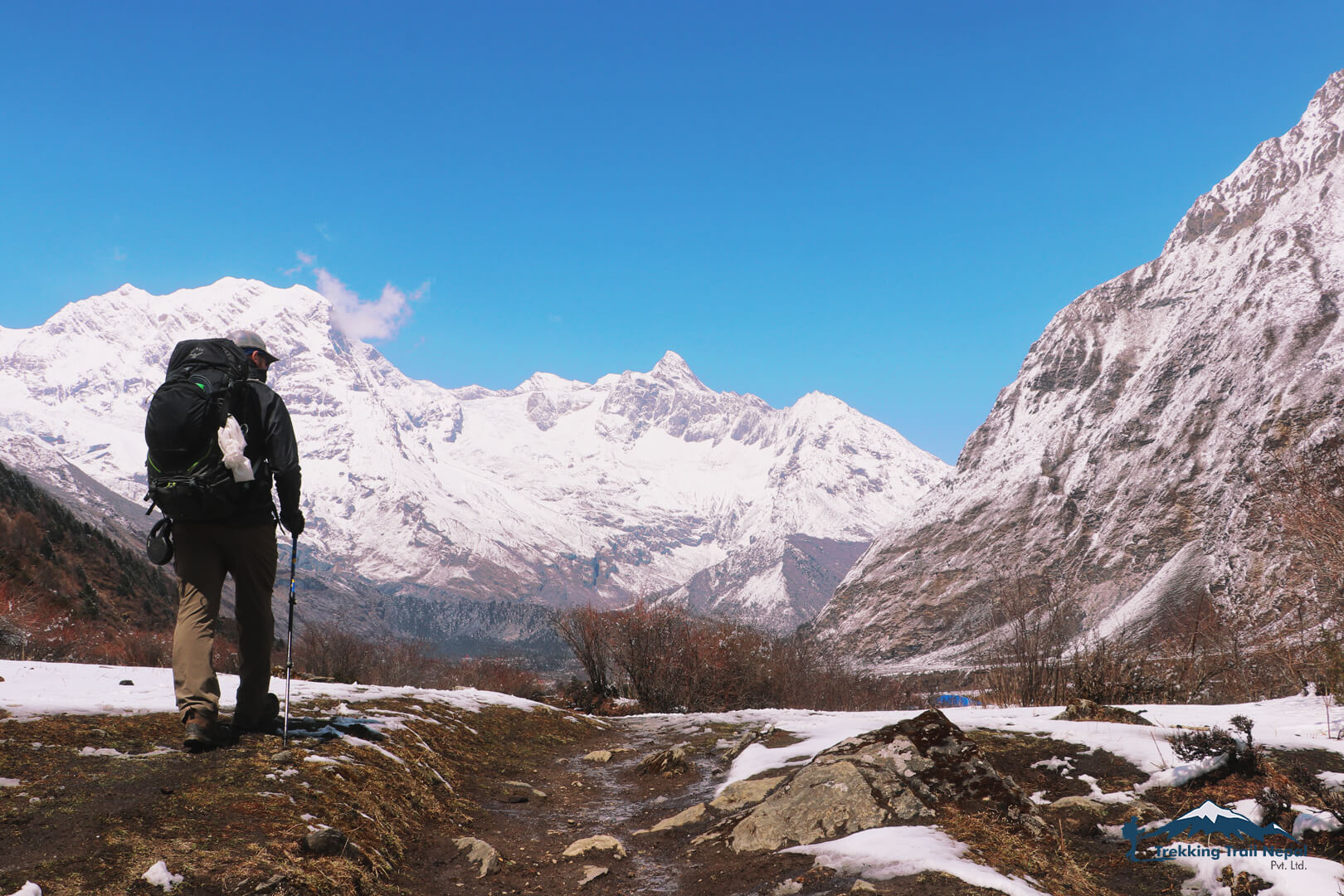 6) Tranquil Circuit Trail
The remote villages you pass with tranquil circuit trails carry the best definition of serenity in the lap of the Himalayas. The trekking is entirely new in comparison to other busier Everest View Trek and ABC Trekking 2023. Because of this reason, you encounter only a few numbers of Trekkers, guides, and porters. This feature of the Tranquil Circuit Trail may have favorable or unfavorable reasons depending on your nature and needs. Trekking Trail Nepal says this because we know some trekkers prefer busy trails and make new friends for lifetime memories.
Keep note that, the Short Manaslu Circuit trek is only fit for those trekking who need peace and the calm Himalayas adventure. So if you are dreaming about Tranquil Circuit Trail around Manaslu, you must skip April and October. Furthermore, you can combine Manaslu Circuit Trek with Annapurna Circuit, The world's highest Tilicho Lake Trek, Nar Phu Valley. Tranquil ambiance circuit trail with the flexibility to join other routes is another vital point. This Natural quality is why Manaslu Larkya La Pass Trek is the best trekking in Nepal.
7) Best Price and Affordable Services
With the limited business from fewer trekkers on Manaslu Circuit Trek, only a limited number of tea houses and lodges are available with basic amenities. In other words, only basic lodging and food services are available in most of the trekking trails. But all are Best Prices and affordable services.
Similarly, a limited variety of snacks, drinks, and meals are available on the menu. However, because of limited local production in the Himalayas and transportation difficulty with no road connectivity, they offer few choices. Although, new trekking lodges and tea-house are also being under construction to offer better services at the best price. Usually, the cost of food, drinks, and stuff gets higher as you gain altitude. But Short Manaslu Circuit Trekking is cheaper in terms of accommodation, food, and beverages in comparison to other Best Short Trekking in Nepal.
Why Trekking Trail Nepal for Short Manaslu Circuit Trek?
Trekking Trail Nepal always aims to offer our clients complete satisfaction, and we see that they are comfortable and receive the best treatment. Therefore, expectational Team efforts, experienced trekking guides, and porters with fabulous services are a must and given by our agency.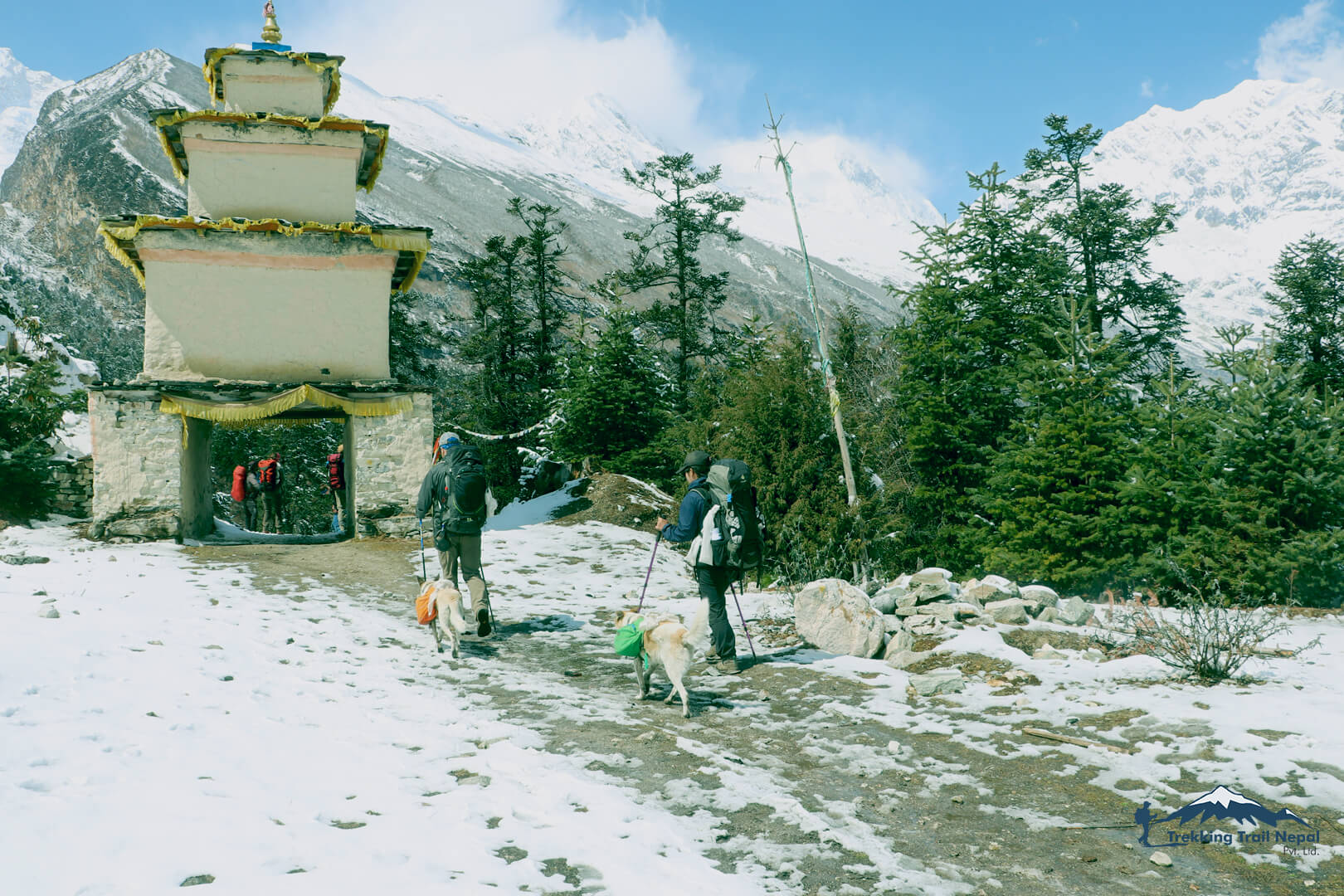 We request all potential guests to read more information about our company Trekking Trail Nepal, services including feedback from our previous clients on our website or on Trip Advisor. We are small in size but, We beat gainers in comparison to quality trekking in Nepal.
The Trekking Trail Nepal customizes the itinerary, services, and more as per your needs and preferences. Let us know about your requirements, and we will create a tailor-made Trekking Plan for your needs. Most importantly, you will live, thrill, and experience Why Short Manaslu Circuit Trekking in Nepal is the best for you. Manaslu Trek is considered the best Circuit Trekking, which is getting more popular in recent years. With this blog Trekking, Trial Nepal proves Why Short Manaslu Circuit Trekking in Nepal is the Best. Short Manaslu Circuit Trekking is a new package offered to serve trekkers worldwide as a beautiful adventure blend of Nature, the Himalayas, People, and the culture of Nepal.
Enquire Us