Manaslu Larkya La Pass Trekking Trail - Manaslu Trek 2023
If you are looking for the Best Trekking Trail which is less crowded and beautiful, then this Manaslu Larkya La Pass Trekking will be the best option for you. This Manaslu Larkya La Pass Trek is also known as Manaslu Circuit Trekking. Trekking Trail Nepal provides you the best Trek of Manaslu with Detail Itinerary to enjoy beautiful this new and popular trekking trail.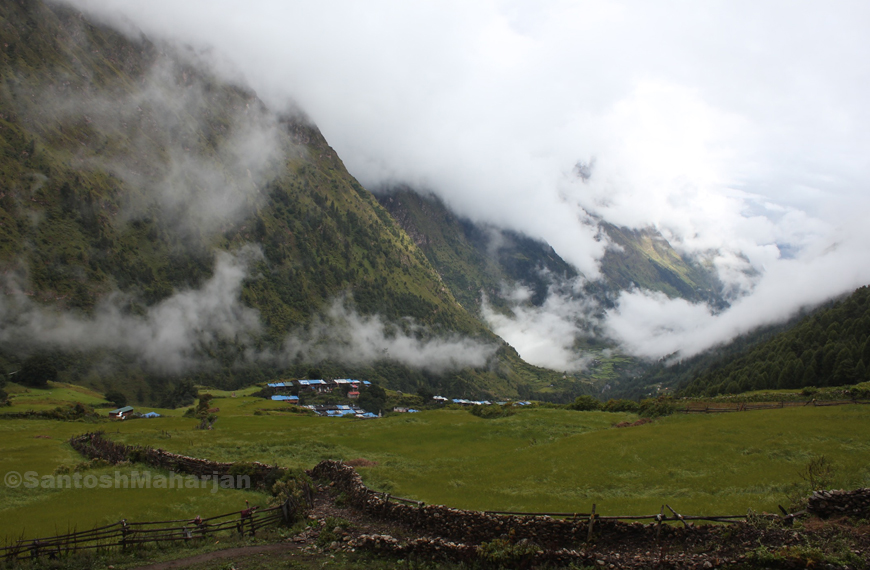 Manaslu Larkya La Pass Trekking is one of the challenging trail trek adventures, where you will get an experience to indulge yourself in nature's lap. Manaslu Circuit Trek 12 Days in Nepal offers you a great view of the mountains, rivers, hills, art, and culture of the local people. Due to the excess flow of trekkers in recent years, local people are building new teahouses, lodges, and hotels to provide good service for the tourists. A few years back, trekkers have to carry their own camping gears to complete this Manaslu circuit trail, but now there are few options to stay, eat and rest on this trail. Manaslu Larkya La Pass Trekking trail is a part of the Great Himalayan Trail which is also called Manaslu Circuit Trek. Due to less number of trekkers, this Manaslu trekking trail is considered a beautiful and untouched trekking trail. The Manaslu Circuit Trekking Trail is now becoming an alternative trekking trail of the Annapurna Circuit trail as this trail is quite crowded with numbers of trekkers which is increasing year per year.
Itinerary of Manaslu Larkya La Pass Trek with Trekking Trail Nepal
The team of Trekking Trail Nepal will brief you about the trek before commencing. After a discussion, we will drive from Kathmandu to reach Arughat from where this Manaslu Larkya La Pass Trekking trail starts. It will take about 5 to 6 hours to reach there. Passing through hills and different villages, we will reach there from where we will now start our trek through the beautiful banks of Budi Gandaki River. Read Day by Day Itinerary.
The natural narrow trekking trail passes through different beautiful villages and lush green forests. It is an easy trek in the beginning with an easy uphill followed by a downhill trail. Trekking trail for Manaslu Larkya La Pass passes through Jagat, Ekle Bhatti, Shya, Sama Gau, Samdo, Dharmasala, Larkey Pass, Bhimtang, Tilje, and Dharapani. From Dharapani, you can take a jeep to reach Besi Sahar and from there, you will get a jeep, bus, or van to reach Kathmandu.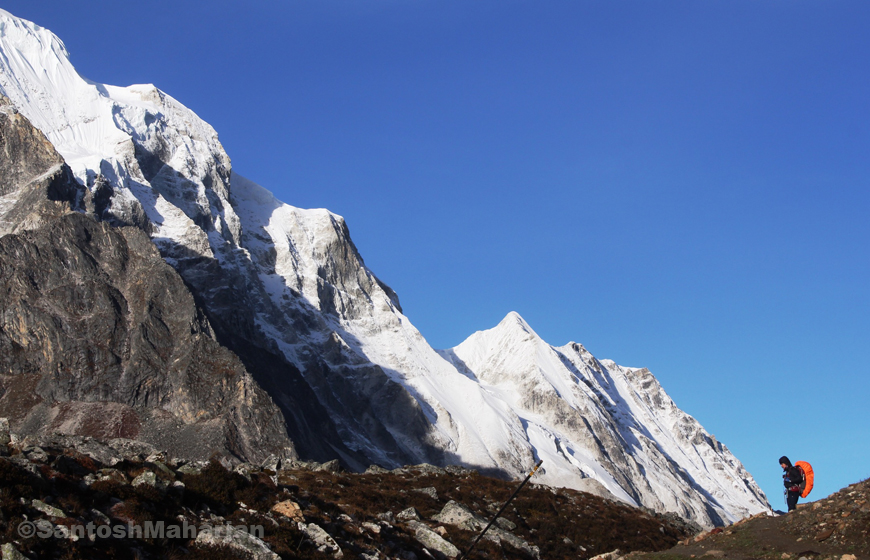 On this Manaslu Larkya La Pass Trekking, you will reach the highest point Larkey La Pass which is about 5212 meters above sea level. This Larkya La Pass also known as the longest passes. Different glaciers, snow-capped mountains, and rivers can be seen during this Manaslu Circuit Trek. Mt. Manaslu, Larkey peak, Annapurna II, Himlung and many other mountains can be seen during this trek. Due to different vegetation, lifestyle, and culture, Manaslu Larkya La Pass Trekking ( Manaslu Circuit Trek ) in Nepal is known as the best trekking trail on the list of Circuit and Pass Trekking categories.
People, Culture, and Religion of Manaslu Larkya La Pass Trekking
As we ascend towards the Manaslu trekking trail, you will see the great influence of Buddhist culture where multicolored prayer flags, mani walls, paintings, and stupas can be seen. Also as we ascend, we will see the people, house, art, and culture influenced by the Tibetan norms and values. During the trek, you will be able to see different vegetation like pine, spruce, rhododendron, juniper, oak, etc., and wildlife like, yak, snow leopard, blue sheep, etc., and different species of birds at different altitudes.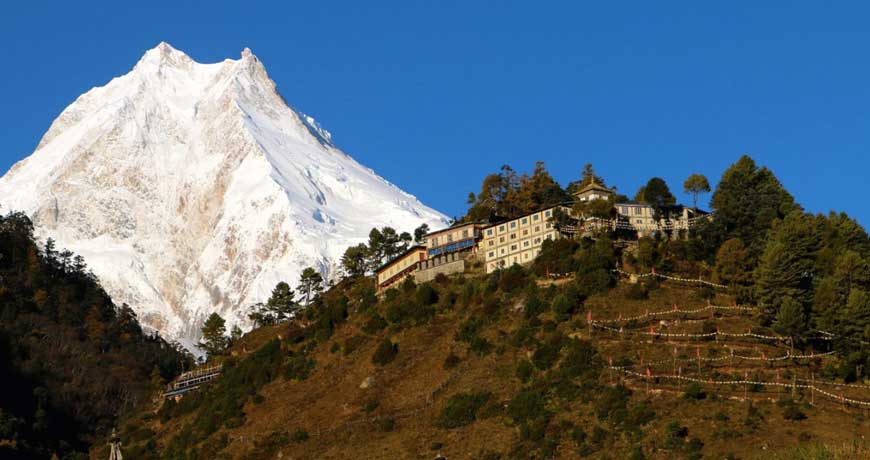 Due to the remoteness of this place, yaks and mules are used as a mode of transportation or to carry the foods and other stuff of daily need. Crossing the river over the suspension bridge and wooden bridge, waterfalls, and rivers on the way, crossing the narrow landslide trail will be the most exciting and tough part of this trek, not to mention the crossing the longest pass; Larkey Pass in the early morning.
Permits and Safety Measure for Manaslu Larkya La Pass Trekking
Due to the high altitude and cold climate, one must be physically fit to complete this Larkya La Pass Trek. Also, remember to acclimatize at a different altitude to prevent yourself from high altitude sickness. Manaslu trekking trail is a restricted area, so you must get a special permit from Manaslu Conservation Area Project (MCAP) as well as Annapurna Conservation Area Project (ACAP) and Trekkers' Information Management System (TIMS) card. Trekking alone is prohibited in this area so get yourself a trained and experienced guide to know more about the place and nature before commencing this trek. For this, the Trekking Trail Nepal team will help you in every aspect.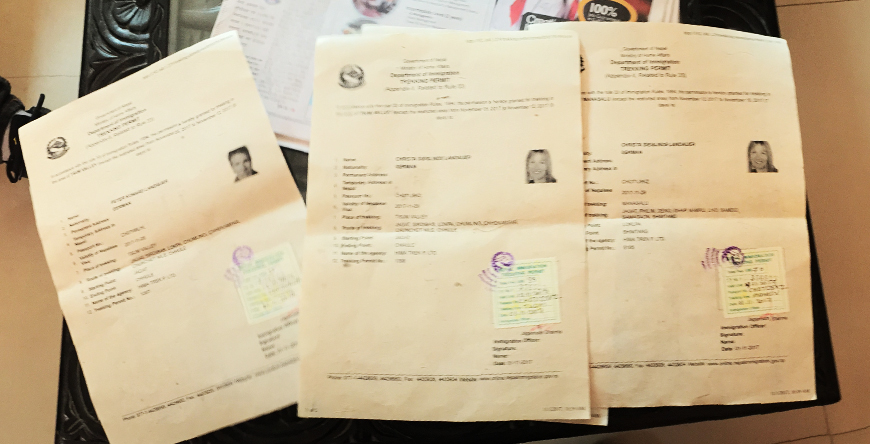 You will be walking for about 5 to 6 hours a day on average during every trek in Manaslu Trekking Region, but depending upon your pace and stamina, you can increase or decrease the trekking hours. Usually starting we start Larkya La Pass trek in the early morning as possible after breakfast, considered good because you will get a good amount of rest when you reach the day's destination. In addition, the morning view of nature is always warm and beautiful and it will also be easy to walk before the sun gets up in your head.
Food and Accommodation on Manaslu Larkya La Pass Trekking
Local people have started to build some nice and cozy hotels on the way where you will stay overnight on a twin sharing basis and common toilets and infrequent hot shower and common eatery in the dining room where you will see the fireplace with the chimney in the middle of the dining hall to keep visitor warm. You will be served according to the menu which mostly serves pancakes, rice, lentils, pickles, oatmeal, and locally grown vegetables on your table. Always respect the people, nature, and culture. Do not harm the animals, birds, or vegetation. Also, do not litter on the way. Be a responsible trekker. Trekking Trail Nepal team will try to make this trip memorable on your every tour, Adventure and Trekking In Nepal, Not only Manaslu Larkya La Pass Trek.
Short Manaslu Trek
If you have a few days available for your Adventure Holidays, but dram to Cross Larkya La Pass? You are in the right place. Trekking Trail Nepal also offers 12 Days Manaslu Circuit Trekking. In these 12 days, you will also be able to complete Manaslu Larkya La Pass without skipping any of the attractions, villages, monasteries, or views.
---
Thank you for your time and support to Blog on Manaslu Larkya La Pass Trekking. Your love, suggestions, the guideline will be highly appreciated, which make us serve all trekking and holidays packages in Nepal with care, responsible. Please subscribe and follow Trekking Trail Nepal on all Social Media. If you need any information and updates please Contact Us.
Enquire Us