Manaslu Circuit Trek in Nepal 2023 - Ultimate Guide
The amazing adventure of the Manaslu Circuit Trek in Nepal is sure to give an everlasting impression. Known as 'the spirit of the mountain' Mt. Manaslu is one of the highlights during this incredible trek! Passing through forests, fields, and High Mountain passes this exhilarating adventure of the Manaslu Circuit trekking has long been a favorite of outdoor lovers. With a local Tibetan Buddhist culture, the trails are full of cultural discoveries. During this adventure of the Manaslu Circuit trek in Nepal, we are sure to see the old traditions of the locals and increase our understanding of the Himalayan people.
What is the best season for the Manaslu Trekking in Nepal?
The eighth highest mountain in the world with a sky-touching height of 8163 meters and its region known as Manaslu Conservation Area is getting popular day by day. Not only the climbers attract to its top. Thousands of trekkers dive to explore and enjoy the Nature, Culture, and Adventure with Manaslu Circuit Trek in Nepal.
The adventure of the Manaslu Circuit Trekking in Nepal highlights the incredible stunning Larkye-La Pass, the hidden valleys, and the unique culture and traditions of the local communities. For those who are wondering what the best season for the Manaslu trekking in Nepal is. Spring and autumn are it for clear skies and views! The trails are most accessible and the mountain pass of Larke La is open.
Manaslu Circuit Trekking in Autumn or Fall?
One of the peak seasons for trekking in Nepal will be autumn. Starting from somewhere mid-September and ending late December the autumn season is perfect for the Manalsu Circuit trek. Although the morning and evening feel a little chilly, the day is still warm under the clear blue sky and white mountains. Even some festivals on the Manaslu Trekking Trail as well in Kathamndu make the Best Season for Manaslu Trekking in Autumn. In any month you will feel cold at night and in the pass at Larkya La.
Manaslu Trekking during the spring season?
Another perfect season to explore the Manaslu Trekking area is spring. The month's March, April, and May give perfect views of the Himalayas and the entire region is lush green and full of life! During the adventure Trekking of the Manaslu Circuit, you visit also the traditional local villages in the lap of the agricultural farm. Since spring season is the best season to experience the magical farm with wheat, and give that real out-of-city feeling.
How difficult is the Manaslu Circuit trek in Nepal?
With the highest point of Manaslu Circuit Larke La at 5,106 meters, the Manaslu Circuit trek is categorized as moderate to difficult. Trekking Trail Nepal does not recommend to do as your first trekking in the Himalayas. If you want to complete the Manaslu Circuit trek as your first trek, Please follow our trekking fitness guide and follow our exercise how to prepare for trekking to the Himalayas.
Trekking Trail Nepal is not saying you can't do Manaslu Trekking as the first trek. If you are of good and active health, doing a physical fitness job like police, fireman, or fitness instructor you can complete Manaslu Circuit Trek as an organized itinerary. In which we gain elevation less than 500 meters and acclimatize as body need. Similarly do not forget the Manaslu Trekking Trial is full of steep ups and downs, loose stones, and close to the mountainous, you must have strong and balancing hiking skills.
To overcome all these difficulties of Nature, altitude, trails we recommended doing some basic training for 4 weeks before your adventure of the Manalsu Circuit trek. This way you get to enjoy the best trekking experience in the Himalayas with Manaslu Circuit Trek.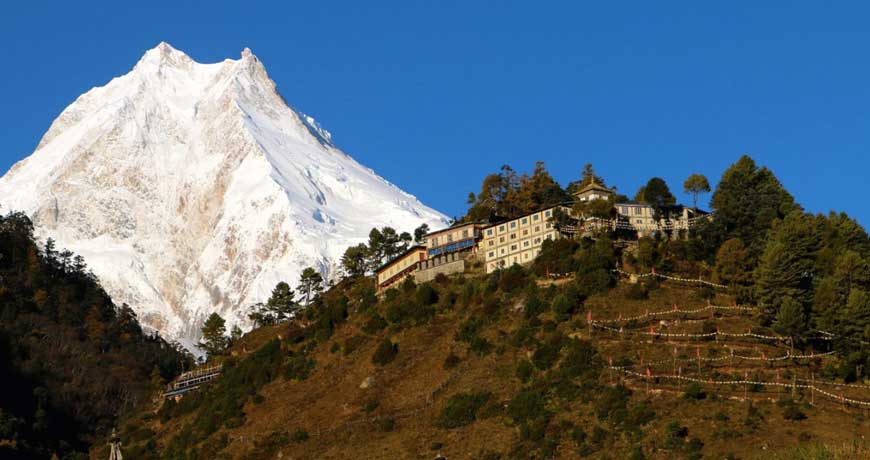 What type of fitness do I require to do the Manaslu Trekking?
In order to fully enjoy your adventure of the Manaslu Circuit trek in Nepal, it is necessary to have a built-up. Although not being more difficult than the famous Everest Base Camp trek, it would be best to practice some kind of altitude training. In short Manaslu Circuit Trek is easier than Everest Base Camp Trek but difficult than Annapurna Base Camp Trekking. The difficulty level of Manaslu Circuit Trek is similar to Annapurna Circuit Trek.
Accommodation during the Manaslu Circuit Trek
In the Main Cities:
Starting off in Kathmandu with an educational sightseeing tour, your accommodation will be more luxurious than during the trek. With a number of hotels to choose from you can stay where you like depending on your travel budget. Thamel the main tourist hub of Kathmandu has luxurious hotels, Airbnb, hostels, and backpackers lodges. With nice rooms and comfortable beds, your stay in Kathmandu will usually be on a Bed and Breakfast basis. This way you get to enjoy the delicacies of the surrounding restaurants in the evenings and in the morning relaxing at the hotel with a hearty included breakfast!
During the Manalsu Circuit Trekking Trail
As we head to a remote area we will be staying in local guests or teahouses, this provides sustainability to the area and helps to improve the development of the region. Since the Manaslu are is rich with Tibetan customs and cultures, overnight at the local lodge and hotel add the Himalayan experience.
During the Manaslu Circuit trek 15 days, we leave the comfort of the cities behind and get ready for a real Himalayan adventure. The guest houses are clean, simple, and with a sharing bathroom. It is recommended to bring a sleeping bag with you for extra hygiene. Since Trekking Trail Nepal includes all meals with drinks with our package of Manaslu Circuit trek you don't have to worry about it. All foods are prepared in a hygienic way even mostly grown on a local organic farm.
What type of meals can I expect during the Manaslu Circuit trek?
During your adventure of the Manaslu Circuit trek, all meals are included. With a standard breakfast in the morning, a light lunch during the trek, and a delicious dinner at the guesthouse at night. During the trek, we spent the nights and mornings in local guests or teahouses.
All food will be prepared freshly however mostly consists of Nepalese traditional dish. Boiled rice, seasonal vegetables, lentil or bean soup with a spicy sauce, and papad makes a Dal-Bhat Platter.
Since every hotel and lodge en-route to Manalsu circuit trek has menus with wide verities of food, snacks, and drinks, you are open to choose any things as your appetite and digestive. However, Trekking Trail Nepal do not advise ordering meat item because of its long storage condition. We understand the value of protein so please pack some energy bars or meat jerks. If you are vegan or gluten-free, please remind our guide and team for Manaslu Circuit Trek. We do our best!
Manaslu Circuit Trek Itinerary
After your arrival in Kathmandu, the adventure of the Manaslu Circuit trek for 16 days in Nepal starts! With every day a new village to explore, trails to cross and incredible views to witness the Manaslu Circuit trek is truly one of the best treks in Nepal. Below we will show you the short itinerary of the Manaslu Circuit trek.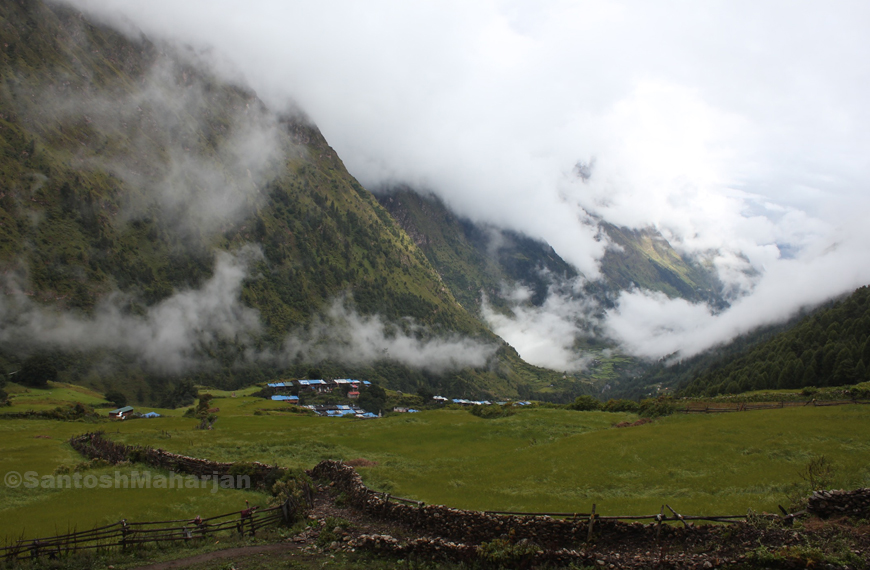 Day 01: Land in Kathmandu, Nepal for Manaslu Circuit Trekking
Day 02: Kathmandu day tour for you, where we issue Manaslu Trekking permits.
Day 03: Drive to Soti Khola
Day 04: Trek to Machha-Khola
Day 05: Trek to Jagat village
Day 06: Trek to Deng Village crossing Phillim
Day 07: Trek to Numrung
Day 08: Trek from Namrung to Sama Gaun
Day 09: Acclimatizing and excursion around Manaslu Base Camp and Birendra Lake
Day 10: Trek to Samdo Village
Day 11: Trek to Dharamsala
Day 12: Cross Larkya-La 5,106 m highest point of our Manaslu Circuit trekking, and down to Bhimtang
Day 13: Trek down to Tilje
Day 14: Trek to Dharapani of Annapurna Circuit and drive to Besi Sahar
Day 15: Drive back to Kathmandu, 175km / 7-8 hours
Day 16: End of Manaslu Circuit Trek with Trekking Trail Nepal.

Safety measures while doing the Manaslu Trek
Safety is one of the main focus points during any trek organized by Trekking Trail Nepal. Before departing to our trekking start point a detailed trekking briefing will be held in Kathmandu explaining all the safety rules during the trek. With many years of experience in the field, our dedicated team takes great care of you and your safety during your adventure of the Manaslu Trekking. Holding an acclimatization day before heading to the Larke La Pass and trekking on your pace with ample rest stops on the way is how we operate to prevent AMS. The trails during the Manaslu Circuit trek can get rocky and steep but with the help of our team and following our safety regulations we are sure to make this a memorable trekking in Nepal for you!
A Normal day on Manaslu Trekking?
The Manaslu Circuit Trek is a bit more difficult than some other treks in Nepal. With average daily trekking hours from 5 to 8 hours, most days will be filled with trekking from morning to late afternoon. Heading out as early as possible is important to get even better views as in the afternoon it can get cloudy. Lunch will be taken on the way to designated spots with great views. After arriving at the guesthouse during dinner your guide goes with you over the next day's plan. Being well informed about tomorrow we end the day with a good sleep to get ready for our next day of trekking.
Do I require a Guide for the Manaslu Circuit Trekking?
Trekking Trail Nepal provides government-licensed and fluent English-speaking trekking guides during the Manaslu Circuit trek. As the area is mostly inhabited by Tibetan villages with their own cultures and traditions being well informed during the trek is always a better way to enjoy and understand the Himalayan lifestyles. Our trekking guides have many years of experience and take great care in guiding you safely through the Manaslu Circuit!
Equipment that I need for the Manaslu Circuit Trek.
Normal trekking gear will be sufficient to successfully complete the Manaslu Circuit trek in Nepal. Trekking Trail Nepal always suggests you pack some warm clothes for the day of Larkya La Pass. Traversing through snowy trails can get cold without proper clothing! For the rest of the trek good and comfortable trekking shoes, a water bottle, sleeping bag are advised to bring with you. All trekking gears and equipment can be found in Thamel. From where we depart to start your adventure of the Manaslu Circuit trek in Nepal.
With everything explained about this incredible adventure of the Manaslu Circuit trek in Nepal, you should be eager to make this trip! Cultural, the great outdoors, epic trails, crossing a high mountain pass, and experiencing the unique Nepalese Himalayas is the best way to spend your holiday! During our adventure of the Manaslu Circuit trek, we can also see the local communities and their unique lifestyles. The culture is mainly influenced by Tibetan Buddhism and has developed into a unique Himalayan lifestyle. Get ready and take the adventure of the Manaslu Circuit trek in Nepal and prepare for the trip of a lifetime!
Enquire Us