Ropain Festival | Rice Planting Festival in Nepal 2021
Agriculture is considered one of the important occupations here in Nepal. Different kinds of seasonal crops are harvested in the different seasons in a different part of the country. Due to the presence of different type of lands, people cultivate accordingly. But most of the flatland in Terai and terraced fields of Hill regions are used for cultivation of different seasonal crops like rice, wheat, maize, etc.
Rice Planting Festival to Welcome Monsoon with Music, Mud, and Mood
One of the major crops to be cultivated is rice and during the monsoon season, it is cultivated as rice plantation needs lots of water. During this season, local people are engaged in rice plantation. Farmers celebrate this rice planting as a festival where they gather, enjoy planting, dance, sing, and have a small feast in between and after the plantation. In the past few years, not only the local farmers but the tourists who come to Nepal for the visit in this rainy season took part and enjoyed planting rice. Seeing this participation, Nepal Government has decided to celebrate the 15th day of Ashar as a Ropain festival named as rice planting festival in English.
#Mood for Monsoon Trek? Check Our Best 5 Monsoon Trekking in Nepal
This year, Ropain festival falls on 29th June 2020. But the rice plantation begins from the first week of the Asar if the monsoon is active. This is the completely new experience for the local as well as tourists who participate in this festival besides hiking, trek, and sightseeing. This participation encourages farmers to plant paddy. It is celebrated mostly in Kathmandu and Pokhara, but if you are somewhere near the plantation site, you can ask the local farmers to participate in the plantation. Most of them will never say no, so don't miss the chance to ask and experience the rice plantation in a local way.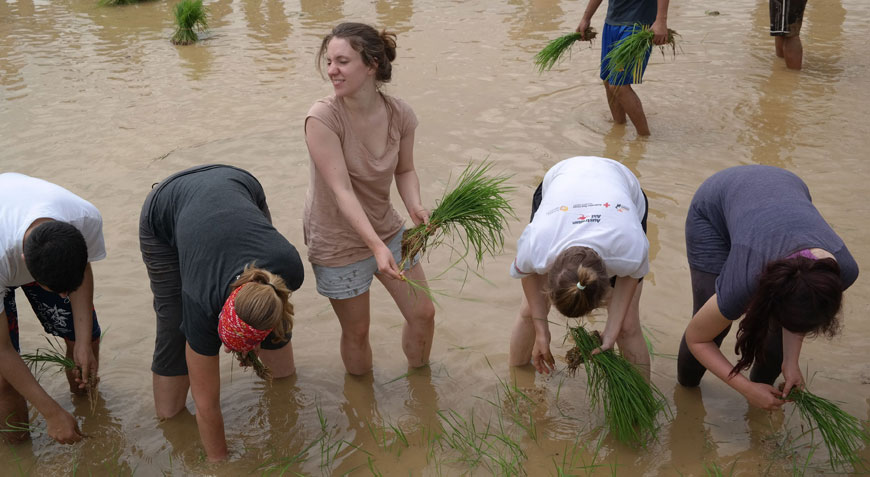 Rice Planting Festival Tour in Nepal 2020
During rice plantation, people sing Asare Jhyaure; a traditional monsoon song, plants paddy with the bare hands in the muddy field and also splashing muddy water on each other. While most of the plantation is done by the female, the male will plow and level the field to ease plantation. In between plantation, you can enjoy a friendly mud wrestling, tug of war, splashing the muddy water on each other, and plow racing competition. It is all friendly competition, so no one loses, everyone is a winner here. Everyone, from a small child to an old people enjoy this plantation in their own way. You will be served with some local delicacies on the plantation. To boost up the energy for plantation, they will even serve you traditional Nepalese local alcoholic beverages and local cuisines. Also, you will be served a Dahi-Chiura (curd mixed with bitten rice). It is believed that these foods and beverages will help you to cure and make you immune from the disease during plantation.
Make sure that you take an extra pair of clothes because you will be completely soaked in the muddy water. It is a complete workout of the body where you will forget about everything and enjoy rice plantation, sing, dance, eat, drink, and play in the mud. It will be a memorable event for you and for the farmers for whom you planted the rice in the Festival of Rice Planting in Nepal.
Join Our Rice Planting Festival Day Tour 2021 June 29
---
Trekking Trail Nepal manages and organized this types of Nepalese Traditional festivals in Nepal on your request. Feel easy to Write Us to take part in Maghe Sagranti, Bullfight, Jainin Purnima, Ghode Jatra, Machhindranath, Holi Festivals, Maha Shiva Ratri, Chaitra Dashain and many more. Our experienced local experts will make your Nepal Holidays more memorable and enjoyable with different festivals. Join Trekking Trail Nepal Special Trips and Experience the Unmatched Adventure in Nepal.
Enquire Us