Must Visit Hindu and Buddhist Heritage Sites in Nepal
Every year, people from different countries visit Nepal to admire the natural beauty of Himalayas and feel the Adventure with trekking trail. Apart from trekking and visiting different trekking trails, a number of people visit Nepal to express their religious aspects as Nepal is famous for the religious destination. Hindu, Buddhist, Muslims, and Christian religion are well flourished here. Most of the people here are Hindu followed by Buddhist, Muslims, and Christian lives in harmony, which makes Nepal the best destination for Religious Tours.
In Kathmandu itself, there are different religious sites. Among them, Pashupatinath, Muktinath, Gosainkunda, Changunarayan, Krishna Mandir, Bhadrakali, and much more are the famous Hindu pilgrimage sites whereas Swyambhunath, Lumbini, Baudhanath, Muktinath, and different monasteries around the country are the famous Buddhist Pilgrimage sites tours. Among them, following are different religious pilgrimage sites in the different part of the country. Trekking Trail Nepal team will help you to explore the core part of these religious heritage sites
Pashupatinath - Ultimate Religious Destination of Hindus
Trekking Trail Nepal will take you to Pashupatinath – UNESCO World Heritage Site, it is most worshipped Hindu Pilgrimage sites where Lord Shiva is worshipped. Every year, people from different parts of world visit here, but mostly during the festivals like Shivaratri, Teej, Bala Chaturdashi, etc. you can see the huge number of devotees worshipping Lord Shiva. The main temple is built in two-story pagoda style and around the premises, there are a number of idols of different god and goddess.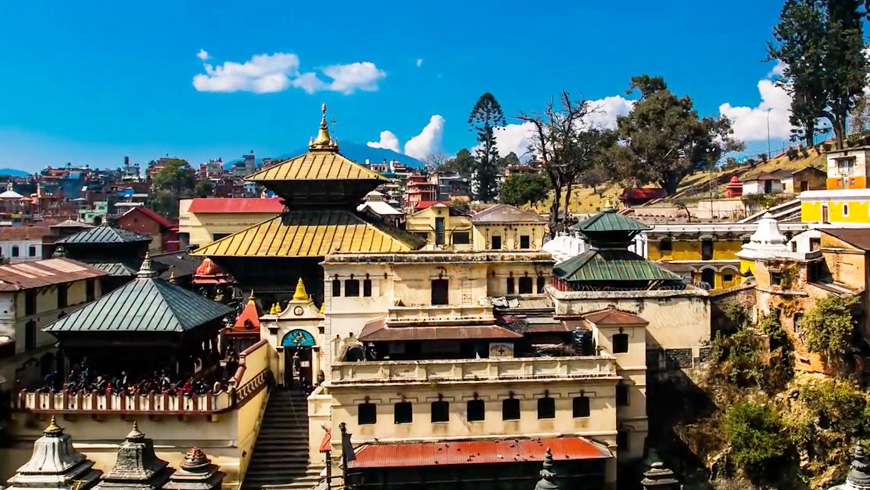 Whole Pashupati Complex covers 264 hectares of land and the dense forest inside the area is a home to monkeys and deer. Also, this is a cremation area of Hindus where holy Bagmati River flows. Although only Hindus are allowed to enter the main temple, tourist can get the view of the temple and surrounding and witness the activities around from the other side. Besides the temples and idol, other attraction of this temple is an evening "Aarati" where Lord Shiva is praised with the oil lamp and the devotees' chants bhajans (religious songs) and performs the dance from the other side of Holy Bagmati river which lasts for about an hour.
---
Muktinath Temple - Hindu and Buddist Temple in the Himalayas
"Muktinath" meaning "place of salvation" is located at the altitude of about 3800 m from the sea level in the beautiful Mustang district. This place is sacred both Hindus as well as Buddhists. Built in a 3-story pagoda style, there is a beautiful idol of Lord Bishnu inside the temple.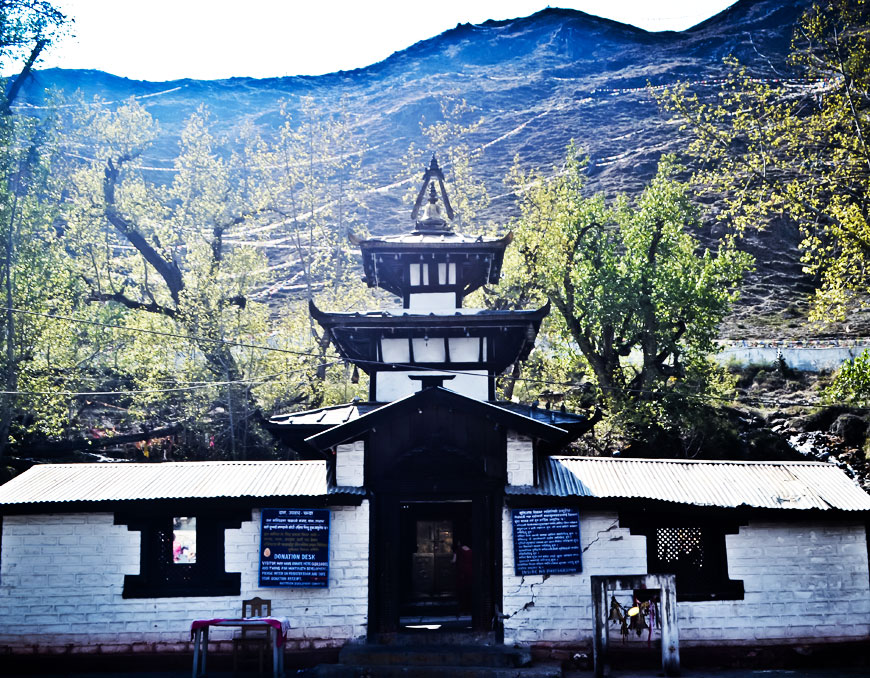 Each year, people from different part of the country as well as abroad visit this place. Also, people who are trekking to and from Thorang-La Pass visits this Muktinath Temple en route. There are two holy ponds in from the temple where it is believed that if you dip in, all the known/unknown sins will wash away. Also, behind the temple, there are 108 water spouts in the height of about 7-foot where devotee gather the courage to run underneath the icy cold water from Kali Gandaki River. Around this beautiful temple, there are many big and small idols of god and goddess as well as the beautiful Buddhist monastery and Hindu temple where different rituals are performed monks and nuns every day.
Swyambhunath - Buddhist Shrine Stupa
Another place that Trekking Trail Nepal will take you is Swyambhunath popularly known as Monkey Temple which is located towards the west of the valley, Swyambhunath is one of the holiest places for Buddhist pilgrimage. It is located at the top of the hill from where you can see the view of the valley, hills, and mountains on a clear day. Swyambhu meaning "self-created" is listed in UNESCO World Heritage Site. Around the stupa premises, there are monasteries, small and big idols of Buddha, Ajima temple, Santipur temple, and museum. It is also home to monkeys where they stroll around without any hesitation and make sure that you don't tease them. Let them stroll around freely and keep your belongings safe from monkeys.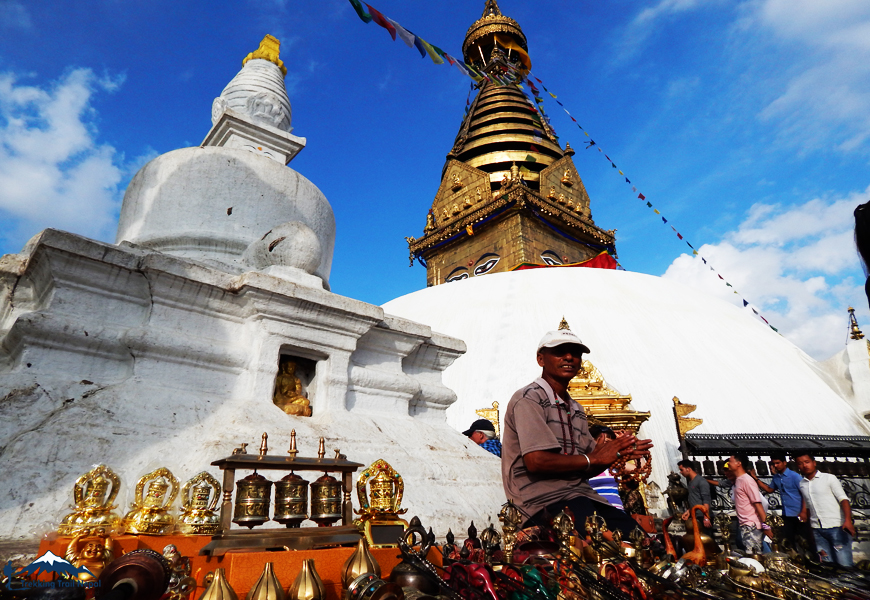 There are many ways to reach the top, but if you want to test your stamina, you can climb up 365-flight of stairs. Before reaching the top, you will see a BAJRA and huge stupa itself where you will see four pairs of eyes in each direction meaning god is watching its creation. Upon reaching the top, you will feel a peace within yourself. You will notice devotees circumambulating and chanting bhajans (holy song), spinning prayer wheels and enjoying the view of Kathmandu valley. Once you are on the top, you can spend 3-4 hours of your time easily. This is one of the popular One Day Tour Activities you can do in a leisure time.
Lumbini - Birth Place of Lord Gautam Buddha
Trekking Trail Nepal team will take you to another holy Buddhist Pilgrimage and Heritage site – Lumbini. Among many Buddhist pilgrimage sites like Swyambhunath, Baudhanath, stupas, and monasteries, Lumbini is sacred place as it is known as a birthplace of Lord Buddha – Light of Asia.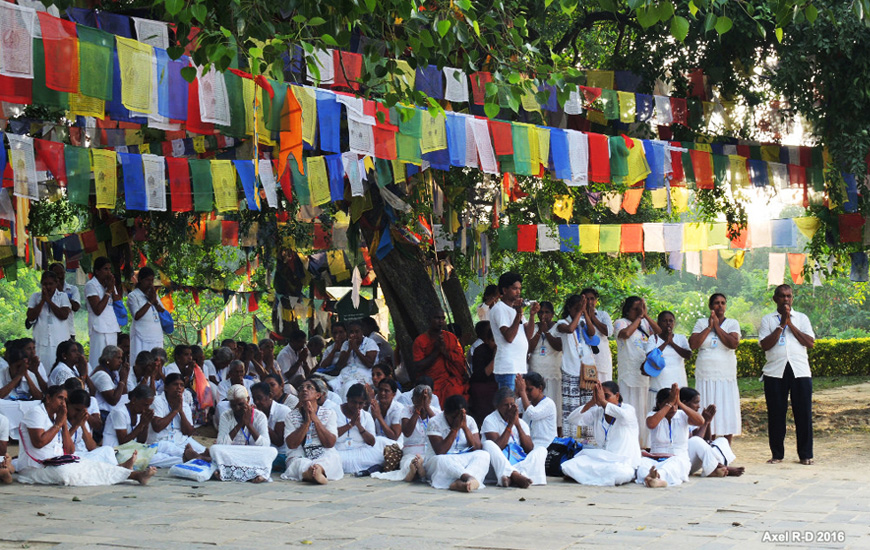 Lumbini is located in Rupandehi district. Peaceful environment, monasteries built by different countries, holy pond, Ashoka Pillar – made by Indian Emperor Ashoka to mark the birthplace, museum, Mayadevi Temple, World Peace Stupa, eternal flames, animal sanctuary are the things to explore here. To preserve its religious and historical importance, it was listed in a UNESCO World Heritage Site in 1977 A.D. Each year, devotees from different countries visit here to take part in meditation program as well as to explore around the holy place to experience the peace offered by Lumbini.
Apart from these religious places, there are other places like Manakamana, Barahi, Bindyabasini, Halesi, Namobuddha, where pilgrimage from the different part of the world comes to offer prayers when their wish is fulfilled. If wished, Trekking Trail Nepal team will organize a trip to different religious sites around the country. Some of the Popular Nepal Religious Tour Packages of Hindu Pilgrimage and Buddhist Heritage Tours are Listed below:
Enquire Us