Everest Base Camp Heli Tour - Best and Luxurious Trip to Everest
This Everest Base Camp Heli Tour is considered as an easy and best way to explore around Mt. Everest and the Himalayas . If you are unable to trek due to the health condition or limited time, then this helicopter tour will be perfect for you. For this Heli Tour package of Everest Base Camp, you can contact your Trekking Trail Nepal directly on Everest Base Camp Heli Tour Package. Our package will make sure every things that you dream for your Everest Heli Tour.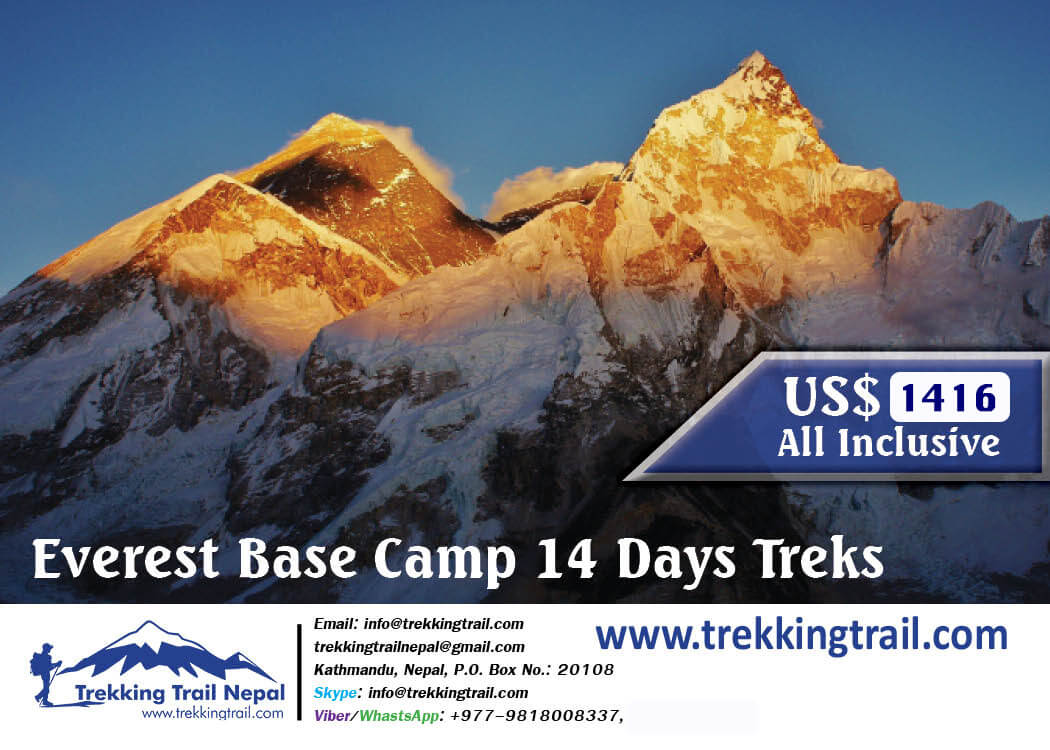 Everest Heli Tour: Best and Luxurious way to Experience Mt. Everest
One of the popular destinations for the helicopter tour is Everest Base camp. For this Everest base camp helicopter tour, you have to be at the Tribhuwan International Airport in Kathmandu where your booked helicopter will wait for you to take you around. The whole tour will take around 4 hours to complete. From the beginning of this tour, you will get a chance to see great view of Mt. Gaurisankhar, Mt. Amadablam, Mt. Lhotse, Mt. Choyu, Mt. Pumori, Mt. Thamserku, Mt. Everest, Ganesh Himal, along with different other mountain ranges. January to May and September to December is considered as the best month for this helicopter tour. Weather is perfect to get a good view of the mighty snow-capped mountain ranges and valleys.
This Heli Tour to Everest is divided in two parts. In the first part, you will be flying from Kathmandu to Lukla at an altitude of 2860 m where you will stop for refueling. The second part is after refueling, your pilot will take you to the Base Camp of Mt. Everest. During this flight, you will fly over the beautiful landscape of Khumbu glacier, which is one of the biggest glaciers. Also, you will fly over the beautiful Gokyo valley and beautiful turquoise Gokyo lake. You will land at the Gorakshep where you will have your breakfast. You will get some time to explore around the Gorakshep where you will see different mountain ranges. You can click pictures for your memory. After few time spending over the Gorekshep, you will then fly back to Lukla and then to Kathmandu, thus ending the trip.
Everest Heli Tour vs Everest Heli Trek
Forget the Classical Everest Base Camp of 14 Days and grab a seat on Heli copter by booking Everest Base Camp Heli Tour. But If you want experience one way Trek and one way Everest Heli Ride Back. We called it Everest Heli Trek, in which you will trek to Everest Base Camp from Lukla but you will come back to Kathmandu with Heli ride from Gorekshep. The best part of Everset Heli Trek is that you can skip the quick steep downhill trail to Lukla from Gorekshep. Furthermore, you don't need to worried about flight cancelation and delay. But By skipping 4 days out of 14, you will no missed any things since we need to hike down on same route we used before.
How I Can Enjoy Everest Heli Tour
You can just comfortably sit on the helicopter and the pilot will take you over different destinations. Just you sit, relax and enjoy the adventure and majestic Himalayas Geints peaks, river valleys, Glaciers, ice fall, glaciers and lakes.
In short, this Everest Base Camp Heli Tour will be one of the unforgettable experiences while you are here in Nepal. Most of the trekkers choose this Everest Heli Tour if they are unable to go to base camp on foot.
Enquire Us