5 Best Trekking Packages in Annapurna - Best Trekking Trail in Nepal
This blog concludes The 5 Best Trekking Packages in Annapurna for your Hiking Adventure in Nepal.
Annapurna Trekking region in Nepal covers about 7000 Square Meter areas around the Annapurna massif, known as Annapurna Conservation Area. This encompassing one 8thousander peaks, 13 7thousander peaks as will 16 peaks over 7000 meters. Furthermore, many snow caped and rocky peaks make the Annapurna Region, a best for Trekking in Nepal.
Bouldering by Manaslu Circuit from East, Pokhara by south and Dhaulagiri Sanctuary Trek in the west, This Annapurna Conservation area offers over 100 Trekking Trails. You will have a wide variety of choices from Short Trekking to Longer, Higher Altitude to Easy one. Similarly, you can find the best Trekking for all your family members to pro hikers, elders to younger, challenging to Community Based, Popular to New Trail.
In the same vein, Buddhist religion, High alpine deserts, Flora and fauna, exotic wildlife, Viewpoints, and completely different trail attracts thousands of trekkers every year. So here Trekking Trail Nepal is making this job easy to Choose the Best from the best 5 Trekking Packages around the Annapurna Trekking Region.
Got Confused? Which Best Trekking Package Choose in Annapurna Region? Our Best 5 Will Help You.
With the evaluation of views, facilities, and services on the trail, Nature, and Culture, experience from our guest and guide, we are choosing the 5 Best Trekking in the Annapurna Region. This Top 5 Annapurna Trekking helps you to choose the best one for your Nepal Trekking Holidays.
1. Mohare Danda Trek: Best Community Trekking Package in Annapurna as well in Nepal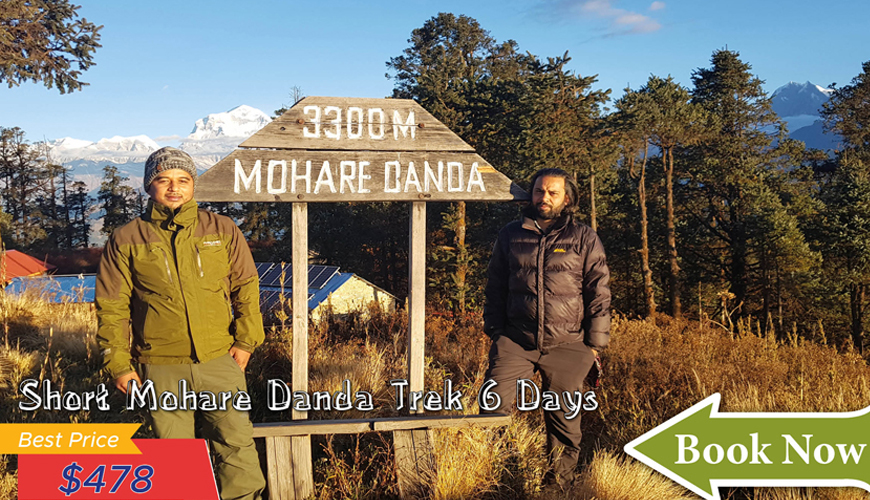 Do you need a new and Best Trekking in Annapurna Trekking Region? With Top class views of the Himalayas, Community Lodge, forest trail, This Mohare Danda Trek is the best one trekking package.
This trek is started in 2003 with the focus to empower locals and make community sustainable with trekking in the region. Mohare Danda Trek is the first Community Trekking in Nepal. This Community Trek which goes up to 3313 meter altitude at the top of Mohare Hill.
Circuit trekking trail, close to community, Nature, Flora, Fauna, Wildlife, People, Tradition, Community Lodge are other features of Mohare Danda Trekking.
2. Annapurna Circuit Trek: Once World Greatest Trekking Packages of the World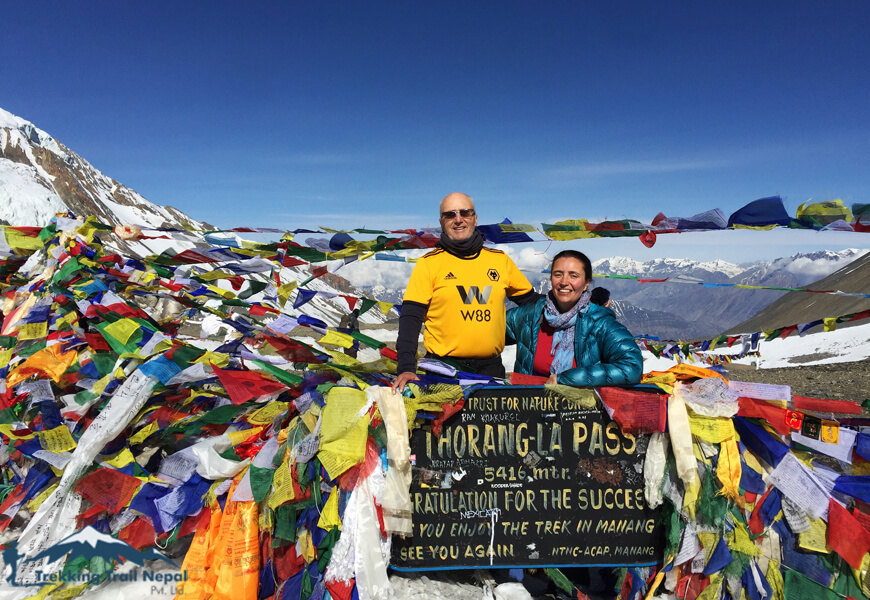 Round Annapurna Trekking is another name for Annapurna Circuit Trek. Up to early 2000 Annapurna Circuit is considered as one of the Greatest trekking in the world, by National Geography.
Annapurna Circuit trekking trail follows River Marshingandi and Kaligandaki, crossing Throng La Pass 5416 meter above sea level. Original Annapurna Circuit Trek which starts at BeshiSahar 850m and ends in Nayapul 1050m used to take about 18-21 Days. Meanwhile, the construction of the road over the trekking trail reflects trekkers to other trekking in Nepal. However, Short Annapurna Circuit Trek can be completed in 10 days now, with little more adventure of Drive Tour.
Exclusive views of Himalayas, Rivers, Wildlife, Nature, flora, fauna and herbs, makes Annapurna Circuit A Best Trek in Annapurna Region. In the same vein, Buddhist Culture and monk history, Icy lakes, Caves, Monastery represent this as Backbone of Annapurna Region.
3. Poon Hill Trekking: Easy Best Viewpoint Trek Package of Annapurna Region
If you are looking easy trek in Annapurna Region, Poon Hill Trekking is the best suit for you. Despite easy trekking, PoonHill offers the widest and natural panoramic views of Himalayas from Dhaulagiri, Annapurna, and Manaslu Range. 2 Peaks over 8000 meters and 7 peaks over 7000 meters and other 23 peaks can easily distinguished.
Depends on your days available, you can choose Mohare Danda, Ghandruk or Tatopani to make PoonHill Trek as circuit Trek.
The trail is mostly uphills from Tatopani, Tikhedhunga or Ghandruk but covered with varieties of Oak, Pine, and Rhododendron trees. In other words, you will hike under the red forest of Rhododendron, which is also the National flower of Nepal. People used to call it Rhododendron Trek.
Wide range of birds, Monkey, Deer, Buddhist culture, Yaks, Tibetan traders makes this A Best Trek in Annapurna Trekking Region.
Views of Dhaulagiri 8167 m, Annapurna South 7216 m and Fishtail 6993 m look stunning from this Poon Hill Trek. Trekking Trail Nepal offers Short Poon HillTrek of 2 Days up to 12 days Classical Poon Hill Trekking Packages. You can choose as your duration of Trekking Package in the Annapurna Region. Its history starts in the 1950s till today thousands of trekkers are following the trekking trail of Poon Hill. Despite being easy short, PoonHill stands as the Best trek in this race of 5 Best Trekking Packages in Annapurna Trekking Region.
4. Annapurna Base Camp Trekking: Shortest Package of Base Camp Trek of 8Thousander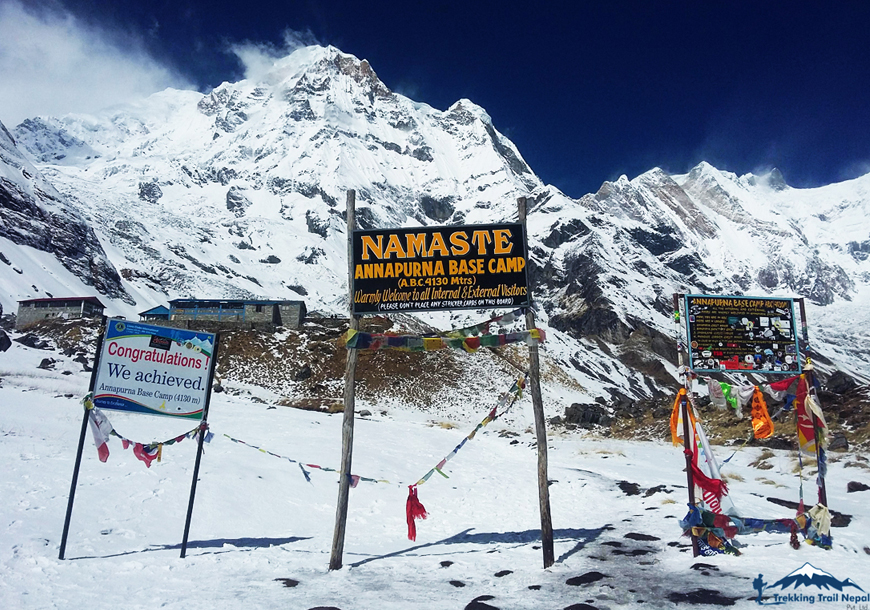 The Trekking trail to the Base camp of Mt. Annapurna is the best short and easy trekking in Annapurna Region. In other words, Annapurna Base Camp Trek is the easiest Base Camp Trekking in Nepal, which fits for Everyone.
Other trekking trails like PoonHill, Mohare Danda, Ghandruk, Mardi, Dhampus and Tatopani can be added to this ABC Trek.
Furthermore, the Base camp of Mt. Annapurna is offering the stunning views of Himalayas peaks. Mountains like Annapurna I, South, Himchuli, Singa Chuli, Tent Peak, BharaShikhar, Fishtail, Gandharva Chuli will surround you for 360 degrees when you stand at 4130 m at Annapurna Base Camp.
Wild roaring river Modi, grassland with orchids, flora and fauna, an alpine forest of Annapurna. Which adds with wildlife, birds, Natural Hot Spring, and High Bridge and other feature makes ABC Trekking as one of 5 Best Trek in Annapurna Trekking Region.
This classical Annapurna Base Camp Trek is widely known as ABC Trekking and Annapurna Sanctuary Trek as well.
5. Mardi Himal Trekking: Best Package of New Trail and For the Close view of Mt. Fishtail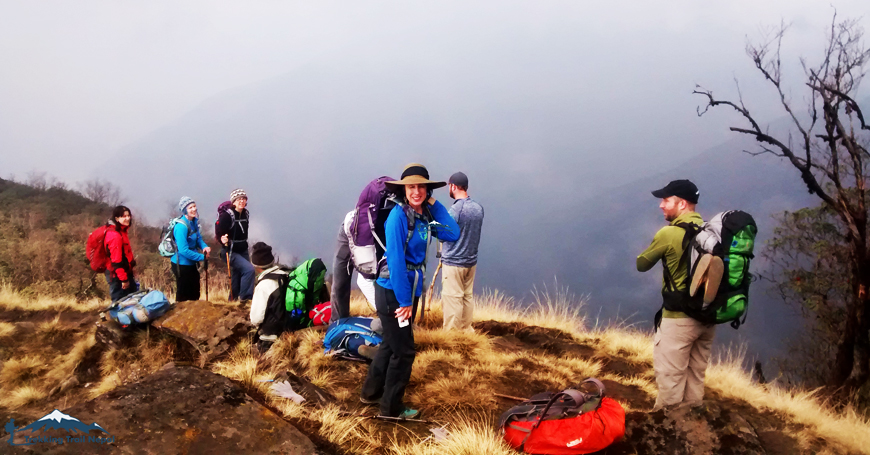 Despite lower altitude and New destination, ridge trail and close view of Fishtail and other Himalaya, Mardi Himal is the best trek in Annapurna Trekking Region. Mardi Himal Trekking is best in Short Trekking in Nepal, Short Trek from Pokhara as well as Classical Mardi Trek.
6993 meter high Mt. Machhapuchchre, widely know as Fishtail is a major attraction, however, it named Mardi Himal Trek. But the trekking trail reach up to the height of 4550 meter at the base camp of Mardi Himal.
Mardi Himal is a new destination in Annapurna Trekking Region, which starts in the early 2000s. This trek is best for those who want to skip crowed and juggle in a peaceful nature. This unique natural quality attracts many outdoor yoga trekkers to do this adventure. As a result, Mardi Himal Yoga Trek is the best alternative product to experience Yoga, Nature and Trekking adventure.
Close Himalayas views, Nature culture, People, wildlife and dense forest, optional trekking trails to extend makes Mardi Himal another Best Trekking in Annapurna Trekking Region. Beautiful sunrise and sunset, layers of magical clouds pattern, wide views of valley and mountains, forests, etc. are an additional feature. All this reason makes Mardi Himal Trek is holding its position on this blog of 5 Best Trekking Packages in Annapurna Region.
Short Mardi Himal Trek is another hot cake in the market. From Pokhara to Pokhara you can enjoy 5 Days Short Mardi Himal Trek with Trekking Trail Nepal.
Another Best Package Out of 5 Annapurna Trekking Manaslu Circuit Trek: The New and BEST Circuit Trekking Package In Nepal.
Although Manaslu Circuit Trekking is not completely coming under Annapurna Trekking Region. It is one of the best treks Circuit Trek which adjoins with Annapurna Region to the east.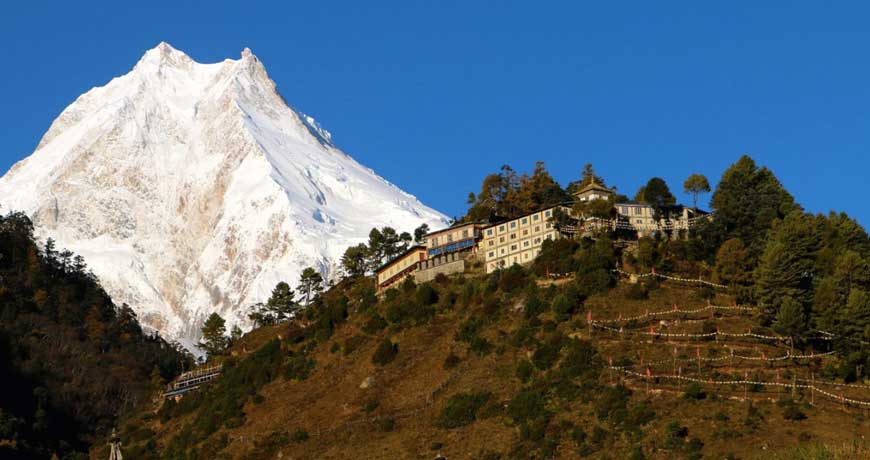 For the diverted trekkers of Annapurna Circuit Trek, Manaslu Circuit Trekking is the best alternative to experience the same. Just low in lodge numbers and other services like communication, health centers etc. This 18 Days Classical Manaslu Circuit Trek is now possible in 12 days. Which we called Short Manaslu Circuit Trek. Above all this trek use Annapurna Trekking region between BeshiSahar to Dharapani adds a reason for Honorable Entry. Despite being new trail and less lodge facility, Manaslu Trekking is the best for those who need circuit trail.
Share your experience, views, ideas or question for these 5 or other Best Treks in Annapurna Trekking Region.
Choose the best Annapurna trekking for your next adventure holidays and experience the Himalayas, Nature, Culture and more. Here are 5 Best Trekking Packages in Annapurna Region come to conclude.
Enquire Us