Heli Trek to Everest Base Camp - Everest Heli Trek - Trekking Trail Nepal
This Package of Heli Trek to Everest Base Camp is considered an easy and best way to explore the Himalayas Mountains of Nepal. If you are just unsure about Everest Base Camp Trek since it takes 14 Days and follows the same trail twice. Here is the best Everest Trek Package with Heli Fly from Everest Base Camp. Trekking Trail Nepal offer the new package with the Name of Everest Heli Trek. The EBC Heli Trek is the best for you to fulfill your dream adventure in limited time. There is nothing perfect trip else then this 11 Days Everest Heli Trek.
No limits to the Everest Heli Trek package, with Trekking Trail Nepal you can book other Helicopter Trips too. In addition packages like Annapurna Heli Trekking, Mardi Himal Heli Trek and Everest Base Camp Helicopter Tour are available. With all our Heli Trek and Tour, you will get a comfortable window seat to capture the breathtaking Himalayas views with valleys and gorges.
Explore the Himalayas with Helicopter
One of the popular destinations for the Helicopter trek is Everest Base Camp and its Himalayas peaks. As a result, it gets the name Everest Heli Trek, also called Everest Base Camp Heli Trekking.
Firstly this 11 Days Everest Base Camp Heli Trekking originally starts from Tribhuwan International Airport in Kathmandu on Day 2. You will fly to the adventurous airport of Lukla 2,868 meter above sea level and continue the trekking trail toward the Everest Base Camp. To make more comfortable and luxury you can book Heli Flight from Kathmandu to Lukla to save your time over money and waiting in a long queue for flight check-in and waiting process. Even from the flight regular or Heli, you can enjoy the views of the valley, gorges as well as Mountains and hill.
From the beginning of this trek after Lukla Airport, the views of Mountains and other attraction goes better and bigger. Above all the views, excursion, and acclimatization hike of Namche and Dingboche collect more memories of beautiful views.
Mountains on Everest Heli Trek
Every day you will get a chance to see new mountain peaks, Which continues until you reach Everest Base Camp.
Mountains like Gaurisankhar, Ama Dablam, Dorje Lkapa, Everest, Cho-Oyu Lhotse, Makalu, Kangtega, Thamserku, Knogde, Pumori and Imjtse are important. In addition, Numbur, Tabuche, Choletse, Lobuche, Lingtren, Axe, Nangkartseng, Kusum Khangru, Nuptse, Changtse, Nirekha, Cho Polu, Chumbu, Khumbi Yui Lha along with different other mountains.
Best Months for Everest Heli Trek
March, April, May, September, October, November, and December are considered as the best month Everest Base Camp Heli Trek. Above all, the weather of Spring and Autumn is perfect for a good view of the white Himalayas with blue sky as a contrast. However, we need little luck from nature, since we cannot forecast the Himalayas Nature perfectly.
Everest Heli Trek is divided into two parts. The first part is Kathmandu to Lukla on flight and trek to Everest Base Camp and Kala Patthar. Meanwhile, the second part comes on day 10 as the golden gift of Helicopter. After a tiring hike of Kala Patthar and normal breakfast, you need a good treat. Therefore, Trekking Trail Nepal will fulfill by Heli Flight to Kathmandu. This second part Heli Flight Back of Everest Heli Trek is not only transportation. The is another adventure that you can enjoy as high as the Himalayas next to Mt. Everest with a Helicopter.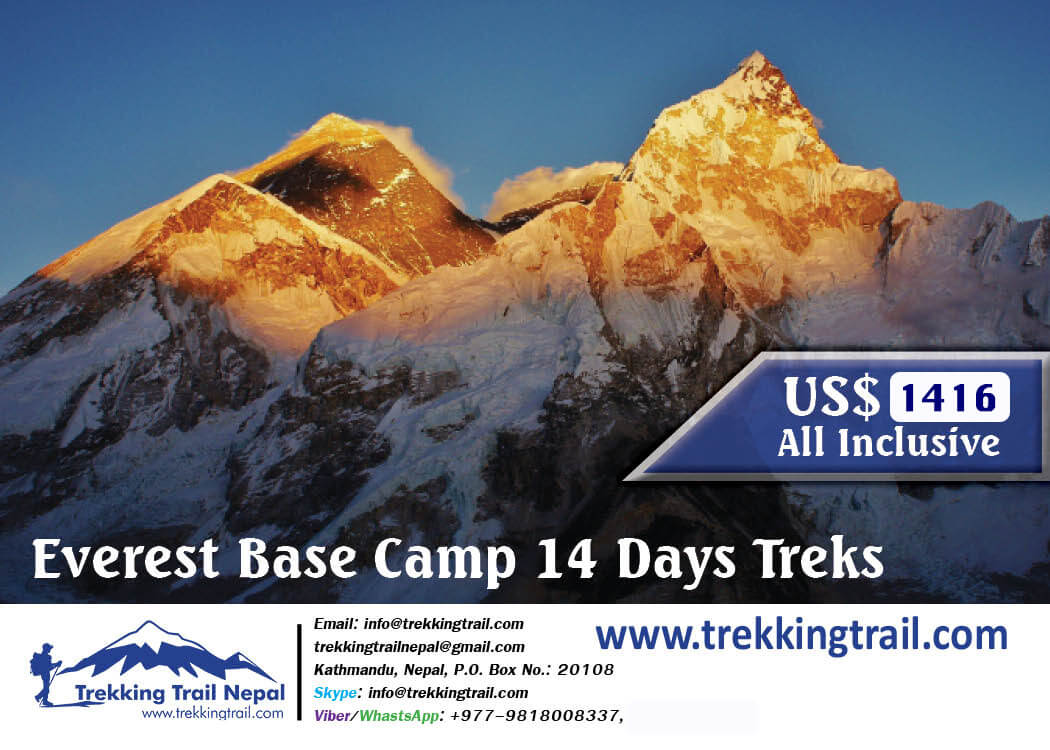 Helicopter Return After Kala Patthar and EBC
Our Pilot will pick you up from the Gorekshep 5,130 m. Next to our lodge and start our flight towards Kathmandu. During this flight, you will fly over the beautiful landscape of Khumbu Glacier, which is one of the highest glaciers in the Everest Region. Similarly, flying over the villages of Pheriche, Pangboche Tengboche, Namche and Phakding we stop at Lukla for few minutes. After refueling and short touch down, we continue our flight towards Kathmandu.
Best EBC Heli Trek Itinerary
Day1: Welcome for Everest Heli Trekking at TIA Airport
Day2: Fly to Lukla and trek to Phakding 2652 m, Duration: 3 hours
Day3: Trek to Namche Bazaar 3443 m, Duration: 6 hours
Day4: Acclimatization day. Hike up to Everest View Hotel. Overnight at Namche
Day5: Trek to Tengboche 3868 m, Duration: 5 hours
Day6: Trek to Dingboche 4410 m, Duration: 5 hours
Day7: Dingboche to Nangkartseng Hill 5100 m and return 6 hours
Day8: Trek to Lobuche 4910 m 5 hours
Day9: Everest Base Camp 5364 m, back to Gorekshep 5141 m, 8 hours
Day10: Kalapattar 5550 m Hike for Sunrise on Everest, Back to Kathmandu by Helicopter
Day11: End of Everest Base Camp Heli Trekking. Check In Details.
In short, this Heli trek to Everest Base Camp is one of the unforgettable Himalayas trekking adventures for you. Most of the trekkers choose this Everest Heli Trek rather than classical 14 Days Everest Base Camp.
Enquire Us