Everest Base Camp Trekking Question 2023
Before making Everest Base Camp Trek or even before booking or train, you must have Everest Base Camp Trek Question. With all the answers to your queries for Everest Trekking in Nepal, we create this blog. Here Trekking Trail Nepal tries to combine the top Questions for Everest Base Camp Trek. Please Make Note: Everest Base Camp Trekking 2023 is the one of the Best Trekking Trail of the World, which is in the lap of the Himalayas in Nepal.
The Most Common Everest Base Camp Trek Question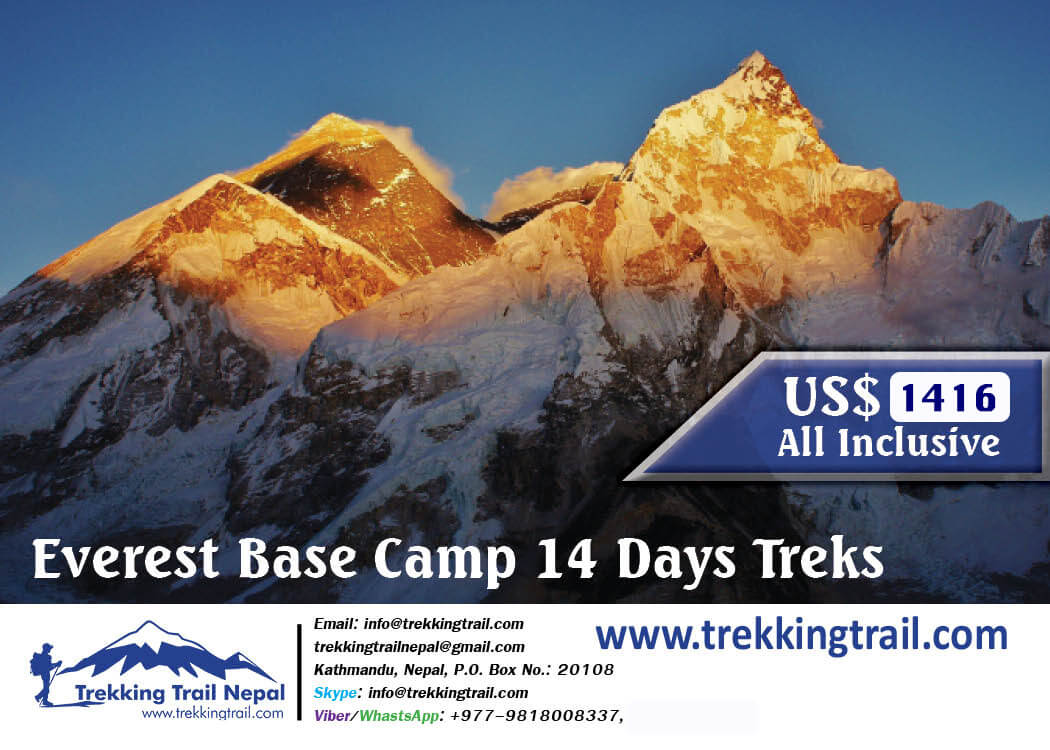 Q: Is an Everest Base Camp Trek is dangerous?
A: Everest Base Camp Trek is Not Dangerous. But altitude can kill, however it is it likely 1%. If you take your time and acclimatize properly, follow the guide and porters, you should be fine. Some trekkers have fallen off the Trekking Trail either by accident or knocked off by a Jhakpies or Yaks but this is not a serious concern if you are active and smart. Always give yaks and other animals the right of way and stay on the safe side of the trekking trail to be safe. 99 % of Trekkers feels Everest Base Camp Trek is safe and adventurous. Meanwhile, you must be careful at every possible corner of every Trekking Trail of Everest Base Camp.
Q: Is the Everest Base Camp Trek difficult or easy?
A: Everest Base Camp Trek 2023 is a moderate level. There are easy afternoons of rolling flats and difficult steep up climbs. but overall this manageable for somebody with very little or no trekking expertise. With proper training, you should be able to complete the trek to Everest Base Camp. However, even with correct coaching, you will get Hypoxia which suggests you need to come back to a lower elevation. However, this is the hardest question to answer for Everest Base Camp Trek.
Q: What are the options for Everest Base Camp Trekking in Nepal?
A: This depends on what you are looking for. You can make the Everest Base Camp Trek with a small group or only you with private. While Trekking Trail Nepal manage guides and porters. If you don't have trekking experience we recommend trekking with knowledgeable guides from Trekking Trail Nepal.
These are your Everest trekking options:
1. Private Guide with a Porter
2. Private Guide with No Porter
3. No Guide with Porter
4. No Guide and no Porter
5. Porter/Guide Combo
6. Small-Group Tour with Guide with Porter.
Check our Best Seller Everest View Trekking. Short and Easy Hike to Experience Mt. Everest, Himalayas as well Sherpa People, Culture and Adventurous Trail.
What Trekking Trail Nepal recommends? If you're associate degree knowledgeable about walker you may most likely wish to travel solo. If you can carry your own gear do it. Most of the trekkers hire Trekking Guide and Porters to carry the luggage. If you are an experience of Nepalese Trekking System and topology, you can hire Guide Cum Porter. In which 1 single person does both jobs, Guiding the way and carrying the luggage, However, he is not excellent on communication. But He is rich in experience, local System and Knowledge. He knows the name of Mountain but not height and history.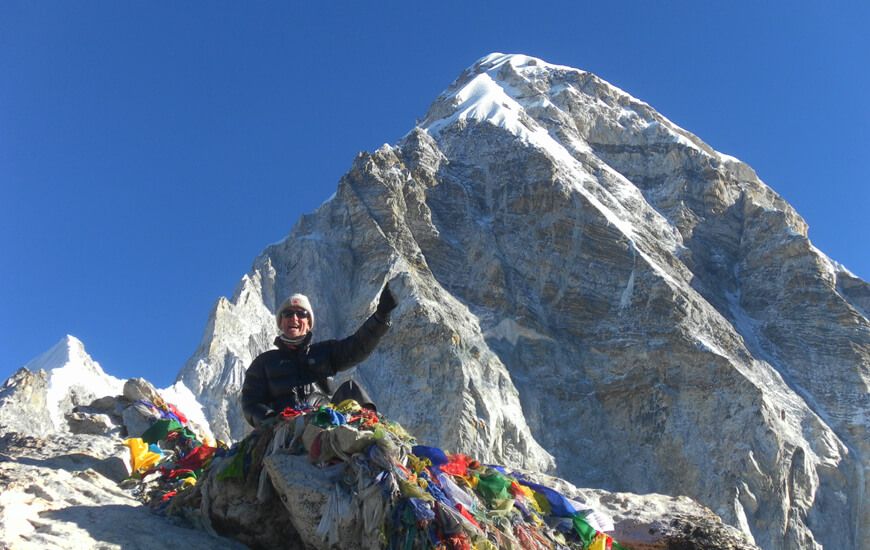 Q: Do you need travel insurance for Everest Base Camp Trek?
A: Yes, We recommended you purchase adventure travel and medical insurance for Everest Base Camp Trek. Here you have to make sure that, your insurance will cover high altitudes evacuation rescue and medical needs.
If you need to be airlifted down you will want to be covered by your insurance. But do not buy Insurance for Emergency evacuation and medical. Look the insurance which also covers for you flight delays, missing and delayed in luggage, mishandling and looses of kinds of stuff in your air travel.
With Trekking Trail Nepal, you will be 100% safe. Since we hold the record of Zero Rescue and 100% Success Rate.
Q: How likely is altitude sickness on Everest Base Camp?
A: The highest point of Everest Base Camp is Kalapatthar. A viewpoint that stands on the west of Mt. Everest 5550m. Above all, you will spend almost 24 hours above 5000 m elevation, which also includes a one-night stay, day excursion of Everest Base Camp Base and early morning hike of Kalapatthar. Unless you live at a high altitude or experience of high altitude trekking, it is impossible to truly train for the altitude. Mountain Altitude Sickness or AMS is not a joke and can hit even the fittest person if they skip the natural rules. The key is to take your time and walk slow. A good rule of thumb is to climb high and sleep low to help with acclimatization. In groups of trekkers, there are people who do not make. Anyone can make it but take your time on the way up. Read More About Altitude Sickness and Its Prevention.
Q: Should I need to take Diamox for EBC Trekking?
A: You should consult your doctor at home before you leave to go over the benefits. Many people chose to take it as a preventive measure against altitude sickness. I took half of a dose in the morning and at night. One side effect is it does make you urinate more than usual. This makes you visit the restroom in the night by skipping the warm sleeping bag. Here Trekking Trail Nepal suggests you stick our plan and guides guidelines and reach Everest Base Camp without Diamox.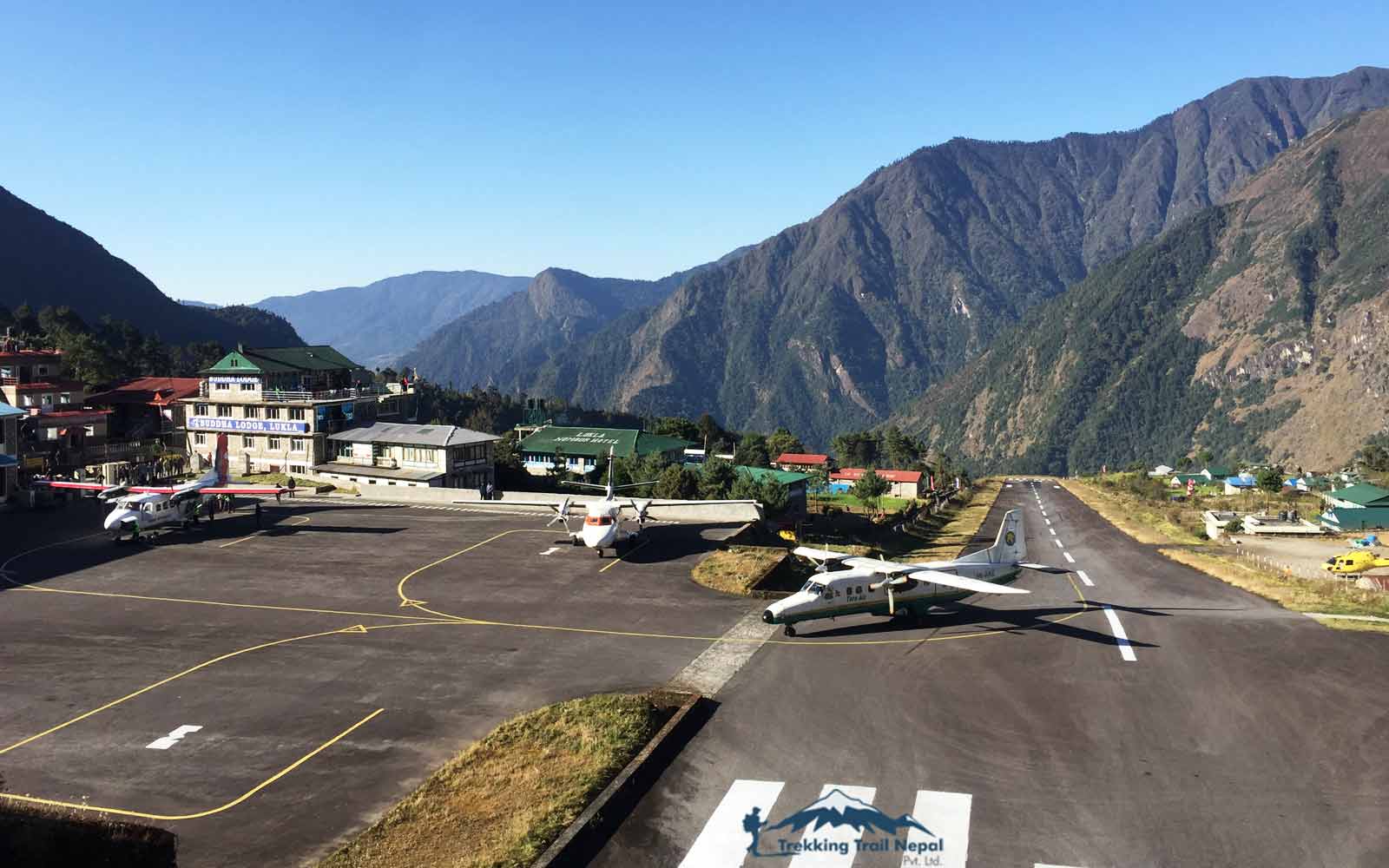 Q: Do I need to take Advil, Neo-Profen, Cal-dolor, Ibuprofen for the EBC trek?
A: Again, this is completely up to you. Some studies have shown it is just as effective as Diamox. There was even a study going on by doctors at a couple of tea houses along the way to test the benefits of using ibuprofen to prevent altitude sickness.
Some trekkers take ibuprofen most mornings when they woke up with a throbbing headache. This became common and necessary for most of the trekkers at the Himalayas trekking trail.
Q: Which is the best season for Everest Base Camp Trek Autumn or Fall season?
A: Both seasons are a great time to do Everest Base Camp Trek. Snow or rain can hit during either season. The best recommendation season of Trekking Trail Nepal is Pre-Monsoon or spring. These months are March, April and May. You can choose spring if you love hot and long days. Secondly post-monsoon or Falls in the months of September, October November till Mid December. Chill weather and lots of festivals add more excitement for your fall Everest Base Camp Trek.
Q: How busy are the Everest Base Camp Trekking Trails?
A: During the peak seasons the EBC Trekking trails can will a little congested in some stretches. Many guided groups are around 10-15 people. You will encounter with the droves of donkeys, Yaks, and Jhakapies, groups of porters, locals Sherpa people as will many many other trekkers.
You have to careful in narrow parts, uphill, bridges as well downhill. For all these Guides of Trekking Trail Nepal will help you and brief you every day. Furthermore, you will get plenty of peaceful sections where no one to disturb you and Everest Himalayas.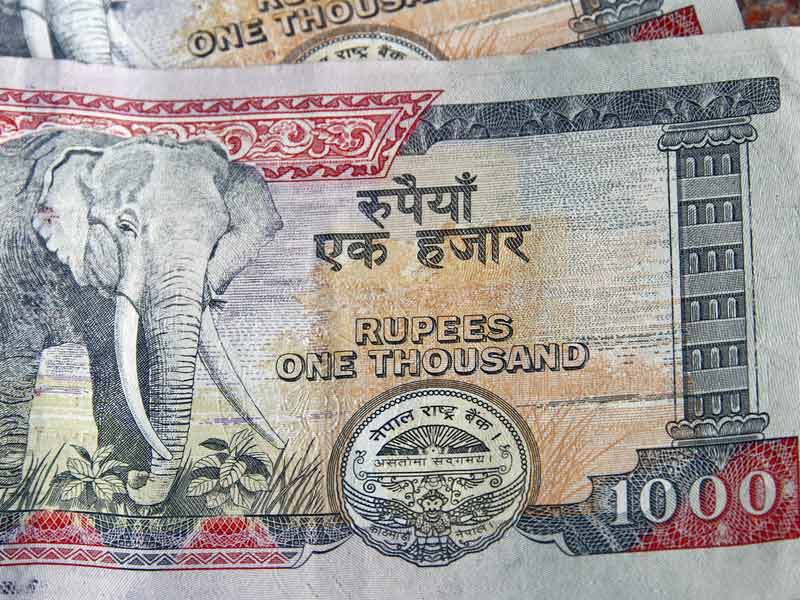 Q: How much money should I bring for Everest Base Camp Hiking?
A: If you are trekking with everything inclusive trekking package you will not need as much money as those trekking solo. Your group should handle paying for meals. You will need to budget for beers, snacks, chocolate, drinking water, Wi-Fi, charging devices, hot shower, etc.
Don not forget to bring some extra cash to tip and greet Everest Trekking Porters and Guide at the end of the trek in Lukla. You can invite them for dinner or drink too in your lodge. Please coordinate with your guide about timing and things that you can celebrate the success of Everest Base Camp Hike. Probably you will not see your porters after you leave Lukla. As our experience, no one wants to miss this opportunity for tipping.
Q: Is the water on the trekking trail is good to drink. Or we need to buy?
A: We do not suggest you to drink the water available on the trekking trail to Everest Base Camp. However, your guide and porters drinks. They are used to it.
Anyhow, You Need To Purify This Water.
You can save money (and plastic bottles) by carrying iodine pills to purify your water. This is the common method many trekkers used to follow. Ask your guide or porter to fill the water, add iodine pill refill your all water bottle and Camelbak. The best time to do it is before dinner after reach the camp because its sunny and water will not be cold.
However, we suggest you buy and drink bottled water in Tengboche and Gorekshep. Water sources in these 2 places are not good.
Water is very important while trekking and at high altitude trekking like Everest Base Camp Trek. We suggest you drink 3-5 liters water in 24 hours cycle. Try to drink more from the early morning till 4-5 in the evening. With this trick, you do not need to wake up for cold bathroom breaks in the middle of the night. In Short, long sleep definitely helps you to complete Everest Trekking quite easily.
NOTE: Camelbak or Hydration Packs will not work in Winter Everest Base Camp Trekking or EBC Trekking. December, January and February are the 3 months of winter in Nepal for Everest Trek.
Training and Gear for Everest Base Camp Trekking Question
We will not forget another important aspects of Everest Base Camp Trekking Question. This blog section includes all answers which are related to Fitness Guide, Training as well as Gears for Everest Hiking.
Q: How do We train for trekking? Is There any Special Fitness Guide For Everest Base Camp Trekking?
A: Training for Everest Hiking should start a minimum of 4 weeks before your trip. Check our Trekking Fitness Guide and Train for Everest Base Camp Trekking. Our Fitness Guide will help you to complete for other Best Trekking Around The Earth, like K2 Base Camp Trekking, Kilimanjaro Trekking, Inca Trekking Trail and others.
Q: What gear do I need for the EBC Trek?
A: Although Everest Base Camp is a tea house Trekking in Nepal, you still need some trekking gears. Most of these are personal gears. We listed all the gears which are important for Everest Trekking in our Article. Check our Complete packing list for Everest Base Camp Trek.
Q: Can we Buy Nepal Trekking Gear in Kathmandu?
A: Gears are cheap and fake in Kathmandu. There are some real products but for the most part, everything you see in Thamel is copied If you have time to check we suggest you to buy these gears for your trekking in Nepal. However, Make sure you have good quality Sleeping Bags and trekking boot.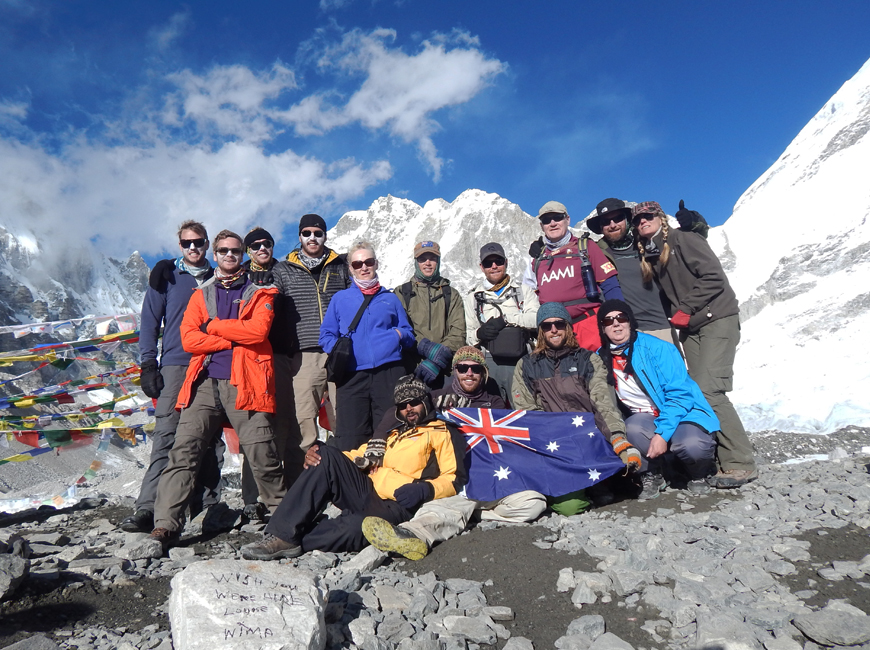 Q: How much should I budget for gear in Kathmandu?
A: Everything is negotiable in the gear markets in Kathmandu. For this, we suggest you inside Thamel. Moreover, these gears come at a very cheap price in comparison to the original one. The shop will not lie and tell you the real story about the quality and price. These Nepal trekking gears is almost 60 to 90% cheaper in comparison to original product.
Secondly, Most of the shops have Buy Sell and Rent Services. You can buy a new one, Rent even Sell your stuff after your Nepal Trekking.
Q: Is There is cellular service on the Everest trekking trails?
A: This is Kind of YES and NO. If we have clear weather and day there will be cellular facility from Lukla to Somare. And from Lobuche to Gorekshep and till Everest Base Camp. However they have 2G and 3G mostly and 4G works in Gorekshep, Namche and Lukla. In addition, there is a private internet company called Everest Link which provides WIFI services along the trekking trails and lodges.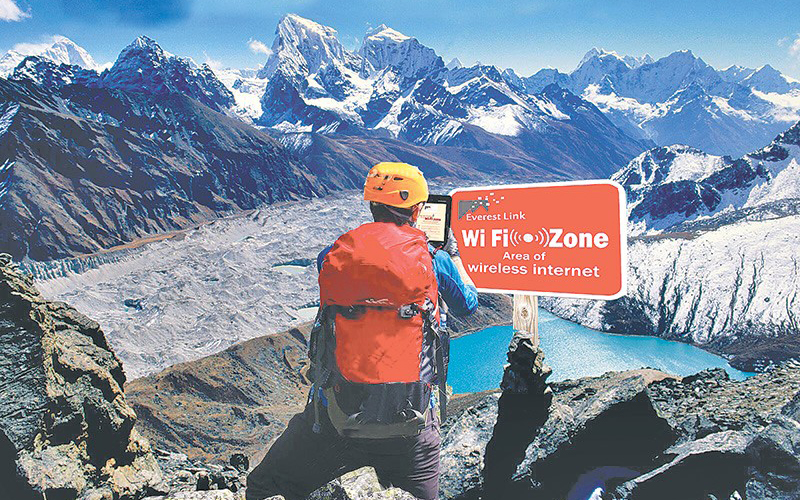 Q: Is there WiFi on the Everest Base Camp Trek?
A: YES! Almost all hotels, tea houses, bars and pubs, bakeries have WiFi on the trek. Some will have free WiFi like in Namche or free with a purchase of something to eat and drink this will apply with bar, pub, bakery as on. The WiFi prices go up with the altitude. But nowadays you can use the WiFi along the trail which is a bit expensive but work between Namche to Everest Base Camp. Check Blog of Internet Connection in Everest where you get all answers of the internet regarding Everest Base Camp Trekking Question.
Q: Bringing my laptop on Nepal Everest Base Camp Trek is a Good Idea?
A: There is no problem with doing this if you have a lightweight laptop but if it is not necessary. Namche has internet cafes if you must use a computer on the way up or the way down. Any Phone will get the job done for emailing and checking in with family back home if that is your main concern. Keep in mind a laptop is one more thing to charge and charging electronics costs money. Blogger and Vlogger include this in their Everest Base Camp Trekking Question.
Q: How I will charge my electronics gadgets on Everest Trekking in Nepal?
A: Because of social media, this is the most common queries we hear for the Everest Base Camp Trekking Question.
All Lodges, Tea houses, and Bar, Pubs, and Restaurants have charging stations. There is Electricity in every town till Pangboche. Other Places like Dingboche, Lobuche, and Gorekshep have solar power. But they also provide charge facilities an hour basis. However, they will charge you when you charge your electronic gadgets and price goes up as altitude increase as WIFI. A small solar charger is the best idea to charge your cell phone, Go-Pro, smartwatch. While for big camera and laptop you charge with local power supply.
Less Frequently Asked Everest Base Camp Trekking Question
Not important questions but value make its position in our Everest Base Camp Trekking Question Blog. Questions like Restroom, Shower, Snakes as well Beer are included in this section.
Q: What are the bathrooms like? Can I Get Hot Shower in on the Everest trekking?
A: These will vary a lot depending on your budget for accommodation and your choice of Everest Base Camp Trek.
With Everest Base Camp Luxury Trek you will have a nice modern bathroom with a hot shower with Comfort Lodge. These luxury lodges trek is available till Dingboche for Everest Base Camp Trek. Everest View Luxury Trek, Everest Comfort Trek and Luxury Ama Dablam Base Camp are other Luxury Lodges Trekking to view Mt. Everest. Any Everest Base Camp Trekking Question with Luxury or Comfort Lodge? We love to hear that.
With Standard or Classical Everest Base Camp Trek you will have a common bathroom but inside the building. For the hot shower you have to check with the hotel or guide, they will show you a different place. They have both western-style and squats restroom as available as your easiness you can choose. However, we strongly suggest you use squats after Dingboche and after Tengboche for winter months.
Before Dingboche, you have lots of options to use the restroom ( short or Long) for hiking time. But you must be in lap of nature after Dingboche and this is how Everest Hike works. But we strongly suggest you bring your own toiletries for classical Everest Base Camp Hiking.
YES! You will surely get a hot shower in Everest Base Camp Trekking or any other Everest Trek. Depending on the season it might be running or buckets. But Most Trekkers did not take them, Shower is free in Namche and Lukla. But the price goes up as altitude.
Everyone smells the same on the trekking trail so don not worry. Your biggest concern will be staying warm anyway and make Everest Base Camp Trek Success. We suggest you wait for Hot Shower till Back to Lukla, which is one best reward after days. You will be white and bright in comparison to guide, porters and locals.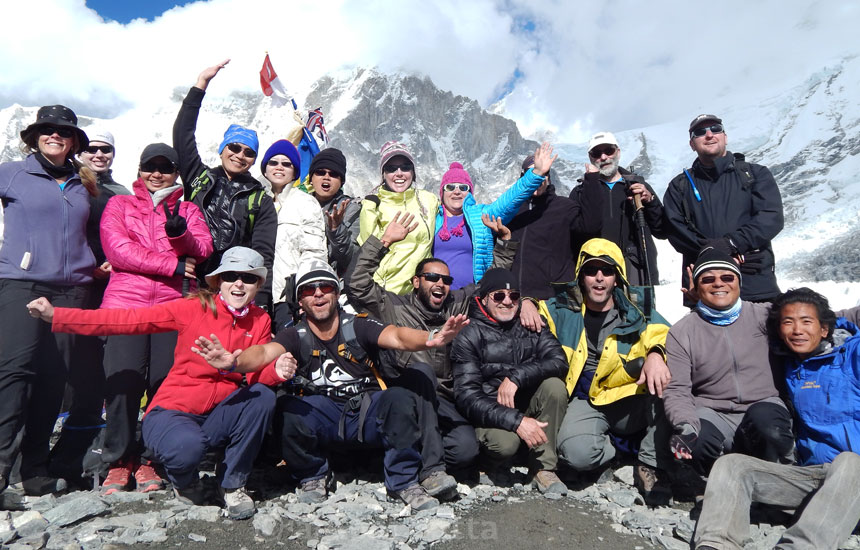 Q: What kind of snacks are available on the trail of Everest Base Camp?
A: Please; do not expect the availability of best as well as natural protein bars along the Everest Base Camp Trekking Trail. Bring those from home if you want any special names and brands. Snickers, Twix, Bounty, and other candy bars are available. If you need any special energy bars or snacks please pack any from home.
Q: Is Beer Available There? Can I drink beer on the Everest Base Camp Trek?
A: BIG YES! Verities of beer are available all the to EBC Trekking. The most popular name is Everest Beer with the limited edition.
However, Trekking Trail Nepal does not recommend drinking it at all. Altitude and beer does not mix well and it will only make your trek more difficult and risky. We request you to save your celebration beers for your return to Lukla. Meanwhile, this made the beer taste that much better with the end of Everest Base Camp Trek. However, You can enjoy a beer after we start descending the trekking trail after reach Everest Base Camp or Kalapatthar.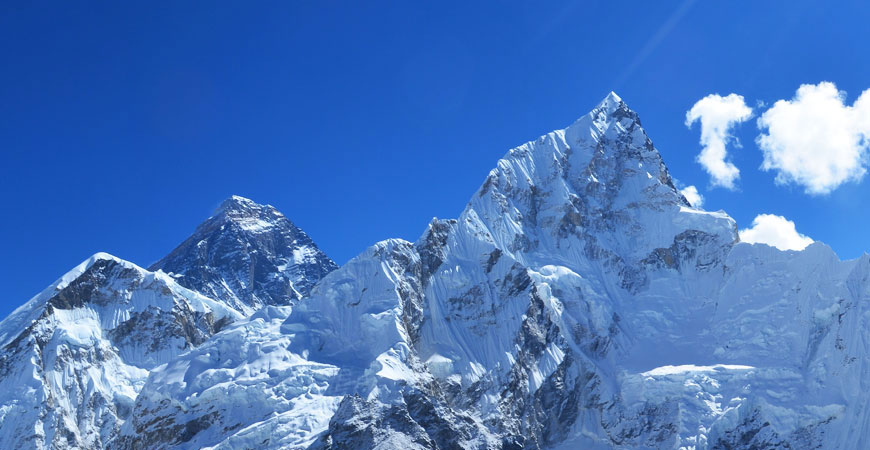 Q: Should I bring my own food on the Everest Base Camp Trek?
A: This the most asked Everest Base Camp Trekking Question on the food side. In Short No, You did not need to bring food. Nepalese food is great and you better get used to Dal Bhat which is the most popular and common food item. Firstly, our Trekking lodges have a wide range of food dishes. Secondly, Trekking Trail Nepal also provides an open hotel menu that you can choose and enjoy your favorite dish.
If you want to carry the taste maker or some local food item for energy and protein supplementary you welcome. We do not think we forget any. If you think so, please comment below, we will update shortly in our Everest Base Camp Trekking Question Blog. Do you have questions about Everest Base Camp Trek 2023? ASK OUR Expert of Everest Base Camp Trek or any EVEREST TREKKING in Nepal.
Enquire Us