Tips About Trek In Nepal | Best Time Popular Trek Fitness Packing Altitude Sickness
Nepal; A South Asian country with white High Himalayas, alive museum of culture, religion, and traditions is a unique destination for people who love adventure holidays.
Not only offers the splendid views of Himalayas, but the vibrant geology also creates many trekking trails from short, easy to high alpine over 6000 meters, which makes Nepal first choice for Trekking and Hiking. As your interest, experience, time frame, the budget you can choose the Trekking Trails to quench your thrust of Trekking in Nepal.
In order to solve you confusion, which treks to choose for the first time trekkers in Nepal, we compile all the information regarding where to trek, when to trek, how to prepare for trekking, how to avoid altitude sickness, packing list for trek in Nepal, List of popular trek with highlights and low lights and comes with A Blog "Tips About Trek In Nepal - Best Time, Popular Trek, Fitness, Packing, Altitude Sickness. This Blog will satisfy your information need for every beginner as well Trekking who is planning to Trek in Nepal.
The Himalayas Trek in Nepal will just show you just how vast the world outside is, and how you can explore every inch of it, in your own way! This Blog Tips About Trek In Nepal - Best Time, Popular Trek, Fitness, Packing, Altitude Sickness Contains
Top 3 Trek in Nepal
Annapurna Base Camp Trek
Everest Base Camp Trek
Manaslu Circuit Trek
How to Get Ready For A Trek in Nepal
What to Pack for Trekking in Nepal
BEST TIME FOR TREKKING IN NEPAL
Nepal is best for all season since Nepal offers you some things unique in each season. The Snow and Cold Adventure Trekking of January and Febuerary can not find in April and May, the greenery and lush adventure you can only experience in June to August as monsoon season. However, if you are beginners and wants to explore the Trekking Trails in your Nepal Holiday you must make sure that you plan your journeys accordingly.
In short Mid September to Mid December is the best time go for Nepal Trekking. This Autumn season is not only best for Trekking. The clear blue sky with Himalayas views, mild temperature, time of crops harvesting with many festivals will give you the best lifetime experience even with Tours and Holidays.
The next best time to enjoy Nepal for your holidays in Spring Season. The Month of March, April and May carries the spring season to Nepal. These months are not as wet, but the heat of summer starts to increase. Moreover, the spring flowers are just beginning their annual dance, and that will be an amazing sight on your trek.
THE TOP 3 TREK IN NEPAL
Nepal is the home of the Himalayas, which means there are hundreds of different peaks and trails for you to explore.However, out of all these great treks in Nepal, there are three that are incredibly unique, in their own way. Let's take a closer look at these Nepal treks for beginners!
ANNAPURNA BASE CAMP TREK - A Easy and Short Trek in Nepal
The Annapurna Base Camp Trek is the most popular base camp trekking of the Annapurna Region. This 10 days short and moderate trekking will introduce you to most beautiful peaks, diverse cultural people, rich vegetation, wild and damp orchids, and roaring Himalayan rivers. In addition, you can complete the shortest version 5 Days ABC Trek from Pokhara, if you have limited time frame in Holiday Trek in Nepal.
The Base Camp of Annapurna is located just in the base of Mt. Annapurna next to Annapurna Glacier at an altitude of 4130 m. ABC is just like a bowl of emerald in the base with Silver on the top of Snow, depends on the season you choose.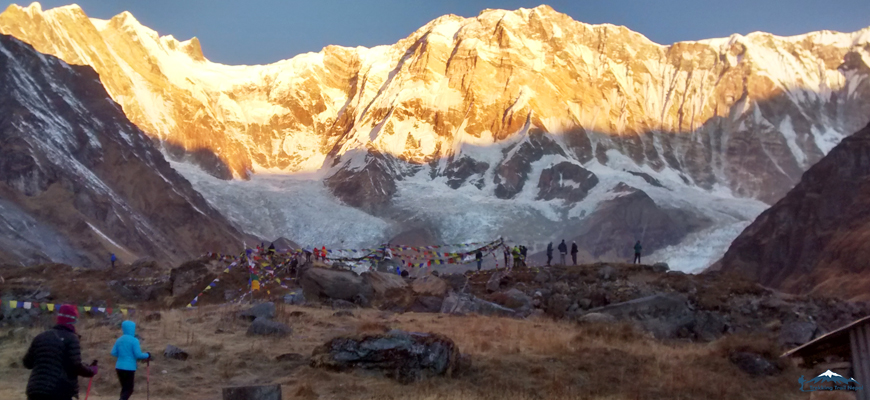 Annapurna Base Camp Trek Facts
Duration: 5-14 days
Altitude: 4130 m
Best Season: September to December and March to June but doable, Round the year depends in your special interest
Starting Point: Nayapul / Sewi
Highlights: From Annapurna Base Camp 4,130 m. You will experience the mighty Annapurna I, Fishtall, Annapuran South, Bhara Shikher, Tent Peak with annapurna glacier. Most people do Short Annapurna Base Camp Trek from Pokhara to ABC via Jhinu Danda. Another alternative trail is the Nayapul - Ghorepani - Poon Hill - Tadapani - Chomrong - ABC and trek down to Pokhara via Hot Spring of Jhinu Danda. Here's more info on the 2 Days Short Poon Hill Trek.
Lowlights: Need to follow same trekking trail between Annapurna Base Camp and Choomroong. Small and few tea house in each camping place makes intense to get better services, Lunch, and Dinner.
EVEREST BASE CAMP TREK - The Most Popular Trekking in Nepal, Probably of the World
Indeed, Everest Base Camp Trek is one of the best trekking trails of The World and most popular name. This popular Trek in Nepal reach the ultimate height of 5550 m the view point of Kalapatthar in the west of Mt. Everest while base camp lies 5364 m. The trail is quite moderate mostly with many shorts ups while few are heart-pumping uphills. This incredible trek is full of High Alpine Snowy Peaks, rough terrains and full of Sherpa culture.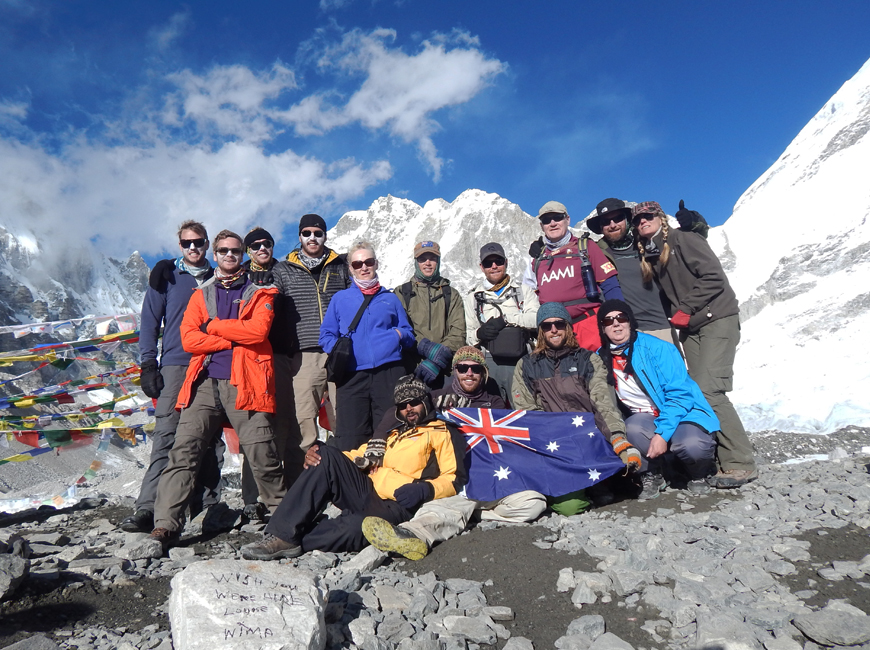 Everest Base Camp Trek Facts
Duration: 10 to 14 Days
Maximum Altitude: 5550 m Kalapatthar / Base Camp 5,364 m
Best Season: March to May and September to December
Starting Point: Tenzing Hillary Airport aka Lukla Airport
Highlights: Just the Name Mt. Everest is enought to thrill the adventure trekking. The most popular trekking of Everest Base camp is the only one to quinch the thrust of avid hikers around the globe. Almost all trekking to Everest Base Camp starts from Lukla Airport which is also a bench mark of Adventure. The splendid views of Himalayas, Khumbu Glacier, Iconic peak amadablam, Tengboche monastery, Highest Hotel Everest View Hotel, Yeti skull and monastery of Pangboche and Khumjung, Everest summiters village of Thame and Khumjung and Following the foot stem of Tenzing and Hillary makes this Everest Base Camp Trek a special one.
Low lights: Mostly same trekking trail while heading towards Everest Base Camp and coming back, unless you make Cho La Pass Gokyo Trek.
MANASLU CIRCUIT TREK - A New and Best Trek In Nepal
Manaslu Circuit Trek is one of the new Circuit Trekking Trail in the Manaslu Conservation Area. This Manaslu Circuit Trek is the best alternative of Annapurna Circuit. After the trekking trail of Annapurna Circuit destroyed by motor able track, this Manaslu Circuit Trek getting popular from last few years. If you are looking for less trodden, unexploited and remote trekking with basic facilities along the trail this Manaslu Circuit Trek in Nepal is the Best trek for you in Nepal. You will soak up with close mountain views, real Nepalese and Tibetan rich Culture with Manaslu Trek.
With the height of 5,106 meter Larkya La Pass is the highest point to Manaslu Circuit Trek. The Short Manaslu Trek can be completed in 12 days from Kathmandu while need 19 days to finish with Tsum Valley.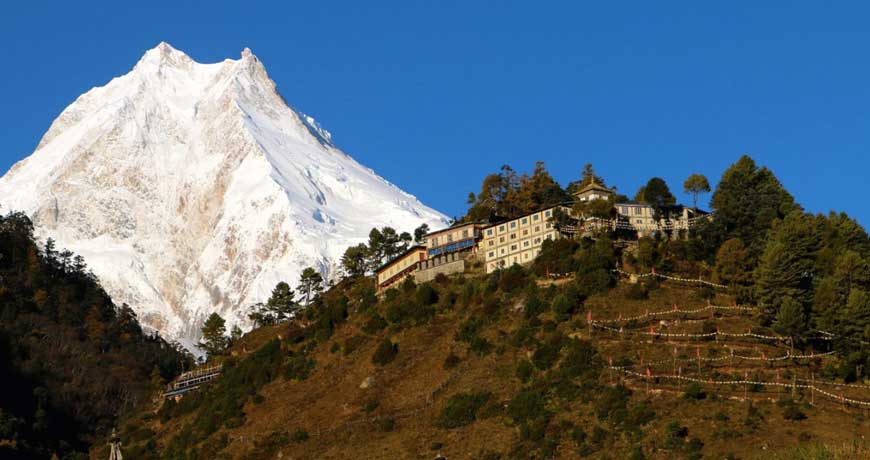 Manaslu Circuit Trek Facts
Duration: 12 - 19 days ( Short Manaslu Trek can complete in in 12 days )
Altitude: 5125 m
Best season to visit: October to Mid December, April - May
Starting Point: Soti Khola
Highlights: The Manaslu circuit trek, start with drive till Soti Khola, which also includes adventure of the off-road drive with unmatched views of countryside and Peak of Manaslu, Ganesh Himal and many more. Trek into part of Tsum Valley Trek is one highlight of Manaslu trek with Complete Different trekking trail make this Manaslu Circuit Tek the best one.
Lowlights: Very few Tea houses and local might create problem to get accommodation in peak season. The basic food and services is another lowlight of Manaslu Circuit Trek.
HOW TO GET READY FOR ANY TREKKING IN NEPAL
For high alpine Trekking in Nepal needs preparation, But you have a choice of Short and Easy Trekking Trail too. If you are looking for these above popular Trekking in Nepal you must need to prepare physically, mentally as well with trekking gears. For high alpine Himalayan Trekking Trail you should prepare yourself for 3 basic things: Altitude Mountain Sickness, Physical and Mental Fitness and Trekking Gear list. Lets tackle both now.
ALTITUDE SICKNESS and PHYSICAL FITNESS for ALL Trekking in Nepal
Altitude sickness is caused when any hiker spends time at an elevation over 2,500m or 8,200 ft, due to the cause of less oxygen in the body. Mild Altitude Sickness symptoms are like heavy head, headache, nausea, losing appetite, bad sleep, tiredness, fatigue. Most of the trekkers get this mild altitude sickness partially in trekking. This stage may carry sever Problem of Altitude sickness called HAPE and HACE. The symptom like breathless even in rest, regular vomiting push the victim to severe altitude sickness.
HAPE High Altitude Pulmonary Edema - In this situation lungs will fill with fluid. Must start to take care in this stage, stop at same /lower altitude, drink fluids and stay warm and rest is must.
HACE High Altitude Cerebral Edema - In this fluids will create in brain. This is the worse case of Altitude sickness. Trekker needs immediate medical assistance without losing any minutes. READ MORE ABOUT ALTITUDE SICKNESS
Prevention and Treatment of Altitude Sickness
Altitude sickness can happen to anyone But it is very important to realize in an early stage, follow the safety percussion and enjoy your any high altitude trek in Nepal.
Hike slowly up to the mountain with acclimatization
Drink enough water, and stay away from dehydration
Eat healthy food, No alcohol and smoking
Must need to feel your own body
Share if you are feeling odd to guide or leader
Stop at point and get to the lower altitude
Medication like Diamox or acetazolamide help little
PHYSICAL AND MENTAL PREPARATION FOR TREK IN NEPAL
If you are not athletic, runner, active army or force, fire fighter or physically fit as them you need some physical preparation for most of the Trek in Nepal. Physical workouts like running, walking up hill and downhill, swimming, squats, skipping will help you to achieve your trekking destination in easy and enjoying way. You can us the altitude chamber aka as oxygen chamber as available near to you which help your body to adopt the thin air in high trekking trail of Nepal. You can do mix of these above workouts for about 1-2 month about 45 minutes to 90 minutes each day. Although there is no guaranteed that physically fit person will make to the ultimate destination in Trekking In Nepal but surly it will increase the chance by 90%. In addition the undulating trekking trail in remote terrain of Himalayas need some patience and care with you mental preparation to trek in such wild terrain with feeling of joy and adventure not competition. Read More About Fitness Required for Trek in Nepal.
WHAT TO PACK FOR TREKKING IN NEPAL?
For every trekking in the Himalayas, you need to carry quite an amount of stuff for. Even if you have a porter you need to carry one backpack for your daily needs like drinking water, poncho, hats, sunglasses, valuables, cameras etc. So Trekking Trail Nepal suggest you to make you baggage light as possible. But it does not mean that leave behind any of important stuffs that you need every day for trekking in Nepal. We just request you to avoid the heavy baggage and prepare for every possible things. As our experience for longer trek about 14 days like Everest Base Camp Maximum baggage ( Total ) of 16 Kg will enough even in Cold weather of December. Here is the List of Trekking Gears that you need top peak as you interest, habit and trekking regions. Please use you experience and knowledge with our suggest to make the great personal Trekking Gear Check List for Trek in Nepal.
Did we missed any things important in this Tips About Trek In Nepal - Best Time, Popular Trek, Fitness, Packing, Altitude Sickness Blog?& Let Us Know your Suggestion, Idea, and Tip.
Enquire Us