Mount Everest Trek 2023
Everest Base Camp Trek is one of the most popular treks in the world. Having the world's highest mountain in its lap intensified by the breathtaking scenery, the Mount Everest Base Camp Trek has been the most in-demand Nepal Trek for 2023. Before going on a journey to Everest, there are various things to know and follow. It helps to make you prepared for the exciting journey ahead with little to no problems.
Mount Everest Base Camp Trek Cost
Whenever you plan to go to any place, the first thing you need to pay proper attention to is the cost. The cost of a trek depends on the overall expenditure of fooding, lodging, and agency charges. Similarly, The Everest Trek Cost depends on the itinerary, season, transportation charges, guides, and porter charges. With the choice of an appropriate travel agency, you don't need to take care of everything. The agency does that for you.
As the EBC Trek comes with an itinerary of 12 days,15 days, and more. For instance, Everest View Trek 12 Days and Everest Base Camp Trek 15 days are two of the most loved Everest Treks in 2023. The normal Everest Base Camp Trek Cost ranges from US$ 1400- US$ 3000. However, Everest Heli Trek ( Return by Helicopter) costs around $2000. It can be the best trek to try in Everest Region if you are short of time.
Mt. Everest Basecamp Trek Height, Distance
You might have known about the height of the world's highest mountain Mount Everest. But the height at which the Base Camp is completely different. The Everest Base Camp is an altitude of 5,600 meters. You can reach the EBC after 9-10 days of non-stop hiking taking two full days of rest during the journey.
From the Base Camp, you get to see the top sight of the world's highest peak. Nothing will feel more pleasant than your eyes getting the hold of the excellent picture of Sagarmatha. Life is beautiful, and this will make it more.
The Everest Base Camp Trek distance is a total of 130 km with 65 km in each way. Generally, a normal Everest Trek has an itinerary of more than two weeks. Out of which, ten days are normally for hiking. Also, you need to walk about 7-8 hours every day. Walking around 13-14 km each day is a great experience to have. You don't need to worry about the incredible scenery around you that charges you not to back down from anything.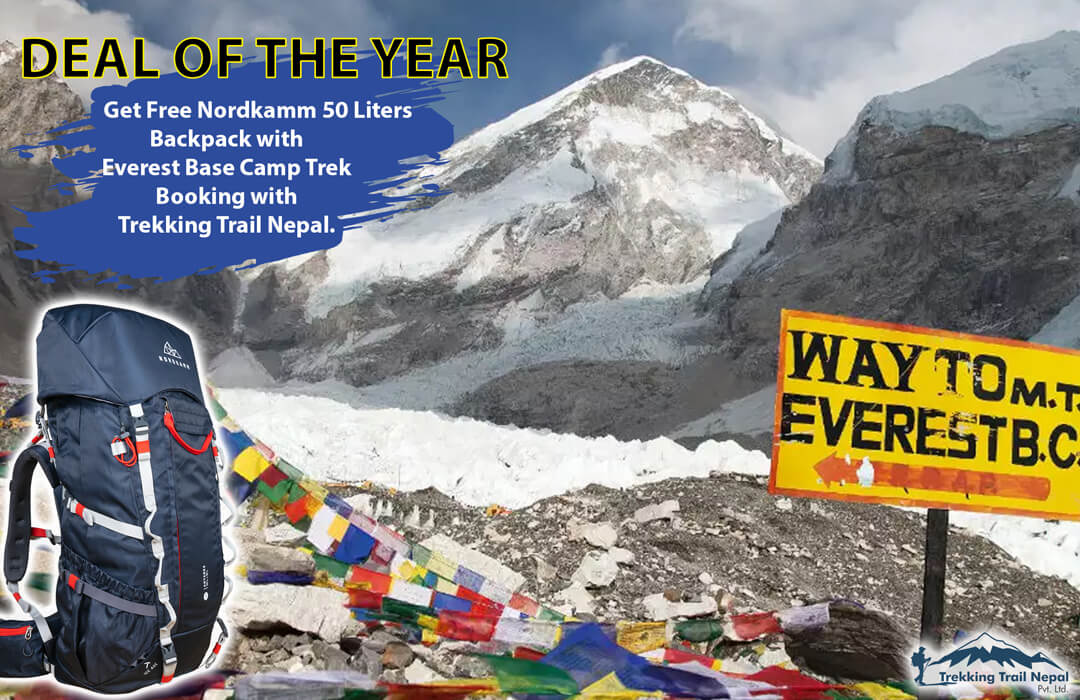 Preparation for Everest Base Camp Trekking 2023 | How to prepare for Everest Hike?
Everest Base Camp Trek has been the favorite of most travelers from around the world. One of the most enigmatic treks around the globe, EBC is destined to be popular like this in 2023. Following are some things you can do to be fully prepared for the Everest Base Camp Trek. Suppose you follow all the necessary steps and be ready for the trek ahead. It helps you to enjoy the most out of the tour with little to no problems.
- Go for 4-5 walk sessions per week.
- Train yourself to walk in both uphills and downhills.
- Ensure that you walk more on weekends rather than on weekdays
- Do a physical workout daily.
- Eat a balanced diet
- Meditate every day for at least one hour
- Research the Everest Trekking
- Give jogging a try to improve your cardiovascular health. Check our 4 weeks Everest Trekking Training Guide to prepare yourself.
Mount Everest Trek Package 2023
2020 has been a year fully disturbed by COVID-19. It took the lives of many people in the world. It was a hard time for humankind to deal with such a huge pandemic. But, with the start of 2021, there have been vaccination campaigns. It has helped to control the pandemic in a great way. Everest Base Camp Trek 2021 has not been that successful, with COVID-19 still on edge.
With the new year 2023, everyone is hopeful that there will be no COVID-19. Even if it is there, most travelers will get vaccinated eventually until that time. Living inside homes during the lockdown has affected everyone's life. So, everybody wants to enjoy trekking and make the most out of it. The popularity of Everest Trek has surpassed every border and reached every corner of the world. It will be no surprise if Nepal receives the highest number of tourists in the Everest region in 2023.
Mount Everest Base Camp Trek 2023 will be one of the most in-demand trekking packages in Nepal in 2023. The trekking scene in Nepal needs a complete boost, and the best way to do it is via the Everest Trek. 2023 is a year of hope, and we are all hopeful that it kills all the bad vibes and bad times.
Mount Everest Base Camp Trek Package from India
Most people get confused over the question regarding "Is Everest Base Camp in India?" Well, it's completely false. There are two camps on Everest- South Base Camp and North Base Camp. The southern Base Camp is in Nepal, whereas the northern one is in Tibet. Despite the base camp location, it does not rule out that Everest enjoys many travelers from India. It doesn't matter where the Base Camp is; Nepal welcomes every visitor from worldwide wholeheartedly.
As a matter of fact, Indians don't have to travel a lot for their trip as India is a neighboring country to Nepal. Indians who are into trekking love to ascend Everest at least once in their lives. After all, it's the highest peak in the world, and everyone wants to enjoy the feeling of being at the top.
Mt. Everest Hiking Cost from India
The cost of EBC from India depends on the transportation charges. Coming to Kathmandu via plane is pretty more expensive than coming via road transportation. After it, the whole costing comes down to the type of package you have chosen. It does not matter if you have come from Europe or India; the cost remains similar. One thing is easier for the Indians as compared to other tourists. Communication is easy for Indians as most people in Nepal speak Hindi. In addition to this, some Indians can also speak Nepali.
There are many trekking packages to Everest specially designed for Indians. A normal 12 Day Short Mount Everest Base Camp Trek from India costs around INR 43,000- INR 65,000. It depends on the trekking agency you choose and the trekking package. Moreover, a 15 Days EBC Trek from India costs around INR 50,000- INR 60,000. However, if you don't have enough time to hike, you can try Everest Base Camp Helicopter Tour. One thing is for sure; it doesn't matter which trekking package you choose; the fun you have on the trip will be unparalleled for sure.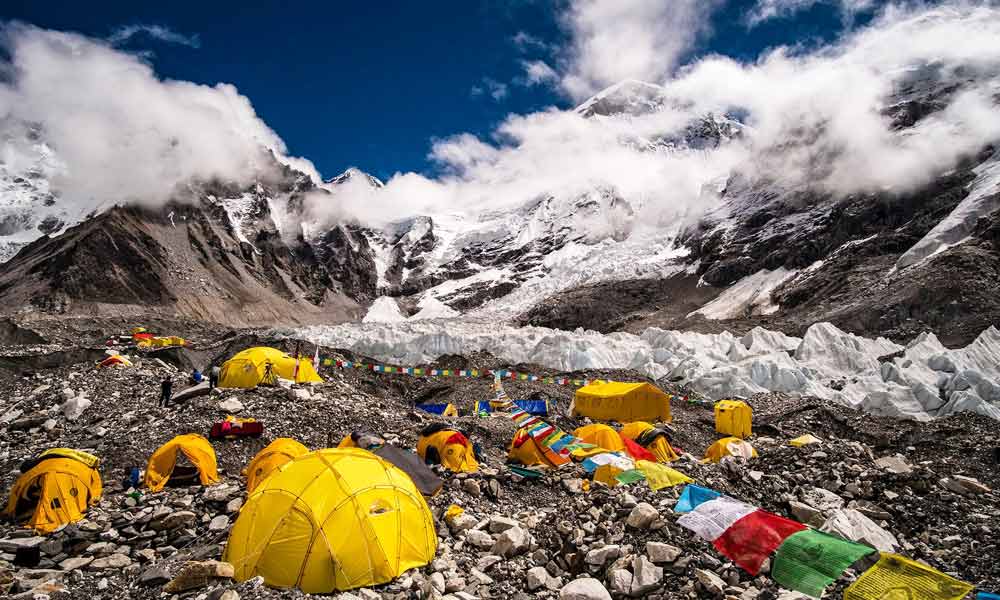 Best Time for Nepal Everest Trek in 2023
One of the most popular treks in Nepal is, hands down, the EBC Trek. You can go there at any time of the year and have real fun. But the best is saved for the best time in the year. You get to make the most out of the trip when everything is great. For instance, If you go to Everest in a hard-hit winter, your trip will be a mere dissatisfaction. Before you go on a trip to the land of the snow, make sure you know about the best time and best way to enjoy.
The best time to go on Everest Base Camp Trek is between March to June. The weather is cool with pretty chill days. There is a clear sky with days stretched out, giving you more time to explore the beauty of the Himalayas. The gorgeous Himalayas look so magnificent when the weather is clear. The temperature does not drop down less than 3°C. The blooming rhododendron forests speak you the words of nature's supremacy at its very best.
So, whenever you plan to trip around Everest, make sure you travel between March and June. Avoid going on a journey to Everest during winter. It is extremely cold, and the temperature drops down to less than -15°C. It becomes extremely hard for travelers to travel in such a difficult time. 2020 and 2021 are the years where the least number of visitors went to travel the Everest region. So, 2023 is when visitors will travel to Everest and make the most out of it.
Conclusion
Everest Base Camp Trek is the most popular trekking package in Nepal. However, EBC Trek is not the only trek in the Everest Region that has won the hearts of travelers from around the globe. There are many Everest Trekking Packages, including Everest Gokyo Lake Trek, Everest Three High Pass Trek, Everest View Trek, and Everest Trek with a return by helicopter. It doesn't matter which trek you are on; you will be surprised at each of the treks. Planning for a trip to Nepal in 2023, why not give it a taste of Everest?
Enquire Us