Know Before Trekking in the Himalayas 2023 | Trekking in Nepal
Trekking to the Himalayas is the one biggest dream of trekking in the mind of adventure Trekkers. To support your Himalayas Trek, here I try to compile 23 Things To Know Before Trekking in the Himalayas.To be fair, Himalayas is a spectacular place for Trekking and Adventure. Even after completion of Everest Base Camp Trek 2023 new dream with Himalayas born in mind for next Trek in Himalayas and Next.
The Himalayas is huge, very diverse, sky touching high and simply breathtaking. But Trekking around the Himalayas is easier said than done: the weather is usually predictable, trekking infrastructure is already set up in most of the popular trekking trail of the Himalayas in Nepal, which you can do at best price. But Himalayas Trekking in Bhutan, India, and Pakistan runs on Camping which cost extra.
Before you start Trekking in the Himalayas you should do a bit of research. This previous research of Himalayas Trekking will help you to know what to expect and what you will get actually. So we decide to put together as post that sums up a few facts; 23 things you must know before trekking in the Himalayas.
1. The Himalayas is Huge
Saying that you are off for Trekking to the Himalayas hardly gives a clear indication of where you are going. This is one of the important things to Know Before Trekking in the Himalayas. The Himalayas is wide and huge. First of all, it spans across 5 countries; Nepal, India, Bhutan, China, and Pakistan over 2400 Kilometer.
Here Trekking Trail Nepal recommends you to visit at least 2 countries of Himalayas. 5 Himalayas Country is Great if you have time and your budget allows you. A good idea is flying into Nepal and exit from China or India, which will connect your home town by shortest flight. Just in the Himalayas country of Nepal, you have man options of Trekking, Hiking, Climbing, Adventure and more. Annapurna Base Camp Trek, Mount Everest Base Camp Trek, Langtang Valley Trekking and Manaslu Circuit Trek are most popular trails.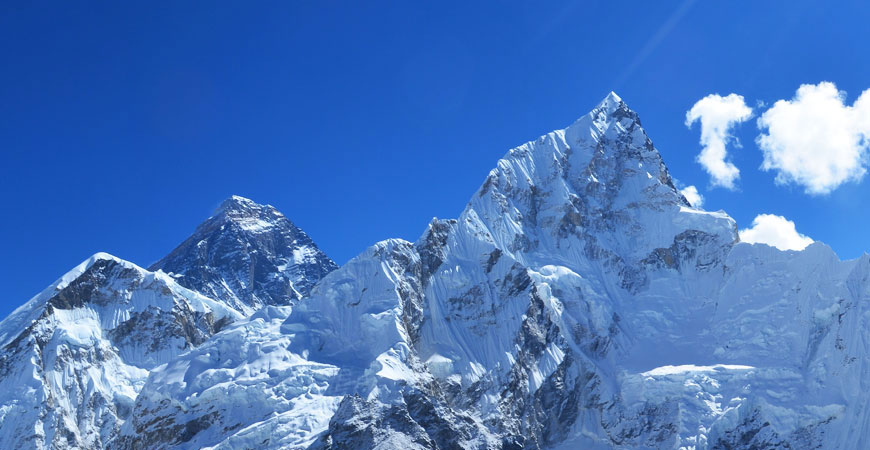 2. The Himalayas is for Trekking, Climbing, Tours and More
The best way to fully enjoy the Himalayas is by taking the time to explore on your foot. Trekking in the Himalayas it best way to enjoy these amazing views, landscapes, wildlife, and ancient cold culture.
Before you plan your Himalayas Trek of Nepal, Bhutan, India, Tibet, spend sometime for what you are looking for. In the Himalayas of Nepal, you have different choices from Classical Base Camp Trekking to Himalayas View Tours. From Easy Short View Point Trekking in Nepal to Luxurrious Heli Tour. If you have really adventurous desire, Trekking Peak Climbing to Extreme High Pass Treks like Everest Three Pass Trekking, Amphu Lapcha Trekking, Island Peak Climbing with Everest Base Camp Trek must be considered. If you need more rural and off the beaten trekking trail in Nepal with virgin nature, culture, Annapurna Circuit Trek, Mundum Trekking, Upper Mustang Trek, Dolpo Trekking, Guarrilla Trekking, must be in your first choice.
In addition to this Himalayas also offers Luxury Tours and Trekking with the special effect of Heli or Luxury Resort. Everest Heli Tour, Luxury Everest Base Camp Trek, Dhampus Sarangkot Luxury Trekking, Luxury Annapurna Trek, Luxury Nepal Tour are few to mention here.
3. For Short Trekking in Nepal and Himalayas, Planning is vital
This 2400 Kilometer, Highest Mountain in the world Himalayas not only for long holidays. You can do short trekking and tour with the glimpse of Himalayas. These Short Trekking in Nepal comes experience of Himalayas, as it goes close as possible. But your plan plays a vital role for Short Trekking in the Himalayas of Nepal.
There are lots of Short Trekking in the Himalayas, mostly in Nepal. that will fulfill your dream of the Himalayas which fits in your short holidays.
Himalayas Trekking: This is the most popular activities of the Himalayas to fulfill your desire to experience Himalayas Mountain with your food. Himalayas Trekking is perfect for those travelers who want to experience Nature, Culture, Lifestyle, Alpine with the majesty Himalayas. Most of the Himalayas Trekking Package comes with classical itinerary and duration from 7 to 22 Days. Available in Nepal, India and Bhutan best for Active Outdoors Lovers.
Himalayas Tour: This is another category which fits for the perfect tour for average active travelers who like the ideas of easy walking and hiking and needs more time easy resting. These Himalayas Tour Package you will see the mountains for easily accessible viewpoints but in little far distance. No matter what you think, the views of Himalayas Tours is also the best to experience the Himalayas rather than dream it only.
Short Himalayas Trekking: This is the new product in the market which also fulfill your dream of trekking in the Himalayas. Trekking Trail Nepal is one of the Best Trekking Company in Nepal is the pioneer to start these Short Trekking Package in Nepal.
Due to their busy work life, most of the travelers have dreamed of the Himalayas but not time. So here we manage Short Trekking in Nepal Package in for your short holidays for Himalayas. We designed these short trekking itineraries in such a way that you will not only see the Himalayas but we take you to the Base Camp as original long trekking. These Short Himalayas Trekking is only available for the Nepalese Himalayas.
4. Choose Nepal for Multi Country Himalayan Trekking Tours
Another important thing is to Know Before Trekking in the Himalayas is Nepal. One Country Nepal have to be in your planning for Himalayas trekking. Especially if you have plans to visit the whole Himalayas or with 2 countries. These Himalayas country will welcome you from the deep of heart. Although you will get visa easily but not on arrival. Nepal is the center of the Himalayas which is open for over 156 countries visa on arrivals.
Nepal must be your first country for your Himalayas tour since it has the most recognized part of Himalayas. In addition to this Nepal have a direct flight to other Himalayas country like Bhutan, India, and Tibet that you can apply for the visa and other processing.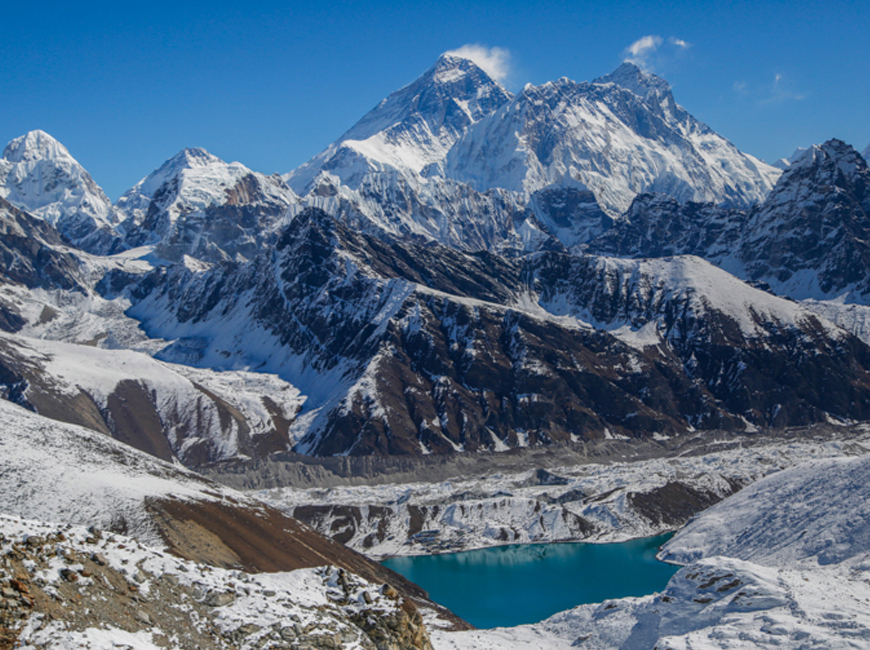 5. Another Things to Know Before Trekking in the Himalayas - Pristine Himalayas
The Himalayas is Pristine as your dream to travel to the Himalayas. One thing you will notice immediately after the first glimpse or trekking to the Himalayas is how clean it is. Not only the air is clear and crisp; but you will not see any garbage around along trails and all the national parks, Conservation areas. But with increasing tourist, unmanaged camps and trekking lodges, you will see lost of garbage bins and deposit areas.
Here Trekking Trail Nepal request you to be respectful of the environment and the Himalayas. Always carry a small bag to dispose of your personal garbage is good idea for Himalayas Trekking. This will contribute to keep the Himalayas clean and green from your side.
6. The Himalayas Views are Incredible
Whether you are on drive tour, Easy Short Trekking or Classical Himalayas Trekking you will experience the incredible Views of Himalayas every-time. You will fall in love with the breathtaking views of Himalayas again and again. Weather with Everest 3 High Pass Trek or Everest Drive Tour in Tibet or Chomolhari Base Camp Trekking in Bhutan.
Whether the views if close or wide, from bed or in the reflection on the window. Be ready with your open mind or camera to capture the Lifelong views of Himalayas. In every trekking or tour of Himalayas, you will no shortage of breathtaking views.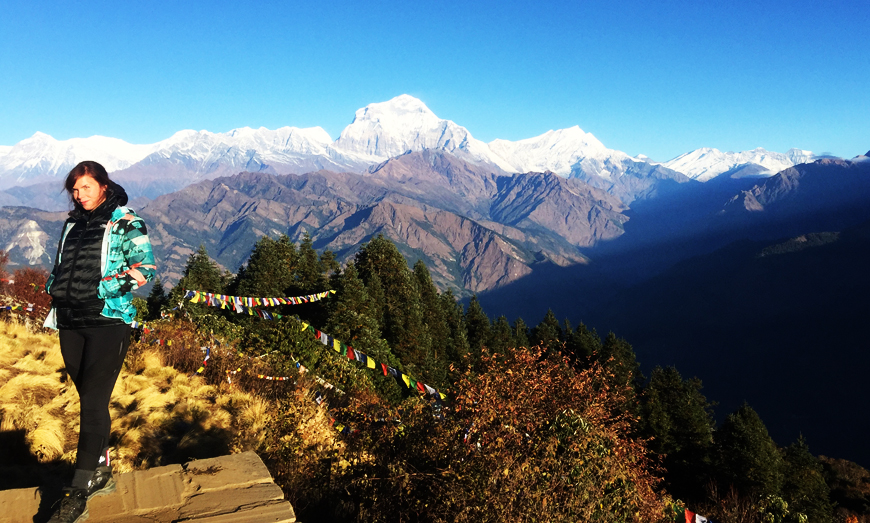 7. Himalayas Offers Unique Wildlife
One of the biggest threats on your tours and Trekking to the Himalayas is the possibility of admiring the wildlife. The major attraction is Yak an alpine wild species similar to cows are found throughout the Himalayas above 3200 meters. The bulky body Yaks can be found in the vast alpine of Nepal, Bhutan, Tibet, and India.
Depending on the season, you will be able to see these yaks in different altitudes. Wild-sheep, musk-deer, Himalayan pheasant, Tibetan duck are other popular wildlife to encounter to in Himalayas Trekking. Other animals that populate this part of the world are Snow Leopard, Red Panda, and Himalayan foxes. Do not forget the Yeti which makes your holidays research full.
8. Be A Environmental Conscious Trekkers in the Himalayas Trekking
Speaking of efforts to keep Himalayas clean as possible from your side. Trekking Trail Nepal strongly request you to make sure to support the low impact of your presence in the Himalayas. Try to be an environmental conscious trekkers as much as possible. Always follows the trekking trails. You will often see signs that warn you about risk of stone falling, landslide, and an avalanche. Respect the local rules and culture, Never light fires in the forest. Do not buy and take the natural and cultural stuffs from nature. This helps us to keep the Himalayas as it is for the next generation.
9. The Himalayas Weather Can Change Quick
Information about Weather is another things to Know Before Trekking in the Himalayas. The best time to visit the Himalayas is the spring and autumn. Which is in the months of March to May and September to December. But depends on your interest Himalayas Trekking Trail can be enjoyed throughout the year. Read about Flight Cancelation to the Himalayas.
January and February offers you more snow and cold. However Monsoon Season Trekking in Nepal is start from June to August which offers thrilling Himalayas with rain. Furthermore winter season is best months for Frozen River Lake Trek in India. Still there are some special Himalayas holidays in the Rain Shadow areas of Himalayas Like Upper Mustang Trek and Dolpo Trek in Nepal. For Tibet Tour and Lhasa Tours May, June, July and August is the best time. Check the Best Month For Himalayas Country.
But keep it in mind that these months is outlined for Best Weather in with average. The Himalayas weather is unpredictable and can change in a really short time without the knowledge of our prediction system. It is better to prepare on our own for this Quick Changing Himalayas Climate. You may be able to enjoy your trek in the Himalayas in spring and autumn season. But it comes with lots of crowded trekking trail. But if you love peaceful trekking and tours you can choose off season which comes with more adventure.
10. The Himalayas is more about Trekking, Hiking and Climbing
Most people who travel to the Himalayas go there for a trekking. To be fair most of the incredible sites in the Himalayas require a bit of an effort to get to admire them. Obviously, driving tours will allow you the views of Himalayas but from little far distance. If you want to experience the Himalayas as close as possible just in your arms distance you need to prepare for Hiking and Trekking.
In Nepal, most of the Himalayas viewpoint are out of major town like Kathmandu, Pokhara and Jiri. From these place you need to spend at least 2-3 days of trekking. The Easiest and Shortest Trekking is 2 Days Poon Hill Trek. Poon Hill Trek Offers you the wide views of more than 32 mountains peak from the point to 3210-meter hill. The Himalayas in Tibet, Bhutan and India can be experienced with driving and easy tours. If you are hunger for the Himalayas be prepare for hiking. All above Himalayas without trekking is not worthful. Since it will just create another bigger hunger for Himalayas Trekking!
11. Acclimatization Day is Important In Your Trekking Itinerary
We already mention that Real Himalayas is for Hiking and Trekking. Since Hiking and Trekking are tiring and exhausting activities and it is more to us for multi days trekking. We suggest you manage your Trekking Itinerary with a couple of days as rest. Furthermore, The Himalayas Trekking Trails goes up to 5500 meters high. If you are not used to about altitude, your body can not find enough oxygen.
It is important to keep Acclimatization and Rest day in your itinerary To tackle this problem of Altitude Sickness. In addition, these spear days of Rest and Acclimatization days comes with side excursion and different experience of Himalayas.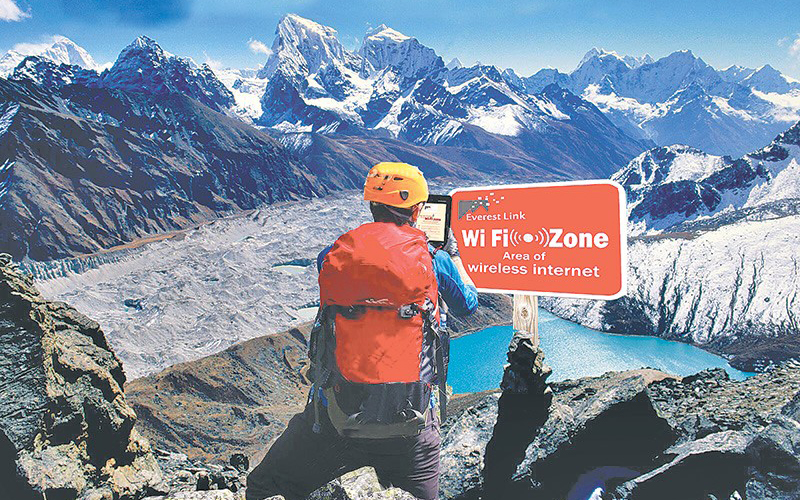 12. Internet is Everywhere, Must Know Before Trekking in the Himalayas
Trekking in the Himalayas and tours is one of the biggest dreams of adventure seekers around the globe. Every one will excite to share the planning of Himalayas Tours and Trekking to their friends and family before they start a journey from home.
Don not worry about Internet, Himalayas Trekking in Nepal offers the fast internet even in on trekking trails. You do not need to set up an automatic reply for your private email unless you want. Internet may not be your first interest in your Himalayas trekking. Certainly, internet connection is the must because the addition of social media is getting higher than the high Himalayas. Read More about Internet Services in the Himalayas.
13. Trekking in the Himalayas comes with Price
There is no other way to put it, really. If you are about to plan your Himalayas trekking and tours, you should be aware of the fact Himalayas is not cheap.
Probably these 4 countries of Himalayas; Nepal, India, Bhutan, and Tibet comes in the list of the cheap country to live. But when it comes to travel close as possible to the Himalayas, you have to forget this fact.
Permits fees for trekking tails is 100 times cheaper than in Europe, America, and New Zealand. Bhutan is an expensive Himalayas country because of its restrict tourism policy. You have to pay about USD 250 per day per person + Visa Fees. Trekking in Nepal Himalayas is the cheapest to fulfill your dream of the Himalayas including Mt. Everest and other. Just pay USD 30 for 15 days visa, with the permits of many days as you need you will free to explore the Himalayan Trekking Trails.
In addition, you have to cover the cost of Accommodation, Foods, Air and Land Transport, Porters and Guides. Furthermore, you have to calculate your International flight. However, this will not stop you to choose Tours and Trekking to the Himalayas. By all means, go. Just plan your trip smartly so that you can save a bit here and there.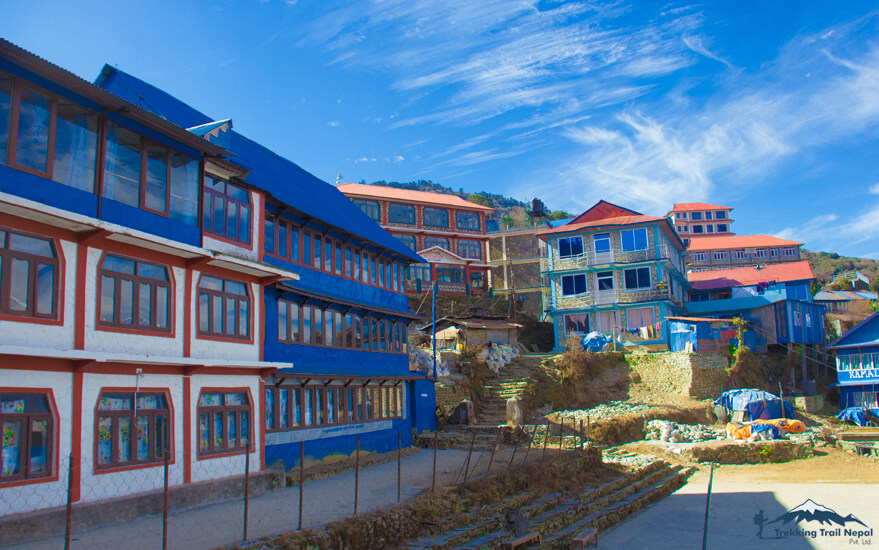 14. Choose Trekking Accommodation Wisely
The best way to keep your costs down when Trekking to the Himalayas is by picking your accommodation wisely. In cities, you have different standards of accommodation available from Hostel to 5-Star. But in Trekking Trails, you have only two choices. Either you have to choose Standard Tea House Accommodation or Luxury Lodges.
Normal Tea House is basic lodges you will find in the camp town. They offer a basic room with a wide range of food and drink menu. Mostly busy and full of people, but best fit in the budget to standard. Good things with these tea houses are that you can skip the extra paid services like Inside toilet, Shower, Wi-Fi, Charging your devices. While Luxury Lodge Accommodation Trekking is another option for your Himalayas trekking and tours. These lodges are full with comfortable lounge, facilities rooms, cozy beds with standard services which come with more peace with nature.
However, keep in mind that Trekking in the Himalayas in an increasing trend. Make sure to book in advance for a chance to get a spot best places to win your date. Trekking Accommodation is another things to Know Before Trekking in the Himalayas.
15. The Himalayas is Cheerful but crowded
As I have said before, Himalayas is becoming an increasingly popular Trekking and Touring destination for adventure and hiking lovers. On the trail of the Himalayas on Popular Mountains Trekking, you will see lots and lot of trekkers like Everest Base Camp Trek. Although the Himalayas is spread over 2400 Kilometers in 4 countries Everest and Annapurna are the most popular one.
Most travelers come to the Himalayas just with the dream of Trekking in their active mind. However, the Himalayas is natural, majesty and cheerful But will be crowded, more specifically in the Trekking Season.
16. YES! You need a Power Bank for Himalayas Trekking
The services of the internet and low coverage of cellular reception will not keep your phone battery for longer. Furthermore, the constant use of your phone to capture the Himalayas helps to consume more power. You need to charge your devices in a short time, than it comes with some dollars only.
Here we request you to carry a Power Bank that will fulfill your power needs in your budget. Make sure that you carry a quality power bank which will not lose its charge in cold weather. Even more, nobody would want to run out of battery when you need a capture the impressive Himalayas, right? The best idea is to carry small solar charger to keep alive your electronic gadget.
17. Pack the Best Trekking Boots with Socks
Trekking boots are a MUST when you are of to the Himalayas, weather tours or Trekking. You have to pack a best boots with good socks even for Short Trekking in the Himalayas. We dont suggest you hit the trekking trail with the pair of you're running shoes. Air and Waterproof, ankle supportive and lightweight must be considered with price while choosing trekking boots for Himalayas adventure. If you are packing the new boots, make sure to use them a few times before start your Himalayan Trekking. This is how the new boot matches your beautiful and adventurous feet comfortably.
Trekking socks not only protect the friction between boot and feet. Hence Trekking Trail Nepal gives the equal value to socks as trekking boots. Choose best hiking socks which fit comfortably, maintain the warmth, non-smelling and quick dry.
Trekking Boots and Socks are just the major leads to the Gears you need for your Himalayas trekking and Tours. You need a bunch of adventure gears to breath in front of Himalayas. Check The Detail About Gear List for Himalayas Trekking.
18. Crying Water Bottle is a Great Idea
Water in the Himalayas comes from glaciers and it is absolutely safe to drink. But not for you since Himalayan water contains harsh minerals which are not easily digestive.
Water is the most expensive drink you have to buy in Himalayas Trekking Tours. And the price for bottled drinking water goes up when you get higher to the base of Himalayas. Hence we requesting you to carry a water bottle. You will find the place to buy the bottle drinking water, even you can refill in trekking tea house. But your bottle helps to keep the Himalayas clean and your pocket fat. Another thing you can refill Hot Boiling water in your bottle for cold time.
With bottle, do not forget to carry some purification tablet or instruments with taste make. Widely uses 2 items are Steri-Pen and Chlorine tablet .
19. Do Not Forget to put on Sun Cream
The Himalayas is high. On your Himalayas tour, you will definitely reach higher where your body meets the harmful ray of sun. Never underestimate the importance of sunblock cram when you are on Tours or Trekking to the Himalayas. Make sure to smother it on your face, neck, ears, chest and any other exposed part of your body. Normally you will not feel the sun so much, because you will hike close the Himalayas in little wind. In contrast, your skin definitely will and it will thank you a lot if you care.
20. Always wear Sunglas or Hat
Sunglasses are a basic commodity in your Himalayas Trekking and Tours. This protect you from strong sun and harmful rays, but most importantly repair your eyes from ever blowing Himalayas winds. Furthermore, the picture of you with Sunglass and Himalayas will be hot topic in your group back home.
Another small item you must carry with you for your Himalayas Tours and Trekking is a hat. Nowadays lots of people pack Beanie and buff along with sun hat for Himalayas trekking. You should go for anything or a mix of them. The major things that must protect you from the sun, wind, and dust. We suggest you use Hat for sun, Beanie for Cold and Buff for wind and dust on face.
21. Himalayas Foods are Awesome
Food Items is another things Know Before Trekking in the Himalayas since it is important factor for every adventure. Talking about the food, you will be glad that you choose the Himalayas trip which full of great food. The most popular set meal Dal Bhat Tarkari, which satisfy you biggest hunger, Chapati, Champa Porridge, Mo: Mo, Soupy noodles Thukpa, Shepo, etc are a traditional dish you will find on the menu. In addition to this western food like Pasta, Pizza, Macaroni, Rice and Bread, Soup, Rolls, Fries are extra to satisfy your hunger.
Every food items on the menu make you happy and happier in your Himalayas Trip.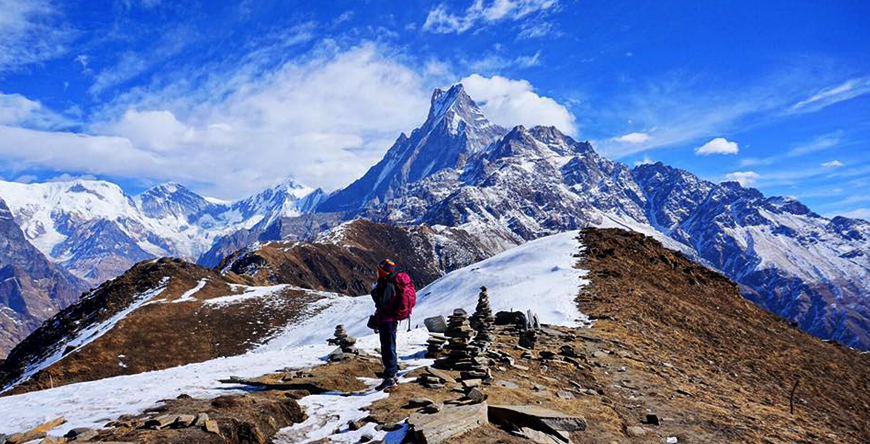 22. The Himalayas Trekking is Safe
Nepal and Bhutan are the safest country in South Asia which occupy 70% of Himalayas Mountains. The Himalayas is by far the safest region where you can experience the mountains. You can travel to the Himalayas safely, even by yourself. On the trekking trail of Himalayas, you will meet many individual travelers with the same dream as yours. Make new friends, share dreams trekking, trekking ideas, chat with new local people and enjoy the Himalayas.
23. You Need Good Travel Insurance
Getting Insurance and its related side is the another things Know Before Trekking in the Himalayas. Regardless of safety, how to fit you are for hiking for the Himalayas make sure to get yourself good travel insurance before Trekking to the Himalayas. Some parts of Trekking in the Himalayas carries with risk. Since the Himalayas covers the truly remote place where you could not get any health and medical facilities. To cover all this risk and uncertainties you need good travel insurance. Choose the Best Trekking Company, Trekking Trail Nepal is the holding Zero Rescue Record for Trekking in Nepal and Himalayas over 5 years of its serving.
Yes, you do need good travel insurance for Trekking in the Himalayas. If you dont want to buy Insurance Book Himalayas Trek with Trekking Trail Nepal. This is the Best Trekking Company in Nepal in terms of Quality, Services, Best Fair Price Trek for guest and Best Pay for Guides and Porters. Trekking Trail Nepal also has Zero Rescue Record since the establishment.
This is how we conclude the our blog for your preparation for the Himalayas Trekking. If you feel, we missed something in 23 Know Before Trekking in the Himalayas? Let us know. We appreciate your Comments, Ideas and more about Know Before Trekking in the Himalayas.
Enquire Us