Mountain from Annapurna Circuit Trek in Nepal
12 days moderate difficult Annapurna Circuit Trek is one incredible hiking around the beautiful trekking trail of Annapurna Massif. No limits to this, the surprising views of Mountain from Annapurna Circuit Trek in Nepal make this one best trek of the world.
Deep river valley and gorge, isolated hamlets, Himalayas villages, alpine forest with rhododendron, living Tibetan Buddhism religion and culture mark Annapurna Circuit Trek the best one. Muktinath temple of Mustang takes this Circuit Trekking in Nepal, to the next level. The temple in which the god of Hindu and Buddhist live together and Hindu priest and Buddhist monk take of for the Muktinath Temple Complex. This is the best example of harmony betwixt these religious and culture. Similarly, Throng-La Pass the highest point of Annapurna Circuit Trek is another attraction. 5,416 m sky touching high pass inject adventure to this Round Annapurna Trekking in Nepal.
The trekking trail which goes around the Annapurna Himalayas Range also includes the 2 destinies town of Nepal. These are Manang and Mustang, which are the only two districts of Nepal beyond the Himalayas. Most part of these areas comes under the rain shadow of the Himalayas, which makes also best for Monsoon Trekking in Nepal.
The original Annapurna Circuit Trekking trail is about 230 Km long which needs about 17 days for its completion. With the new construction of road 14-16 day, Annapurna Circuit Trek itinerary is more popular nowadays. Even with 10 Days Short Annapurna Circuit Trek 2023 you will not miss any major attraction and mountains.
Mountains are the best attraction for all Trekking in Nepal. You will see over 43 Mountains from Annapurna Circuit Trek, which are belongs to Annapurna, Dhaulagiri, and Manaslu. The Most popular circuit trek of the world offers the sunning views of 43 mountains form Annapurna, Dhaulagiri and Manaslu Himalayas Range in 14 Days Itinerary of Annapurna Circuit Trekking in Nepal.

How many Mountains we can see from Annapurna Circuit Trek?
Hundreds of trekking company in Nepal offers 1000s of Round Annapurna Treks. Every trekking agency said you will see beautiful and amazing views of mountains peaks from the Himalayas. How they will not able to tell exactly how many mountains can you see from Annapurna Circuit Trek. This happens because they don't have any trekking experienced, they are businessman. But here Trekking Trail Nepal comes with a solution for your Annapurna Circuit Trek. With our local experienced trekking guide, you will get more than you expected. No limits to the name of all mountains of form Annapurna Circuit, but also with culture, tradition, lifestyle, attraction as well as religion and history. Trekking Trail Nepal also has an exact answer to the numbers of Mountains which you can see from Annapurna Circuit Trek. In short you will see 43 different mountain peaks with this 14 Days Annapurna Circuit Trek in Nepal. These Mountain peaks belong to 3 different Himalayas range which is Annapurna, Dhaulagiri, and Manaslu. We named below to each range with height and global position too.
Mountains from Annapurna, Dhaulagiri and Manaslu Himalayas Range
Annapurna Himalayas Range is the biggest attraction of this circuit trekking in Nepal. You will make a full circle around the Annapurna Himalayas range after you complete the itinerary. Mountains from Annapurna Himalayas range holds a majority in the list of mountains you can see in Annapurna Circuit Trek. Let's divide the Highest Mountain of Nepal in 3 as range; Annapurna, Dhaulagiri, and Manaslu and count.
Mountains from Annapurna Himalayas Range
Kang Guru I 6,981 m
Chulu East ( Mid ) 6,584 m
Chulu Far East 6,059 m
Chulu West 6,419 m
Khatung Kang AKA Throng Peak 6,144 m
Himlung Himal 7,126 m
Nemjung 7,140 m
Ratna Chuli 7,035 m
Lugula Himal 6,841 m
Khumjungar Himal 6,759 m
Khangsar Kang 7,485
Lamjung 6,983 m
Annapurna First is the 10th Highest Mountain of the world with 8,091 meter height.
Annapurna II 7,927 m
Annapurna III 7,555 m
Annapurna IV 7,525 m
Ganga Purna 7,455 m
Tilicho Peak ( Tilitso Himal ) 7,135 m
Muktinath Peak 5,984 m
Nilgiri Mid 6,940 m
Nilgiri South 6,839 m
Nilgiri North 7,061 m
Annapuran South 7,455 m
Himchuli 6,441 m
Machhapuchhre aka Fishtail 6,997 m the most iconic peak of Nepal.
Mardi Himal 5,587 m
Gandharba Chuli 6,248 m
Bhara Shikhar also called Fung 7,647 m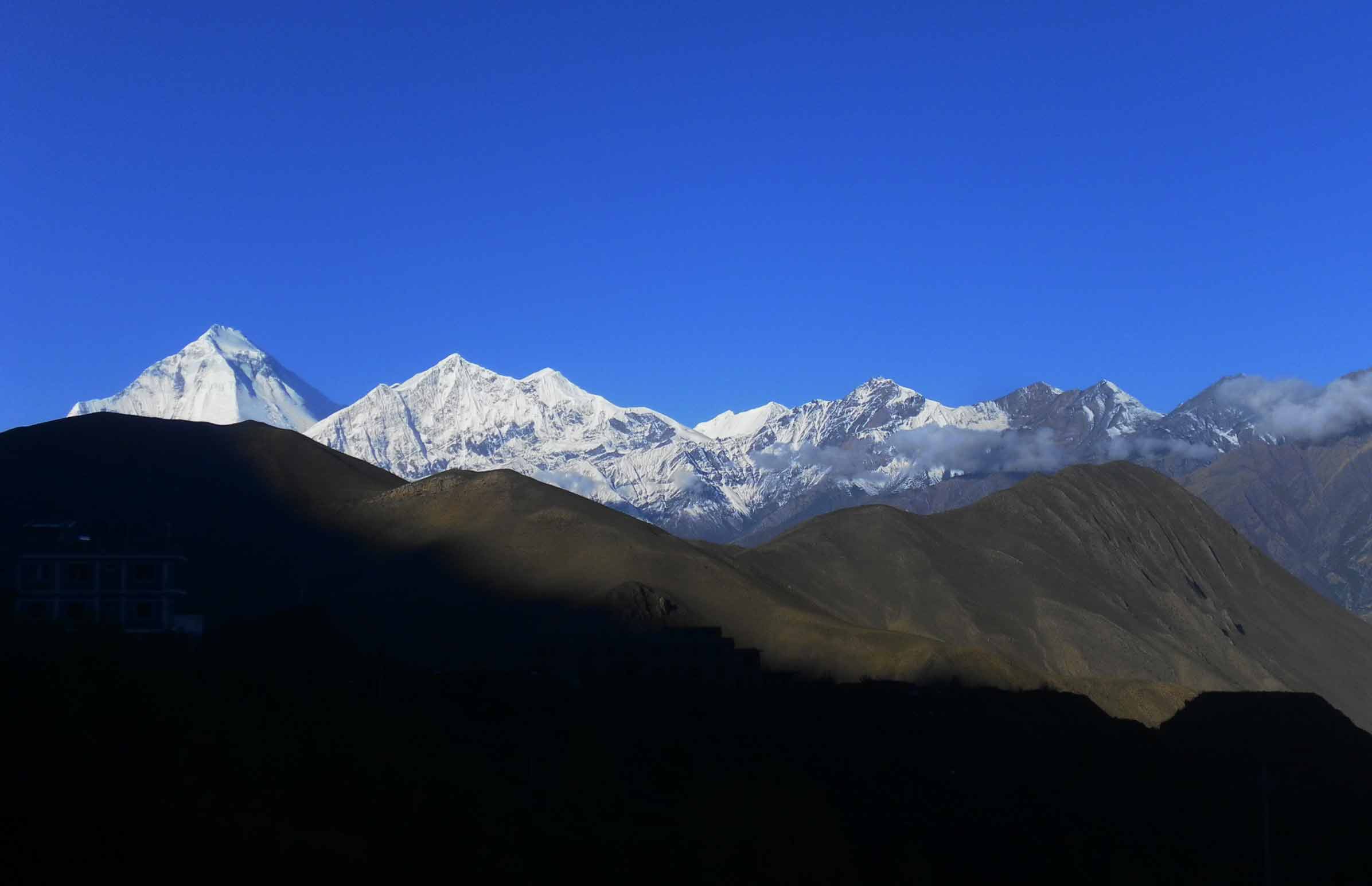 Mountains from Dhaulagiri Himalayas Range
Dhaulagiri Himalayas range is the home of the world's seventh highest mountain in the world. With the 8,167 meters high top of Dhaulagiri I, it has other 9 peaks with different names which you can see form Annapurna Circuit Trek. There is the world deepest gorge ( Andha Galchi ) in between of Annapurna and Dhaulagiri Mountain, which lies in the west of Round Annapurna Trekking and east of Dhaulagiri Mountains. We listed the mountains peaks that you can see from Annapurna Circuit Trek as below:
Dhaulagiri First is the 7th highest mountain of the world, 8,167 m.
Dhaulagiri II 7,751 m
Dhaulagiri III 7,715 m
Dhaulagiri IV 7,661 m Dhaulagiri V 7,618 m
Tukuche Peak 6,920 m
Gurja Peak 7,193 m
Dhorpatan Peak also called Hiunchuli Patan - 5,911 m
Aalu Bari Peak also Called Mana Pathi Himal and Peak Hawley - 6182 m
Sangdachhe Himal 6,403 m
Jakriojagga Snow Hill - 5,300 m
Mountains from Manaslu Himalayas Range
Another Mountains Range you will able to see with Annapurna Circuit Trek is Manaslu. Although Manaslu Himalayas also has very popular circuit trekking in Nepal, But not old as Annapurna Circuit Trek. We called it Short Manaslu Circuit Trek. Only 4 mountains from this range is visible from our trekking trail of Annapurna Circuit, including 1 Eight-Thousanders.
Himal Chuli 7,893 m
Manaslu 8,163 m
Ngadi Chuli 7,871 m
Thulagi Chuli 7,059 m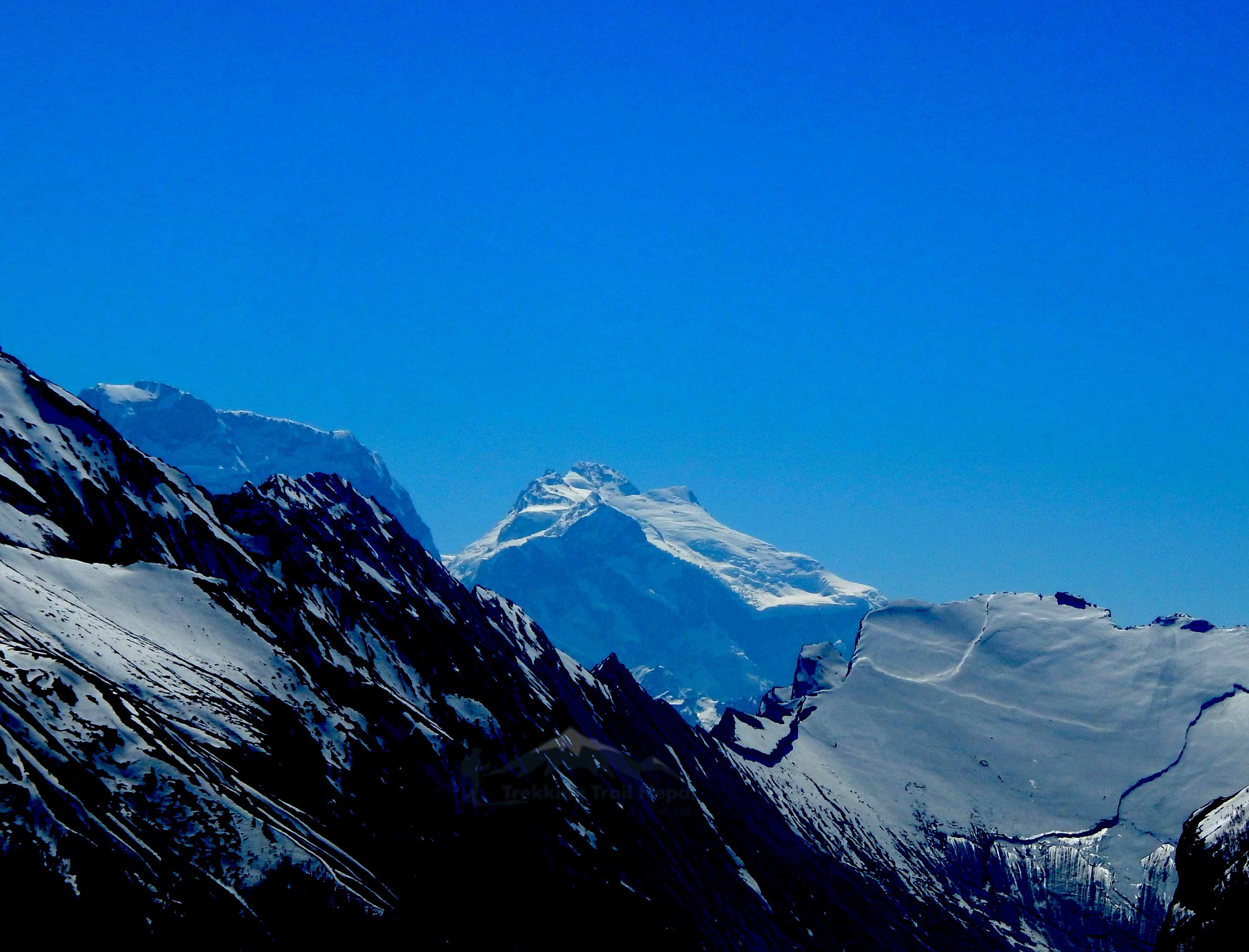 Notes To See all Mountains from Annapurna Circuit Trek
- To see these all mountains peaks you must follow the standard itinerary and blessing of Himalayas weather. Trekking Trail Nepal is reminding few points as a note to see all mountains from your Annapurna Circuit Trekking in Nepal.
- You will see most of these mountains form the trekking trail of Annapurna Circuit. However, some come to your sight during flight or even form Pokhara City, where this trek comes to end.
- From 3 different Himalayas ranges of Manaslu, Dhaulagiri, Annapurna you will see 43 Himalayas Mountains.
- In fact, you will see 3 eight-thousenders Dhaulagiri, Manaslu, and Annapurna. These are 7th, 8th and 10th highest mountains of the world.
- You will also able to see Annapurna I 8,091 m, from Jomsom-Pokhara flight.

TIPS to see more Mountains: Trekking Trail Nepal suggests you board early and take a seat on the Left-hand side of the plane. Applicable only if you are finishing Annapurna circuit trek in Jomsom and taking a flight to Pokhara. By doing this you will see southern side mountains of Annapurna Himalayas Range. Similarly, doing the guided trek with the best trekking company and experienced guide. You can see over 43 Mountain from Annapurna Circuit Trek even with 10 days Short Trek Itinerary.
Enquire Us