5 Best Lake Trekking in Nepal 2023
When it comes to Trekking in Nepal, not only the panoramic view of mountains, hills, and village, but you will also be trekking trail some of the beautiful lakes in the different part of Nepal. This lake Trekking in Nepal includs trekking in the lakes formed by melting of the snow, glacial lakes, or collection of the water from the nearby sources. Depending upon the size, shape, and depth, there are beautiful lakes here in Nepal.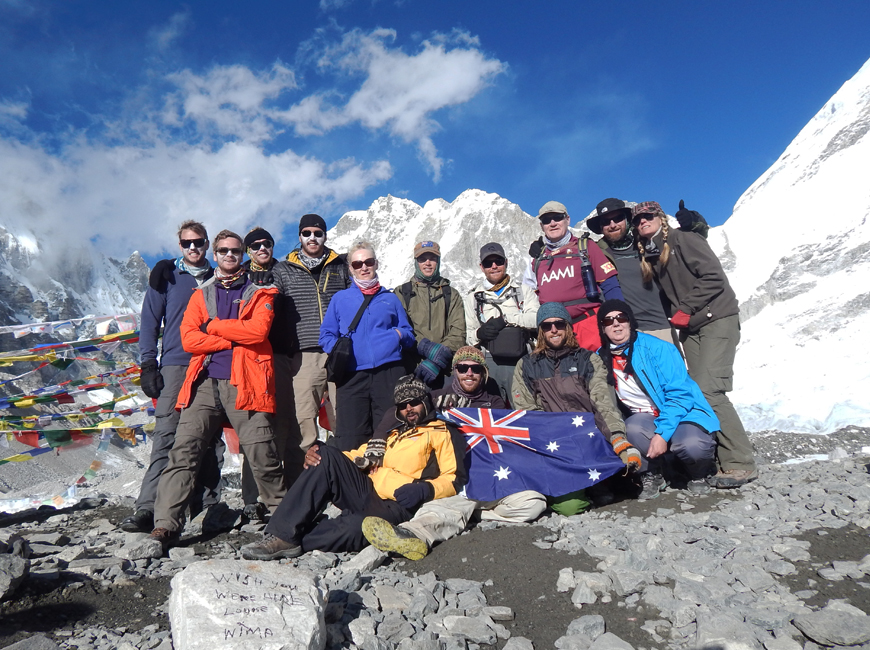 The beautiful turquoise Tilicho Lake is considered as the highest lake in the World, whereas Rara Lake is considered as the biggest and deepest freshwater lake in Nepal. In addition to this, Gokyo Lake is the series of Lake from 1 to 5 till the base of Cho Oyu 8188m and Gosain Kunda Lake is one of the Hindu Religious sacred Lake and 7 Lakes of Pokhara valley are popular for recreational as Short Trekking in Pokhara. These freshwater lakes are home to different species of aquatic plants and animals. Depending upon the geographical location, this lake trekking may take about 7 to 10 days to complete. Following are the famous lake trekking trail here in Nepal. You can enjoy this Top 5 Lake Trekking in Nepal with Trekking Trail Nepal with special interest, customized Itinerary, mixed with Nepal Tours and Festivals. Even with Yoga and Meditation in the Himalayan Kingdom of Nepal.
---
Best 5 Lake Trekking in Nepal
Our company Trekking Trail Nepal has designed the itinerary of this Gokyo Lake trek in such way that you will be exploring the beautiful turquoise lake in the Everest Region. This Gokyo Lake Trek is an alternate route for the Everest Base Camp Trek. This is a moderate trek where you will be trekking up to an altitude of about 4500 meters.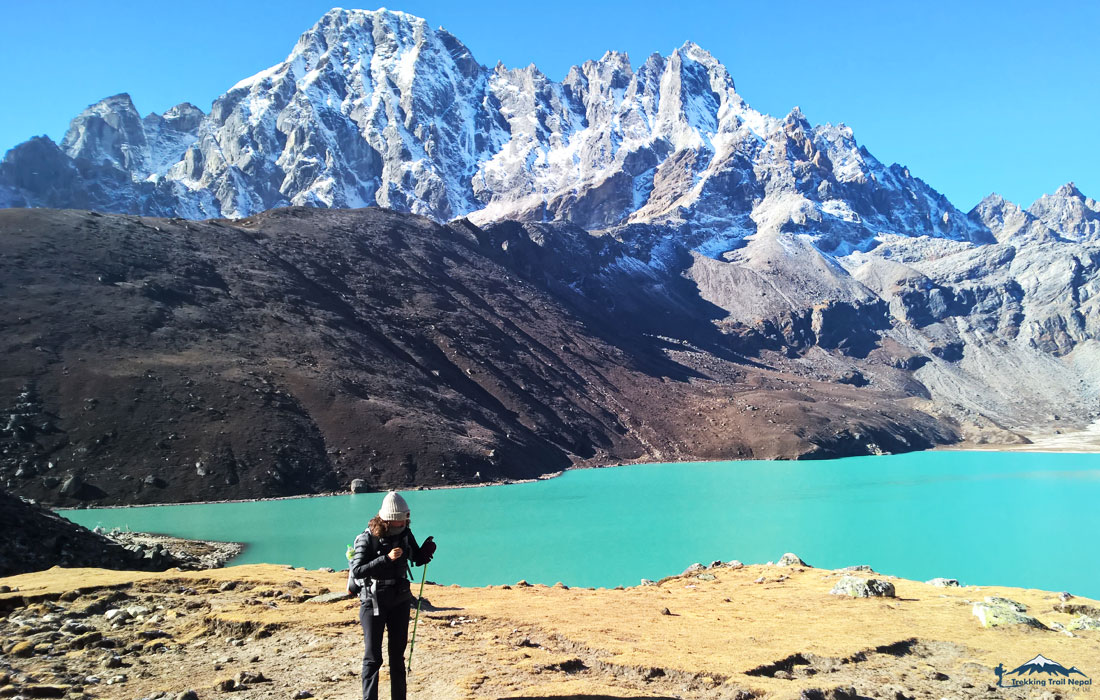 During this Gokyo Lake trek, you will be trekking from Lukla, Phakding, Namche Bazar, and Macchermo before reaching the Gokyo Lake itself. You will be accompanied by the beautiful view of Mt. Everest, Mt. Ama Dablam, Mt. Thamserku, Mt. Cho Oyu and beautiful vegetation as well as Ngazumpa Glacier. We will also be hiking up to the 4th and 5th lake during this lake trekking. We will be trekking for about 5-6 hours on an average day to reach our destination.
---
This Tilicho Lake is located in the Manang district at an altitude of about 4950 m. During this trek, you will be trekking up from the tropical to alpine and then to snowy land. This Tilicho Lake is the highest lake in Nepal. Mostly, this Tilicho Lake lies en route to Annapurna Circuit Trekking and then crossing Thorong La Pass at an altitude of 5416 m.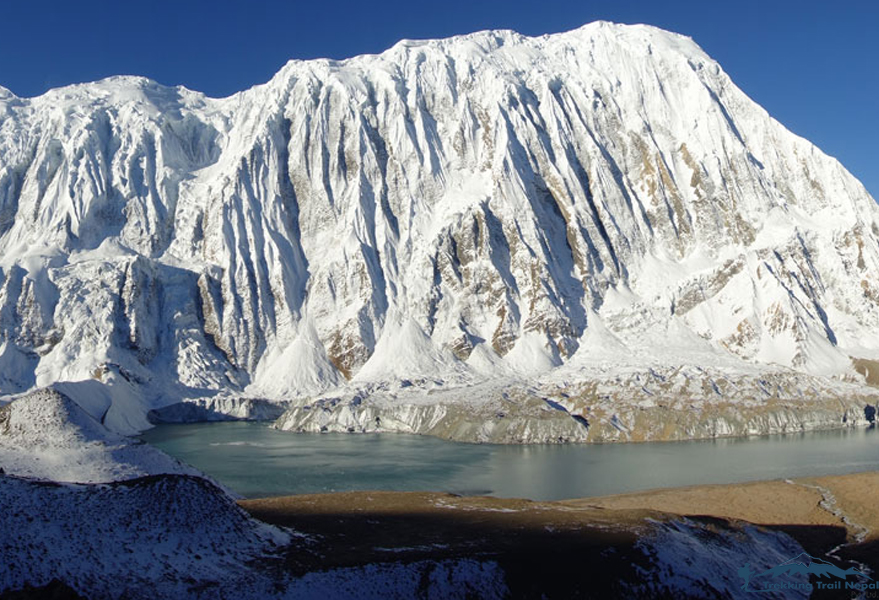 February to mid-June and September to November are considered as the best season to trek here as the weather will be clear and you will be able to see beautiful mountains during the trek. During the December and January season, you can expect the snowy and icy trail and frozen Tilicho lake. The itinerary made by trekking Trail Nepal team will make sure that you will get a chance to get a great view during trekking through Chame, Pisang, Manang and then to Tilocho Lake itself. On the way, you will also get a chance to see beautiful Gangapurna lake in Manang.
---
Gosai Kunda lake is considered as one of the holiest lakes here in Nepal. Each year visitors from different countries trek in this region. Situated in Rasuwa district at an altitude of 4380 m, this holy Gosai Kunda Lake is located in Langtang National Park. During this trek, you will be able to get to see mountain ranges like Langtang, Himchuli, Ganesh Himal, Manaslu and other mountain ranges. In the month of August in the full moon, during the festival of Janai Purnima, people from different part of the country reach here and pay homage to this holy lake.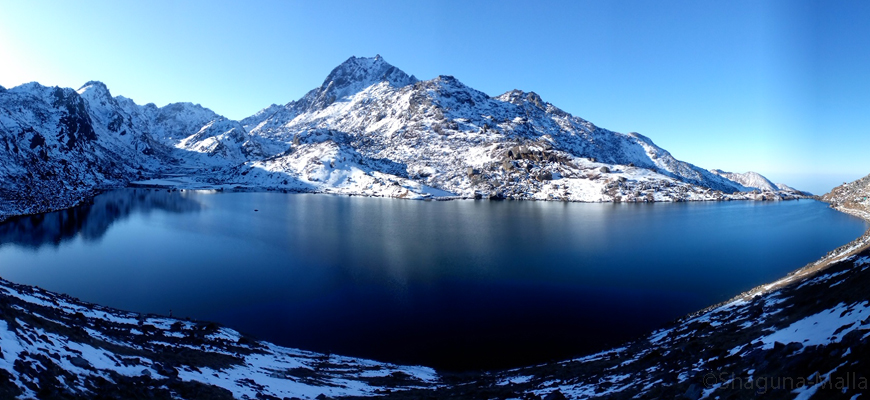 It is also believed that dipping in this holy lake will wash away your known and unknown sins that you have committed during your life. This Gosaikunda Lake trek can be done in different ways one from Kathmandu to Syabrubesi to Laurila Binayak to Shin Gompa to Gosaikunda and other is from Kathmandu to Melamchi to Shermathang to Tarkeyghyang to Ghopte and then to Gosai Kunda. According to your time and availability, we Trekking Trail Nepal are here to customize your itinerary as per your suitability. Request for Gosain Kunda Lake Trek.
---
This Rara lake is located towards the remote area of the west part of Nepal. It is located in Mugu district and is one of the biggest lakes here in Nepal. This Rara lake is also known as "Queen of Lakes. Different shades of colors can be seen in the different time of the day. Located inside the Rara National Park, this Rara area is a home to different species of animals and plants. Being located in the remote part, you will get to know about the typical lifestyle and way of living of the local people.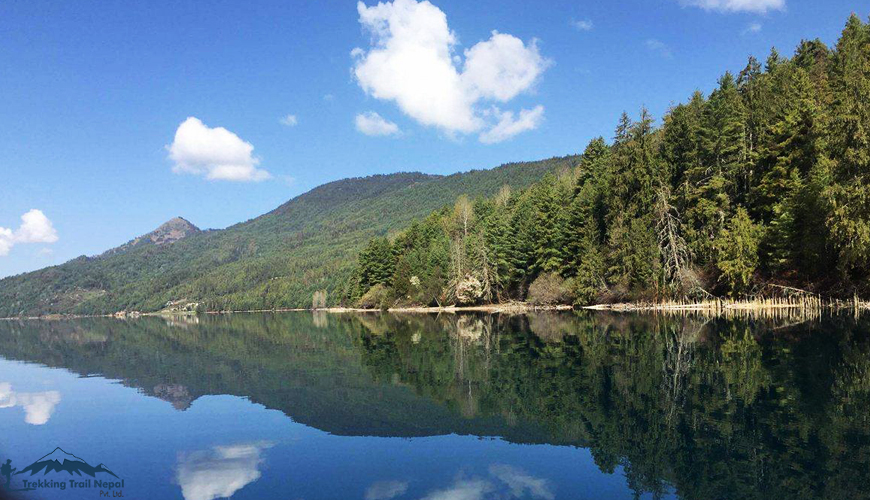 Upon reaching the Rara Lake, you will spend some time around exploring and then following the itinerary, you will be boating on Rara Lake and then hike up to Murma top, from where you will get a good view of entire Rara lake and surrounding mountains and hills. You can do Rara Motor Biking Tour with Trekking Trail Nepal too.
---
Pokhara is also known as the city of lakes have different big and small lakes. One of the famous lakes here is Fewa Lake which is in the heart of Pokhara city. You can go boating on the calm, green Fewa lake. From the lake, you will get the view of Mt. Macchapuchre and Annapurna range. You can also do boating and then hike up to peace pagoda from where you will get a beautiful view of the lake as well as Pokhara city and surrounding mountains.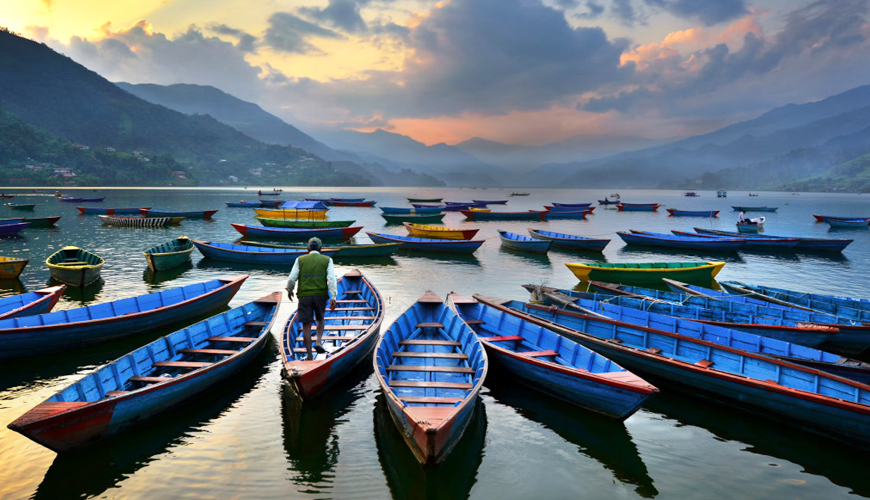 Other popular lakes here in Pokhara are Begnas Lake, Rupa Lake, Maidi Lake, and Khaste lake. Although these lakes are not so popular as compared to Fewa lake, the beauty, and the surrounding view is pleasuring and one can easily get indulge in the beauty of the lake and surrounding while boating around.
---
Thank you for your valuable time and interest for Lake Trekking in Nepal on this Blog entitled Lake Trekking In Nepal of Trekking Trail Nepal. If you are interested in any trekking in Nepal, Tours and Trips package in Nepal, India, and Bhutan, Yoga Trek and Tour in Nepal and Bhutan or any special needs please Contact Us.
Enquire Us