Mohare Danda Trekking Highlights 2023 | Eco Community | Short Hike | Itinerary
Although Mohare Danda Community Trekking is not an old route but it is one bast alternative to the most popular short trekking of Nepal: POON HILL. Normally 5-6 days of trekking trail, follow in a circular form just south of Annapurna Himalayas, Mohare Danda Trekking 2023 is proving one best trekking in Nepal. This new trekking route passes through the traditional village which fulfills the vision of Local Community Initiative Trekking in Nepal. Traditional village lifestyle, people amazing Himalayan views, community lodged, and home accommodation, untouched nature are major Mohare Danda Trekking Highlights.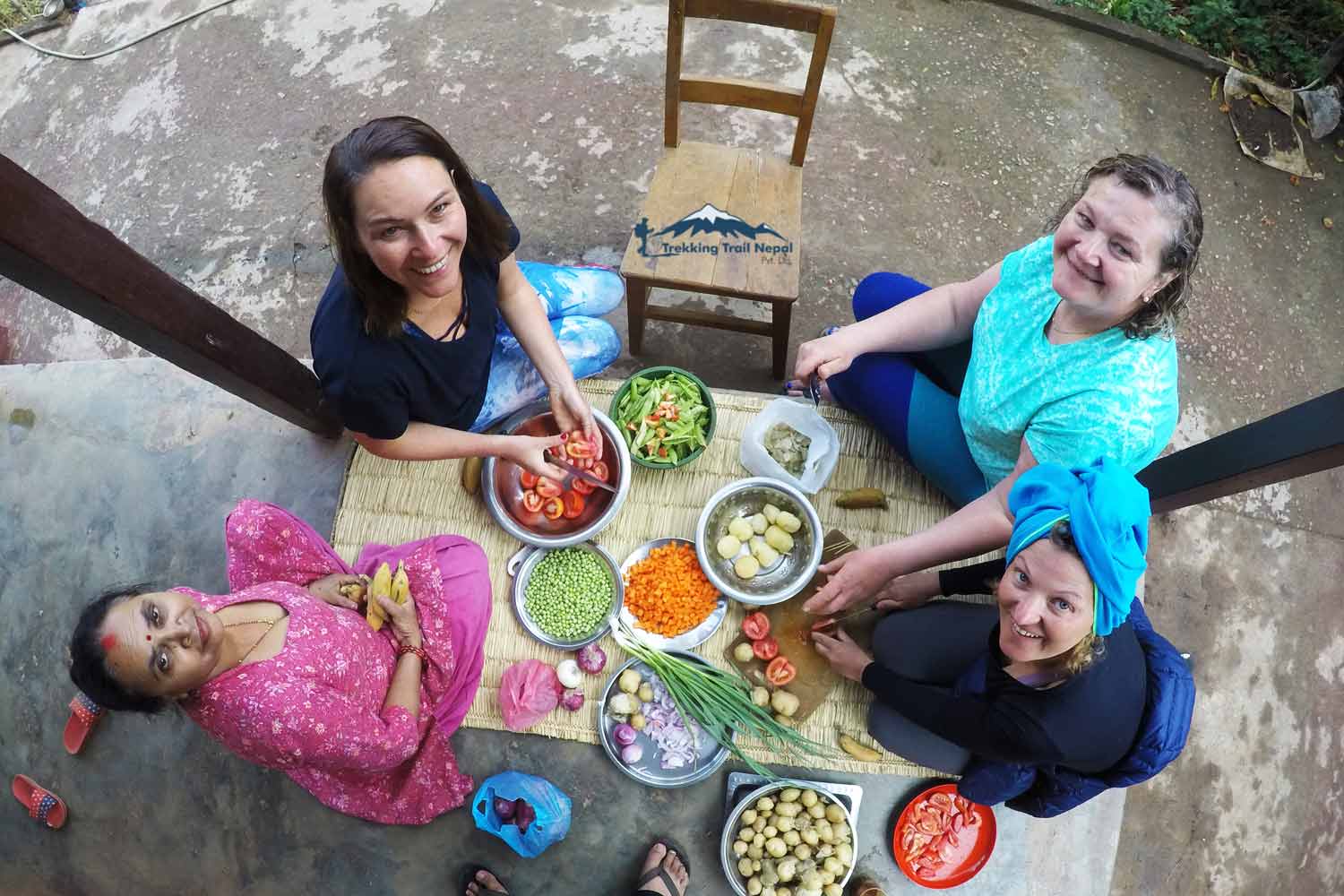 This new emerging trekking destination is achieving its objective of creating economic sustainability with Eco-tourism and trekking promotions. Although the whole area is close by major tourist attraction it takes ages to prove its potentialities and possibilities of tourism.
Where is Mohare Danda? Location Please!
Located south-west of the Annapurna Conservation Area Project by adjoining the border, geographically similar to Poon Hill. The actual distance of Poon Hill and Mohare Danda is not more than 4 Km. However, Mohare Danda already established as an alternative to famous Poon Hill or Short Trek in Nepal.
Mohare Danda Trek is the best alternative among those trekkers who wants to skip over commercialize and crowed Poon hill. The peaceful community lodge and viewpoint situated at 3313 meters are one Mohare Danda Trekking Highlights. In short Mohare, Danda Trekking is the perfect way to experience rural village, culture, Himalayas, Homestay, and virgin trail. Similarly, MOHARE DANDA TREKKING HIGHLIGHTS includes sustainability eco-community trek, real POON people, community and homestay accommodation, and many alternative trails.
MOHARE DANDA TREKKING HIGHLIGHTS in Short:
The traditional and culturally rich village, cultures, costumes, lifestyles of Poon Magar.
Spectacular views of Manaslu, Annapurna, and Dhaulagiri Himalayas ranges.
Less crowded trekking trails within untouched nature.
The first community-based trekking route of Nepal.
Community and homestay accommodation fore real experience.
Let's talk about 7 MOHARE DANDA TREKKING HIGHLIGHTS

1. Spectacular Panoramic Himalayas Views – The Best Part
Almost all Trekking Trail in Nepal offers the stunning vistas of Himalayas. However, with Mohare Danda Trekking you will get the striking panoramic views of Himalayas. Not limits of one or two. In short, you will able to see up to 4 Himalayas range and over 34 mountains. With the best weather, there is one match of any other trek or viewpoint for these spectacular and Panoramic views of Himalayas.
Normally 3 mountain range Dhaulagiri, Manaslu, and Annapurna Range are visible from the top of Mohare Danda. Additionally, you will experience the 7th, 8th, and 10th highest mountain of the world from the respective range. Most importantly, if you get lucky with the weather, you will see some peaks from Ganesh Himalayans range too. Mohare Danda Trekking Highlights is not limited to the Himalayas views. The views of the deepest valleys of the world over Kaligandaki River with green valleys towards Pokhara also help to make Mohare Danda Trek the best. Likewise, green and virgin trails, beautiful villages and terraced fields, the green hill are the major attraction of Mohare Danda Trekking.
2. Eco-Based Community Trekking
Mohare Danda Trek is the part community base sustainable Ecotourism. This is the first kind of its in Nepal, widely known as Annapurna Dhaulagiri Community Trekking Trail. The whole design of trekking routes, training for locals, quality control of food, and accommodation, technical support is coming under MEDeP. Micro-Enterprise Development Program (MEDeP) is the UNDP associate project working for creating jobs, income with local resources, and opportunities. Which ultimately focuses on uplifting the economic standards of local people.
MEDeP is doing all the initial investment not only related to tourism. They also provide training for handloom, paper crafts, agriculture farming, knitting, and more.
Eco-Based Trekking of Mohare Danda gives benefits to the community than any private business or individual. The principle of community and eco-based tourism activities is another pinnacle of MOHARE DANDA.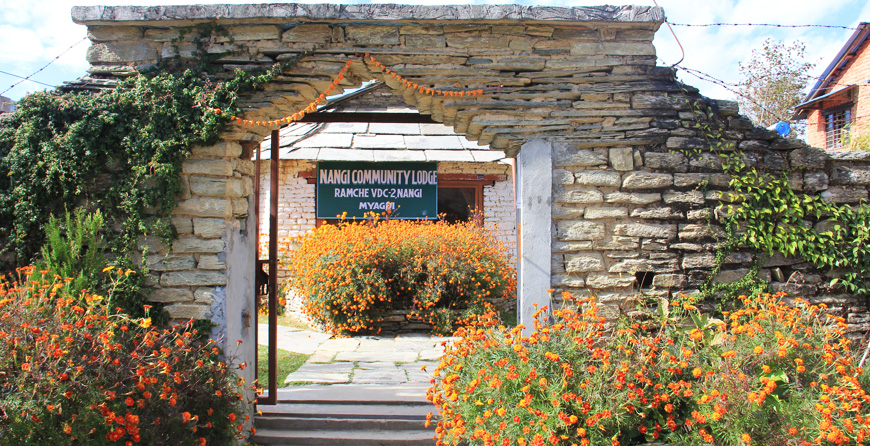 3. Home Stay and Community Lodge Accommodation
Talking about the Mohare Danda Trekking Highlights, the accommodation feature is one point to describe. The whole trekking area of Mohare Danda is accommodated by either community lodge or homestay. The biggest and dense village offers homestay facilities with separate complexes. Likewise, Nangi, Danda Kharak, Mohare Danda, and Danda Katari have community lodge accommodation. Most importantly, food and drink services are provided by a community dining hall unless special requests made. No matter what, the benefit comes from tourism activities that will split into the whole community.
Spending time with local people in their house, help to share and know more about their culture and traditions. If you are food junkies, homestay is best to try some traditional foods, drinks, and tidbits. Don't forget to ask for a homemade Raksi. A homely environment with homestay or Community lodge is the MOHARE DANDA TREKKING HIGHLIGHTS makes different trekking experience in Nepal.
4. Fruits Fields Foods and Forest on Mohare Trekking
Because of various temperature and climatic zone, Mohare Danda Trek offers varieties of local productions, fruits, and food. Similarly, different plans need different agricultural fields, pattern as well as fields types. The rice fields below Banskhara, millet farm of Dandakatari, potato fields of Nangi, and buckwheat fields of Tikot are differences to each other. Similarly, the soil and temperature give different fruits to different villages. You can try Kiwi in Tikot, while orange and strawberry in Banskaharak. Do not forget to try the organic vegetables from Nangi Village Farm.
The hard popcorn of Nangi and different fried beans of Tikot with YarsaGumba Raksi from Danda Kharka are other attractions of Mohare Danda Trek. In the same vein, no one will forget the beauty, peace, and calm of dense alpine rhododendron forest between Banskharka to Tikot village. In short fruits, fields foods and forest are the Mohare Danda Trekking Highlights
5. Smiley Local People Of Mohare Danda Trekking
The whole trekking trail is based on Community and Eco-Lodge, which is not possible without smiley people. Local community and people are expecting positive changes in their standard of living with trekking activities. Above all, they perfectly preserve and care for their hundreds of years of old traditions, culture, and lifestyles. Local people are getting open-minded with a broad vision. Local people on Mohare happily love talking and share the feeling, dreams, and life with a great smile on the face. The biggest village-like Banskharak, Nangi, Ramche, Histan Tikot is the home of Pun Magar and Chetttter. These ethnic groups meant to serve in Gurkhas Soldiers for the British Army, Singapore Police, and the Indian army.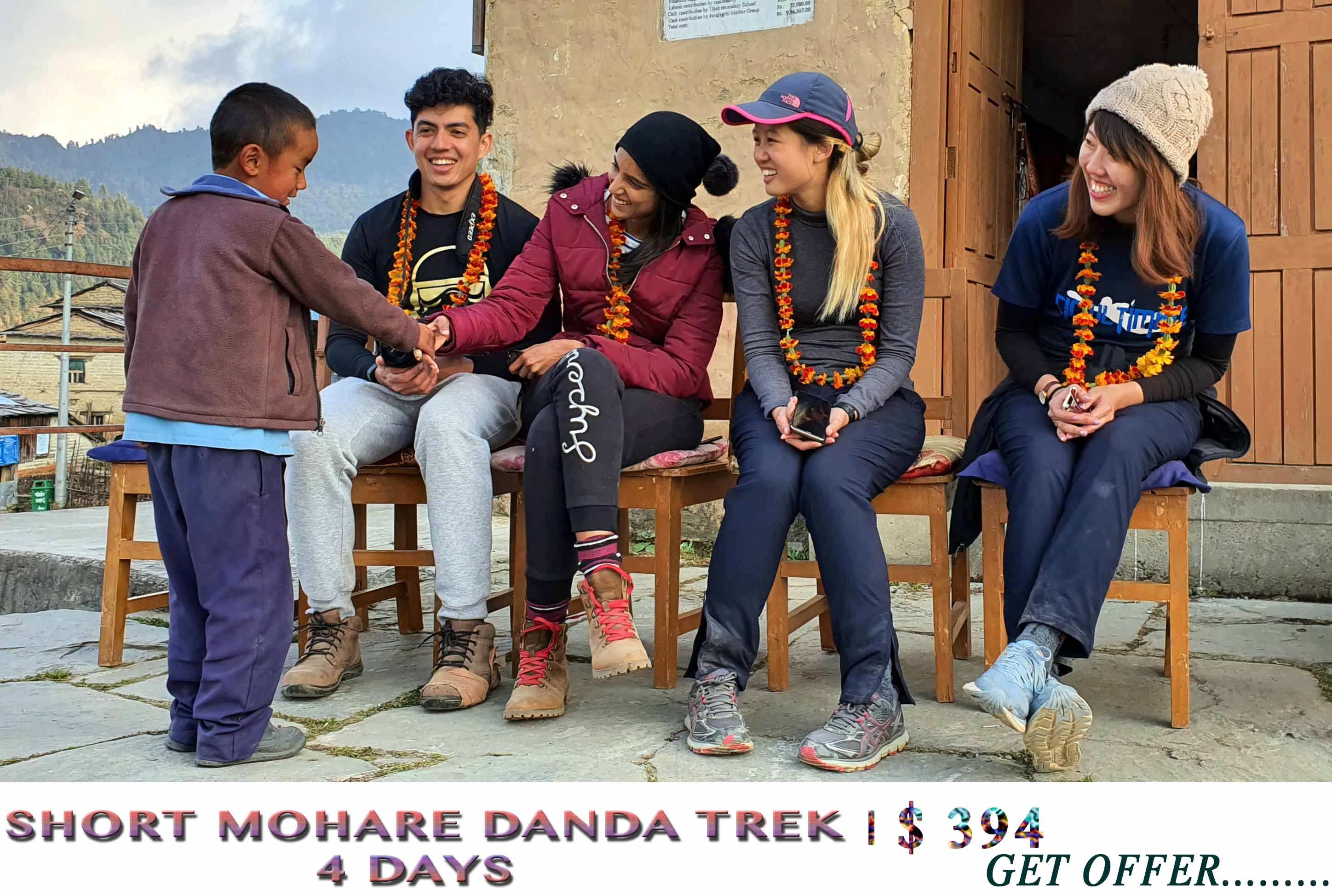 Local peoples of the Mohare area are eager to offer their best accommodation with home-stay. Smiley Local People with real traditional, culture, day to day lifestyle is another BEST PART OF MOHARE DANDA TREKKING.
NOTE: The name of popular Poon Hill is coming from PUN Magar. Mohare and Ramche Histan region just south of real Poon Hill is the biggest town of these Poon people. Because of Himalayas' views and the village of PUN Magar, Mohare Hill is being mentioned as Real Poon Hill Trek.
6. Best Alternative Moderate Short Trek – Another Wow Factor
Mohare Danda Community Trek is the best alternative route with moderate difficulty. Just like Poon Hill trek, Mohare Danda can be combined with other popular trekking of the Annapurna Conservation Area. Popular treks like Annapurna Base Camp Trekking (ABC Trekking), Annapurna Circuit Trek, original short Poon Hill trek, Hot Spring Trek and Jomsom PoonHill Trek can be combined easily.
Above all, single Mohare Danda Trekking can be completed by many alternative routes. As your needs and availability, you can select the best itinerary of Mohare Danda Trekking and experience the adventure of community Eco-trail. Moreover, short Mohare Trek can be completed in 3 days while longer can goes to 12 days. However, 10 Days Mohare Danda Community Trek is the best alternative that comes with all attractions.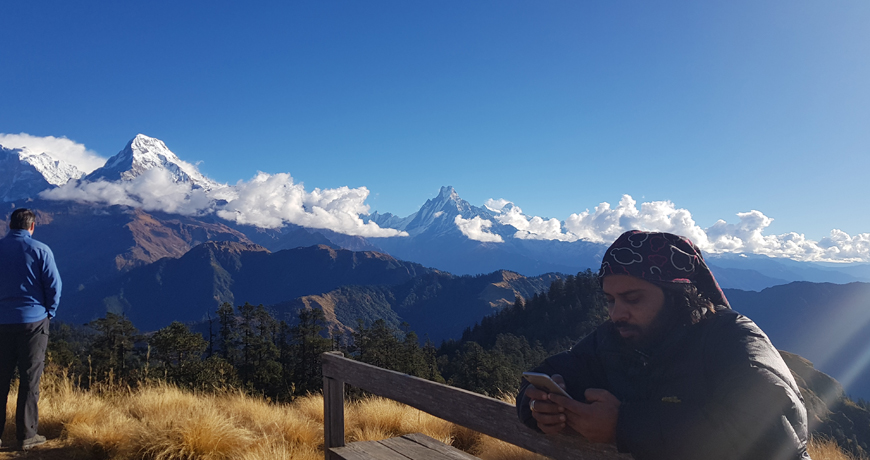 Being close to Pokhara makes Mohare Danda Community Trekking the best destination for a short trek in Nepal. Centrally located, adjoin to other trail and many starting and ending points are another MOHARE DANDA TREKKING HIGHLIGHTS. You can skip the bustling and overrated Short Poon Hill Trek with Mohare Danda Community Trekking. Even you can visit PoonHill with Mohare Trek with peaceful nature without other trekkers.
7. The Most Popular Mohare Danda Community Trek Itinerary
Day 1: Arrival and equip for Mohare Danda Community Trek. If you like to try a night coach in Nepal, this is the best time to try this adventure. This is the one best luxury but services in Nepal.
Day 2: Kathmandu to Pokhara drive or fly. If are flying, you can start the trek on the same day and reach Banskharak Homestay.
NOTE: If you start early from Beni Bazar, you can easily reach Nangi Village in one day. Nepalese travelers can enjoy night luxury coaches from Kathamndu to Beni and nest day to reach Nangi.
Flow Itinerary from Day 3 to Day 3 For Short Mohare Trek from Pokhara
Day 3: Pokhara to Beni Bazar Drive and trek to Bansi-Kharka via Mallaj.
Day 4: Trek from Bans-Kharka to Nangi village. Lunch place is Danda Katari community lodge close to Banbade Village.
Day 5: Nangi Village to Mohare Danda community lodge via Hampel Danda. This is the most beautiful trek. The lunch place is very basic. Only Dal-Bhat and black tea on the menu. But worth to enjoy light snack later with an alpenglow sunset view from Mohare Danda. Although it is a tough hike up, it worth it to reach the ultimate viewpoint of Mohare Danda.
Day 6: Mohare Danda to Phulbari or Danda Kharka via Poon Hill. Your day starts with the most beautiful sunrise. The widest and golden sunrise makes you stick with viewpoint. Similarly, After breakfast, you can visit Poon Hill for extra memories.
Day 7: Trek to Tikot Village Histan. The longest hiking of the Mohare Danda Community Trek. Above all no lunch or drink place is touch. However, the wild nature makes you forget about the food until we see the Tikot village below from our trail
Day 8: Trek down to Baseri or Typlyang and Drive to Pokhara via Beni. One of the easiest as well tiring hike of Mohare Danda Trekking. Although, it is all downhill on the stone stairs. The slow and steady hike will help you to save your knees and calves. But you will have a great night in the luxury of Pokhara with Music, Mocktail, and Message.
In Basheri or Typlying Mohare Danda Community Trek comes to End, However, the adventure continues to roll on the road.
Day 9: Pokhara to Kathmandu. Enjoy an extra night in Pokhara or back to Kathmandu. You have lots of days and adventure activities things to do in Pokhara, Need Help? Ask us?
Day 10: End of Mohare Danda Trekking. This is just an end of Mohare Danda community trekking in Nepal. In short, this moderate trek is the start of other beautiful trekking trails in Nepal. You will realize when you share your experience and picture with your circle back home.
MOHARE DANDA TREKKING HIGHLIGHTS in Conclusion
No doubt, Trekking in Nepal is the most popular adventure activity. Every year's thousands of travelers flooded to experience the Highest Mountains views of the Himalayas, nature, culture, people, traditions, and more. Views of Annapurna, Manaslu, and Dhaulagiri, Eco-Community based trek with a homestay, smiley people, beautiful nature, fields, and foods with moderate trekking trails makes Mohare Danda Trek the best alternative. MOHARE DANDA TREKKING HIGHLIGHTS surely make you think about this beautiful short trek.
Enquire Us