Mohare Hill is Second Poon Hill
The newly opened Mohare Danda Trekking Trail to the top of Mohare Hill of 3300 m is a good alternative to the bustling Poon Hill Ghandrung Trek. Mohare Hill ( Danda ) is the lies south-west of the Poon Hill in the distance of 5 Kms offers the same views with virgin trekking trail with accommodation on lodge run by the community of Mohare and Ramche Village. This Trekking Trail to Mohare Danda is the best Trek to experience the real Nepal with unspoiled nature, peace, local tradition and rural lifestyle.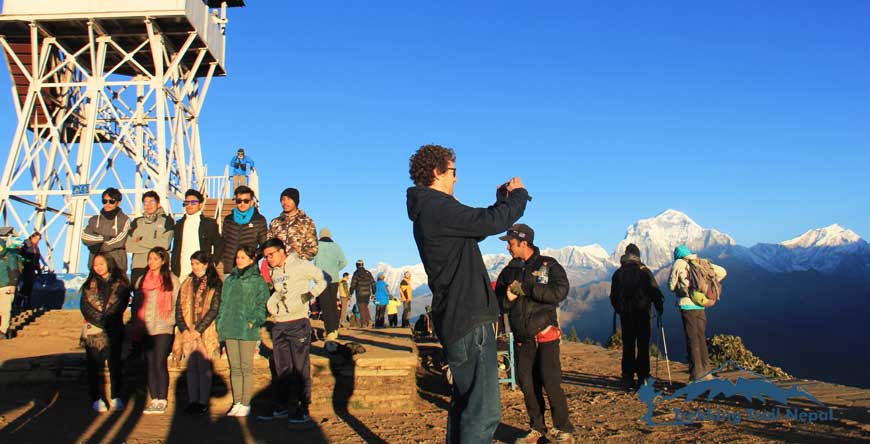 Short Mohare Danda Trekking can be done in 4 Days in minimum from Pokhara to Pokhara with completely different trekking trail with Poon Hill. While you can choose the longer Mohare Danda Trekking up to 21 days as your interest and time available.
Mohare Danda Trek takes you to the top of Mohare Hill at the height of 3300 m crossing via different tradition villages. This Trek to Mohare Hill not only offers picturesque views of Himalayas but the rural life of Nepal. Peaceful green forest and organic farm add more attraction to Mohare Hill Trekking as Alternative Trek to Poon Hill.
The better and wider same views of Annapurna, Dhaulagiri Himalayas Ranges is more spectacular than from Poon Hill. In addition to this Annapurna I, Mt Manaslu, Buddha Peak can be seen from Mohare Hill. Furthermore, Views of Fewa Lake and Pokhara at night makes this Mohare Hill Trek Second Poon Hill. Although the trekking trail to Mohare Danda is not accessible as compare to Poon Hill which scarce logistics ( which will vastly improve as the Trekking Trail gets more popular ), The feel of charting relatively new territories will compensate for the luxury of amenities in the more popular Poon Hill Trekking and Everest Base Camp Trek 2023.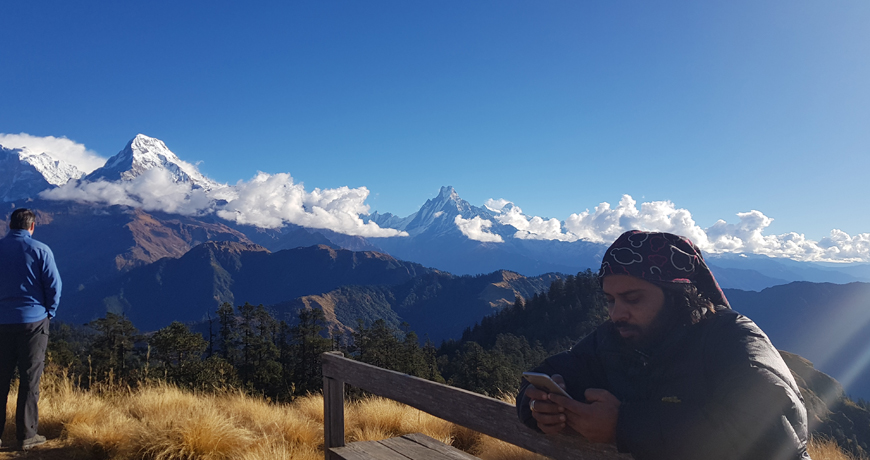 Limited Numbers of Trekking Lodges on Mohare Hill Trekking Trail makes it more complex to choose this trek in last minutes. Every village of Bans Kharka, Nagi, Danda Kharka and Tilkot have only one community lodge. In addition to this, they will manage the best Homestay Accommodation in nearby Home. But Mohare Hill, have only on Community Lodges which can offer just 32 bed for trekkers and they do not any homestay facilities there on the Hill Top of Mohare Danda. The one and only option is Tent or Dining. As the information provided by Ramche Community Lodge, more 24 beds will be added in 2018 in Mohare Hill.
---
Why is Poon Hill Trek is The First Choice for Short Trek?
Poon Hill is in the top position on easy and best trekking in Nepal, epically short treks from Pokhara.
Easy access to the viewpoint of Poon Hill which stands at 3210 m above sea level offers splendid views of Himalayas is the first reason.
Completely different trekking trail, good and best accommodation, flexible Itinerary for shorter and Longer Treks add more importance to this Poon Hill Ghandrung Trek.

The meeting point of various adventurous trekking to the poon hill make it more popular in the Annapurna area. Trekking like Annapurna Base Camp, Hot Spring Trek, Ghorepani Ghandrung Trek, Poon Hil Jomsom Trek, Annapurna Foot Hill Trek, Khopara Trek even Annapurna Circuit Trekking original trail meet in Ghorepani, just in the lap of Poon Hill.
The long history of the decade makes the more favorable name in the international market.
Large numbers of commercial and comfortable teahouse accommodation.

---
Why Mohare Hill Trek is Second Poon Hill Trek
Trekkers want to reach beyond the trail for peace, nature and real adventure trekking in Nepal.
Mohare Hill Trek comes with the flavor of Poon Hill Trek but keeps the tastes of Bustling Trekking Trail and Big Commercial Hotel and services away.
Trekkers are searching for new taste and trail as alternative Poon Hill with same offers.
Village and homestay and community lodges accommodations make Mohare Hill Trekking best alternative for Poon HIll.
Mohare Hill Trek Itinerary can be adjusted with Lespar, PuranoGaun, Falame Danda, Nagi Village, Banskharka, Danda Kharak even with Ghorepani Poon Hill.
---


Some Honourable Mentions of Trekking Trail Nepal
If you want to follow the adventure and experience the Himalayas with trekking in Nepal, Moreover wants to explore the unexplored trekking trail in Nepal. Please shares, Like, Comment and Suggest Edits to our Blog of Mohare Hill as a second Poon Hill, A Best and short trek from Pokhara.
Enquire Us