Bisket Festival - New Year Festival in Nepal
Bisket or originally known as Biskaa: is one of the important and longest festivals here in Bhaktapur district of Kathmandu Valley. The almost whole town comes to one place to celebrate this festival. It is an annual event which lasts for 9 days and 8 nights, during the month of April. This is also the date when Nepali New Year is celebrated.

The main attraction of this Bisket Festival is the pagoda style chariot pulling of Lord Bhairab and Goddess Bhadrakali, which are construction few days prior to the festival. These chariots are constructed at the Taumadi square where there is a temple of Nyatapole and Bhairabnath. The whole inner town becomes energetic and colorful after the start of the festival. There is music playing in each corner of the town. The local participation during the pulling of the chariot is worth watching. During the first day, each member of the upper and lower town tries to pull the chariots in their respective town. No matter which part of the town wins this tug of war, the chariot is brought back to Gaa: Hiti: at the end of the festival. For the next two days, different rituals take place to worship the god and goddess. The maintenance of chariot takes place if there has been any damage during tug of war. The fourth day, chariot is taken to the Bhelukhel where about 70 foot long pole "Yo Sin" is erected with the help of rope and supporting poles. The huge number of crowd gathers around and performs different rituals, singing and chanting hymns playing musical instruments.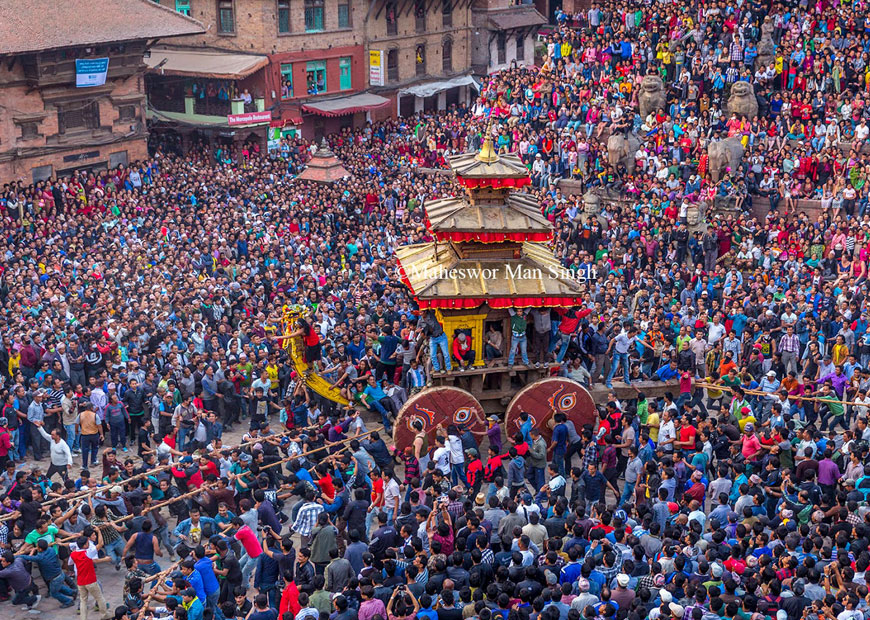 On the fifth day of Bisket Festival, people worship different deities like Ganesh, Barahi, Maha Lakshmi, Mahakali in their local areas. In the evening, the erected Yo Sin in Bhelu Khel is pulled down. This normally happens during midnight. Crowds excitingly wait for the pole to be pulled down. Sixth day is the New Year, where devotees in Thimi welcomes the new year by throwing vermillion known as Sindur Jatra and people from different local communities carry a wooden chariot on their shoulder. The whole Thimi covers in red vermillion.
For the next three days, people around Bhaktapur and other areas of the town comes to Bhaktapur to witness this festival. On a ninth day, the chariot is pulled towards the respective homes. This is the New Year Festival that local people have preserved till date. You will get to see the local culture, taste the local cuisines, and experience the liveliness of Bhaktapur.
---
If you interested to celebrate this types of Colourful, Exciting, Religious and Spiritual festivals in Nepal of the different culture, Please CONTACT US. Trekking Trail Nepal will arrange all the requirements with an experienced guide so you can experience the Festivals in Nepal.
Enquire Us