Pokhara International Airport - New Regional Airport
Pokhara International Airport is under construction to get the permanent solution of the single airport to Kathmandu International Airport. Problems like air traffic, parking congestion, and old technology is synonym to the only International airport of Kathmandu. In short, Pokhara Regional International airport will be the beginning of a new era of the aviation industry.
Two international airports, Gautam Buddha International Airport and Neejgadh International airport, are pride projects of the Nepal Government. CAAN and Nepal Government also aim to complete and operate Gautam Buddha International Airport in Lumbini by the end of March 2021.
Although Pokhara Regional International airport was targeted to be complete on July 10, 2021, under the plan of the national pride project, the time has been extended till July 10, 2022, due to problems in completing the construction work on time due to Covid-19 second wave and possible third one, said project chief V. Munakarmi.
Date: August 8, 2021.
New International Airport of Pokhara Is An Alternative to Kathmandu
Besides this newly constructing Pokhara International Airport, there is already one small domestic airport. Nepal Government is making this Pokhara International Airport in Gandaki province. It lies just 3 km east of the current domestic airport. Civil Aviation Authority of Nepal (CAAN) acquired 155 Hectors of land in 1975 from local. However, the total area of Pokhara Intl Airport will be 200 plus Hector by its completion.
This airport will have one 45-meter wide and 2500 meter long runway. So Pokhara International Airport will handle jets like Airbus A320 and Boing 737s with sufficient parking spaces, terminals, and hangars. There will be less air traffic in Tribhuvan International Airport after the Pokhara Regional International Airport operation. Tourists will now have an option to land either in Kathmandu, Pokhara, or Lumbini from the international flights.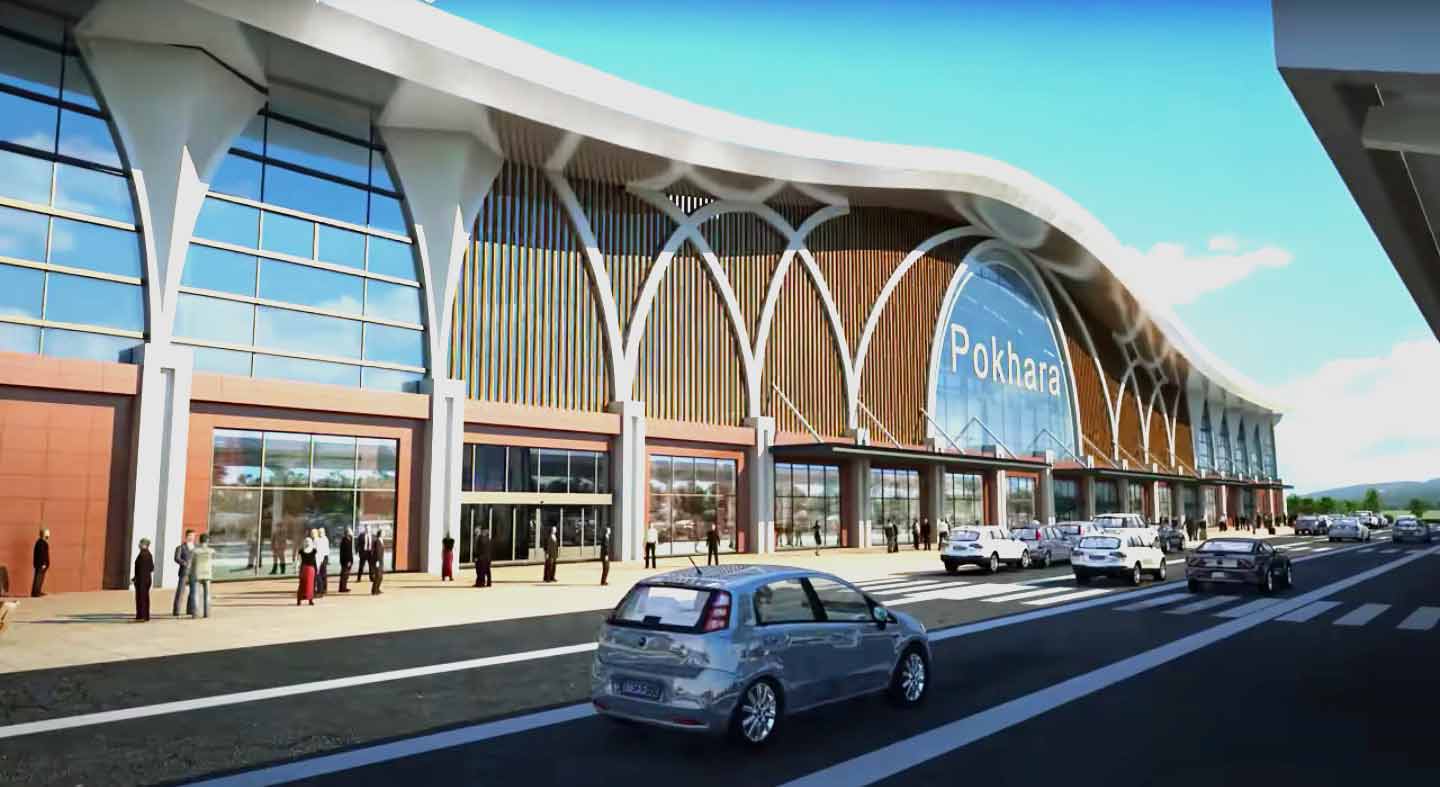 .To welcome the international tourist directly to Pokhara, Honorable Prime Minister KP Oli laid the foundation stone three years ago. The target to finish this and hand this project to the Nepal Government is in July 2021. So, the construction worker has been working continuously to meet the deadline, even in the period of Coronavirus lockdown. The workers are working hard to complete 92% of the work by 2020. In the same vein, the rest 8% by 2021 September, and get ready for the operation of Pokhara International Airport. It will help thousands of trekkers and travelers skip the crowded sky and land of Kathmandu. It will also help to contribute to economic and social development as well as promote tourism.
Construction and Funding of New airport of Pokhara
To build this mega project in Pokhara, the Civil Aviation Authority of Nepal handed this project to Chinese CAMC Engineering. In may 2014, CAMC and Nepal Tourism Ministry sign the contract was. However, the construction begins in 2016 April. CAMC Engineer Company got the contract from CAAN for airport engineering, procurement, and construction. In addition, EXIM Bank of China provided a $215.96 million loan with an agreement to the Nepalese Ministry of Finance. After all the procedures, the construction started in July 2016. This airport project has created many employments during construction, which goes further even after the operation phase. As the latest work progress reports from the Civil Aviation Department, over 62% of the project is already completed.
Finally, all national and international travelers will get benefits with the completion of this Pokhara International Airport. And will have an option to land in Pokhara Instead of busy transit in Kathmandu as Pokhara is one of the major tourist destinations. Indeed, this will serve as an aerial gateway to the most popular Annapurna region trekking

Best Trekking From Pokhara Airport
Pokhara is the second biggest city in Nepal after the capital city of Kathmandu. Similarly, the natural beauty of Pokhara with a variety quality of Himalayas, Lakes, Valleys, Forest, and center of Adventure activities make Pokhara Best City.
Manaslu Trekking Region surrounds them in the Northeast, Mustang, and Annapurna Trekking Area on the North. Likewise, Dhorpatan and Baglung on the west make Pokhara a center for trekking in Nepal. After the operation of Pokhara International Airport, it will be easier for you to complete the many trekking in Nepal in your short time. Here is some Best Short trekking from Pokhara, and around that, every trekker will benefit from Pokhara Airport.
10 Best Trekking From Pokhara
- Poon Hill Trekking. 2-5 Days
- Dhampus Sarangkot Trek. 2-4 Days
- Mardi Himal Trek. 4-8 Days
- Mohare Danda Trek. 4-7 Days
- Poon Hill Jomsom Trek. 5-8 Days
- Khopra Trekking. 8-10 Days
- ABC Trekking (Annapurna Base Camp Trek). 4-9 Days
- Upper Mustang Trek. 8-10 Days
- Dhaulagiri Sanctuary Trekking. 8-10 Days.
- High Bridge Trek. 7-9 Days, and Many More.
.
Some Facts of New International Airport of Nepal
The construction of the Pokhara International airport was started in April 2016 after 40 years of corrupt planning since 1976.
It is expected to be completed in 2021, costing US$ 305 million, and was construed by china CAMC Engineering.
The airport will have 2500 meters concrete runway with a parallel taxiway that can accommodate medium-range jets like Airbus 320s and Boeing 747/757s
The parking bay will be able to handle up to 5 narrow-body aircraft.
Pokhara Regional international Airport will have two terminals with an area of 14,000 square meters.
The first one is domestic with 6000 square meters, and the second is International with 8,000 square meters, which will handle one million passengers annually.
So far, works like a runway, taxi parking, terminal building, apron have been completed.
It is unclear if the Pokhara International Airport will introduce new air routes, destinations, or flights that the Kathmandu international airport lacked or only take 20% of Tribhuvan International Airport in/outbound flights.
New Airport of Gandaki, Nepal is the Habitat of Vulture and Eagle
As the news of Kantipur Daily on September 10, 2020, the construction of Pokhara Regional International Airport continues. However, new challenges arise from the birds like vultures and eagles. Various bird conservation groups working around the Pokhara and Lekhnath warn the Civil Aviation Authority of Nepal (CAAN) and Pokhara International Management Committee to develop effective plans to solve this problem. Ultimately this helps airport management to stop future unforeseen incidents. Birds Conservation leader further adds that two rivers Frushe Khola on the south of the airport and Bijayapur River on the East, are the best habitat for these carnivorous big endangered birds. These rivers carry lots of dead animals from far away, which works them as food providers.
Pokhara International Airport Completion Get Delay: News Update July 7, 2021
Online news of Nepal mentions that on July 6, 2021, it will take another six months to complete the construction of Pokhara International Airport. However, it comes under the national price project.
Previously it was paan to complete by mid-July 2021 but could not achieve the mentioned timeframe due to the Covid-19 pandemic. Deputy Manager of Pokhara International Airport Project said the delay is due to the second wave of Covid-19 as Nepal apply 72 days of nationwide lockdown in April-June. However, the work was not in halt but the number of workers down to 200 from 500. To complete the project on time, we need 300 Chinese technical workforce, but we all his out of control due to the Covid-19 second wave. Currently, 160 Chinese technical crew are at the job.
As the report of June, Pokhara International Airport, only 94% of physical work is finished, which was 92% in December 2020. To date, the work section of Taxi Parking, terminal, apron, and runway is completed. However, Pokhara International Airport's delay means it will push its completion to March 2022.
TIMELINE: UPDATE
Starting in 1976, to acquired 155 Hectors of land.
A loan from EXIM Bank of China $215.96 million.
Contract signed between Nepal Government and CAMC Engineering in 2014.
Physical work starts from 2016 July.
62% Physical construction completed till July 28, 2020.
One of the Pride projects of the Nepal Government.
Less affected by COVID-19 Coronavirus global pandemic and lockdown.
The second wave of Covid-19 push the completion of Pokhara Airport 6 months late.
By the end of June 2021, only 92% of jobs is completed, which was 90% in December 2020.
The new completion date is March 2022.
Although Pokhara Regional International airport was targeted to be completed on July 10, 2021, under the plan of the national pride project, the time has been extended till July 10, 2022, due to problems in completing the construction work on time due to Covid-19 second wave and the possible third one, said project chief V. Munakarmi.
New International Airport of Pokhara in Conclusion
No limits to this; juggle in between Annapurna Trekking Region, Dhaulagiri, and Manaslu Himalayas trekking that you can start from Pokhara. Above all, with the operation of Pokhara International Airpot, new trekking destinations will rise along with the above popular treks. In short, Pokhara International Airport does not only help you to travel straight here but also helps Nepalese economy and Tourism activities.
Enquire Us