Experience The Ultimate Peace and Nature: Traveling Nepal During Covid-19
Since the Covid-19 pandemic terrorized the world, a lot of travel and vacation destinations have suffered. Now almost 7 months in the outbreak slowly countries are starting to reopen their doors for tourism but here comes the good news and opportunity of Traveling Nepal During the Covid-19. Nepal is no exception, as a major destination for trekking, touring, and expeditions. With new rules and safety measures in place, tourism is ready to resume in Nepal, and Trekking Trail is there to organize your long-awaited trip! While not every destination is reopened, at least a dozen famous trekking and touring destinations have resumed operations. Making it possible to again enjoy the Nepalese Himalayas in a peaceful and safe environment.
What are the current rules and regulations for traveling Nepal DURING COVID-19?
The ministry of Nepal has put out some rules and regulations regarding tourism in Nepal, but these rules are a bit unclear for most, so Trekking Trail is here to help and guide you through these.
Terms and Conditions to be followed by foreign tourists for trekking and expeditions in Nepal:
1. You must obtain your tourist visa before arriving in Nepal, for those who don't have access to a Nepalese Embassy or Consulate, a visa on-arrival can be organized through your travel or trek organizer.
2. The following documents should be with you at the arrival immigration service:
a. Negative report of RT (Polymerase Chain Reaction: PCR) test taken within 72 hours before arrival.
b. Visa or prior approval document (ref. Article 1) for entry to Nepal.
c. Hotel booking for at least 7 days' quarantine in Nepal.
d. Insurance Coverage of at least US$ 5,000.00 (Five Thousand US Dollars) against COVID-19 per person.
3. After entry in Nepal, you are required to stay in your hotel for a period of min. 7 days.
4. During your 7 days quarantine you are required to take another PCR test on your own expenses, in order to be allowed to continue on your trek or expedition in Nepal when getting a negative RT PCR report.
5. Upon obtaining a positive RT PCR Report for Covid-19, you are required to remain in quarantine untill a negative test report can be presented.
6. During your trek or expedition all rules and health protocols issued by the Ministry of Health and Population needs to be followed
So what do these rules all mean? Trekking Trail Nepal, will explain them in clearer terms. First of is the issue of arrival visa to enter Nepal. Before the outbreak almost all countries could just upon arriving in Nepal get their tourist arrival visa of 15-30 days. Now you need to request your visa via the Nepalese Embassy or Consulate in your respective country. If this is not possible, then Trekking Trail Nepal can request your Visa and send you the necessary documents that will allow you to get the Visa upon arriving in Nepal.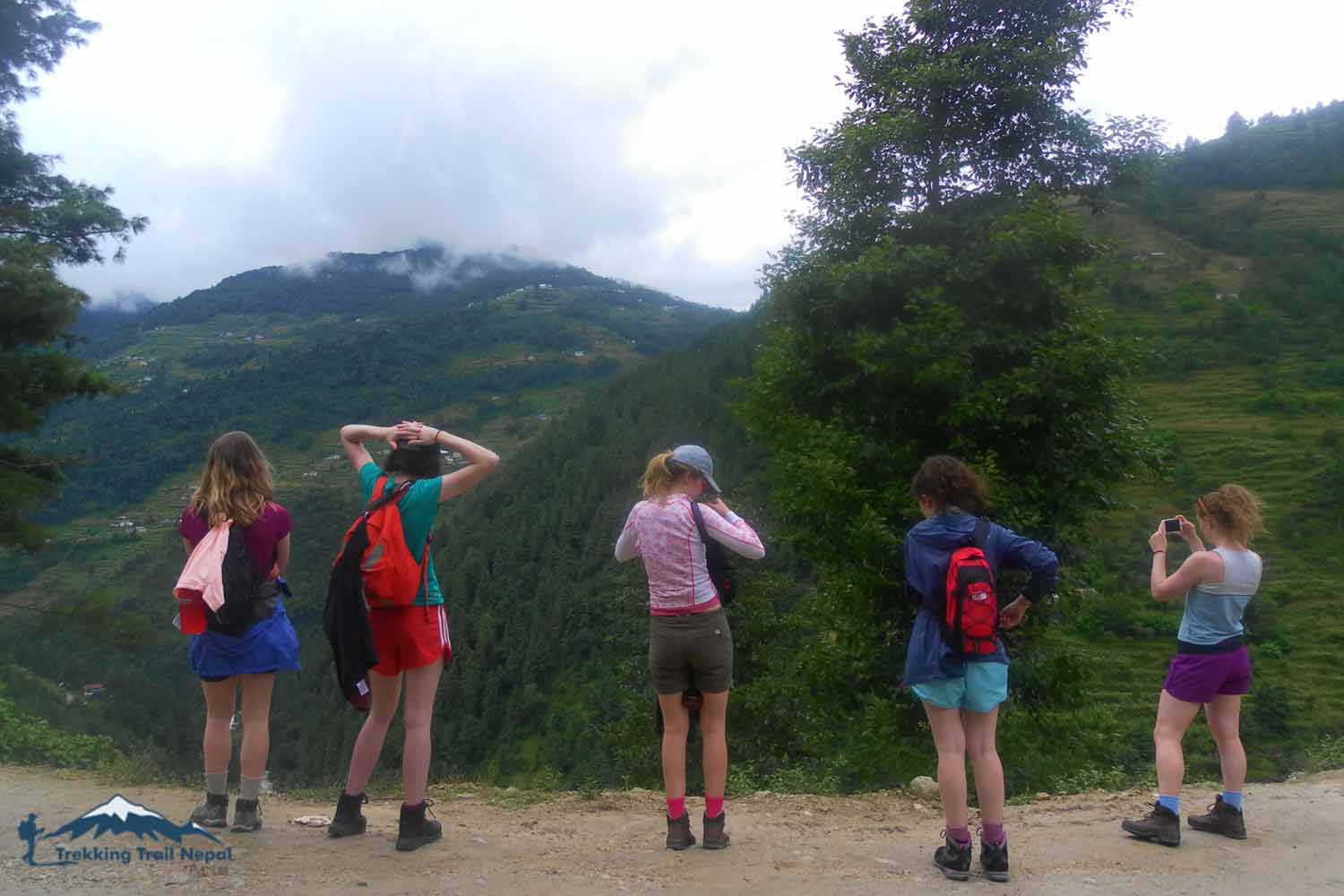 Another mandatory point is that you need to submit and bring with you a negative PCR report of at least 72 hours before arriving in Nepal. For those who request the Visa via Trekking Trail a copy of this report should be send at least 24 hours before your departure.
7 days hotel quarantine upon arriving in Nepal? Don't worry this rule is there for those who entered Nepal coming from a hot zone country only or for those who were on the same flight as a Covid-19 positive person. With all trips and tours in Nepal it always starts with an overnight in Kathmandu. A minority of hotels have been reopened in Kathmandu with allowance from the Nepalese Government and by abiding to the safety and health rules during the Corona Virus outbreak. Trekking Trail Nepal only books hotels that are deemed as safe to stay so there is nothing to worry about!
The other rules are pretty basic. You need to be insured for Covid-19 which you can get from a reliable travel insurance seller and you're good to go on your trip to Nepal with Trekking Trail. For more detailed info you can always follow the latest updates of ( NTB )Nepal Tourism Board.
What do I need for Traveling Nepal during the Covid-19 outbreak?
With all these news and regulations in place, there are basically 2 additional things that you need to bring with you in order to travel to Nepal during the Covid-19 outbreak. First of is your PCR Covid-19 negative report with a validity of 72 hours before you depart to Nepal. The other is insurance for Covid-19 of min 5000 $ USD. Trekking permits and other documents will be organized by Trekking Trail and are inclusive in the package prices.
Other things you might want to bring are your own face mask, a personal sleeping bag, and your standard gear for an adventure in Nepal! Trekking Trail's travel team is available 24/7 to answer any other questions you might have on what to bring to Nepal.
How can I book a trip in Nepal during Covid-19 Coronaviurs?
To book your trip to Nepal during the Covid-19 outbreak with Trekking Trail is just the same as before. Be noted that not all destinations in Nepal are reopened, so during your booking make sure to consult on the options available with Trekking Trail's travel team. To book your trip simply mail, or use our website's booking form. Send us a copy of your Covid-19 insurance and your negative PCR report 72hours before departing and you're good to go! Trekking Trail Nepal will book your accommodation in a safe hotel in Kathmandu and makes sure that safety measures are in place during your trip or trek.
When can I travel to Nepal?
The good news is that Nepal is already reopened so presenting you can get a Covid-19 negative PCR report 72 hours before departing and have a Covid-19 insurance policy you are good to travel to Nepal. In order to get an entry Visa for Nepal, Trekking Trail can organize for you without any additional cost!
Some other useful info for TRAVELING NEPAL DURING COVID-19
With rules changing as fast as the virus is spreading it can be always useful to keep checking up on the recent updates regarding the situation in Nepal regarding the lockdowns and current safety rules. As of recent about a dozen trekking destinations have officially reopened with ample checkpoints that from now one besides checking your TIMS and permits will also be checking you're a valid PCR report.
Nepal Trekking Area Open for Traveller during Covid-19 Coronaviurs
1. Kanchenjunga Base Camp Trekking
2. Sagarmatha National Park (Everest)
3. Short Mardi Himal Trekking, Since ABC Trekking is close you will be unable to combine with Ghandruk, Landruk, Poon Hill and Ghorepani.
4. Manang
5. Mustang Drive Tour and Upper Trekking
6. Dolpo
7. Rara National Park
8. Manaslu ( Open only for expedition, If you are thinking for Short Trip of Manaslu Circuit Trek you need to wait for few more weeks.
9. Helambu
10. Rubi Valley
11. Pikey Peak Trekking
12. Mohare Danda Trekking "The First Communty Trekking Trail of Nepal is alos open during Covid-19 Outbreak. This given picture is the views from Community Lodge of Mohare Danda. Evaluate this and choose one.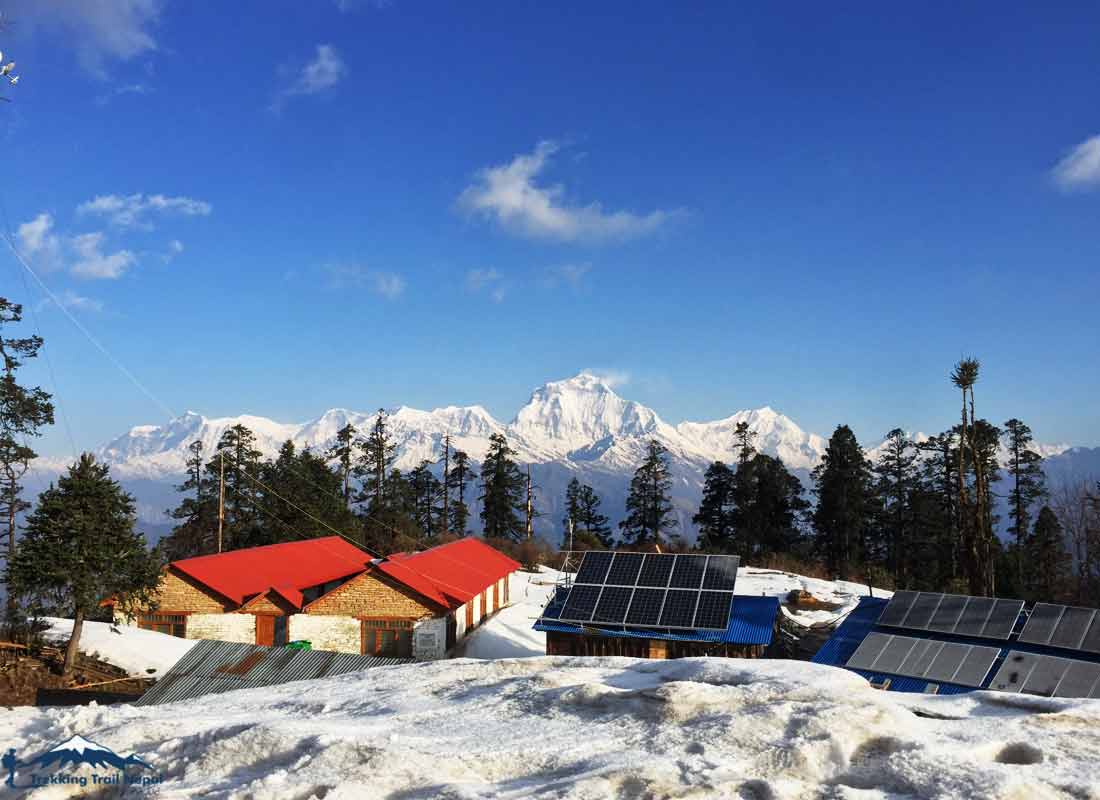 Traveling Nepal During Covid-19 in Conclussion
Unfortunately, the beautiful Annapurna region is still closed, but this might open in the near future. Trekking Trail will keep you informed on the current situation. Is there a place you want to visit in Nepal but you are not sure if it is reopened than don't hesitate and contact us via mail or through the website and out Trekking Trail Nepal travel team will update you on the recent updates regarding that destination and help you to book the trip of a lifetime!
The wait is over, with these new Covid-19 terms and conditions for safe travel Nepal is officially open for tourism. So trekkers, climbers, explorer and general travelers don't hesitate and take that long awaited vacation to Nepal with Trekking Trail!
Enquire Us