Mohare Danda Monsoon Trek | Monsoon Trekking In Nepal
Mohare Danda Trek in June July and August is considered as Mohare Danda Monsoon Trekking. Because of continuous rainfall, wetland and trekking trail, leaches, and cloudy skies rainy season is not considered as the best season for Mohare Danda Trek. However, the deep green lush landscape nature, less crowded trekking route, and community lodge and adventure of rice and African-Millet plantation add few reasons to choose Mohare Danda monsoon Trek in June July, and August.
Every month and season your experience will be different. Off-season like monsoon and mid-winter are less crowded as well as offer different views of nature and the Himalayas.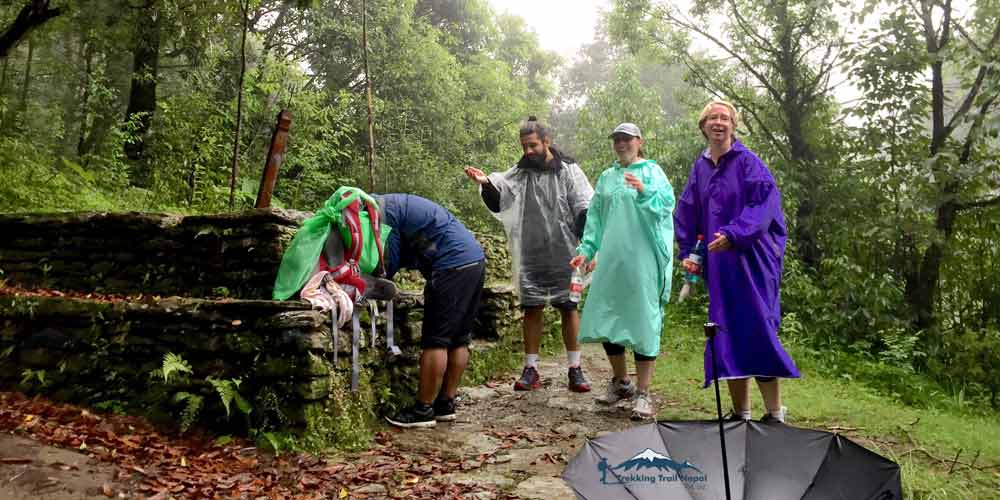 Mohare Danda Monsoon Trekking Gear List
Every adventure in the Himalayas of Nepal needs different types of trekking gears. While most of the trekking in Nepal including Everest Base Camp Trek, ABC Trekking, Khopra Trekking as on can complete with standard trekking gears. However, your choice of months and season for trekking in Nepal, packaging list will be a little different. In short, you must pack some seasonal trekking gear. Especially for winter and Monsoon Trekking in Nepal. Similarly, you need different packaging lists of gears for Off The Beaten Trails, remotes trekking areas like Guerilla Trekking, Dhaulagiri Sanctuary Trek, etc.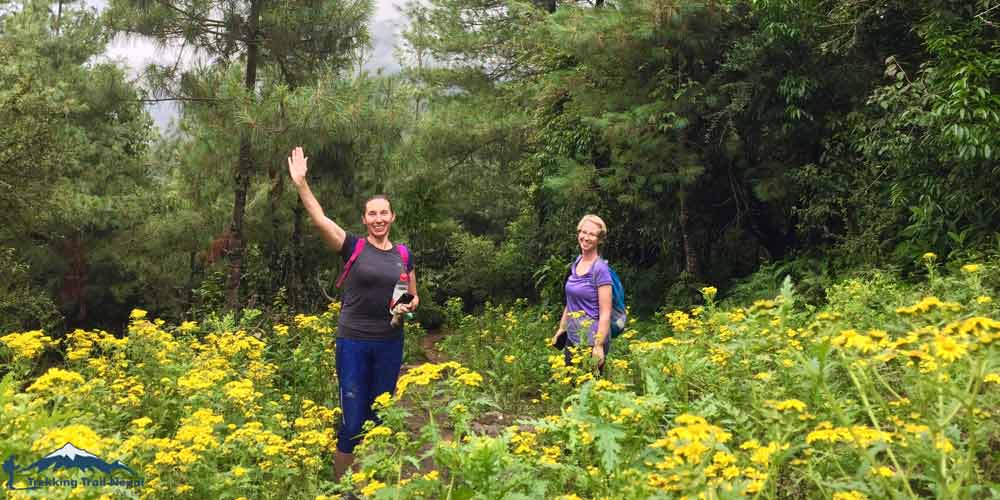 Important Things to Pack for Monsoon Mohare Danda Trek
Trekking Trail Nepal already mentions that you must pack differently for Monsoon Trekking in Nepal. In the monsoon period, the midland which is also called Hilly Areas gets continuous rainfall. Sometimes it goes even for weeks. This rain gives new life to all grasslands, bushes, and agricultural fields but the Himalayas will hide behind clouds and haze. Monsoon rains change classical Nepal Trek to A DIFFERENT TREKKING IN NEPAL. Even sometimes our guides called it Rain Walking Adventure in the Hills. We said Hills, not the Himalayas. These green hills mostly have an altitude between 3000-4000 meters full of vegetation and nature. However, some small windows may come with amazing views of the Himalayas.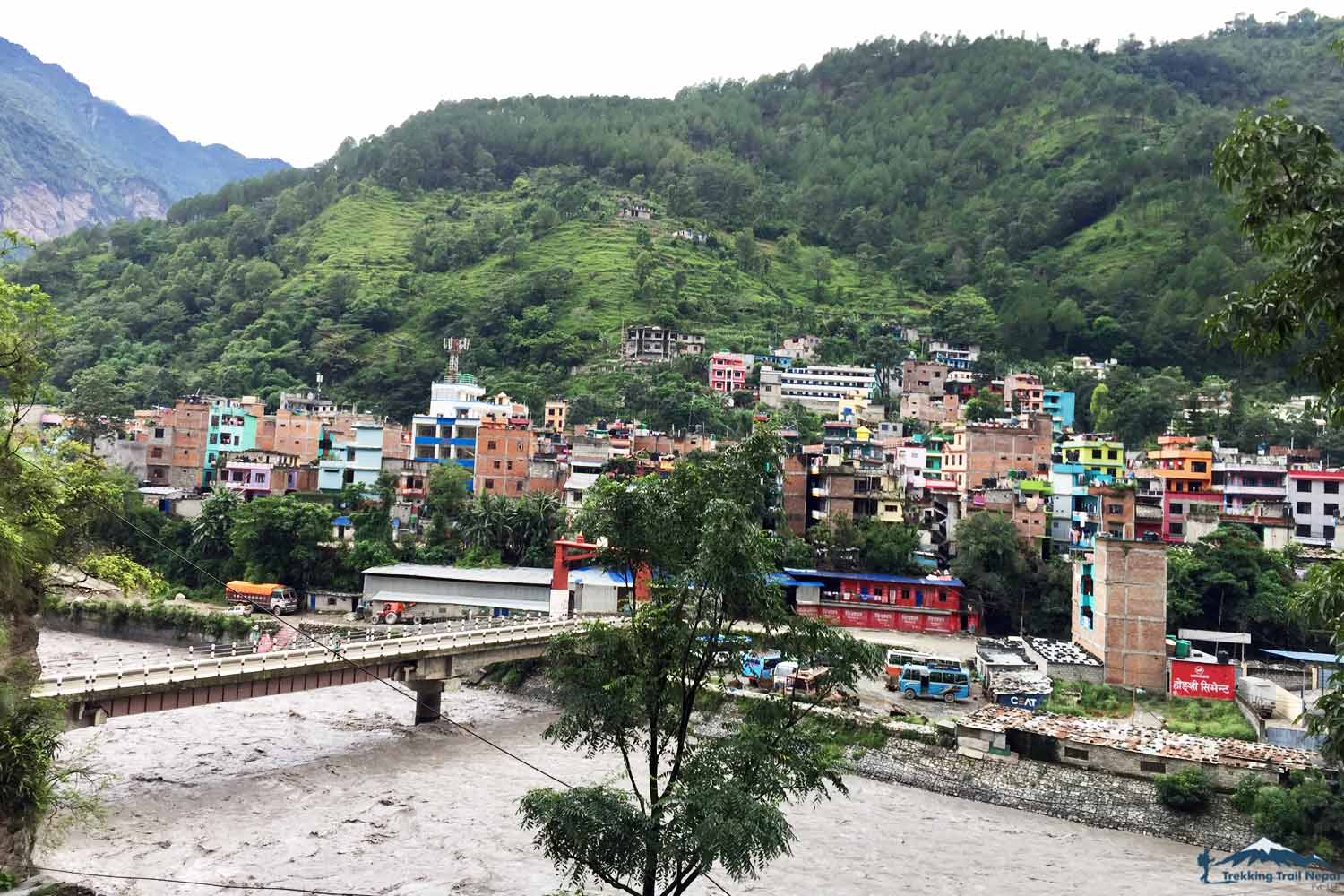 Here we are mentioning you some extra stuff you need to add to carry for the Nepal monsoon trek. These small and cheap items will be your true savior for Mohare Danda Monsoon Trek along with common trekking gears.
6 Most Important Things to Carry for Monsoon Trekking in Nepal
1. Most importantly, Dettol a common anticipation liquid is the best to keep away leach. In other words, Dettol is the most effective, easy to get, multi-purpose, easily available, as well cost-effective.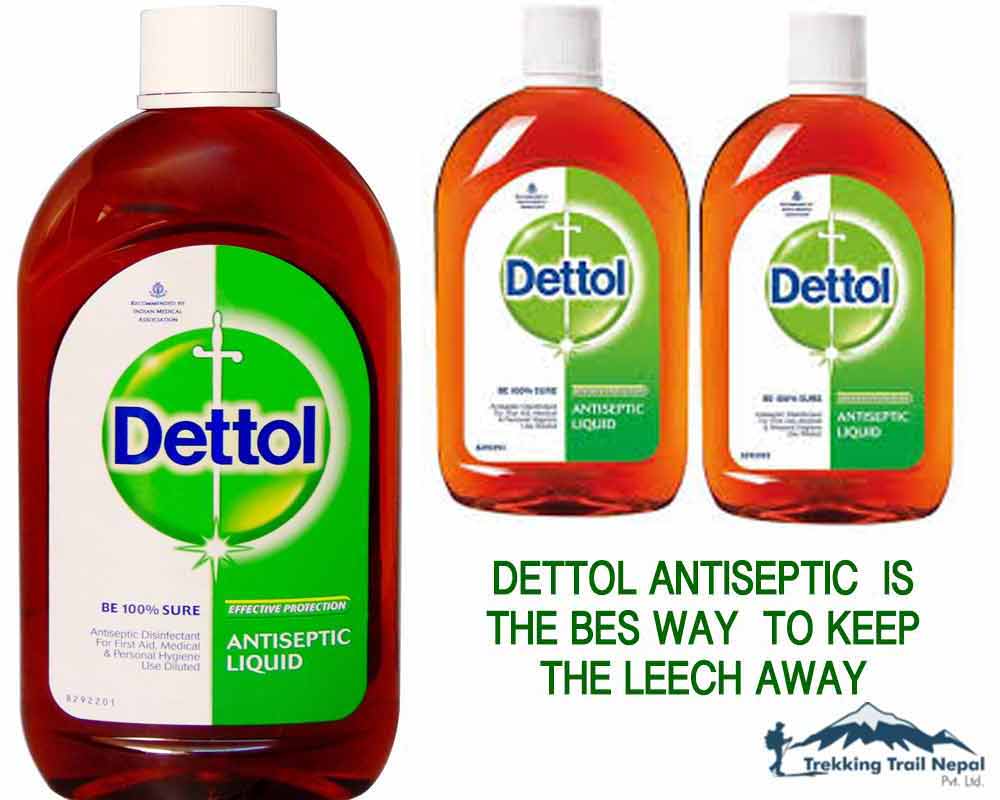 2. Similarly, strong bug spray is helpful. Get thick spray or lotion as possible. If not a few spoons of salts inside waterproof boots (the very quick dry one ), and water shoes with extras a few pairs of socks. This makes you out of reach from Leach.
3. Very light and full-size breathable poncho. If not Umbrella or wearing garbage bags like Nepalese style will do a job. Make sure this makes you perfectly dry during 5-6 hours of rain hike. Separate rain pants and a rain jacket are the best things to pack for Mohare Danda Monsoon Trek.
4. Pure waterproof luggage and backpack. If not use good quality garbage bags to keep all gears and items dry. For valuable documents, passports, cash as on always use zip lock bags.
5. 1-liter hot pot with steels cups, sugar, tea bags, fresh lemon, a few spoons of salt, honey, etc is a Must. This trick is best for Khopra Trekking, Mardi Himal Trekking, and Mohare Danda Trek during the Monsoon season.
6. Carry some energy tidbits, protein bars, dry fruits, nuts, meat jerks. But make sure you pack with get easy reach by your hand.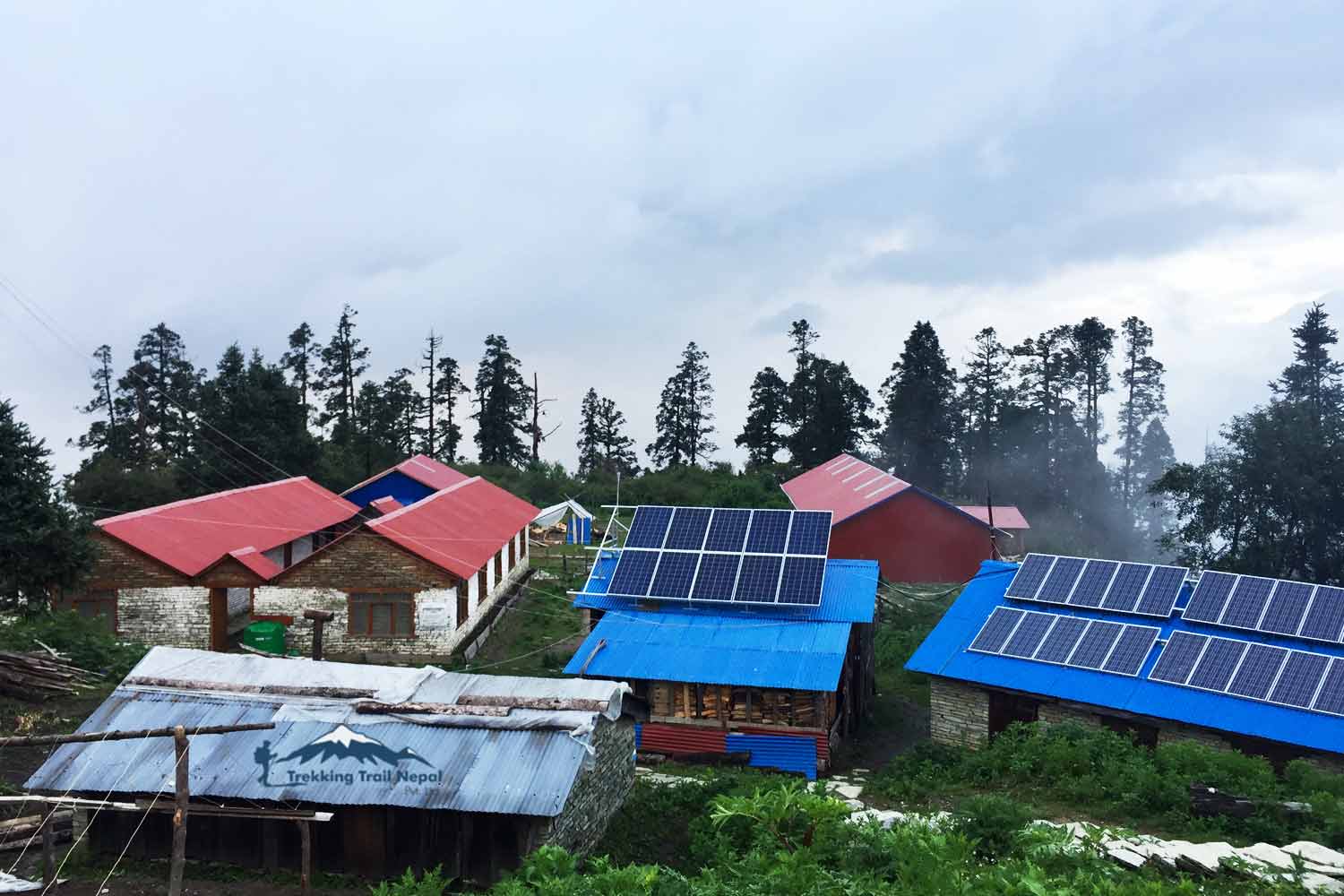 Common Things to Pack for Monsoon Trekking in Nepal
- Very Light and small Sleeping Bag
- Waterproof luggage bag and a Day Pack
- Trekking Pole - It helps you as extra feet on the wet trail
- 2 Water Bottle ( 1 Liter each is better )
- Quick Dry Trekking Shirts, Pants, and T-shirts ( Not is not Recommended)
- Down Jacket and Fleece Jacket
- Waterproof shell jacket Quick dry and walking shorts and half pants
- Waterproof and light hiking boots and sandals Light and quick-dry socks, gloves, and warm hat
- UV Protective sunglass, sun hat, scarf, quick-dry towel, and suns cream
- Hand sanitizer, wet wipes, and all personal toiletries
- Small first aid kit
To get a complete packing list for Mohare Danda Monsoon Trek, You need to select from both lists: Important Monsoon Trekking Packing list with Complete Trekking Gear list.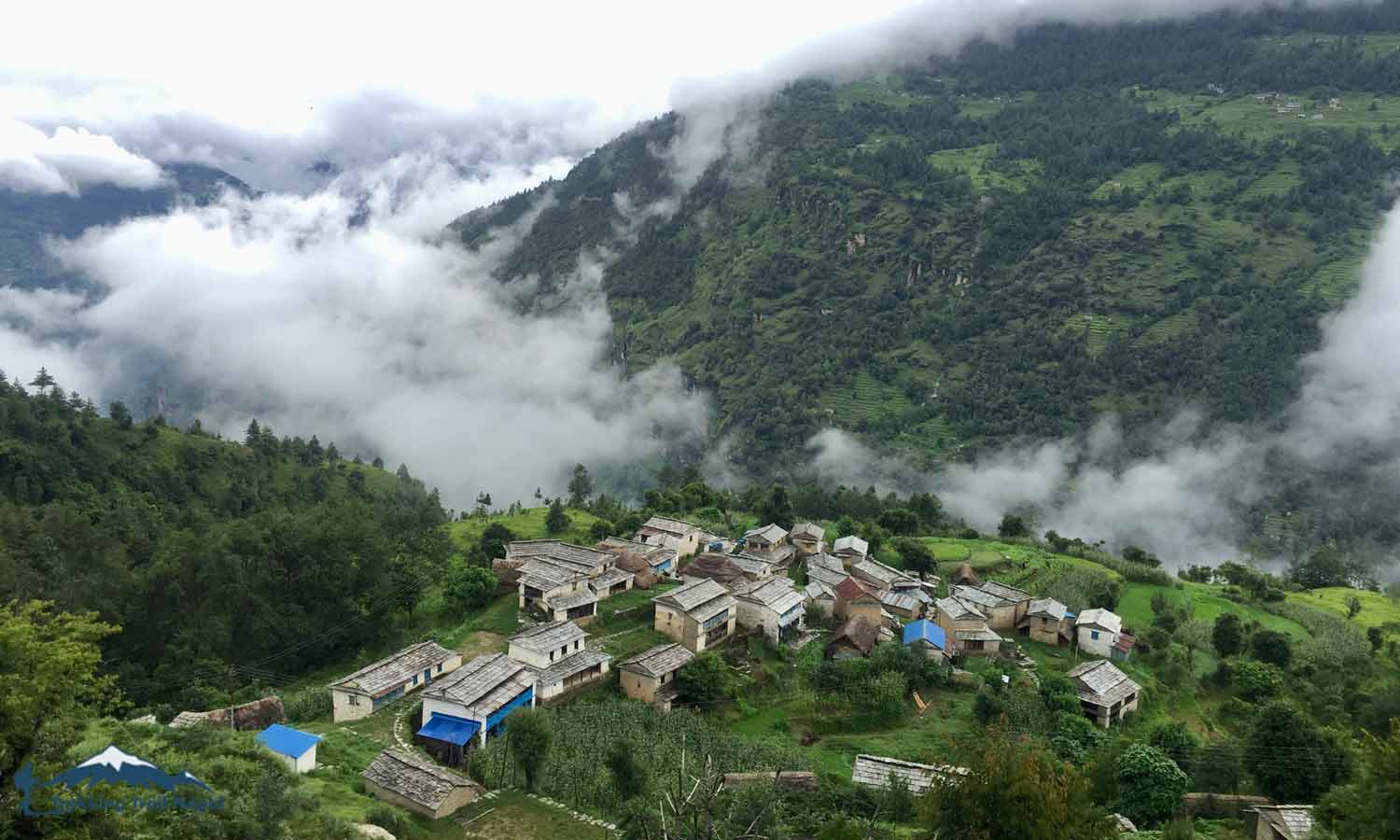 Clothing Notes For Monsoon Trekking in Nepal
During the monsoon month, humidity is one problem for trekking in Nepal. Please make sure you choose the Quick Dry clothing material. If possible Trekking Trail Nepal suggests avoiding cotton clothes, especially for day hiking. We strongly recommended full-sleeved wear for hiking. Since the trail is full of tall green grass, bushes, orchids as well as dense forest, Long sleeves hiking gears will protect from insets, thrones bush, sticky pants as on.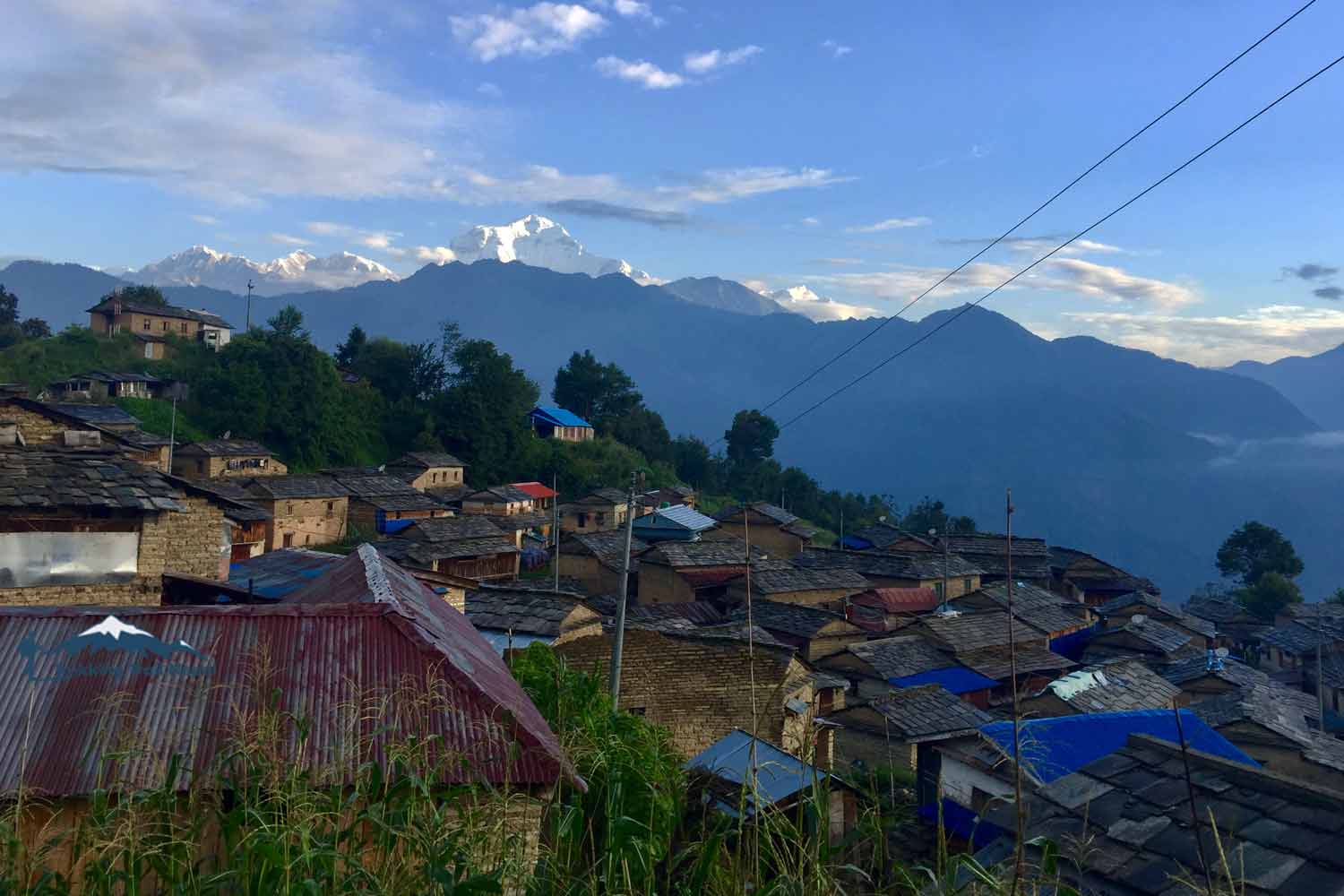 Pros of Mohare Danda Monsoon Trek
Nepal is widely known as the country of high Himalayas. Every year thousands of travelers and trekkers visit Nepal to fulfill the adventure dream of trekking and to experience the Himalayas. However, they choose the Autumn season from September to November, and the spring season from March to May. So the monsoon season is not considered the best season for Trekking in Nepal and tours. However, the difference between nature, adventure, peace views can only experience if we try different seasons. Monsoon Mohare Danda Trekking have has many hidden benefits, which are listed below.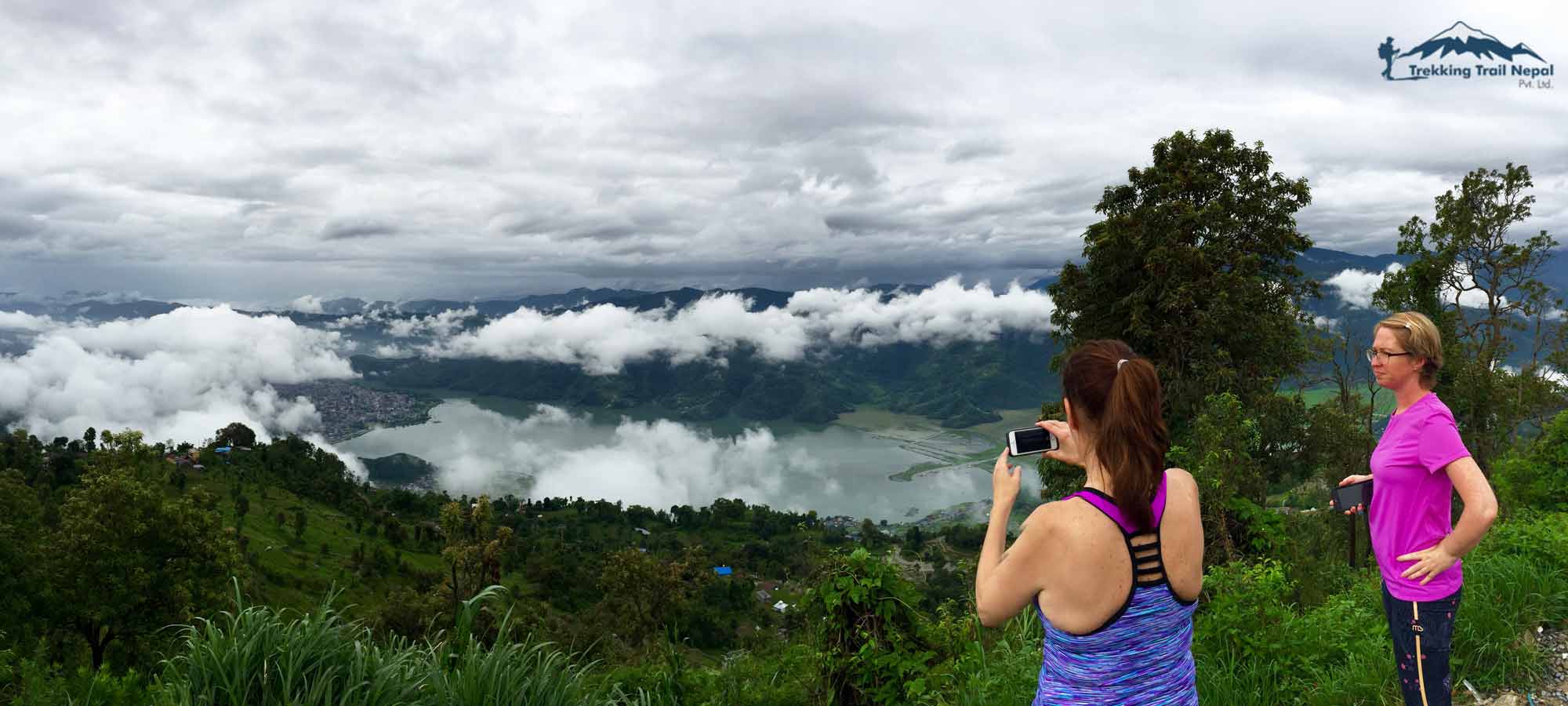 1. Mohare Danda Trek is the community trekking of Nepal, which is overwhelming as well overcrowded in March, April, May, September, October, November, and December, But not even closely compare to Popular Like ABC Trekking or Everest. The peaceful and less crowded trekking trail, viewpoints of Mohare Hill and Poon Hill, tea house, and lodge come as other benefits. Similarly, less travelers in the Mohare l Kathmandu airport, Kathmandu, and Pokhara city is one reason to choose monsoon Mohare Danda Trekking.
2. Different nature, landscape, and views that you get in rainy season is the best reason to do monsoon Mohare Danda Trekking. The Himalayas View will not be clear even it is majestic with little misty as well as clouds. The rain changes the color of forest, grassland, valleys, and rough terrain into deep green. This is the season for paddy planting so here you will surely experience a new adventure in monsoon Mohare Danda Trek.
3. This is a new trekking route in Nepal, which is also a new initiation of community trekking. So Experience guide is not easily available in the peak season. Being low season you will certainly be benefited by the local experienced guide of Mohare Danda.
4. Price benefits is another reason to choose Mohare Danda Trek in the monsoon. Being a low trekking season you can ask for an off-season discount. If you analyze insight, your total price for monsoon Mohare Danda Trekking goes down because you will also get cheaper international flights to and from Nepal.
5. If you are lucky you can find Cordyceps (Yaras Gumba)on the Mohare Danda Trekking Trail. This is kind of a FUNGUS, which is widely used in most of the Chinese herbs for fertility treatments? Most probably you will get a chance to try a cut of Cordyceps Raksi
6. African Millet and Paddy plantation is the major agricultural activity you will encounter on this Monsoon Mohare Danda Trek. You can enjoy, even participate in with locals to plant African Millet and Rice planting. Higher land has millet while lower land with rice planting. Rice planting day feels like small festivals in each village with singing, good brunch, and meet-up. You can participate for the paddle planting program if you like the smell of mud and are not scared of being wet and being splash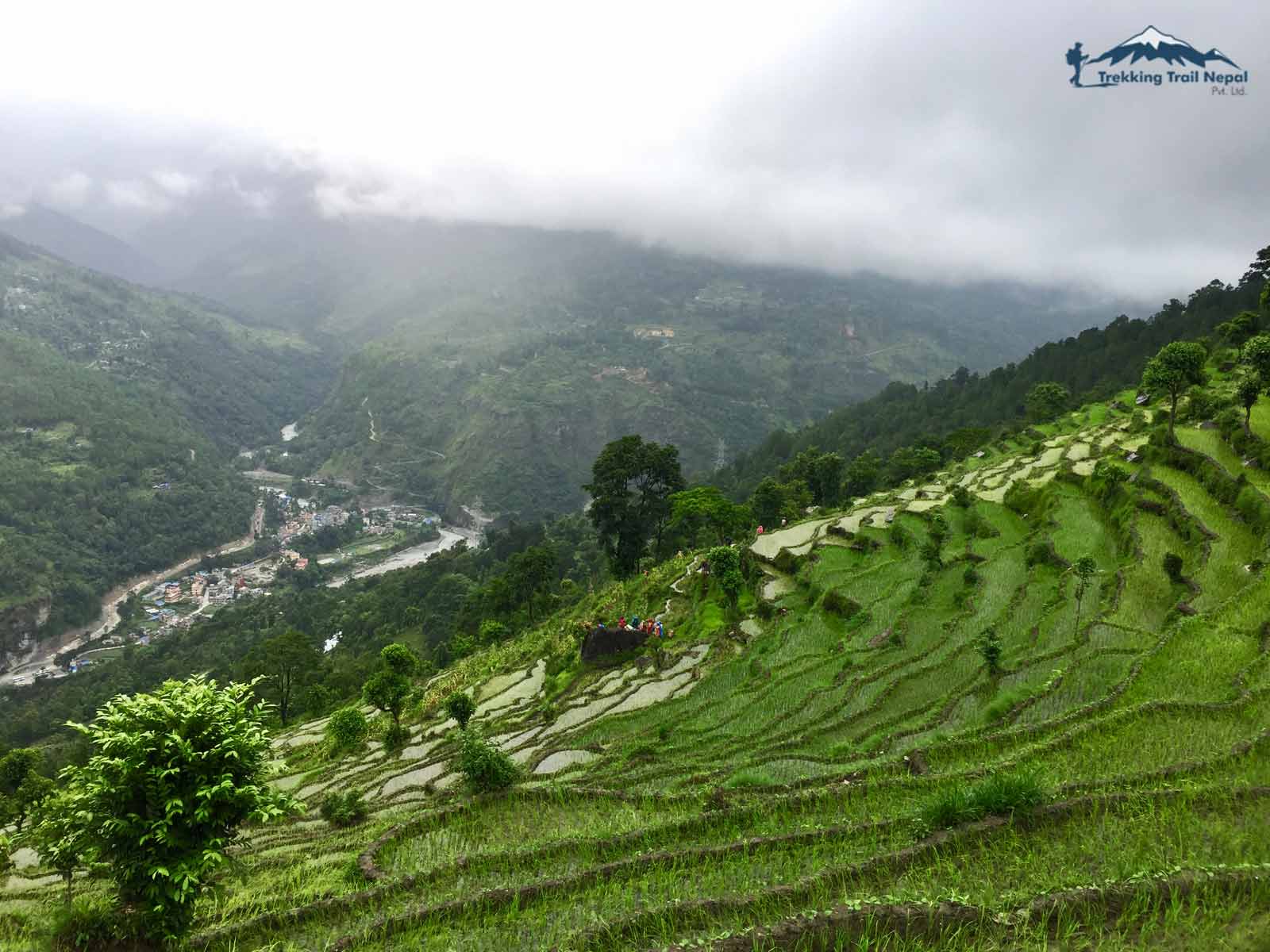 Cons of Monsoon Mohare Danda Trek
1. The beautiful Himalayas views feel like a conspiracy theory, even from the Viewpoint like Poon Hill, Mohare Danda, Fulbari, or even from Tikot Village.
2. The roads which we need to drive to start and end will not be comfortable and surely takes more time. Mostly covered with flooded mud and other kinds of stuff.
3. Since Mohare Danda Trekking is a part of the popular Annapurna Dhaulagiri Community Trek, Even it is not easy to find the proper map.
4. If you are thinking of doing it on your own, Mohare Danda monsoon trekking in Nepal is not for you. You must need a Guide or Porter to help you by finding the trekking trails. It is not easy to find the trail, which is covered by 2-3 feet tall and dense wild grass and bushes inside the forest full of leaches.
5. Trekking Trail Nepal was organizing many Monsoon Trekking in Nepal, some do not highly recommend it in the rainy month. However, Mohare Danda Monsoon Trek is the best to experience the difference in trekking in Nepal.
Important Tips for Monsoon Mohare Danda Trek
Himalayas' weather conditions change quickly. Follow, track, and get an update about the weather forecast and condition. Do Not Blind Trust any of the weather forecasts, especially for winter and monsoon treks in Nepal. Select the best trek, route, as well as local trail options, give you the best experience even in Monsoon Trekking in Nepal. Use the trekking trail as local people make sure you reach without any huddles.
1. Get local updates about the trekking trail and operation of Tea house, Community lodge, and Home stay. Above all asking local peoples, starting with NAMASTE gives you reliable and fresh updates and information.
2. Having a couple of buffer days in your Itinerary for Monsoon Trek in Nepal is always gives you a more relaxed adventure and moments. We cannot predict the natural disaster. For example, floods and Landslides are common in monsoon season.
3. Beware of natural leeches along the trekking trails. The biggest surprise of Monsoon Trekking in Nepal is Leeches. So be ready to donate your dead blood cells. The best way to prevent sticking leech is Slow and Continuous Hiking. Above all the Antiseptics Dettol will do the best job to keep them in distance. Lower altitude below 2000 meter altitude you will get mosquitoes music too. Crying bug and mosquitoes-insect repellent spray, or wearing a band is the best way to deal with this.

Final Thoughts for Mohare Danda Monsoon Trek
Monsoon is not the best month for Trekking in Nepal however, it comes with unique features. Although leaches, mosquitoes, hidden mountains views, pouring rain, wet trekking trail does not seem fun indeed it is. Monsoon Trekking in Nepal is known for lush greenery, the adventure hiking trail along with rice planting, peaceful route, and lodges. Similarly, thunder rivers, amazing waterfalls and canals, cloudy hills, and warm weather make Mohare Danda Monsoon Trekking the Best one.
Enquire Us