10 Things To Do In Nepal for The First Time Traveler
Visiting a country for the first can be an amazing experience! Everything is new and full of mysteries. Nepal is no different and has a lot to offer. Being a Himalayan country, Nepal's main activity is trekking and peak climbing. This might seem too much of a challenge for first time travelers. But no need to worry, as Nepal has some other amazing activities and options for new visitors. Here are 10 things to do in Nepal for the first time traveler.
10 Things To Do In Nepal For For First Time Travelers
Sightseeing in the Kathmandu Valley.
A Short Trekking option to experience what Nepal can offer you!
Visit Pokhara an amazing lakeside city.
Wildlife Adventure at Chitwan National Park.
Hike up to one of the hill stations for peaceful sunrises and sunsets.
Adrenaline adventures in Nepal.
Taste the local Nepalese dishes and their local drinks.
Flypast the highest mountain in the world with the Mt. Everest mountain flight.
Experience some of the finest Himalayan handicrafts and pashmina shawls with souvenir shopping in Nepal.
Explore around religious and spiritual temples in Nepal.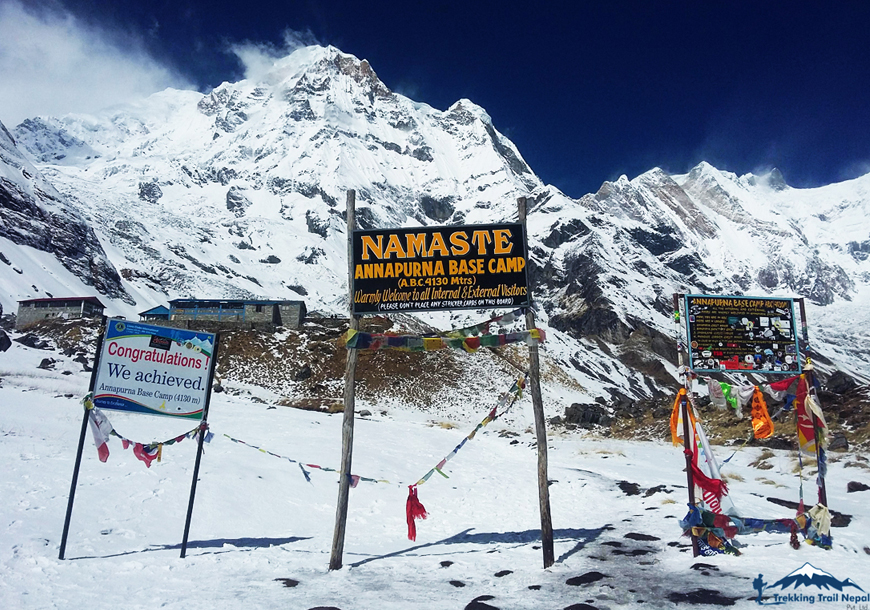 Sightseeing in the Kathmandu Valley
When you first enter Nepal it will be at Kathmandu, the capital city that populates an entire valley. Surrounded by green hills the Kathmandu Valley houses a lot of religious sites such as temples and famous pilgrimage sites. Not only religion but also an incredible and ancient history. The Kathmandu valley is the perfect place to witness ancient architecture, old and religious temples, and amazing culture! Naturally is a lot of sightseeing in the Kathmandu Valley available. The most famous sightseeing points are: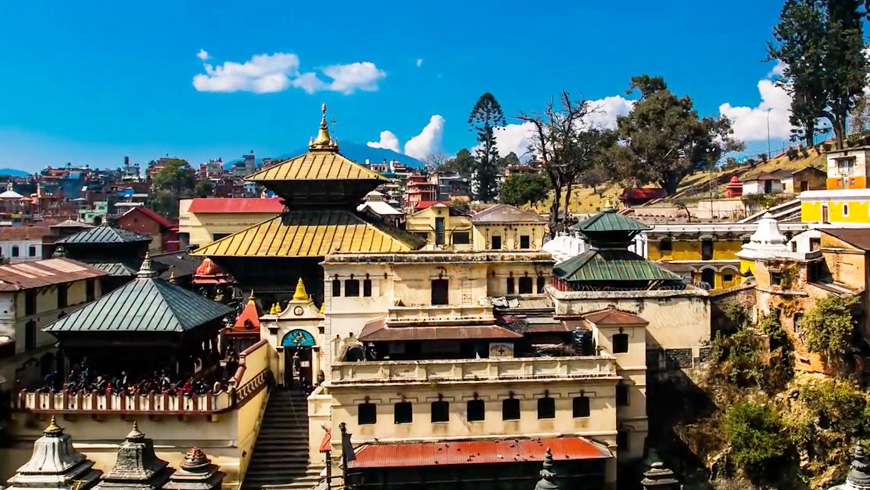 The Holiest Pashupatinath Hindu Temple:
This incredible ancient and religious temple is located just on the banks of the Bagmati River which runs through the capital. Mostly used as a burial site for locals this incredible place is where you can see some magnificent architecture of ancient Hindu temples and buildings. The priests here are traditional and paint them self with religious ashes.
Swayambunath AKA Monkey Temple
Possible one of the most famous sightseeing places in the Kathmandu Valley. The Swayambunath Temple is located on top a small hill near the center of Kathmandu. Besides the incredible views over the entire valley, on this hill a lot of monkey families reside, hence the name Monkey Temple. Every day pilgrims and devotees make a round tour around the hill in devotion to Buddha and you can try to get some of that good karma too. For great views you can use the stone steps to hike all the way up where an ancient stupa resides!
The mighty Boudhanath Buddhist Stupa
Another famous sightseeing place inside the Kathmandu Valley is the Boudhanath Stupa. This enormous stupa is visited year around by Buddhist pilgrims from around the world. You can roam around this incredible stupa and enjoy one of the rooftop cafes to see some amazing views of Boudhanath.
Kathmandu's Royal Durbar Square
As an ancient kingdom, Nepal used to be ruled by kings. And in the center of Kathmandu is an old palace square filled with ancient temples and old palace buildings. Kathmandu's Royal Durbar Square is one of the most fascinating places to visit in the capital's center. As soon as you reach the Durbar Square the streets begin to narrow into medieval cobble ways that open up into big spaces filled with incredible old Hindu temples and Nepalese medieval palaces. The alleys are full of local handicraft shops making this place an ideal souvenir market.
Patan's Royal Durbar Square
The Kathmandu Valley used to be divided by 3 medieval kingdoms, Kathmandu, Bhaktapur, and Patan. Each kingdom had its own king and Royal Durbar Square. Kathmandu became the victor here and named the entire area as the Kathmandu Valley. So still located in the valley Patan still has that old Royal Durbar Square with the famous Krishna Hindu Temple. Interesting to see at Patan's Durbar Square, similarities and differences between the architect of those ancient buildings and temples.
Bhaktapur's Royal Durbar Square
The last of the old kingdoms is Bhaktapur and is located a bit further away from the main city. A short drive takes you this incredible district and it's Royal Durbar Square. The original inhabitants of Kathmandu are the Newaris and in Bhaktapur their community still practices the ancient traditions of clay pot making and others. The Durbar Square is a mix of stone cobbled alley ways full f souvenir handicraft shops and leads in to one open square where ancient temples and an old palace resides. At the side of the square is the Bhaktapur museum where you can even explore inside the old palace.
There are of course a lot more interesting places for sightseeing inside the Kathmandu Valley and most of these can be done in a one day sightseeing tour around Kathmandu.
Shorter Trekking options to experience what Nepal can offer you!
As a first time traveler you might want to enjoy one of the shorter trekking options to experience what Nepal can offer you! Not to worry, besides long excursions and crossing over high altitude passes, Nepal has a lot of easy and short treks available for the first time trekker. These while being short have all got some amazing mountain views and are ideal for families, couples and even the solo traveler! Here are 3 of my favorite short treks in Nepal:
The Short Poon Hill Trek
Reachable from Pokhara, Poon Hill is an incredible viewpoint of the southern Annapurna Himalayas located just above the village of Ghorepani. Famous for its sunrise and sunset views this beautiful place is reachable in just a few days of trekking. Check our 2 Days Short Poon Hill Trek from Pokhara.
The Langtang Valley Trek
Home of the Tamang people the entire Langtang Valley is a small trekker's paradise. Being not far from Kathamandu this short trek is reachable with a short drive. While also offering longer treks and even a peak to climb, first-time trekkers can also enjoy a short trek through the valley up to the Kyangjin Gompa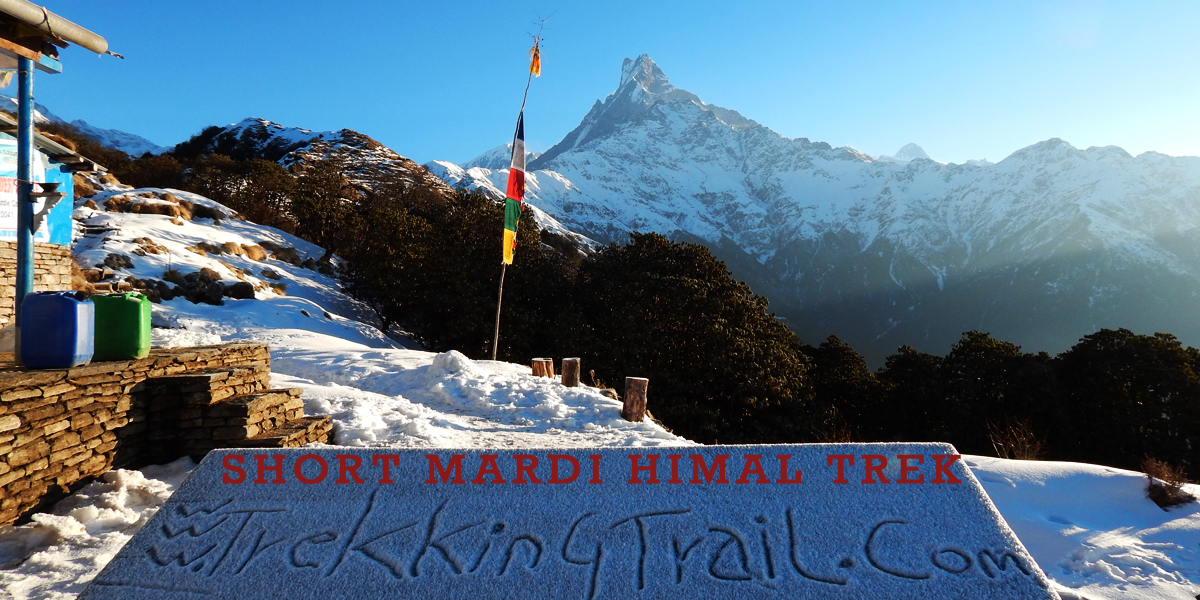 Short Mardi Himal Trek
Have you heard of the iconic Fishtail Mountain Mt. Machhapuchhare (6,993m)? During Mardi Himal short trek in Nepal, you get to head closer and closer to this iconic beautiful mountain. This trek is easy and can be enjoyed all year round making it perfect for the first time Nepal traveler! But for the best experience, I recommend doing this one during either spring or autumn. While there are a lot more short treks to do these are by far the most famous ones and you can always have a look around for shorter trekking options to experience what Nepal has to offer you.
Visit Pokhara the most beautiful city of Nepal
Known as the gateway to the Annapurna Himalayas, Pokhara located in a valley touching an incredible and big lake has long been a favorite destination for domestic and international travelers. As a first-time traveler in Nepal visiting this incredible city is highly recommended. Pokhara is made very accessible by public highway or even by domestic flight. Construction is underway of an international airport this city has a lot to offer!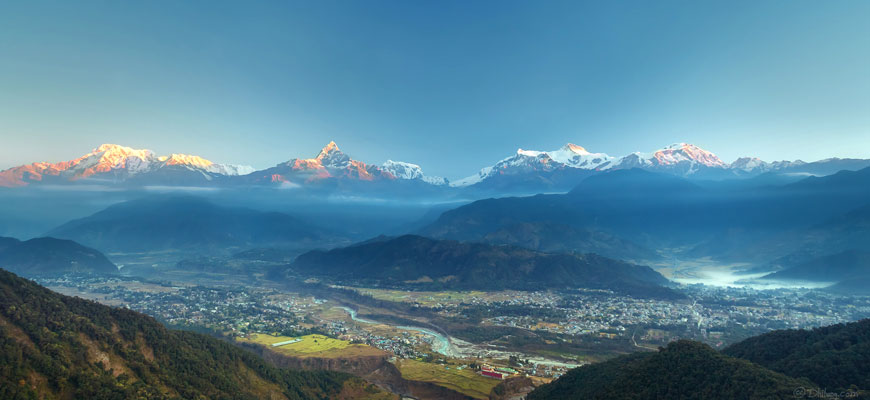 The entire lakeside is filled with amazing lake view restaurants. And just around the shores of the lake, a pathway is made for an enjoyable walk. Once you hit the lake the smell of fresh barbeque quickly overwhelms. In addition, in the distant music bands are playing their best songs. The lake called Phewa and offers boat rides. Similarly, an island with a Hindu temple adds features for spiritual travelers. Not only lake activities but also some famous sightseeing places can be enjoyed in Pokhara. Hindu temples can experienced and there is the incredible Davi's Fall waterfall that leads into the Gupteshwur Cave. A wide range of activities from fishing, mountain biking, hiking, and paragliding can all be done in Pokhara. If you are a first-time traveler then visit Pokhara, the most beautiful city in Nepal!
Wildlife Adventure at Chitwan National Park!
More interested to see and experience the animal kingdom and jungles of Nepal? Then a wildlife adventure at Chitwan National Park is it for you. This incredible jungle safari comes usually in all in packages of 3 days and 4 nights. Located in the flat regions of Nepol called Terrai, Chitwan National Park is a jungle blooming of exotic wildlife, from the endangered one horned rhino, to the majestic Bengal Tiger. Here visitors can enjoy an evening jungle walk, see the Tharu culture and dances in a show, and explore the jungle with a safari. Most interesting to see is the elephant preservation and health center where locals try to make sure that these ancient animals can thrive in freedom!
Hike up to one of the hill stations for peaceful sunrises and sunsets.
One of the top 10 things to do in Nepal as a first time traveler is capturing a beautiful memory, and what better way to do that with incredible sunrise and sunset views from one of the hill station villages in Nepal. These hill stations are easy accessible and with a short hike from the hill station, you can reach a viewpoint offering amazing views! So hike up to one of the hill stations for peaceful sunrises and sunsets to make you first time in Nepal memorable. The four most famous hill stations are:
Located in the Kathmandu Valley:
Nagarkot
The hill station of Nagarkot, located near Bhaktapur and Shivapuri National Park is one of the most famous, and every year visitors head to Nagarkot to enjoy the views. The quickest way there is by vehicle but it is also possible to hike for half a day through the Shivapuri National Park up this incredible hill. On clear days the snowcapped Himalayas are visible and the sunrises and sunsets from Nagarkot are said to be world-famous! 7 Himalayan ranges can be seen from Nagarkot's viewpoint; the Everest Range, Ganesh Himal Range, Manaslu Range, Jugal Range, Langtang Range, Numbur Range, and the Jugal Range
Dhulikhel
Famous as a family vacation destination the hills of Dhulikhel are just outside of the main city of Kathmandu. With natural resorts, Dhulikhel is a perfect place to relax and enjoy the mountain views without disturbances of bustling city. Dhulikhel is also a starting point for hikers heading to Namo Buddha, and so has some incredible hiking trails. There is even a superman zip line available here for thrill-seekers. While the resorts in Dhulikhel offer also amazing views from their terraces, there is a hill summit here that can be reached with a short 20-minute uphill hike. From there amazing views can be seen and early birds can catch an incredible sunrise view from here around 5.20 am.
Ranikot Village Hike
One of the new but featured with authentic culture, traditions, and unspoiled rural lifestyle makes Ranikot Village Hiking one of the best easy walking tours around Kathmandu. Get Free Ranikot Hiking with Trip Advisor.
Located in the Pokhara Valley:
Bandipur
As one of the most iconic villages in Nepal, the medieval town of Bandipur is located on a hill just outside the Pokhara Valley. This old and unique town is definitely worth visiting, as once you enter it is as stepping back in time. Bandipur has preserved its unique culture and architecture making this town a marble in Nepal. Easy accessible by vehicle Bandipur is a favorite touristic destination. Charming restaurants and comfortable hotels are eager to receive you before you head up to the hilltop for some spectacular views. There are a lot of temples, shrines, and caves to explore here and as one of the older towns, Bandipur is worth definitely worth a visit for the first time traveler in Nepal!
Sarangkot
The most famous hill for sunrises and sunsets in Pokhara is Sarangkot. Accessible by vehicle or with a short hike the hill of Sarangkot offers some amazing views over Pokhara with the Annapurna Himalayan Range in the backdrop. Every year domestic and international travelers visit this viewpoint to see one of the world's most epic sunrises. The hill of Sarangkot is also famous for paragliding and as a favorite picnic spot. As a fist time traveler in Nepal, a visit to Sarangkot should be on your list of things to do. Near the view tower on top if the hill is also a resort, making it ideal to spend the night here to catch a sunrise the next morning, but it is also possible to stay in Pokhara city and take an early drive up the hill.
These four hills are worth hiking up to catch a peaceful sunrise or sunset view in Nepal and recommended as one of ten things to do in Nepal for the first time traveler! Enjoy the views, nature, and see the best of Nepal with short hikes to incredible viewpoints.
Adrenaline Adventures in Nepal
Adrenaline adventures in Nepal are not for the weak of heart. As an ultimate vacation destination in Asia and a Himalayan country, there are a lot of incredible activities to do here. From bungee jumping to paragliding and white water rafting, there is an adventure just right for you here!
Bungee jumping in Nepal
There are currently two bungee jump options available in Nepal, one about 3 hours' drive from Kathmandu over the Bhote Khosi River and one in Pokhara from a manmade platform. The bungee jump over the Bhote Khosi River is quite exhilarating with a free-fall drop of 160m. This is classified as the third-highest natural bungee jump of the world! If you want to enjoy the second-highest bungee jump, you can do it in Kusma. A day adventure trip from Pokhara. The bungee jump in Pokhara is just 25minutes drive away from the city and has a vertical drop of 75m. Interesting here is that this bungee jump is manmade from a metal platform and connected to one of the most exiting zip line rides in Nepal.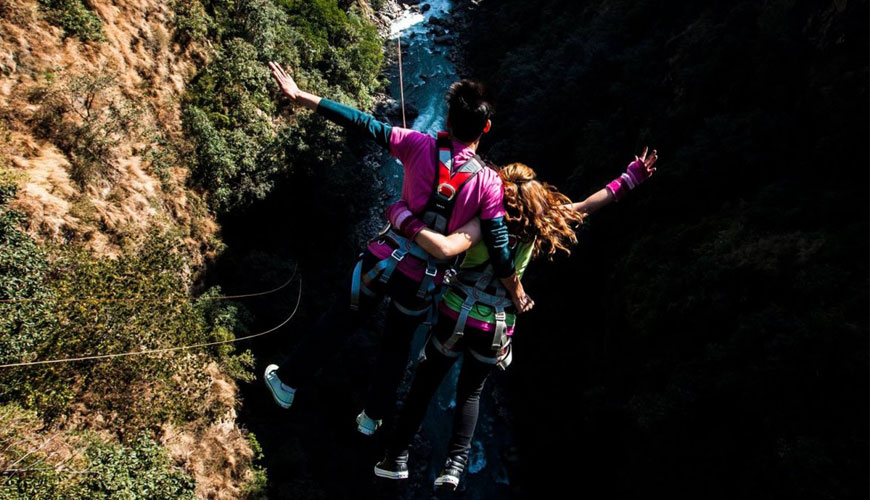 Rafting in Nepal
With many wild and white water rivers running through the country, rafting in Nepal has been popular for adrenaline seekers. There are different varieties and grades from rafting depending on which river you wish to challenge. The 3 most famous ones are Trishuli River, Seti Khola, and the Bhote Khosi. Trishuli is one of the easier rivers with just a few rapids and less chance to flip over. This makes it ideal for novice rafters. Rafting on Trishuli can be done in half a day, two days, or 3 days with camping on the riverbank.
The Seti River rafting is probably the second most easy river to the raft and can be done in 2 or 3 days with camping. There are some rapids here but nothing to technical. The water is warm and has a clear blue color making it really scenic. Rafting on the Bhote Khosi River is a bit more challenging, with rapids ranging from class 3 to 4+ this white water river in Nepal is sure to make you wet! Rafting on the Bhote Khosi River can be done in 2 or 3 days with camping on the river bank. Being a bit more technical this river is going to make you feel the rush of adrenaline as you hit the rapids and trying not to flip over.
Paragliding in Nepal
A bit more relaxing than bungee jumping or rafting, paragliding in Nepal lets you soar the skies as an eagle. The main point for paragliding is at Pokhara's Sarangkot hill. While the flight itself is not so much of a rush I guarantee you that taking off and landing makes your blood pumping! Paragliding is done in tandem with a licensed instructor and just imagine running off a cliff with nothing but a big parachute lifting you up in the sky. Flight times differ upon weather conditions and your weight, but average flight times are of 30 to 45 minutes. The scenery during paragliding is absolutely incredible with below Phewa Lake and Pokhara city and 360 views around of the Himalayas.
Taste the local Nepalese dishes and their local drinks
Being in a new country always offers the chance to try out new and unique dishes! Taste the local Nepalese dishes and their local drinks to feel the spirit of Nepal as a first-time traveler. Food is a big part of the culture in Nepal and during festivals, incredible feasts are prepared and enjoyed with the entire family. The most typical dish in Nepal is called Dhal Bhat. This is simply boiled rice with lentil soup, some seasonal veggies, and a spicy sauce. Most Nepalese are vegetarian but a great meat delicacy is a buffalo or goat. A taste of Nepal is not complete without trying the nation's favorite snack called momo. These are steamed dumplings that can be enjoyed as a snack with an incredible sauce.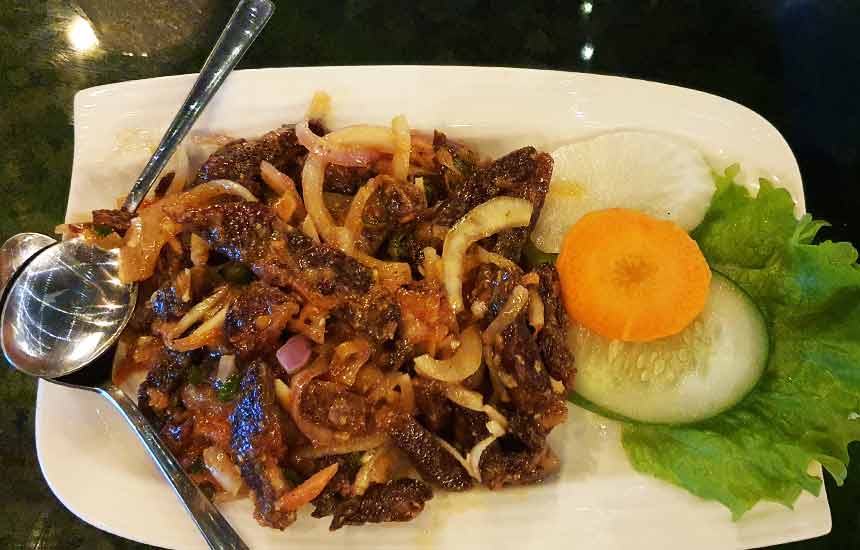 A more traditional dish originating from the outer villages is called Dhindo. This "peasant's dish" is made by adding flour to boiling water and stirring until a sort of paste is made. This is then enjoyed with vegetables and eaten by hand. To wash out those incredible meals a good drink is always welcomed. Roxi a locally made rice wine, Lassi made out of curd and milk or the more traditional Mahi made out of milk are 3 national drinks that can be enjoyed. Taste these local Nepalese dishes and local drinks to make your first visit even more memorable. Even you can recreate these dishes at home to enjoy with your family and friends!
Fly past the highest mountain in the world with the Mt. Everest mountain flight
Want to see the world's highest mountain up close without spending days of strenuous trekking? Then just fly past the highest mountain in the world with the Mt. Everest mountain flight! This 50min to 1-hour flights takes you from Kathmandu eastwards to Mt. Everest with a window seat airplane. The flight itself departs early in the morning at 6 am and is one of the best ways to enjoy the Nepalese Himalayas in a short time. While the Everest mountain flight can be done all year around the best months would be from September up to April.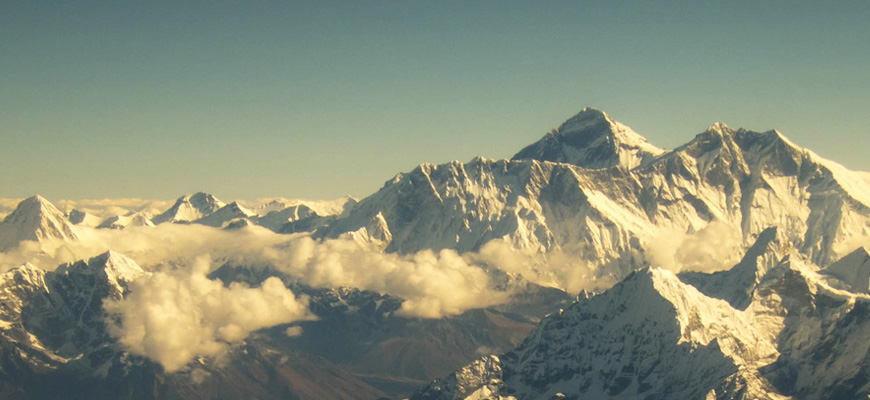 These times the snow is thick on the mountains and sparkly making the views even more incredible! Of course, besides Mt. Everest a lot of other high peaks can be seen and enjoyed from this flight. As one of the best 10 things to do in Nepal for the first time traveler, flying past the highest mountain in the world with the Mt. Everest mountain flight is surely recommended!
Experiencing Souvenir Shopping in Nepal
Visiting a new country means little without bringing back a memorable souvenir unique to that country. That's why as a first-time traveler it's a great idea to experience some of the finest Himalayan handicrafts and pashmina shawls with souvenir shopping in Nepal! While most handicrafts can be bought in Kathmandu, there are quite a lot of other places that offer some unique handicrafts.
At Pokhara's Tibetan Refugee Center, at Lumbini, and in Chitwan also some unique handicrafts can be found. Although it is said that Kathmandu is the easiest place to get souvenirs before departing back home, buying some souvenirs or trinkets from other places helps the local communities to acquire some income. Nepal is very popular for its Hindu and Buddhist culture and that can be seen in its handicrafts, from ceramic pots, wood carvings, pashmina shawls, singing bowls, to cultural masks there are enough handicrafts to choose from. In short, you can enjoy your finest Himalayan handicrafts and pashmina shawls souvenir shopping in Nepal. CHECK OUR Kathmandu Shopping Tour.
Explore Around Religious and Spiritual Sites in Nepal
Besides Himalayan Mountains Nepal has thousands of temples and shrines to visit. As a first time traveler it is quite interesting to explore around the religious and spiritual temples in Nepal. The most famous ones are easy accessible and most of them are even located in Kathmandu. Many travelers prefer to take a cultural tour around Nepal visiting these spiritual and religious places to take in the diverse and unique culture. It is amazing to see how this Hindu and Buddhist country shares its religious places and devotees of both religions join each other in pilgrimages across the country to visit these. Incredible temples and even the birth place of Gautama Buddha, the founder of Buddhism can be explored making your first time in Nepal a cultural experience not easily forgotten! Here are 6 of the most famous spiritual places to visit in Nepal:
Swayambunath
This spiritual stupa is located on top of a hill overlooking the Kathmandu Valley. While the steps up can be a challenge it is definitely worth it as people say that true peace can be acquired from Swayambunath! Seeing the local monkey families is just a fun extra besides feeling the spirituality from this amazing stupa in Kathmandu.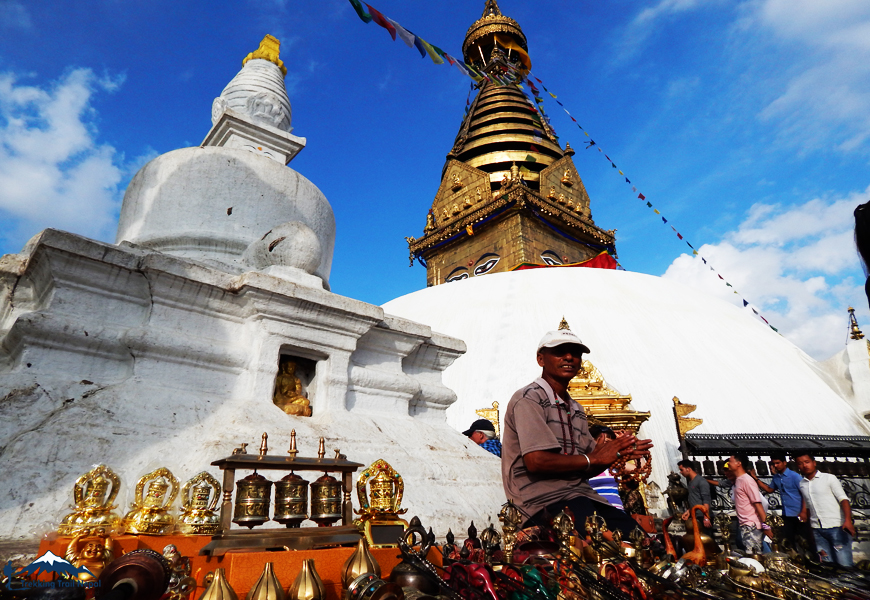 Pashupatinath
The Hindu temple Pashupatinath is said to house a piece of the trident of the Hindu main deity Lord Shiva. Which make this temple an important religious and spiritual place. Located in Kathmandu on both sides of the Bagmati River this temple is commonly used to burn the dead and to acquire blessings from the guru priests that reside here.
Boudhanath
This massive white stupa with its painted Buddha eyes is a famous pilgrimage side for Tibetans and Buddhist. Every day you can see devotees walking around Boudhanath trying to acquire spirituality and inner peace. Boudhanth is located in Kathmandu and easy accessible for tourists. Definitely worth visiting if you want to explore the famous religious places in Nepal!
Lumbini
Located South-west of Pokhara lays the birthplace of Buddha. Lumbini used to be an old kingdom. According to history, a queen gave birth to a boy who grew up to be the founder of Buddhism. As so Lumbini is one of the most spiritual places in Nepal and every year devotees and tourists come to visit this incredible place. Museums and temples are located inside the sacred garden and monks praying for enlightenment fill up to squares. A visit to Lumbini should be on your list of things to do if you want to see the cultural and spiritual side of Nepal!
Manakamana
This incredible Hindu temple is located on a hill across the Trishuli River. Visitors can enjoy an exciting and scenic cable car ride up to this amazing temple. Being famous as a Hindu pilgrimage site many Nepali and Indian tourists visit this temple. Unfortunately the 2015 earthquake did some damage to the Manakamana temple but it has been fully rebuild and renovated now. The views from up here are incredible and the short way up to the temple is filled with handicraft shops and restaurants.
Muktinath
Up in the barren lands of Mustang and Annapurna lays the Muktinath Temple. This temple can be reached via a flight to Jomsom, followed by a short jeep ride. The Muktinath Temple is most famous due to its 108 holy and cleansing water taps. Just a short walk up from Muktinath village this temple is visited by Hindu devotees who take a dip under these taps to be cleansed from any bad influence and for good luck in the future. Of course, everybody can enjoy this but be warned the water can be freezing!
There are uncountable more temples and spiritual places in Nepal to visit but these are the 6 most popular ones and to experience them all a cultural tour around Nepal is recommended for about 2 weeks. Explore around the temples and spiritual places in Nepal and perhaps you can find inner peace!
These are the top 10 things to do in Nepal for the first time traveler. There are a lot more things to do in Nepal but these are recommended to do as your first time in this amazing country. I hope that this list will be helpful planning your visit to Nepal and makes your stay here that more memorable!
Enquire Us