Best 10 Things To Do in Nepal
What comes to your mind when I say Nepal, We bet High Himalayas Trekking Trails of Nepal, Lakes, Adventure sports, Wildlife Activities and sightseeing in the historic places around the country will pop out in your mind first. We won't say that it is incorrect, but besides that, Nepal has to offer lots of things to its visitors. Mountain Flights to view scenic Himalayas ranges, yoga and meditations for spiritual awakenings, Chitwan jungle activities like jungle safari, bird watching, and canoeing, shopping around the streets for souvenirs Shopping Tour in Neapl for your loved one back home, Paragliding in Pokhara for ultimate flying experience, bungee jump from the highest gorge to test your adrenaline are some of the activities that you can enjoy while your stay here. Trekking Trail Nepal has listed Top 10 Things to Do in Nepal to make you Nepal Holidays full of Adventures Experience. Trekking Trail Nepal offers Top 10 Things to Do in Nepal - A Nepal Tour Package includes of all this 10 Activities.
---
---
Mountain Flight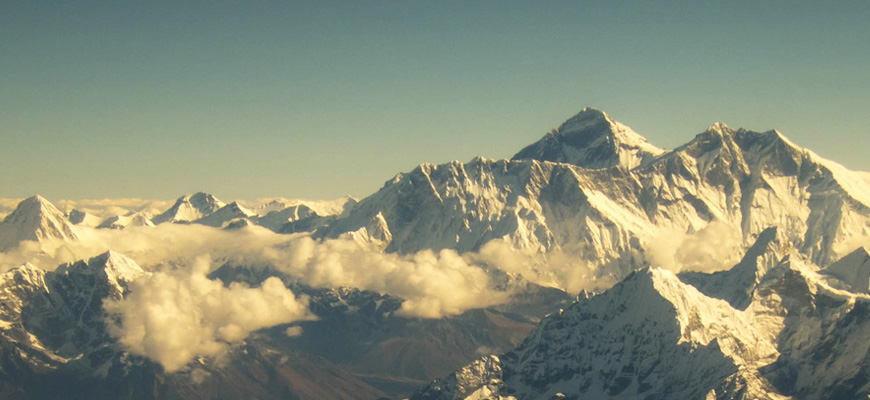 Mountiain flight is also cale Everest Flight. If you don't want to trek or unable to trek to see some of the top mountains ranges while here in Nepal, this Mountain Flight will be the good option to get the close view of the mountain ranges. Some of the domestic aircraft offer this mountain flights which lasts for an hour where you will get to see the highest mountain in the earth, Mt. Everest as well as some other mountain ranges like Dorje Lakpa, Shisha Pangma, and many more. Make sure you get a good camera to capture this moment.
---
Short Treks in Nepal and Hikes

For those who love to walk along the lap of the mountains, Nepal offers different trekking trails and hiking options lasting from one day to a month. For those who do not have enough time and has less endurance, can enjoy the day hike around the Kathmandu valley as well as in the Pokhara from where you will get a good view of surrounding mountain ranges. You will be hiking up to an altitude of about 2300 m from the sea level. Some of the other famous trekking routes are Ghorepani Poon Hill hike, Ghandruk hike, and Australian Camp which may take about 5 or 7 days to complete whereas Everest Base Camp (EBC) Trek, Annapurna Base Camp (ABC) trek, Langtang trek, may take 10-15 days depending upon the itinerary and the altitude you will be trekking will be up to about 5545 m. And for the long trek, there are Annapurna Circuit trek and Kanchanjunga Trek, Dhaulagiri Base Camp Trek are either teahouse treks or a tented trek. Here Trekking Trail Nepal offers most Popular Short Treks in Nepal like, Short Annapurna Base Camp Trekking, widely know as Short ABC Trek, Short Mohare Danda Trek, Short Manaslu Trek, Short Everest Base Camp Trek and so no.
---
Yoga and Meditation in Nepal Retreats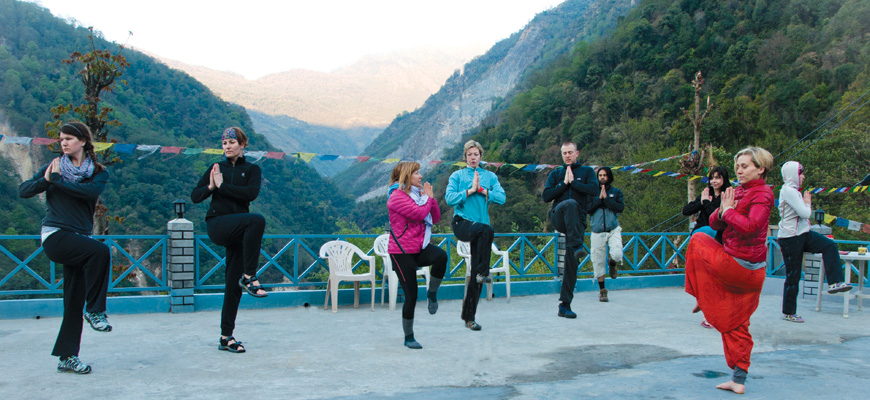 Not only for treks and sightseeing, most of the tourists visit to learn yoga and meditation in Nepal considered as one of the best places for meditational retreats. These retreats courses start from 7 days to a month depending upon the courses that you enroll. Besides learning yoga and meditation, you will also be exploring some of the local areas. There are many places in Kathmandu, Pokhara, Lumbini where they teach yoga and meditation either in trekking trails with nature with Yoga Trekking in Nepal and Yoga Tours in Nepal. Your can join our populare Everest Base Camp Yoga Trek or Mardi Himal Yoga Trek and Kathamandu Yoga Tour.
---
Kathamndu City Tours

Most of the tourist loves the art, architecture, and culture of the Kathmandu valley. Being the capital city, you will find people from different cultures living here, but the major attractions of the valley are the temples, museums, stupas, and the courtyards which were built by the rulers in different centuries. You can call it as an open museum for the art and culture. Trekking Trail Nepal will take you to Kathmandu Durbar Square, Bhaktapur Durbar Square, Patan Durbar Square, Pashupatinath Temple, Boudhanath temple, and Swyambhunath temple which is the major tourist attractions here. With one day Kathmandu City Tour you can expeience and explore all these sites.
---
Chitwan Jungle Activities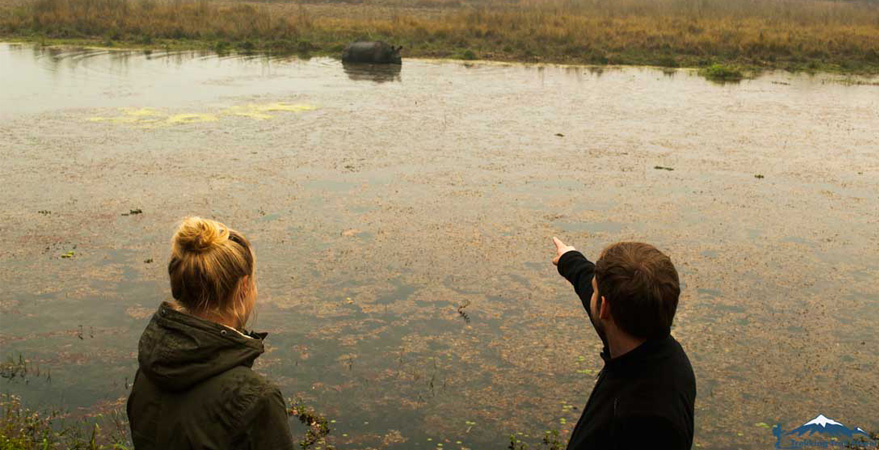 If you love being close to nature and love to explore the activities of the animals and birds living in the jungle, then this Chitwan Jungle Safari is one of the must-do activity. During this wildlife safari, you will get close to nature and will explore the jungle either on the elephant back or jeep or on foot. During this safari, you will be able to see rare species of birds and animals like one-horned rhino, tiger, alligator, crocs, etc. For bird watching, morning and evening is the best time. Trekking trail Nepal has designed these activities in such way that you won't be able to miss exploring the core part of the Chitwan which is preserved as the national park.
---
White Water Rafting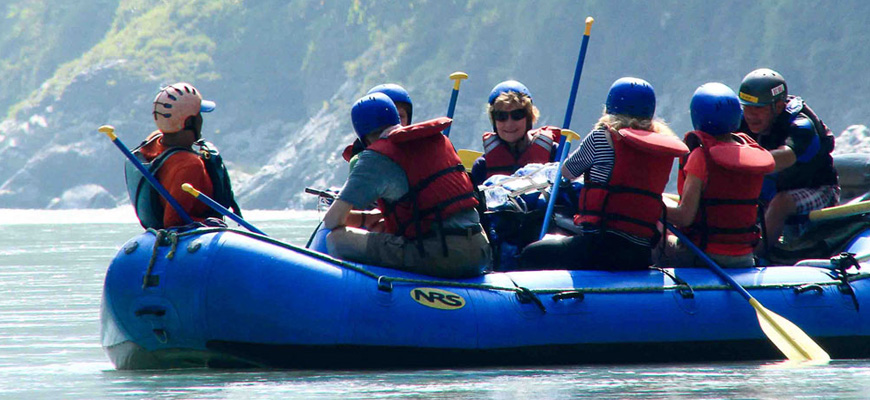 If you are the adrenaline junkie and loves water and water sports, then Trekking Trail Nepal will organize a whitewater river rafting in beautiful rivers like Trisuli, Bhotekoshi, Kali Gandaki, and Seti River. Depending upon the itinerary, this rafting trip can be of 4-5 hours to two to three days. The fast running whitewater melted directly from the Himalayas is an ideal spot for rafting as well as kayaking. If you have short period for your water adventure, you can Enjoy the Thrill of One Day Rafting in Trishuli River.
---
Shopping Tours in Kathmandu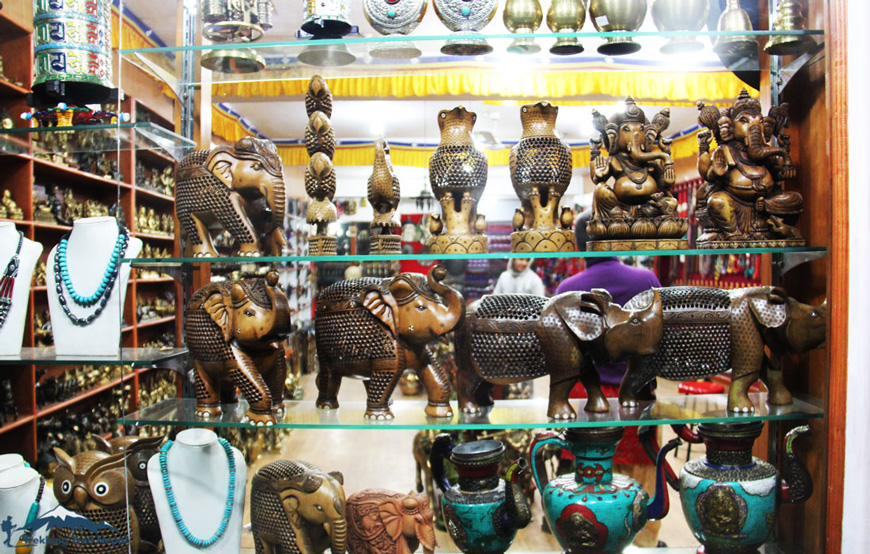 Wondering what to do in the leisure time in Kathmandu after a tired some trek and sightseeing, Shopping Tours in Kathmandu and Nepal are one of the major activities for trekkers and travelers. Check the local store to buy some souvenirs to take back as a gift for your friends and families. Cashmere shawls, pashminas, wooden crafts, silverware, thankas, khukuri, spices, herbs, postcards, etc. are some of the things you can buy here at different stores of Kathmandu.
---
Paragliding in Pokhara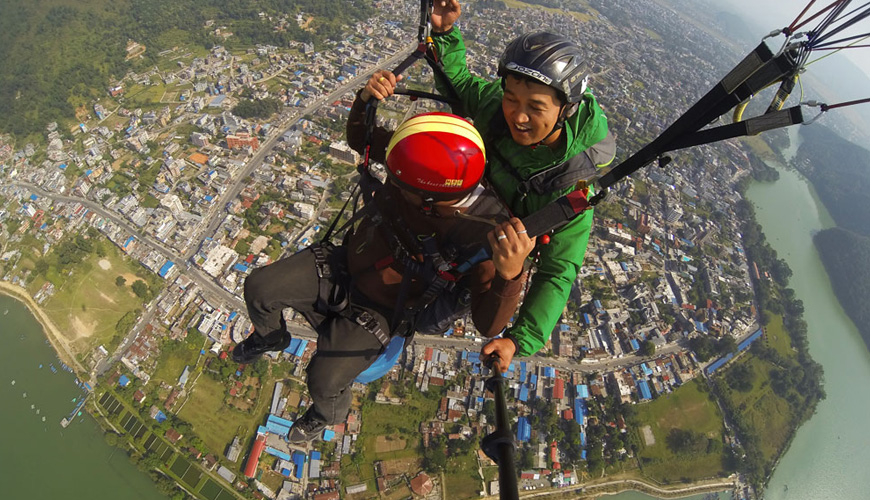 Paragliding is one of the activities to do here in Pokhara. You along with an experienced pilot in a tandem flight will take you off from the Sarangkot in the early morning and fly you over the Phewa lake and around the valley with the good view of the Mt. Fishtail. While flying for about 25-30 minutes you will be able to take some good pictures and videos to share with your friends. But now days You can enjoy Air Adventure of Paraglidinig in Pokhara or in Kathmandu too.
---
Bungee Jump in Nepal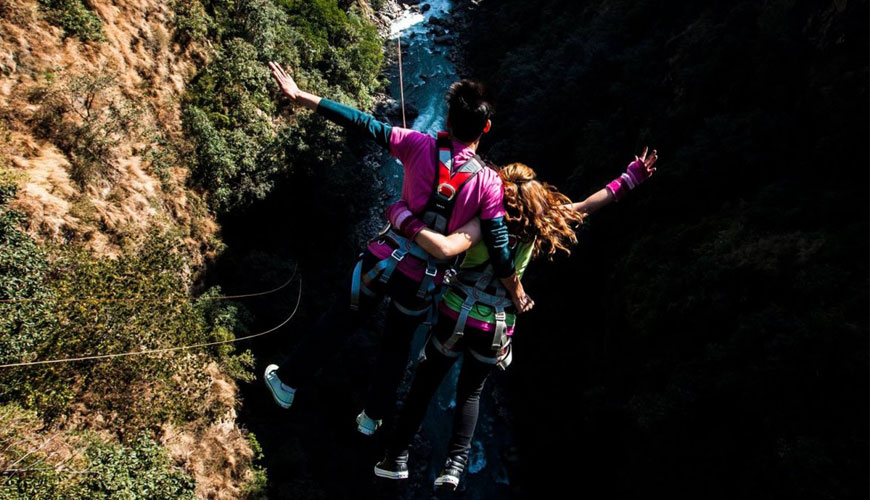 Imagine standing on the platform of the suspension between the two gorges of Bhotekoshi and jumping with the bungee cord tied around your body. You will definitely get a goose bump imagining this. You can experience this jump here in Nepal which is just a 4-hour drive from Kathmandu towards The Last Resort. This is the second highest jump throughout Asia. You will be jumping over the roaring Bhotekoshi river over 160 m experiencing few seconds of freefalling. Capture a video to check after a jump.
Another Bunjee Jump is underconstruction over the deep gorges of Kaligandaki River in Kusma, Parvat. You can reach Kusma is in the distance of 67 Kms and can be reach in 2 hours drive from Pokhara. This New Bunjee Jump will be the Highest of Nepal and second of the World. as the company This New Bunjee Jump will open for Public from April of 2019.
---
Pokhara One Day Tour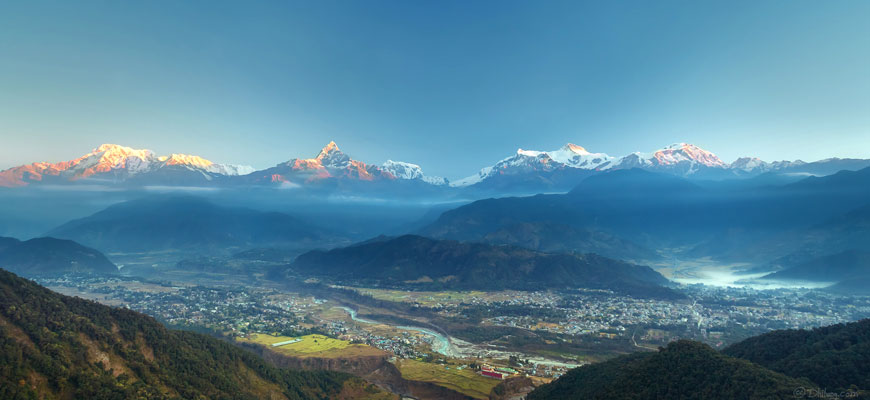 You can spend your leisure time here in Pokhara exploring the surrounding. Drive and hike or boat and to Peace Pagoda, boating over the Phewa Lake, exploring different caves, and sunrise from the top of Sarankot are the activities that you can do while your stay. Besides that, you can also walk along the beautiful lakeside and explore different restaurants trying cuisines from different countries. Visiting a Tibetan Refugee Camp is also an option while your stay here. For all this you can book our most popular One Day Pokhara Tour.
---
These 10 Things to do in Nepal will give you the adventurous experience from Trekking In Nepal to Paragliding, Thrilling Bungee Jump, and swing. Experiencing Shopping Tours in Nepal to Sightseeing of historical Kathmandu and Natural Pokhara City, Mountain flight to experience the Mt. Everest with Jungle safari and wildlife activities of Chitwan National Park are some must-do activities in Your Nepal Holidays.
---
For further updated about Trekking Trails in Nepal, Adventurous Activities Updates, Travel and Trekking Trail tips, Please Subscribe our newsletter, follows us on Twitter, Instagram and Facebook. Any suggestion, blog topic recommendation and sharing of our blogs and articles highly appreciated. Write Us.
Enquire Us