Drone Policy Rules Law Applicatin in Nepal
Drone is one of the popular and must-have gadgets for the travelers around the globe, legally known as Un Named Flying Object. It gives you perfect shot to film by different landscapes. This unmanned aerial vehicle helps you to capture your travel memories from the different angle. Many travelers and Trekkers are using this device to make beautiful travel blogs. Being the mountainous country, you will get a perfect shot from drones, the landscapes, the mountains, the hills, and the view of the river can be captured from a different angle. Due to the lightweight and the portability, it is easy to carry and handle. But to get a perfect shot and to control this drone, you have to practice more and more. Using this drone footage, different travel agencies and travelers are promoting their business.
Yes, you can bring drone to Nepal to shoot video and photos, but before you use or fly a drone over the sky to get a shot, you have to get a special permission from the related department, aviation authority or local authority. Sure you can use a drone in Trekking or Tours in Nepal but with legal permission only.
Drone Policy in Nepal - Updates Law Rules in Nepal
It is illegal to fly the drone over the Nepalese sky without permission. There are some rules and regulations to follow by the drone operator while flying. You cannot fly a drone near the airport areas, sensitive areas like military area, and some temple premises. Apart from that, you have to get permission from Department of Tourism, Ministry of Home Affairs, and Civil Aviation Authority of Nepal (CAAN). After getting the permission from those authorities, you can now fly the drone. But if you are flying drone which is less than 1 kg or you are flying drone below 100 feet from the ground, you do not need to get permission. However Depends on Local Police, Community, Authority as well area. And also if you are flying drone for the personal purpose in private property, you can fly without permission. However if you violet the rules and you got caught flying drone without permission, you will be fined and punished according to the civil aviation rules. For permission, you have to fill up the form requesting to get a permission to fly a drone. You have to pay to get permission and to complete this process it can take up to 7 days, you will get permission from CAAN to fly drone, with related Ministry.
NOTE: We Only Offer Drone Permits Services for Our Guest Only for Tour and Trekking in Nepal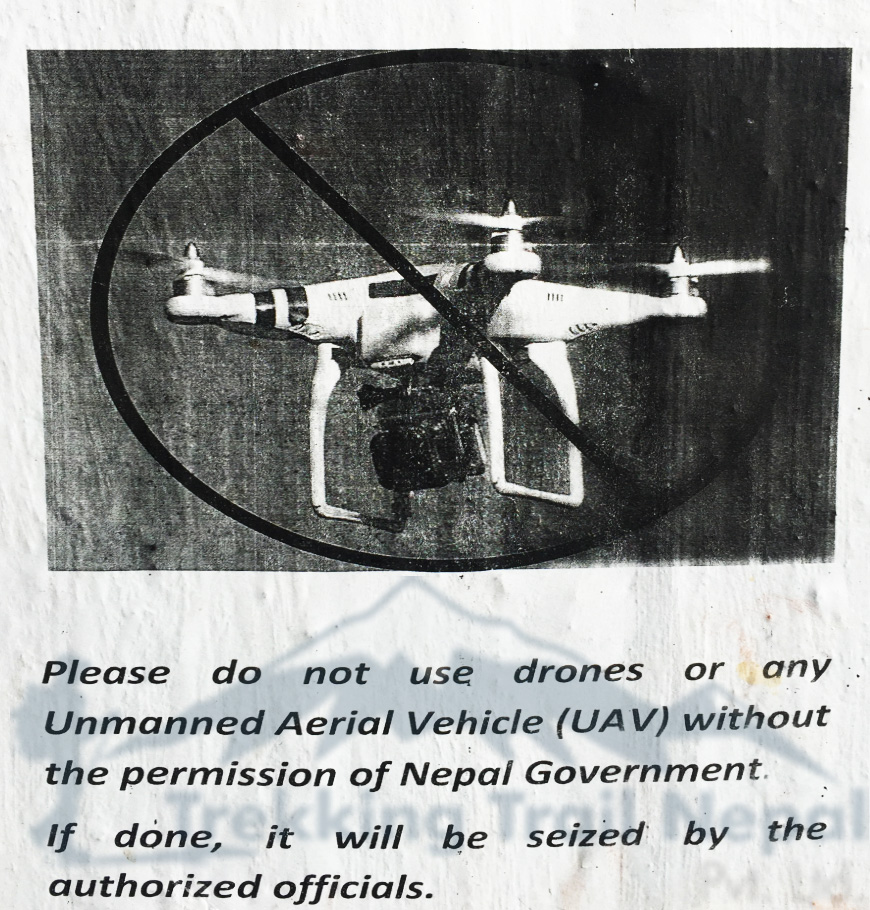 It is also necessary that one can fly drone within the visual range that is about within 500 m horizontally and 400 m vertically, but flying drone around restricted areas, Private, Public or Military Air Space, army, military or securities areas and Archaeological areas are strictly prohibited.
For research and study purpose, you have to get permission from Line Ministry or Department relating to the topic of research or study, from Ministry of Home Affairs, and from Civil Aviation Authority of Nepal (CAAN). But it is not necessary to get permits if the drone is less than 2 kg or you are flying below 200 feet from the ground. Follow these rules and capture great shots from your drone to promote local tourism. Trekking Trail Nepal team will help you to get permit to fly drone. After the permit, you can fly drone following the rules as mentioned above.
Trekking Trail Nepal will help to get permits to fly a drone as possible in all Trekking in Nepal as Everest Base Camp Trek, ABC Trekking, Upper Mustang Trek or any other trips. Just you need to per-inform us and pay little government fees and Need to Book Nepal Trekking Tour with Trekking in Nepal.
---
In Conclusion, You can fly Drone in your Adventure Holidays as Trekking in Nepal, Tours in Nepal. Just complete the legal procedures and get the permit to use drone under the law of Nepal government. In Short You Can Fly Your Drone in Nepal, But under control of Nepal Government Law.
Enquire Us