Accessible Trekking Trail for Disabled Trekkers
It is not possible for the people who have a physical disability to trek in normal trekking trail in Nepal. It will be difficult for those trekkers to hike even in easy and in normal trekking trails because that trail has mostly uphill and downhill trail to reach the destination, especially in a country like Nepal. Also, the major factor where disabled people could not hike or trek in this trail is altitude. It will be difficult for them to gain altitude in a single day as well as it will be difficult to walk in the narrow dirt trekking trail. It is almost impossible to walk in those trails so considering this, Nepal has recently introduced a trekking trail which is specially designed for disabled people and Older Trekkers. This New Hiking Trail is a first a kind of its own in South Asia which will help them to enjoy being close to nature and enjoy the beauty of the surrounding mountains and valley of Beautiful Lake City of Pokhara.
First Accessible Hiking Trail of Asia in Nepal for Disabled and Elderly Trekker
For those trekkers who want to trek through the mountains to experience the beauty of nature but are not physically fit and old age and disabled, Nepal Tourism Board (NTB) has recently introduced a trekking trail which is specially designed for differently-abled trekker in Pokhara. After the inauguration of this trekking route, differently-abled people, as well as old aged people, can experience the taste of trekking. This accessible trekking trail is about 1.3 km long which offers a beautiful view of the mountains like mt. Dhaulagiri, Annapurna range, Macchapuchre range, and some part of Manaslu range. This trekking trail will attract those people who cannot trek due to the disability and old age. This trekking trail is first of its kind here in Nepal where there are proper signs and washrooms on this trail which will make easy to trek along this accessible trekking trail in Nepal. This is the first trekking trail in Asia where disable or elderly trekker can enjoy the trek with an ease, get close to nature and enjoy the beauty that nature has to offer.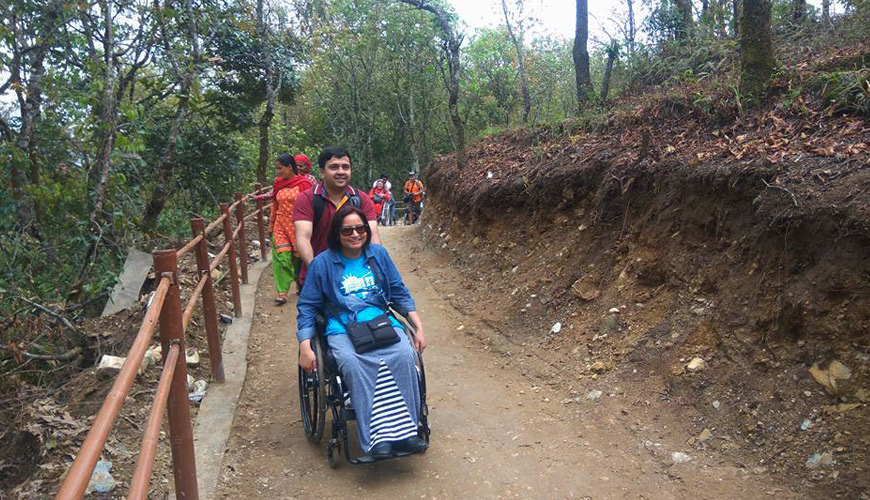 A large number of differently-abled people will definitely be here to experience this accessible trekking trail. This will be one of the major attractions for elderly as well as the disabled trekker. We, Trekking Trail Nepal team will provide you a comfortable transportation up to the hiking trail either from Kathmandu or from Pokhara upon request. Also, you can enjoy an easy day hike or sightseeing around the Kathmandu or Pokhara valley. So if you are disabled or could not trek due to the old age, consider visiting Pokhara and you will definitely enjoy your time here doing some Trekking Around Pokhara Valley under the lap of beautiful mountains, hills, and nature with Easy Trekking.
Accessible Trekking Tour Package in Nepal
Day 1: Arrive in Kathmandu, capital of Nepal
Our team member of Trekking Trail Nepal will be in Tribhuvan International Airport to welcome you and help in your arrival. Then we drive to our Hotel in Thamel where you will meet the official representative for Accessible Trekking details and for your every needs.
Day 02: Day in Kathmandu for Mountain Flight and Sightseeing
Early morning transfer to airport in Kathmandu for Mountain Flight. This 45 minutes flight will take you to the Himalayas as close as possible. Mt. Everest is the major attraction of mountain flight but you will see over hundred high Himalayas peak.
After Mountain flight we will back to hotel for breakfast, then with short break we will start our Kathmandu Sight Seeing. On this Kathmandu sight seeing, you will visit 3 most beautiful and important tourist attraction of Kathmandu Valley.
Biggest Buddhist Stupa - Baudhanath
Biggest Hindu Shrine - Pashupatinath Temple
City of Fine Art - Patan Durbar Square.
Day 03: Kathmandu – Pokhara ( Drive or Flight )
After Breakfast in our edifice in capital of Nepal, we have a tendency to drive to traveller coach station for Pokhara. With drive of two hundred metric linear unit we have a tendency to reach to stunning town of Pokhara in 6-7 Hour. Narrow highway road of Nepal cross the places like Melekhu and Mugline on the side of Trishuli River crossing many natural plans and forest. This 6-7 hours drive tour will be another adventure of Accessible Trekking Tours in Nepal. Transfer to Hotel in Pokhara.
Day 04: Pokhara Sight Seeing
You will visit the places of Pokhara these days and you may fancy with the gorgeous Pokhara and mountain views. Today day we are going to explore Tibetan Refugee Camp, International Mountain Museum and Boating in Phewa Lake.
Day 05: Accessible Trail Trekking in Pokhara
After Breakfast we are going to begin drive concerning one hours to achieve place to begin of Accessible Trekking Trail close to by Sarangkot.
From the accessible trekking path you may see the clear and shut read of several Himalaya Mountains Peaks from Annapurna Himalaya Mountains Ranges. Annapurna south, Himchuli, Fishtail, Annapurna III, Annapurna II, Lamjung Himal, GangaPurna are just few names.
We enjoy our time for the views of Himalaya Mountains and natural forest with cultural influences of Nepalese folks. We have a tendency to complete this Accessible Trekking path in concerning three hours and fight down to Pokhara edifice.
Day 06:Pokhara to Kathmandu; capital of Nepal
After breakfast, we are going to fight down to capital of Nepal and keep long at edifice in capital of Nepal. Within the evening you may take part a Typical Nepali eating house.
Day 07:Transfer to airport for you flight back to home.
Note: As your interest, Itinerary of Accessible Trekkign Tour in Nepal can be modify. Standard of Hotel, Mode of Transportation and other services will be adjusted as your request.

You will definitely love this trekking trail with Trekking Trail Nepal exploring the nature, culture, village trail and different surrounding. Contact Us for Accessible Trekking Trail Trek Package.
Enquire Us