Best Nepal Trekking in February January
January and February is not bad as you think for Trekking In Nepal.
You Can Enjoy Enough Nepal Trek in February!
Nepal trekking in January and February is not considered the best season, like March to May or September to November, but still, you can enjoy Nepal Trekking with the views of the high Himalayas. Trekking in the Himalayas of Nepal usually take long holidays and need to match the best season to enjoy the Nepal Trekking. January and February are not the best months for Nepal Trekking but you can enjoy the Himalayas and nature form different perspectives.
February Trekking in Nepal
January and February the two coldest months in Nepal might not be cold as you used to. If you are from Northern Europe, New Zealand, Korea, North America with Alaska and Russia. Winter Trekking in Nepal is the best adventure you can get in Nepal with the Himalayas. The High Alpine Trekking Trail will not be open but, Normal trekking trails in Nepal is doable with little chilly cold, Snowing and Peaceful trail. From the view perspective, Winter Trek in Nepal or January February trekking in Nepal does not carry the differences from the Peak Trekking season of March-May or September-November as like Everest Base Camp Trek in November or October.
Is your vacation is only available in January or February? Have a dream to do Adventure Trekking in Nepal? Winter Trekking in Nepal is the best option for you to experience the high mountains of the Himalayas, Culture, Nature, and more.
Why choose January or February for Nepal trekking?
These two coldest months also represented the Winter Trek in Nepal. Nepal Trekking in winter is not THE BEST but not bad as you think.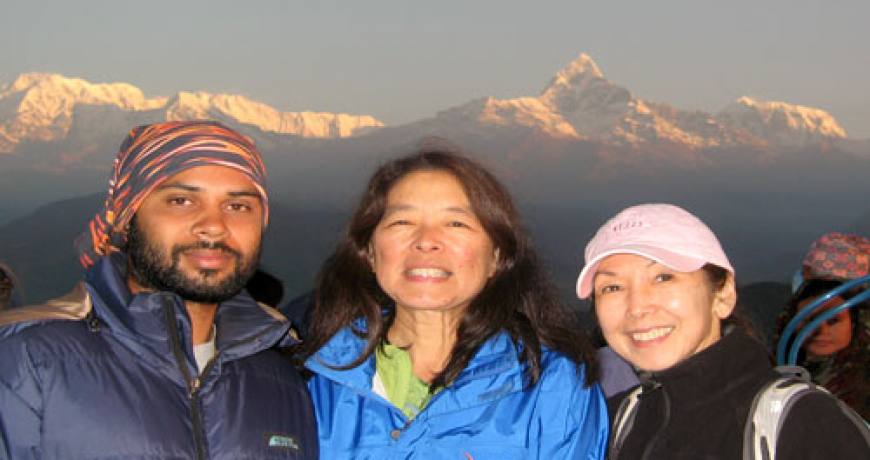 Here we list the 7 reasons why you should trek in January and February? With Best Winter Trekking options for Nepal trekking in February - January.
1 It is the end of trekking season so you will get more peace and fewer trekkers on the trekking trail. Due to the changing climate and Global warming, the 4 season of Nepal is being delayed. As the result, December is also considered as The Best Month for Nepal Trekking. Most probably you will get the whole tea house or trails only for you, Hence only fewer trekkers will hit the trekking trail in January or February in the Himalayas.
2. Celebration English festivals, as well as Nepalese Festivals lunar calendar, will add some benefits for Nepal Trekking in January and February. Nepalese Festivals like Maghe Sakranti known as the first day of Nepalese tenth month. Saraswati Puja the festival of Goddess of Education and Music. The English festivals like New Year and Love festival day known as Valentine Day will add more flavor to Nepal Trekking in February January.
3. If you choose Nepal trekking on the month of January or February, you will get best international flight deals to and from Nepal. Many international airlines that connect Nepal offers the best flight ticket to Nepal and on wards. Ending of Major Nepalese Festivals, Peak Trekking Season will come to end in November, Airlines like Turkish Air, Malaysian Air, Thai Airways, Qatar Air offers the best fear for January February. If you have plan to do Nepal trekking in January or February, you will get best fare possible.
4. Updates of all Trekking Trails, New local rules as well facilities and changes in services available along the trails. That all guides experience will be refreshed by before. Every trekking guides do 4-10 trek in the peak trekking season of September to November. Many time they have hike on the same trekking trail of same trek. This not only make them updates about the Trekking Trails, changes of services but tells you the recent interesting story and price changes.
5. Best of Winter Trekking in Nepal, Trekking in January February is the best when you get Natural Hot Spring Pool along the trekking trails. Treks like Annapurna Circuit, Annapurna Base Camp Trek, Poon Hill Jomsom Trek, Tamang Heritage Trek, Upper Mustang Drive Tour offers you the Natural Hot spring Pool. Natural Hot Water Pool, adventure in chilly weather, and peaceful trekking trail make the best treat for Nepal Trekking in January and February.
6. You can ask for a discount since it is low season and low business with a trekking company. All tourism and trekking are seasonal jobs in Nepal. All services, subordinates, trekking guides, and porters are also part of the seasoned business. Because of very less trekking business in January and February, some companies offer off-season trekking deals or Winter Trekking Offers. If not you can ask for a discount for your Nepal trekking for the months of January and February. Write Us For a Discount.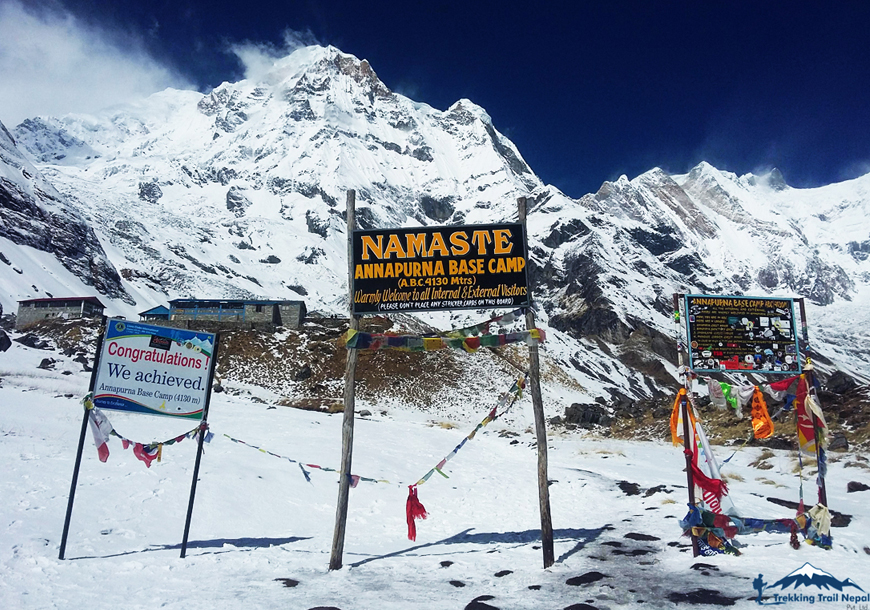 Low Light of Nepal Trekking in February January
Trekking in Nepal in January-February has it advantages as well as carries some disadvantages. As you know Nepal has 4 seasons and January-February is the major winter month. Many of the high alpine trekking trail in Nepal cannot be done in the months of January-February. Here we try to cover 5 reasons why you should not do Nepal Trekking in January February.
1. If you are looking for joining a group trekking in Nepal, January February ie the winter season is not best for you. Most groups join, Fixed Departure Trekking in Nepal organized in Peak Season for Nepal Trekking in September - November, and March-May. But if you are lucky and plan a few months earlier and write Trekking Trail Nepal, we can find the group to join you for Nepal Trekking in January or February.
2. You might need some more stuffs for you Nepal Trekking in January-February. To keep your body warm in the winter of the Himalayas, your backpack and Duffel bag for your porter will be little heavy. If you are light traveler, we do not suggest you to do Trekking in Nepal in January February, Especially high alpine trekking trails. However some trekking likes Poon Hill Ghandruk Trekking, Kathmandu Valley Rim Trekking, Dhampus Sarangkot Trekking, Everest View Trek as on.
3. If you hate chilly cold and snowing, January February Trekking in Nepal is not for you. Nepal Trekking in January February is only for Cold Outdoor lovers. Above 2500 meters above sea level, it almost snowing and trail might cover up to 1-3 feet of snow. There is less chance of Sun and high probability of fog. If you are planing to above 4000 meter high you must be prepared for freezing cold, snowing, and no sunshine.
4. If you are looking to trekking in Nepal without guide, Trekking Trail Nepal will not recommend you to choose January February for Nepal Trekking. In resent years, few people lost from the trekking trails and never be found any presence of them, Neither Alive nor Dead. We hearty request you to think again, if you are planing to Nepal trekking in January February without guide. Especially for Mardi Himal Trekking, Langtang Valley Trekking, Tsum Valley Trekking.
5. Days are short in January in comparison to other months. To overcome this you must manage the time properly. December 22 is the shortest day and June 21 is the longest day. The longest night gives you more relax and sleep, Where the shortest night gives you more adventure on the trekking trails. Above all after December 22 days will become longer and you will get plenty of time to enjoy your days. If you are not morning person Nepal trekking in January February is not for you.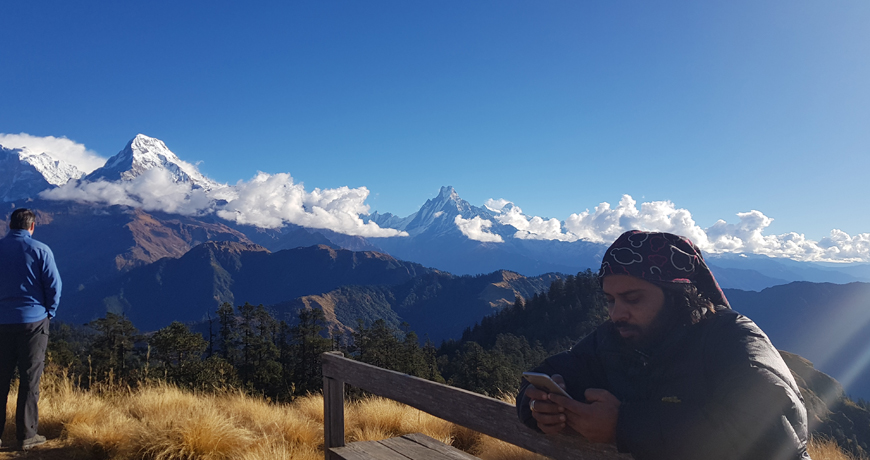 Best Winter Trekking in Nepal for January and February. Top 7 Trekking For January February as your Winter Holidays in Nepal.
What you are waiting for! What actually is stopping you away from your Winter Trekking in Nepal? Is the price? Trekking Options? Trekking Services? Write Us regarding your needs about Trekking in Nepal in January or February. We promise and deliver the Nepal trekking in January and February no the optimum level of safety, services, comfort, and care.
Enquire Us