New Entry Fee of Everest Region by Khumbu Rural Municipality
Notice Regarding New Entrance Fee of Khumbu Pasang Lamhu Rural Municipality in Khumbu Region All foreigners Trekking in the Sagarmatha National Park ( Popularly known as Everest Trekking Region ) also know as Khumbu or Sherpa Capital.
Khumbu Pasang Lhamu Rural Municipality of Solukhumbu district has started impose an entrance fee of Nepalese Rupees 2,000 ( Two Thousand Rupees ) approximately equal GBP 15 from every foreigner entering the Everest Trekking Region via This Khumbu Pasang Lhamu Rural Municipality from October 1st, 2017. For all Trekking in Everest Region Either 14 Days Everest Base Cam Trek or Easy Everest View Trek till Everest View Point all have to pay these entry fees.
Along with this, Sagarmatha National Park entry fees of Nepalis Rupees 3,000 approximately equal GBP 22, which is collected by Department of National Parks and Wildlife Conservation under the Ministry of Forests and Soil Conservation, Government of Nepal needed as usual.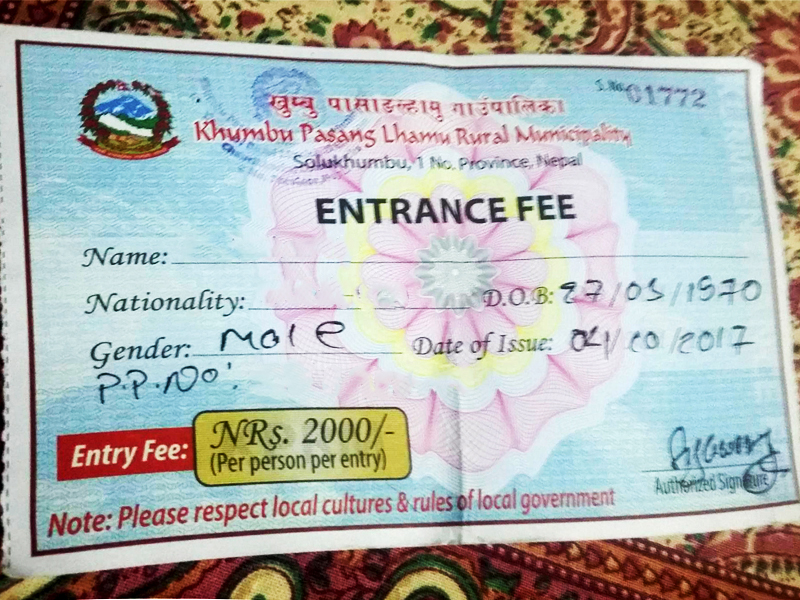 According to the Notice published on 3rd of October, Khumbu Pasang Lamhu Rural municipality clearly mentions that The usual TIMS ( Trekking Information Management System ) Card issued by TAAN ( Trekking Agencies' Association of Nepal ) Umbrella Organization of Trekking Agencies ) will no longer be needed.
Enquire Us